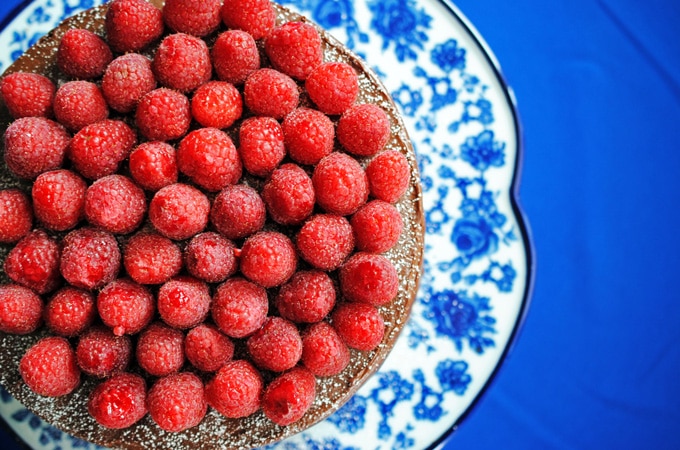 I hope everyone is having a blessed Easter today. I am having a pretty great Easter weekend myself. Yesterday I went to Alton Brown's The Edible Inevitable Tour. About a month ago I saw on Facebook that he was going to be in Houston so I did some checking and it appeared his show was sold out, but luckily for me he added a second show, so as soon as the tickets went on sale at 10:00am I was on it!!! I managed to snatch up second row seats as well!
I also made this awesome cake this weekend. Chocolate and raspberry, what's not to love? A flavor combination made in heaven! Unfortunately I forgot the layer of raspberry jam on the top layer of cake (it should be on both layers) so my picture may be a bit misleading but it still tasted just as awesome as the first time I made it. Enjoy!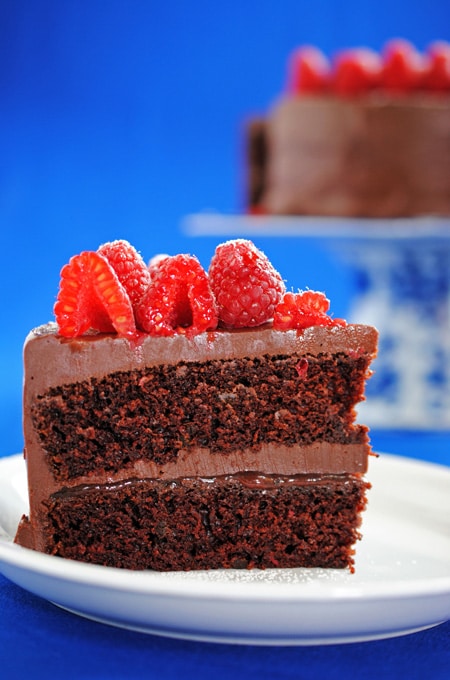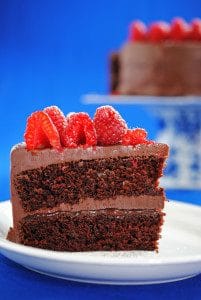 Print
Chocolate-Raspberry Layer Cake
Yield 12
Ingredients
CAKE
2 cups unbleached all-purpose flour
1 3/4 cups granulated sugar
3/4 cup unsweetened cocoa powder
2 teaspoons baking soda
1/4 teaspoon table salt
1 cup water
3/4 cup buttermilk
3/4 cup vegetable oil
3 large eggs
1 teaspoon vanilla extract
GANACHE AND RASPBERRY TOPPING
18 ounces bittersweet chocolate, chopped
2 1/4 cups heavy whipping cream
1 tablespoon Chambord or other raspberry liqueur
6 tablespoons seedless raspberry jam, stirred to loosen, divided
2 6-ounces containers fresh raspberries
Powdered sugar
Instructions
CAKE
Position an oven rack in the center of oven and preheat to 350 degrees. Coat two 9-inch cake pans with 2-inch sides with shortening, melted butter or cooking spray and line the bottoms with parchment paper rounds. Coat parchment rounds with shortening, melted butter or cooking spray and dust lightly with flour.
In a large bowl, whisk together, flour, sugar, cocoa powder, baking soda and salt. Make a well in the center of the dry ingredients.
In a medium bowl whisk water, buttermilk, oil, eggs and vanilla. Pour wet ingredients into well in dry ingredients and whisk to blend. Divide cake batter between prepared cake pans. Bake until cake tester inserted into center comes out clean or with a few moist crumbs, about 30 minutes. Cool completely in pans on cooling racks.
CHOCOLATE GANACHE
Place chopped chocolate in a medium bowl. In a heavy medium saucepan, bring cream just to a boil. Pour over chocolate and let stand for 1 minute. Stir ganache until chocolate is melted and smooth. Stir in Chambord. Transfer 1 1/4 cups ganache to a small bowl. Cover and refrigerate until ganache is thick enough to spread, stirring occasionally, about 1 hour. Let remaining ganache sit at room temperature to cool until lukewarm.
Place rack inside rimmed baking sheet lined with foil for easy clean up. Carefully run knife around cake pan edges to release cakes. Place cakes on flat surface (dome side up) and level cakes by cutting off domes that may have formed. Invert 1 cake layer (cut side down) onto an 8-inch cardboard cake round. Peel off parchment paper and place cake layer on prepared baking rack. Spread 3 tablespoons jam over top. Spoon dollops of chilled ganache over and spread evenly. Place second cake layer (cut side up) on top of first cake layer and spread remaining jam on top of second cake layer. Pour half of lukewarm ganache over cake, spreading over top and sides to cover. Freeze until ganache sets, about 30 minutes. Pour remaining ganache of cake and spread ganache to cover cake. Freeze to set ganache, about 30 minutes. Let cake stand at room temperature for 2 hours before continuing.
RASPBERRY GARNISH
Arrange raspberries in concentric circles on top of cake. Sift powdered sugar on top just before serving.
Courses Dessert
Cuisine American
Adapted from Bon Appetit June 2010