Devil's Food Ghost Cupcakes
Recipe Update: I've updated this recipe 9/16/2020. The cupcakes remain the same but the frosting is new and improved!
Okay so these Devil's Food Ghost Cupcakes are probably more cute than scary, but they're perfect for your Halloween dessert table.
This devil's food cake has a dark and rich chocolate flavor.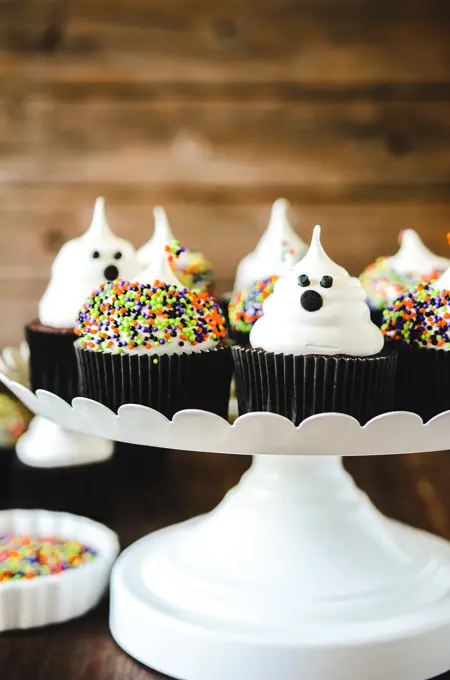 Cupcake Tips
Here are just a couple of cupcake tips I've picked up along the way in my baking career.
Toss a few grains of rice in each cup of the cupcake pan. Doing this can help keep your cupcake liners bright and colorful. (Disclaimer: this works for me more times than not, but I've had a few occasions where this hasn't worked. Perhaps because of the type of cupcake liner or the cake batter.)
I like to use a 1/3 cup sized spring loaded ice cream scoop. Ever since I started using an ice cream scoop my cupcakes have been uniform in size and bake at the same time. And it keeps my cupcake pans nice and clean!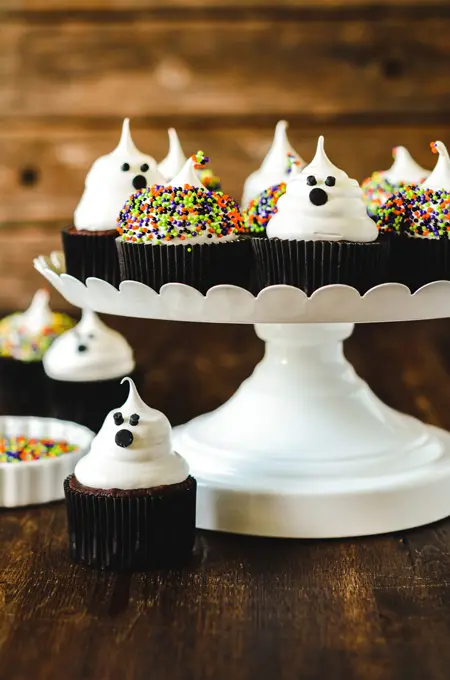 Dutch Processed Cocoa Powder
Don't substitute regular unsweetened cocoa powder for the Dutch processed version. Dutch processed cocoa is less acidic than regular unsweetened cocoa powder, plus the Dutch processed cocoa powder enhances the dark color of these cupcakes.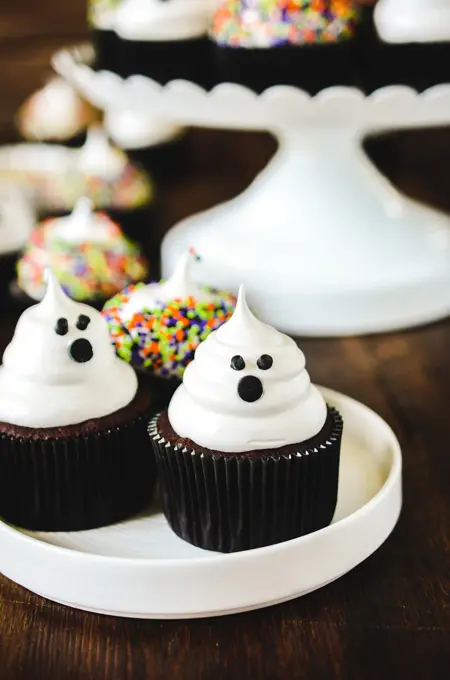 Marshmallow Frosting
As I mentioned at the top of this post I changed the frosting from the original version I had posted. The original frosting was a 7-Minute frosting which is still a great frosting to pair these Devil's Food Ghost Cupcakes with, however, that style of frosting deflates pretty quickly.
So I opted for a marshmallow frosting which in my opinion is even better! Its super billowy and who doesn't love chocolate and marshmallows right? And it stays fluffy for a long while so you don't have to worry about your frosting sagging.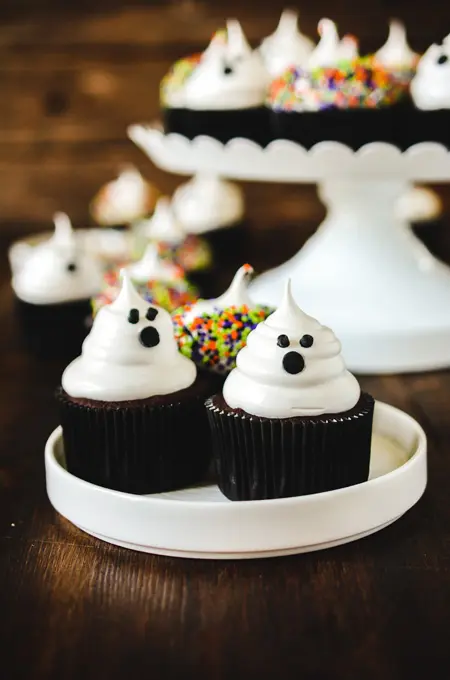 Fondant Decorations
To save yourself time, I definitely recommend purchasing black fondant. You only need a small amount for this recipe.
I used Wilton tip # 7 to cut out the ghost eyes, and Wilton tip #12 to cut out the ghost mouth.
After that I let them dry while I whipped up the marshmallow frosting. The face pieces are much easier to work with if they have dried out a little.
It's helpful to use a toothpick or coffee stir, or even food only tweezers, which is what I used to adhere the face pieces on to the frosting. This helps the fondant pieces stick and keeps your fingers out of the marshmallow frosting.
You can also use chocolate chips instead of fondant for a super quick option.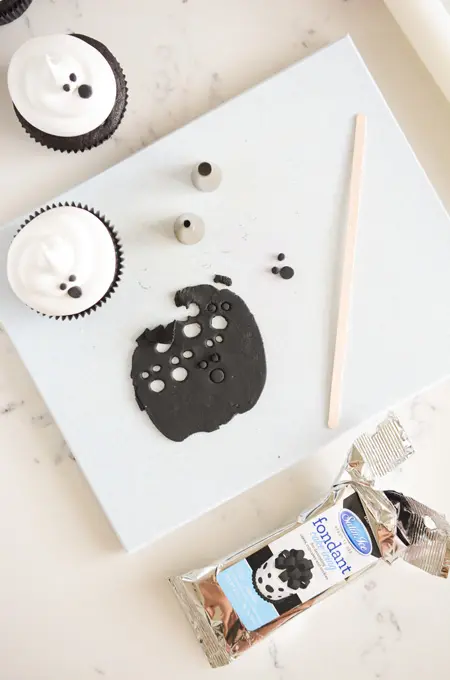 Plan It Out
Day 1: Bake cupcakes.
Day 2: Prepare marshmallow frosting, cut out face pieces and decorate.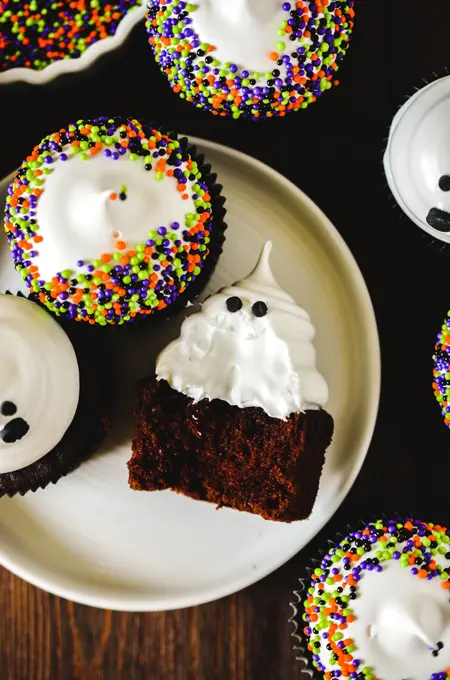 Lets Connect
The Cake Chica is on Facebook sharing sneak peeks of recipes to come, Instagram for your food porn desires and Pinterest for your recipe board pinning needs.
You May Also Like
---
Adapted from The Perfect Cake by America's Test Kitchen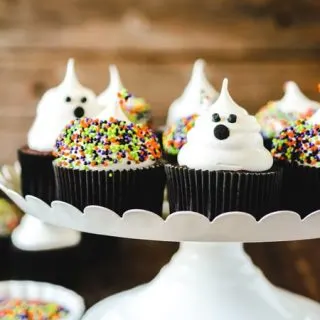 Devil's Food Ghost Cupcakes
Deep, dark chocolate cupcakes, topped with a seven minute frosting all dressed up for Halloween.
Ingredients
SPECIAL TOOLS
CUPCAKES
1 ½ cups all-purpose flour
1 teaspoon baking soda
½ teaspoon baking powder
¼ teaspoon table salt
4 ounces unsweetened chocolate, chopped
1/2 cup Dutch processed cocoa powder
1 teaspoon instant espresso powder or instant coffee powder
1 ¼ cups boiling water
10 tablespoons unsalted butter, cut into tablespoon sized pieces, at room temperature
1 ½ cups light brown sugar
3 large eggs, at room temperature
½ cup sour cream, at room temperature
1 teaspoon vanilla extract
MARSHMALLOW FROSTING
8 large egg whites
1 ½ cups (10.5 ounces/500 grams) granulated sugar
2 tablespoons light corn syrup
½ teaspoon cream of tartar
1/8 teaspoon table salt
2 teaspoon vanilla extract
Instructions
CUPCAKES
Adjust an oven rack to the center position and heat oven to 350 degrees. Line 2 cupcake pans with cupcake liners and set aside.
In a large bowl, whisk the flour, baking soda, baking powder, and salt together. In a separate bowl, combine the chopped chocolate, cocoa powder, instant espresso powder or coffee powder, and boiling water and whisk until the chocolate is melted and combined.
In the bowl of a stand mixer fitted with the paddle attachment, beat together the butter and sugar on medium-high speed until fluffy and pale in color, about 3 minutes. On low speed add eggs one at a time mixing until just combined. Add in the sour cream and vanilla extract and mix on low until incorporated. Add flour in 3 additions, alternating with the chocolate mixture in 2 additions. Scrape down the sides of the bowl needed and give the batter a final stir by hand with a rubber spatula.
Divide the batter into the prepared cupcakes pans, filling about 2/3 full. Gently even out the batter but tapping gently on the counter and bake until a toothpick inserted in the centers comes out with a few moist crumbs attached, about 12 to 15 minutes, rotating pans halfway through baking. Let cupcakes cool in their pan for 10 minutes on a cooling rack, then invert on cooling rack to cool completely.
FROSTING
Attach the whisk attachment to the mixer stand. Add the egg whites, sugar, corn syrup, cream of tartar, and salt in the stainless steel bowl of a stand mixer and whisk together well by hand. Place the mixer bowl on top of a saucepan with about 2 inches of water, making sure the bottom of the mixer bowl does not touch the water when placed on top. Bring water to a simmer and place the mixer bowl on top. Whisk mixture frequently until a thermometer reaches 130 degrees, about 9 minutes.
Carefully transfer the mixer bowl to the mixer stand and beat on low speed for 2 minutes. Increase the speed to medium and beat for another 2 minutes. Increase the speed to high and beat for another 5 minutes until thick and glossy. Add in the vanilla extract and mix until combined.

ASSEMBLE
Fit a piping tip #808 in a piping bag. Fill bag with frosting. Pipe dollops on each cupcake. Carefully place ghost face pieces on each cupcake, using a toothpick or wooden coffee stir to press and adhere to the frosting. Serve immediately.
Notes
Assembled cupcakes can be stored in an airtight container at room temperature for up to one day, or stored in the refrigerator for up to 2 days. Bring to room temperature before serving.
***If you're using fondant for the ghost faces it's best to attach the pieces the day you plan to serve these cupcakes.***
Nutrition Information:
Yield:

24
Serving Size:

1
Amount Per Serving:
Calories:

1122
Total Fat:

55g
Saturated Fat:

19g
Trans Fat:

3g
Unsaturated Fat:

31g
Cholesterol:

89mg
Sodium:

914mg
Carbohydrates:

156g
Fiber:

6g
Sugar:

119g
Protein:

11g
*Nutrition information is an estimate and will vary.*