Get your kitchen prepped and ready, because the baking season is upon us!
This Pumpkin Spice Layer Cake will have you ready for fall! It's three layers of homemade pumpkin layer cake, flavored with a homemade pumpkin spice blend and orange zest for a hint of orange flavor.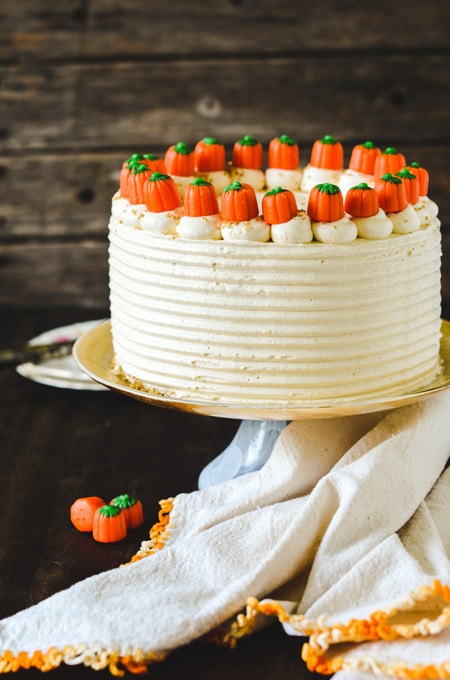 Pumpkin Layer Cake
This cake uses a homemade spice blend of:
ground cinnamon
ground ginger
ground cloves
freshly grated nutmeg
all spice
ground cardamom
I also added in some orange zest to take the flavors up a notch. Another tip to get the best flavor is to use Libby's canned pumpkin puree. I've used several different brands before and Libby's canned pumpkin puree has the best flavor in my opinion.
Pumpkin Swiss Meringue Buttercream
Making Swiss meringue buttercream doesn't have to be complicated. Here are a few tips that have helped me create a successful batch of buttercream every time:
Make sure your mixer bowl is super clean. No bits of grease should remain in your bowl and on your whisk.
Wipe your mixer bowl and whisk with a damp paper towel with some lemon juice or vinegar before using to make sure your tools are super clean!
Mix together your sugar and egg whites well, otherwise the eggs may start to cook on their own.
Cut your butter in tablespoon sized pieces while still cold, then bring to room temperature. (You'll slowly add the room temperature butter into the meringue.)
Make sure your butter is room temperature. Too cold or too warm butter can lead to buttercream failure. I typically leave my butter out overnight to make the next morning.
Your meringue should hold medium-stiff peaks and the outside of the bowl should be room temperature before adding the room temperature butter in.
During the last minute of mixing, I reduce the mixer speed to low to get out as many air bubbles possible to create a smooth buttercream.
Plan It Out
This Pumpkin Spice Layer cake is so simple to prepare but it still helps to plan it out. Here's what my baking schedule looked like.
Day 1

: Bake the cake layers.

Day 2:

Prepare the buttercream and decorate.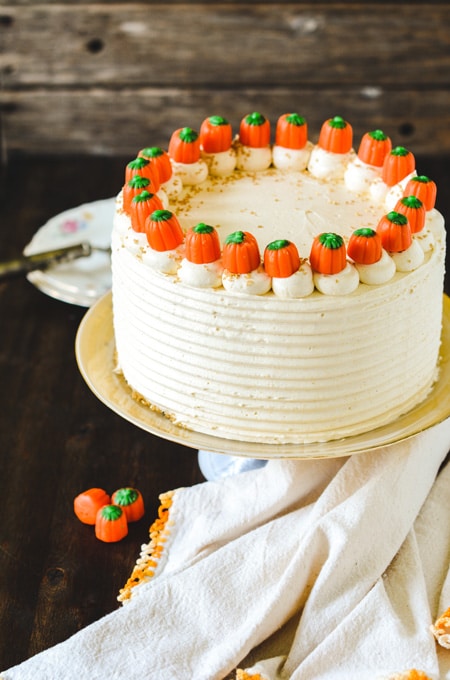 Lets Connect
The Cake Chica is on Facebook sharing sneak peeks of recipes to come, Instagram for your food porn desires and Pinterest for your recipe board pinning needs.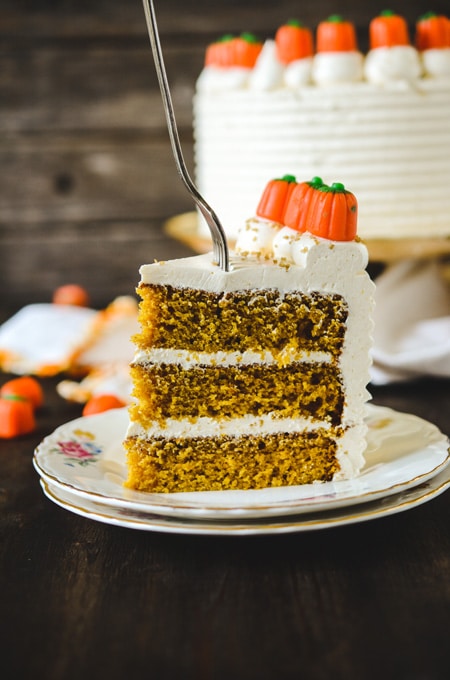 You May Also Like
---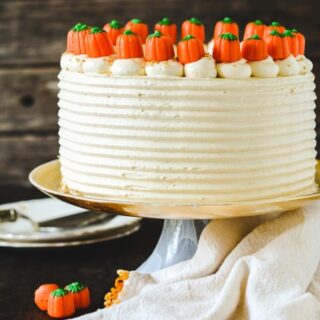 Pumpkin Spice Layer Cake
Total Time:
1 hour
5 minutes
Three layers of homemade pumpkin spice cake filled and frosted with pumpkin Swiss meringue buttercream.
Ingredients
SPECIAL TOOLS
3 8-inch round cake pans
Non stick baking spray
Stand mixer
Candy thermometer
Piping bag (optional)
Ateco piping tip #808 (optional)
Cake comb (optional)
Marshmallow pumpkins (optional)
Coordinating sprinkles (optional)
CAKE
3 cups (15 ounces) all-purpose flour
2 teaspoons baking soda
2 teaspoons baking powder
1 teaspoon ground cinnamon
1/2 teaspoon ground ginger
1/4 teaspoon ground cloves
1/4 teaspoon freshly grated nutmeg
1/4 teaspoon allspice
1/4 teaspoon ground cardamom
½ teaspoon salt
1 15-ounce canned pumpkin
1 1/2 cups (10.5 ounces) granulated sugar
1 1/4 cups vegetable oil
4 large eggs
2 teaspoons finely grated orange zest
PUMPKIN BUTTERCREAM
1 cup egg whites
2 cups (14 ounces) granulated sugar
3 cups (6 sticks) unsalted butter
1 tablespoon vanilla extract
2/3 cup pumpkin puree
Instructions
CAKE
Spray 3 8-inch round cake pans with nonstick baking spray and set aside. Adjust an oven rack to the center position and heat oven to 350 degrees. In a large bowl whisk flour, baking soda, baking powder, cinnamon, ginger, cloves, nutmeg, allspice, cardamom and salt to combine.
In the bowl of a stand mixer, combine the pumpkin, sugar and oil on medium-low speed for 2 minutes.
Add eggs in one at a time, on low speed beating until just combined. Stir in orange zest.
Add the dry ingredients into the wet ingredients and beat on low speed until just combined. Give the batter a final stir by hand with a rubber spatula. Divide cake batter between prepared cake pans and bake for 20 to 26 minutes or until a wooden skewer inserted in the center comes out with a few moist crumbs attached. Let cakes cool in their pan for 10 minutes and then invert on to cooling racks to cool completely.
PUMPKIN BUTTERCREAM
In the bowl of a stand mixer fitted with the whisk attachment, pour in the egg whites and sugar and whisk by hand until combined. Fill a medium saucepan with about 2 inches of water and bring to a simmer. Place mixer bowl on top, being sure the bottom of the bowl does not touch the water and attach a candy thermometer.
Whisking occasionally, heat the egg mixture until the temperature reaches 160 degrees. Once the mixture reaches 160 degrees, transfer to a stand mixer and beat the mixture on high speed for 10 to 12 minutes or until medium-stiff peaks form. At this point the outside of the mixer bowl should be room temperature. Switch out the whisk attachment with the paddle attachment and with the mixer on low speed, add the butter one tablespoon at a time, and then add the vanilla extract and pumpkin puree. Once combined, turn up the mixer speed to medium-high and beat until the buttercream is smooth about 5 minutes.

ASSEMBLE

Trim domes of each cake layer to create 3 even layers of cake. Place one cake layer on a cake platter and spread about 1 cup buttercream on top in an even layer. Place a second cake layer on top and spread the 1 cup buttercream on top in an even layer. Place the last cake layer on top (cut side down) and spread buttercream over the top and sides of the cake. Use a cake comb to add a decorative finish to the sides of the cake. Chill the cake in the refrigerator while you prepare a piping bag.
Place remaining buttercream in a piping bag fitted with a piping tip (I used Ateco #808) and set aside.
Remove the cake from the refrigerator and decorate the top edges by piping dollops of buttercream around the outside edges. Top each dollop with a marshmallow pumpkin if using and sprinkles.
Notes
Store cake in an airtight cake container on the counter for up to one day, or refrigerated for up to 3 days. Bring to room temperature before serving.
Nutrition Information:
Yield:

12
Serving Size:

1
Amount Per Serving:
Calories:

498
Total Fat:

32g
Saturated Fat:

5g
Trans Fat:

1g
Unsaturated Fat:

25g
Cholesterol:

86mg
Sodium:

524mg
Carbohydrates:

45g
Fiber:

3g
Sugar:

14g
Protein:

9g
*Nutrition information is an estimate and will vary.*