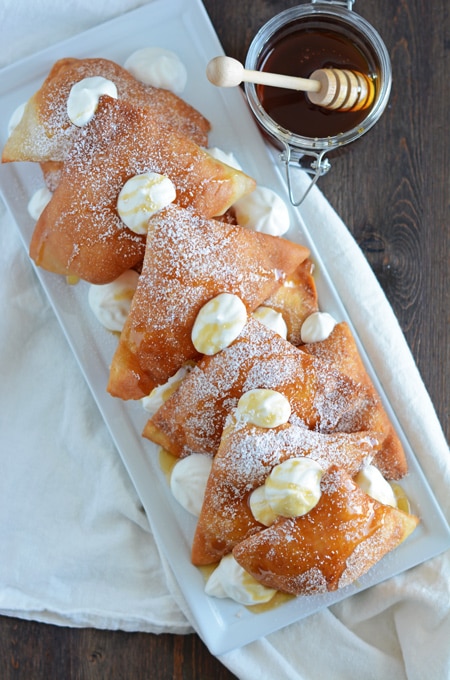 So for my last recipe for 2017 I thought I would do something that is near and dear to me and my heritage, Sopaipillas! These crispy, light and airy little treats are the perfect ending to any meal, especially if it's Mexican or Tex-Mex food.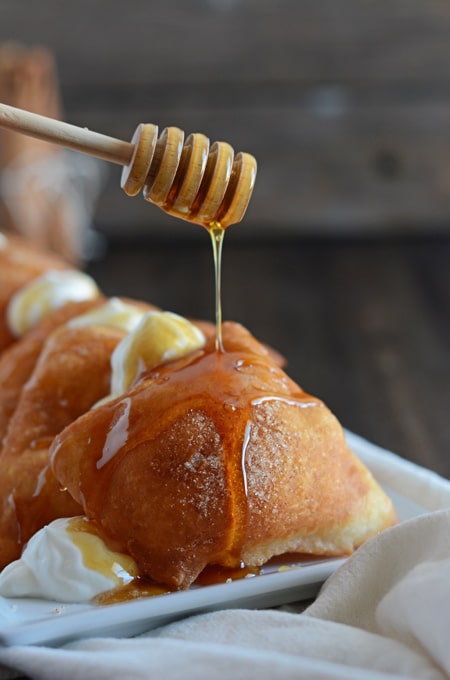 Here in Texas we have some of the best Tex-Mex food around and Sopaipillas are usually on the dessert menu at all of these Mexican and Tex-Mex restaurants, usually served with a drizzle of honey, chocolate sauce, whipped cream and sometimes maraschino cherries. Have it all or just choose one topping, either way everyone should experience the sopaipilla no matter where you are from or what your heritage is.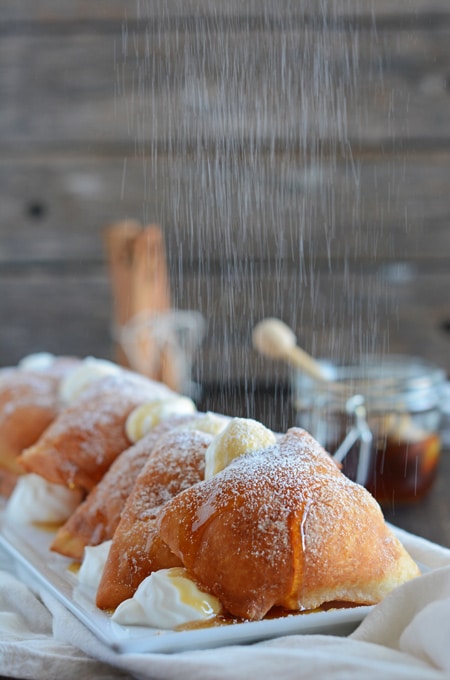 Frying Sopaipillas is not difficult. Just be sure you are frying safely with a fry thermometer, and you are always watching your oil temperature. Do not leave the kitchen for any reason. Frying needs your full attention. To make things even easier I have outlined a few tips that might help you with making these beautiful little pillows of sweetness.
Sopaipilla Tips
If you don't have a food processor, mix the flour, baking powder and salt together in a bowl. Cut in the shortening until the mixture resembles coarse crumbs. Sprinkle the warm water over top and knead until the dough comes together. Continue with the recipe as written.
Be sure your oil is at temperature before adding a new batch to the oil for frying.
Sopapillas can be kept warm in a 200 degree F. oven for up to 1 hour.  They refrigerate well and can be reheated in a 350 degree F. oven for 10 to 15 minutes before serving.
If you like these Sopaipillas you may also like these: Bunuelos, Old-Fashioned Sour Cream Doughnuts with Chocolate Glaze, and Tres Leches Cake.
Be sure to follow The Cake Chica on social media: Facebook, Instagram, Twitter, Pinterest and Yummly. I also have a newsletter if you want more from The Cake Chica called The Weekly Recap, where I will send you the latest recipe link as well as what is coming up next on The Cake Chica. Sign up in the form below this post and as a thank you, I will send you my ebook The Cake Chica's Top 10 Recipes of 2015 with Step-by-Step Photos for FREE!
…