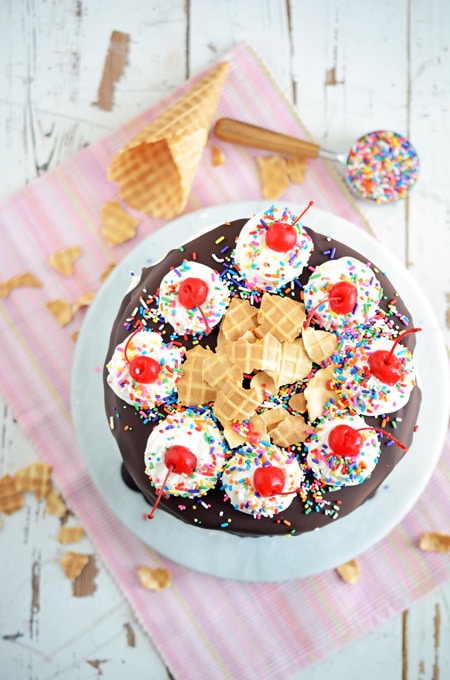 Disclosure: Please note that some of the link in this post are affiliate links and I will earn a commission if you purchase through those links. I have used all the products and recommend them because they are helpful and are companies I trust. Thank you for supporting The Cake Chica website.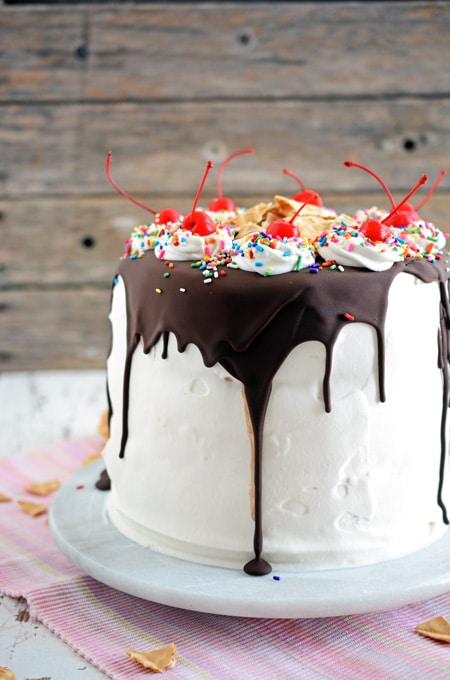 You could say blood, sweat and tears went into this one. Okay not literally but I was up against some crazy obstacles when making this recipe for Grandma's Neapolitan Ice Cream Cake. The recipe comes from…well you probably guessed it…my Grandma. I've never made it before but I sure do remember eating it when I was young and still to this day during holidays.
Round 1: So a power line behind our street fell down the day I was supposed to finish and take pictures of this cake. With the power out for a few hours, the cake was pretty much done for. But this was actually a blessing in disguise. I realized I didn't use enough ice cream filling for the ice cream layers and I also used baking soda instead of baking powder for the cake 🙁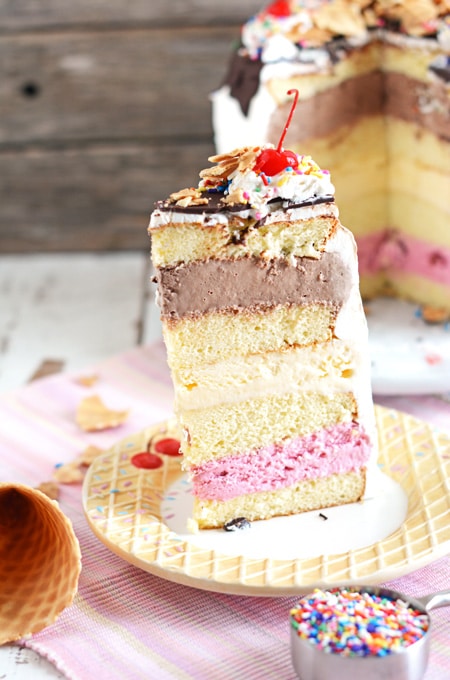 Round 2: After my failure the day before, I was determined to get it right! The next day (Sunday) I started all over. With the power back on, I was ready to tackle the challenge. Or so I thought. Ice cream cake should never be rushed!!!! My mistake on the second round. Talk about melting ice cream everywhere. Not only that, but I hadn't made the proper adjustments in my freezer for a cake this tall in stature.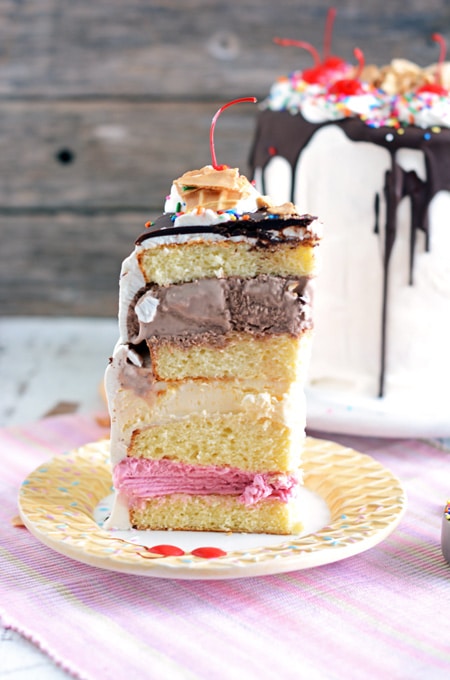 Round 3: Yes!!! The final round! Having learned from all my mistakes I now have the perfect, show stopping ice cream cake ready for it's debut on The Cake Chica.
As mentioned above, don't rush the ice cream cake. So here is what my schedule looked like when making this amazing ice cream treat:
Friday:
Make the sponge cake
Make the ice cream layers
Assemble cake and cover tightly with plastic wrap and store in the freezer overnight to set up.
Saturday:
Prepare for any garnishes: set up piping bags, make Magic Shell, get sprinkles ready, get cherries all cleaned up and get the ice cream cone pieces prepped.
Make whipped cream.
Cover cake with whipped cream and decorate with garnishes of your choosing.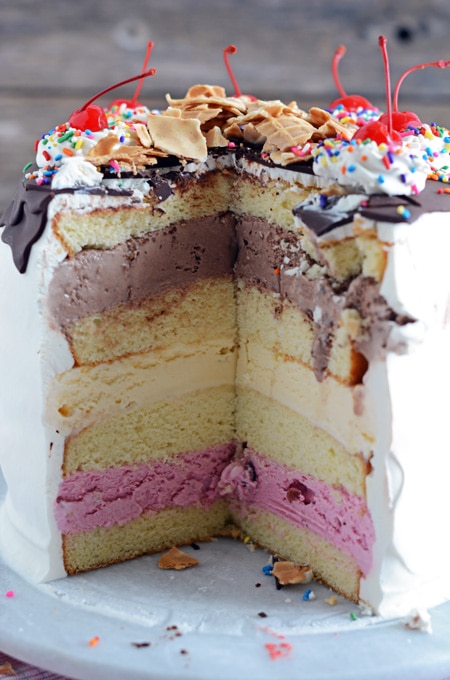 I have some tips on this cake that you should be made aware of before tackling this recipe:
Be sure you have enough freezer space in your freezer for this cake. It gets very tall! If you have a bottom loading freezer this recipe will be difficult to do.
Use a marble or granite serving platter and store the cake on top to keep it as cold as possible in the freezer. I used a marble lazy Susan which made it a breeze to store and frost the cake.
Don't rush the ice cream cake!
You can use 9 inch round cake pans to make the cake a little shorter and wider if that fits your storage space better. Just be sure to adjust the baking time on the cake.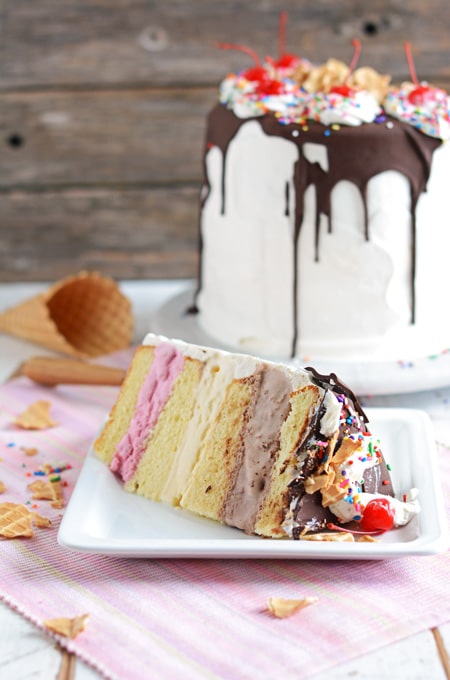 Lucky for you I have made all the mistakes for you :). This is my Grandma Mary's recipe and I wanted to do it justice! So no matter how many times I had to redo it until I got it just right, then that's just what I was going to do. Thankfully the third time was the charm. I had to put my own twist on this recipe just a little by adding homemade whipped cream, Magic Shell, sprinkles and some crushed up ice cream cone.
I hope you enjoy this recipe as much as I did. And now I have the recipe down to pass on to future generations. You can follow me on social media on Facebook, Instagram, Twitter, Pinterest and Yummly. Or if you would like to receive The Cake Chica's Weekly Recap Newsletter, you can sign up in the box below this post. And as a thank you, you'll receive The Cake Chica's Top 10 Recipes for 2016 with Step by Step Photos ebook for FREE!
…