With the weather warming up outside, it's nice to have a lighter option for dessert in the hot summer months. My White Cupcakes with Mixed Berry Filling are the perfect 'something sweet' that's not too heavy. Plus, the fresh berries on top give them a refreshing twist.
White Cupcakes
These cupcakes are an adaptation of my popular recipe for White Cake with Strawberry Filling. Not much has changed from the original recipe other than pouring the batter into cupcake pans and reducing the baking time.
How to Get Perfectly Sized Cupcakes
I've found that using a 3 tablespoon sized spring loaded ice cream scoop helps to keep the cupcakes all the same size. This also helps the cupcakes bake evenly.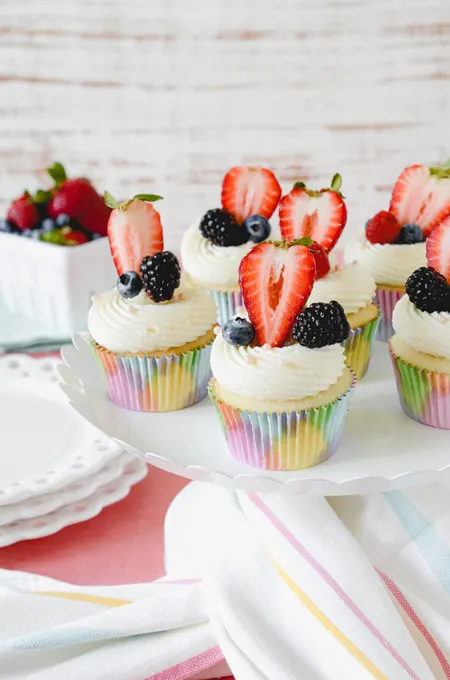 Mixed Berry Filling
If you've tried my recipe for White Cake with Strawberry Filling, then my Mixed Berry Filling may seem familiar. That's because it's the same filling I used for my white cake recipe. I just replaced the frozen strawberries with frozen mixed berries.
This filling is easy to make and easily adaptable by switching to your favorite frozen fruits.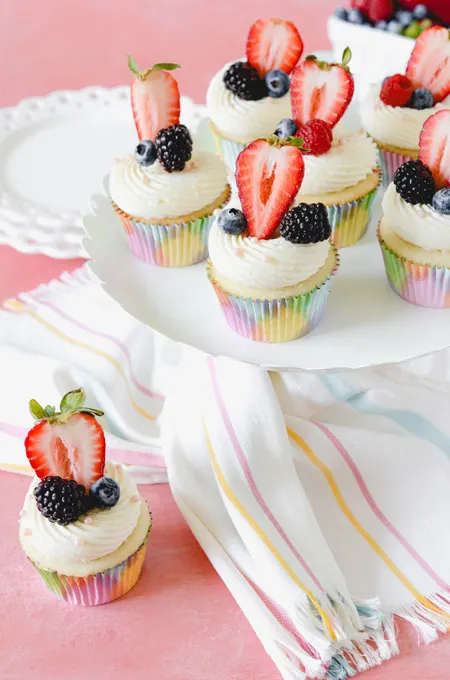 How to Achieve Fluffy Cream Cheese Frosting
Cream cheese frosting can be a little tricky at times. It can easily turn into a soupy mess or have lumps of cream cheese in it. Here are a few tips I've learned to achieving the perfect light and fluffy cream cheese frosting:
Beating your butter for 5 minutes.
Cutting your cream cheese into cubes.
Making sure your cream cheese is extremely soft before adding in to the butter mixture.
Don't over mix. Once the cream cheese is added in this is when the frosting can turn soupy if you don't keep a close eye on it.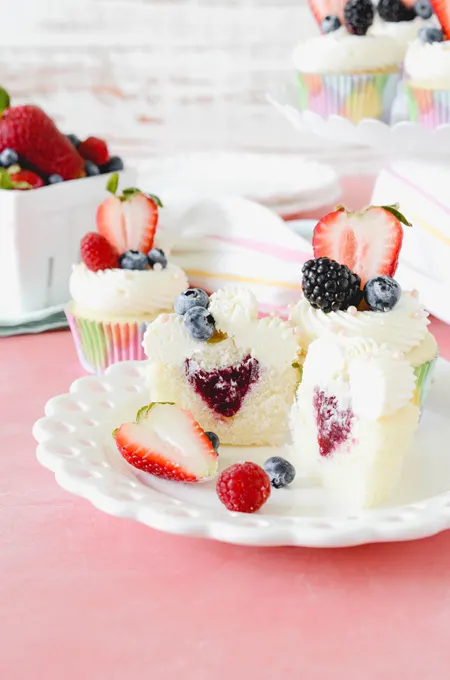 Fresh Berries
To garnish these White Cupcakes with Mixed Berry Filling I opted for a simple garnish of fresh berries to bring out all of the flavors. Strawberries, blueberries, raspberries or blackberries, the choice is yours!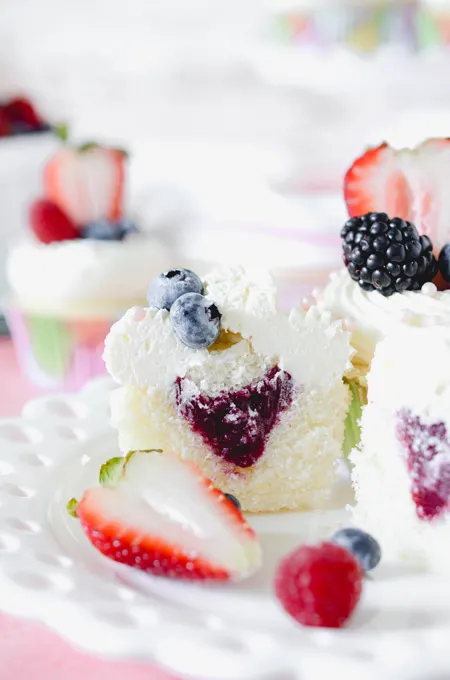 Plan It Out
Here's what my baking schedule looked like. Be sure to check out the "Notes" section in the recipe card to help plan out your schedule.
Day 1:

Bake the cupcakes.
Day 2: Prepare the filling, frosting and serve.
Let's Connect
The Cake Chica is on Facebook sharing sneak peeks of recipes to come, Instagram for your food porn desires and Pinterest for your board pinning needs.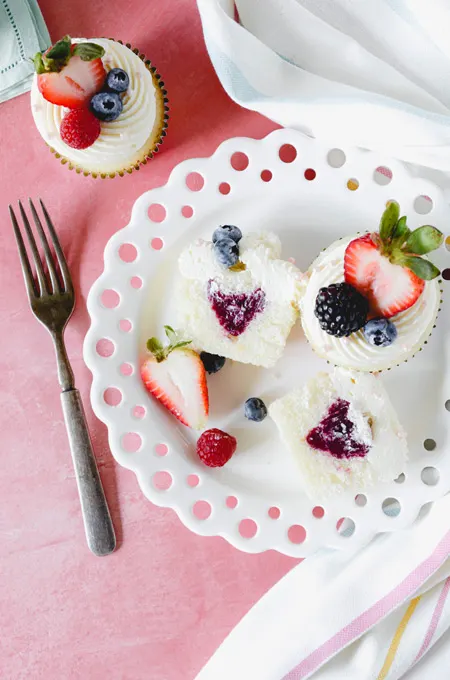 You May Also Like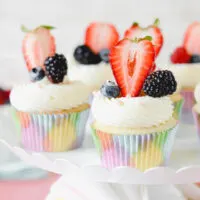 White Cupcakes with Mixed Berry Filling
These white cupcakes are light and airy, filled with mixed berry filling, topped with fluffy cream cheese icing and garnished with fresh berries.
Ingredients
SPECIAL TOOLS
Cupcake liners
Mix of fresh berries for decorating such as blueberries, raspberries, blackberries and strawberries
WHITE CUPCAKES
1 cup whole milk, at room temperature
6 large egg whites, at room temperature
1 teaspoon vanilla extract
2 ¼ cups (9 ounces) cake flour
1 ¾ cups (12.25 ounces) granulated sugar
4 teaspoons baking powder
1 teaspoon salt
12 tablespoons unsalted butter, cut into tablespoon sized pieces, at room temperature
MIXED BERRY FILLING
12 ounces frozen mixed berries, thawed
¼ cup (1.75 ounces) granulated sugar
3 tablespoons cornstarch, mixed with 3 tablespoons cold water
Fresh lemon juice, to taste
3 tablespoons Chambord, optional
CREAM CHEESE FROSTING
1 cup (16 tablespoons) unsalted butter, at room temperature
3 cups (12 ounces) powdered sugar, sifted
2 teaspoons vanilla extract
1/2 teaspoons fresh lemon juice
Pinch of salt
16 ounces cream cheese, cut into cubes, at room temperature
Instructions
CUPCAKE

Adjust an oven rack to the center position and heat oven to 350 degrees. Line 2 cupcake pans with cupcake liners and set aside.
In a 4 cup liquid measuring cup, whisk together milk, egg whites and vanilla extract.
In the bowl of a stand mixer, with the paddle attachment attached, mix the flour, sugar, baking powder and salt on low speed until combined. Add butter one tablespoon at a time until the mixture forms pea-sized pieces, about 1 minute.
Reserve ½ cup of the milk mixture and pour the remaining in to the flour mixture and mix on medium-high speed until light and fluffy, about 1 minute. Reduce the mixer speed to medium-low and add the reserved ½ cup milk mixture to the batter and mix until combined, about 30 seconds. Do not over mix. The batter may look curdled. Give the batter a final stir by hand with a rubber spatula.
Divide the batter evenly with a spring loaded ice cream scoop between the prepared cupcake pans and gently tap cake pans on the counter to settle the batter. Bake until a toothpick inserted in the centers comes out with a few moist crumbs attached, about 12 to 15 minutes, switching and rotating pans halfway through baking.
Let cakes cook in their pans on wire racks for 5 minutes. Invert cupcakes on wire racks to cool completely, about 2 hours.
MIXED BERRY FILLING
Place thawed berries in a blender or food processor and puree until smooth. Over a bowl pour mixed berry puree over a sieve to remove the solids. The puree will be thick. Use a spoon to stir and press the puree through the strainer.
Place mixed berry puree in a small saucepan over medium-low heat. Add sugar and cornstarch mixture and bring to a simmer, stirring constantly to keep lumps from forming. Once the puree thickens, remove from the heat. Cool for 5 minutes and then add fresh lemon juice and Chambord. Chill for about 2-3 hours in the refrigerator until ready to use.
CREAM CHEESE FROSTING FROSTING
In the bowl of a stand mixer fitted with the paddle attachment, beat the butter on medium speed for 5 minutes. Add the powdered sugar, vanilla extract, lemon juice and salt. Reduce the speed to low and beat for 1 minute.
Increase the speed to medium and beat until fluffy, about 4 minutes. Reduce the speed to medium-low and add the cream cheese and beat until smooth, about 1 minute. Do not over beat or the frosting will become soupy.

ASSEMBLE
Cut a cone of cake out of the middle of each cupcake. Remove and toss out the cone of cake, but keep the flat circular piece to place back on top of the cupcake after you add the filling.
Fit a piping bag with Ateco piping tip #869 and fill bag with frosting. Pipe frosting around the outer edge of each cupcake. Place a few fresh berries in the center of each cupcake and serve.








Notes
MAKE AHEAD: Store cupcakes in an airtight cake container at room temperature for up to 3 days.
Filling can be made up to 3 days in advance, stored in an airtight container in the refrigerator.
The cream cheese frosting will keep covered at room temperature for up to 6 hours, and then refrigerated in an airtight container for 3 days. Bring chilled frosting to room temperature and beat on low speed to soften before using.

Nutrition Information:
Yield:

24
Serving Size:

1
Amount Per Serving:
Calories:

1096
Total Fat:

59g
Saturated Fat:

22g
Trans Fat:

3g
Unsaturated Fat:

32g
Cholesterol:

87mg
Sodium:

1058mg
Carbohydrates:

138g
Fiber:

6g
Sugar:

97g
Protein:

12g
*Nutrition information is an estimate and will vary.*