When my niece was living with me I would see the occasional prepackaged junk food lying around the house at times. I noticed that chocolate cream cupcake that I loved so much as a child and teenager just hanging out in my pantry one day. I sort of rolled my eyes at it, since I kind of pride myself on homemade baked goods. But I quickly remembered I loved them when I was that age too and just ignored it, hoping she would eat it soon so I wouldn't have to look at it any longer. Well she moved out soon after that and I noticed the junk food, (including that chocolate cupcake) were gone! I thought great now everything is as it should be. Come to find out my husband actually ate it and he said it wasn't as good as he remembered. That motivated me to make something similar, but homemade. I then remembered a recipe I saw in Cook's Country that was similar, so I gave it a try. The results were amazing! I promise you will never want those prepackaged, processed versions after having these. But don't take my word for it, try them yourself and let me know what you think.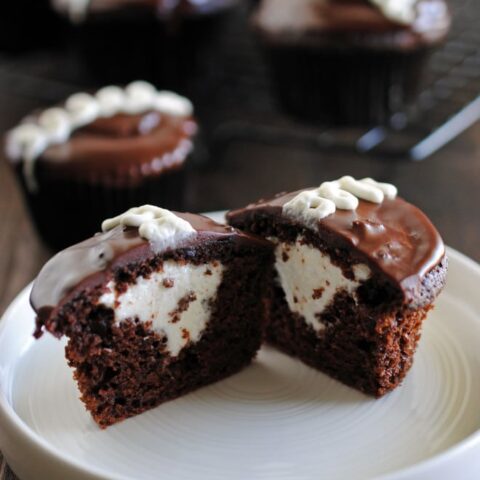 Chocolate Cream Cupcakes
TIP: For an accurate measurement of boiling water, bring a full saucepan of water to a boil, then, measure out the desired amount.
Ingredients
CUPCAKES
1 cup all-purpose flour
1/2 teaspoon baking soda
1/4 teaspoon salt
1/2 cup boiling water
1/3 cup unsweetened cocoa
1/3 cup semisweet chocolate chips
1 tablespoon instant espresso granules
3/4 cup granulated sugar
1/2 cup sour cream
1/2 cup vegetable oil
2 large eggs
1 teaspoon vanilla extract
FILLING
3 tablespoons water
3/4 teaspoon unflavored gelatin
4 tablespoons unsalted butter, softened
1 teaspoon vanilla extract
Pinch salt
1 1/4 cup marshmallow cream
GLAZE
1/2 cup semisweet chocolate chips
3 tablespoons unsalted butter
Instructions
CUPCAKES
Adjust oven rack to middle position, heat oven to 325 degrees. Spray 12 cup cupcake pan with vegetable oil spray and flour, or line with cupcake liners. Combine flour, baking soda and salt in bowl and set aside. Whisk water, cocoa, chocolate chips and instant espresso in large bowl until smooth. Add sugar, sour cream, oil, eggs and vanilla and mix until combined. Whisk in flour mixture until incorporated. Divide batter evenly among prepared cupcake pan. Bake until toothpick inserted in center comes out with a few crumbs attached, 18 to 22 minutes. Let cupcakes cool in pan on wire rack for 10 minutes, then turn over onto wire rack to cool completely.
FILLING
Pour 3 tablespoons water in large bowl and sprinkle gelatin on top, let sit until gelatin softens, about 5 minutes. Microwave gelatin until bubbly around edges and gelatin dissolves, about 30 seconds. Stir in butter, vanilla and salt until combined. Let mixture cool until warm, about 5 minutes, then whisk in marshmallow cream until smooth. Refrigerate until set, about 30 minutes. Transfer 1/3 cup marshmallow cream to a bowl. Prepare pastry bag with Wilton cake decorating tip #2 and fill bag with cream. Set aside until ready to use.
GLAZE
Microwave chocolate and butter in medium bowl for 1 1/2 to 2 minutes, stirring every 30 seconds. Let glaze cool to room temperature, about 10 minutes.
Insert tip of paring knife at 45-degree angle and about 1/4 inch from edge of cupcake to create a cone of cake and cut off cone portion, leaving a circular disk of cake. Fill cupcakes with 1 tablespoon marshmallow filling. Replace tops, frost with 1 tablespoon of glaze and let sit 10 minutes. Using prepared pastry bag, pipe curlicues across glazed cupcakes and serve.
Notes
Cupcakes can be stored at room temperature for up to 2 days.