How about this Strawberry Cinnamon Cake for something a little different? It's a homemade cake baked with fresh strawberries inside each cake layer. Then, the cake is frosted with a ganache based strawberry buttercream, and decorated with freshly sliced strawberries with a piped tear drop pattern on the top of the cake.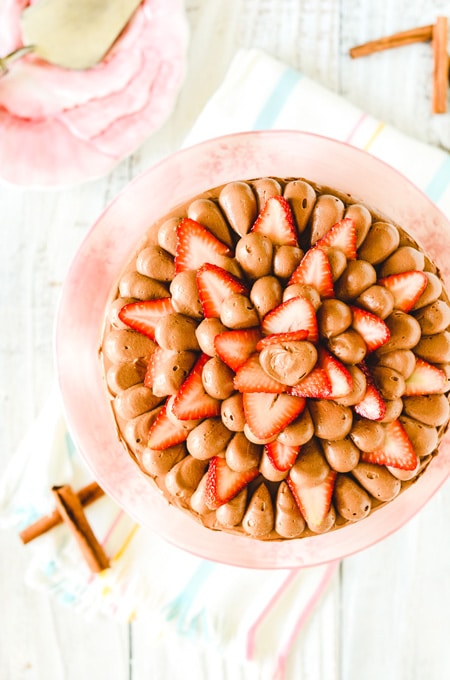 The Importance of Room Temperature Ingredients
For ingredients such as butter, buttermilk and eggs I like to make sure they are from about 65 – 70 degrees before baking with them. If your ingredients are cooler or warmer it can produce a cake that is heavy or gummy. You can use a digital thermometer to check the temperature of your ingredients before using.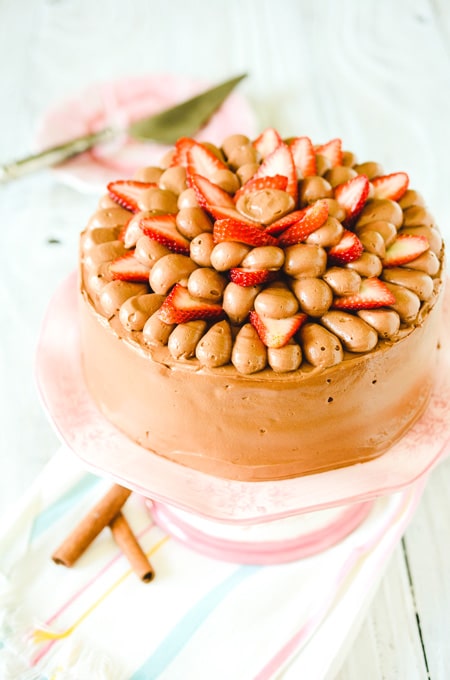 Strawberry Ganache Buttercream
Here is a unique way to get lots of chocolate flavor in your buttercream, by combining a chocolate ganache with butter. I've added a strawberry liquour to the ganache to add an extra punch of strawberry flavor. Any berry flavored liquour would be great in this recipe. You can also leave out the liquour all together and replace it with a strawberry extract.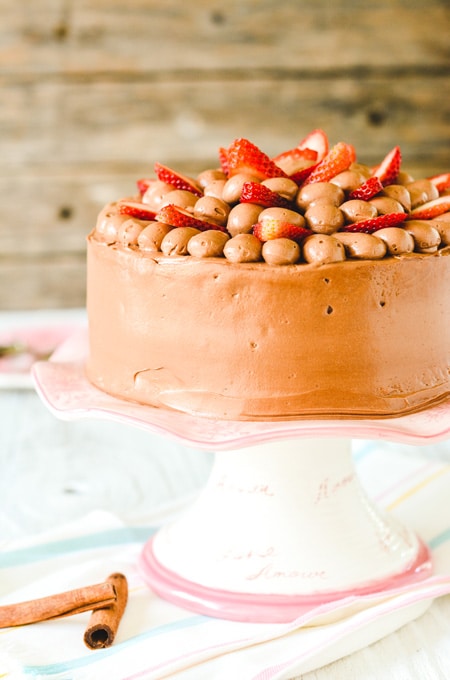 Cake Assembly Tips
Set aside about 1 1/2 cups buttercream and place in a piping bag for decorating the top of the cake.
Start with a lot of frosting on your cake, covering and smoothing it out and removing excess buttercream as you go.
If you find yourself running low on buttercream, remember the top will be covered with strawberries and reserved buttercream so you can put a light covering of frosting on the top.
I prefer to use a straight round coupler for my "piping tip". Be sure to use one that is straight and not one that has the notches in it.
Reserve the best looking strawberries from your bunch for the top of the cake.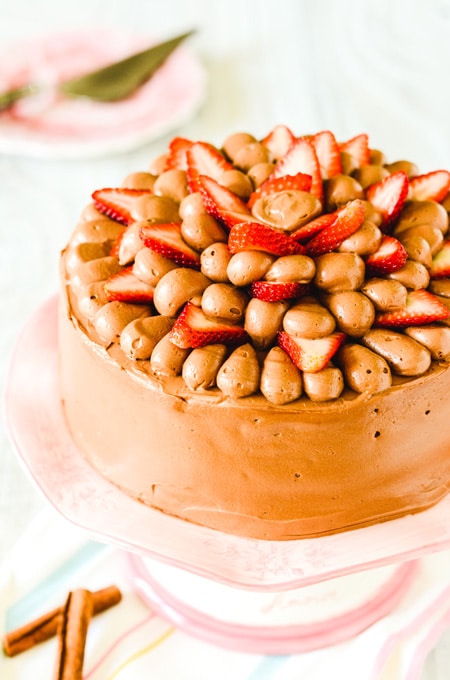 Plan It Out
Day 1: Bake the cake layers. Wrap in plastic wrap and store in an air tight cake container in the refrigerator.
Day 2: Prepare the fresh strawberry garnish, buttercream and assemble.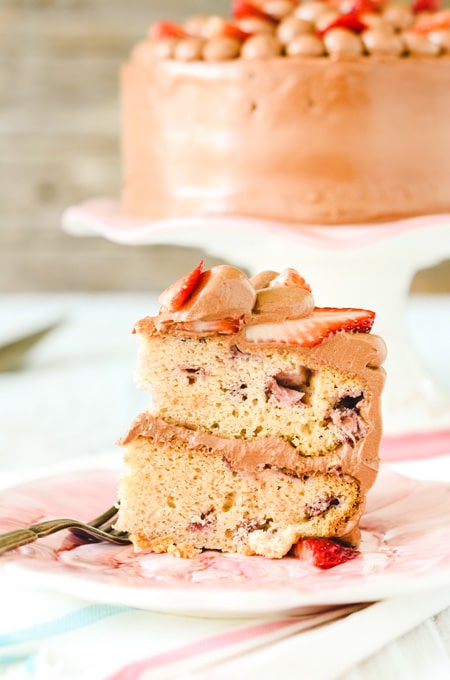 Lets Connect
The Cake Chica is on Facebook sharing sneak peeks of upcoming recipes and videos, on Instagram to feed your food porn desires or on Pinterest for your recipe pinning needs.
You May Also Like
---
Adapted from Death by Chocolate Cakes by Marcel Desaulniers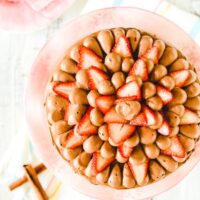 Strawberry Cinnamon Cake
Additional Time:
25 minutes
Total Time:
1 hour
40 minutes
Homemade cake baked with cinnamon and fresh strawberries, frosted with a chocolate strawberry buttercream and garnished with fresh strawberries.
Ingredients
SPECIAL TOOLS
CAKE
2 ½ cups (12.5 ounces) all-purpose flour
1 teaspoon baking powder
1 teaspoon baking soda
½ teaspoons ground cinnamon
1 ¼ cups (8.75 ounces) granulated sugar
12 tablespoons (6 ounces) unsalted butter, cut into ½-inch pieces, softened, about 65 degrees
2 large eggs, at room temperature
1 large egg white, at room temperature
½ cup sour cream, at room temperature
1 tablespoon vanilla extract
1 pint fresh strawberries, washed, stemmed and cut into 1/4 –inch dice
CHOCOLATE STRAWBERRY BUTTERCREAM
10 ounces semisweet baking chocolate, coarsely chopped
1 cup (8 ounces) heavy cream
½ cup (3.5 ounces) granulated sugar
¼ cup (2 ounces) strawberry liqueur
24 tablespoons (3 sticks) unsalted butter, cut into ½-inch pieces, softened
STRAWBERRY GARNISH
8 whole medium fresh strawberries, washed, stemmed and cut lengthwise into ¼- inch thick slices
Instructions
CAKE
Adjust and oven rack to the center of your oven and preheat your oven to 350 degrees. Spray 2 8-inch round cake pans with baking spray, or line with parchment paper and set aside.
In a large bowl combine the flour, baking powder, baking soda and cinnamon and whisk to combine and set aside.
Place sugar, and butter in the bowl of an electric mixer fitted with the paddle attachment and mix on low speed for 1 minute, then beat on medium speed for 2 minutes until soft. Scrape down the sides of the bowl and the paddle. Continue to beat for another 2 minutes. Scrape down the sides of the bowl and paddle and one at a time add the eggs and the egg white. Beat for 30 seconds after each addition. Scrape down the sides of the bowl once all the eggs have been incorporated.
Turn the mixer to low speed and slowly add the dry ingredients and mix until just incorporated. Add sour cream and vanilla extract and beat on medium speed for 15 seconds until combined. Gently fold in diced strawberries with a rubber spatula until combined. Divide batter into prepared cake pans and bake for 30 minutes or until a toothpick inserted in the center of each cake comes out with a few moist crumbs attached. Cool cakes in their pans for 15 minutes, then invert cake layers on to a cooling rack to cool completely.
BUTTERCREAM
Place chopped chocolate in a large bowl. Heat the heavy cream, sugar and strawberry liqueur in a small saucepan over medium-high heat. Stir to dissolve the sugar and bring to a boil. Pour the boiling cream over the chopped chocolate and let sit for 5 minutes; then stir with a whisk until smooth. Pour the ganache onto ab aking sheet with sides and spread it evenly. Refrigerate for 20 minutes until chilled but not firm.
Place butter in the bowl of an electric mixer fitted with the paddle attachment and mix on low speed for 1 minute. Increase the speed to medium-high and mix for 2 more minutes. Scrape down the sides of the bowl and mix again for 2 more minutes. Scrape down the sides of the bowl and pour in chilled ganache and beat on medium for 2 minutes. Give the buttercream a final stir by hand and transfer about 1 ½ cups buttercream to a piping bag fitted with a large straight tip or coupler. Set aside until needed.
ASSEMBLE
Place one cake layer on a cake pedestal and spread about 3/4 cup buttercream evenly over the top of the cake. Place the second cake layer on top and gently press into place. Spread the remaining buttercream evenly over the top and onto the sides of the cake and refrigerate for 30 minutes.
Pipe a circle of buttercream teardrops about 1 inch wide and 1 inch long each one touching the next along the outside edge of the top of the cake. Arrange a circle of strawberry slices, stem ends toward the center of the cake, inside the circle of buttercream teardrops. Repeat alternating circles of buttercream and strawberry slices until the entire cake is covered. Enjoy!
Notes
STORAGE: Cake can be stored in a cake keeper in the refrigerator for 2 to 3 days. Bring to room temperature before serving.
Nutrition Information:
Yield:

10
Serving Size:

1
Amount Per Serving:
Calories:

794
Total Fat:

64g
Saturated Fat:

38g
Trans Fat:

2g
Unsaturated Fat:

21g
Cholesterol:

186mg
Sodium:

573mg
Carbohydrates:

45g
Fiber:

7g
Sugar:

10g
Protein:

11g
*Nutrition information is an estimate and will vary.*