These are the same Best Big Fat Chewy Chocolate Chip Cookie recipe just with new photos and a few additional baking tips included in the blog post.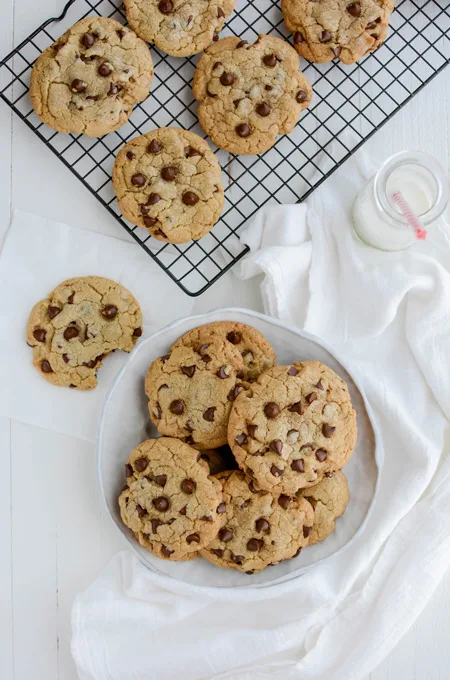 Chocolate Chip Cookie Ingredients
All-purpose flour: Gluten and starch are the two main components in flour that help build structure.
Baking soda: is a leavener that is activated by a liquid and an acid in the dough or batter. Baking soda must be fresh in order to work properly. So be sure to check the expiration date. To test if your baking soda is fresh, place 1/4 teaspoon of baking soda in a small bowl. Pour 1 teaspoon white vinegar on top and if it's fresh, it should bubble quickly. If it doesn't it's time to toss it. Baking soda and baking powder can't be used interchangeably.
Salt: helps bring out the sweetness in baked goods.
Unsalted butter, melted: Since there is no standard measurement for how much salt is in each stick of butter, it's best to use unsalted butter. This recipe uses melted butter, but it should be cooled to about 75-80 degrees before using.
Light brown sugar: helps the sweetness of the recipe, plus impacts the texture and color as well. Unlike granulated sugar, brown sugar is acidic and will react to the baking soda in this recipe.
Granulated sugar: sweetens, tenderizes, leavens and caramelizes the cookies.
Vanilla extract: adds flavor to the cookie dough.
Eggs: Just like flour, eggs help provide structure.
Egg yolks: contribute to color and flavor. Egg yolks also help prevent staling since they contain an all-natural emulsifier called lecithin.
Chocolate chips: the star of this recipe! Feel free to substitute peanut butter chips, milk chocolate chips, dark chocolate chips, nuts and candy in this recipe.
Chocolate Chip Cookie Equipment
Baking sheets: I use a full sized aluminum rimmed baking sheet. Heavy duty aluminum reduces warping and is an excellent conductor of heat. Insulated baking sheets will keep your cookies from browning fully on the bottom. And dark nonstick baking sheets tend to burn the bottom of the cookies.
Parchment paper: I used to use a silicone mat for my cookies, but now I use parchment paper. It makes clean up easy! Silicone mats can create soggy cookie bottoms from the condensation that develops as the cookies cool on the baking sheet. And the cookies tend to spread more on silicone mats.
Stand mixer: I love my stand mixer but these cookies can also be made with a hand mixer and a large bowl.
Measuring cups/spring loaded ice cream scoops: These cookies are dropped by 1/4 cup, so I use my 1/4 measuring cup. You can also use a spring loaded ice cream scoop to ensure all your cookies are the exact same size. Typically a small spring loaded ice cream scoop measure 2 teaspoons, medium measures 1 1/2 tablespoons, and large is about 3 tablespoons.
Cooling racks: allow for the cookies to cool quickly and evenly.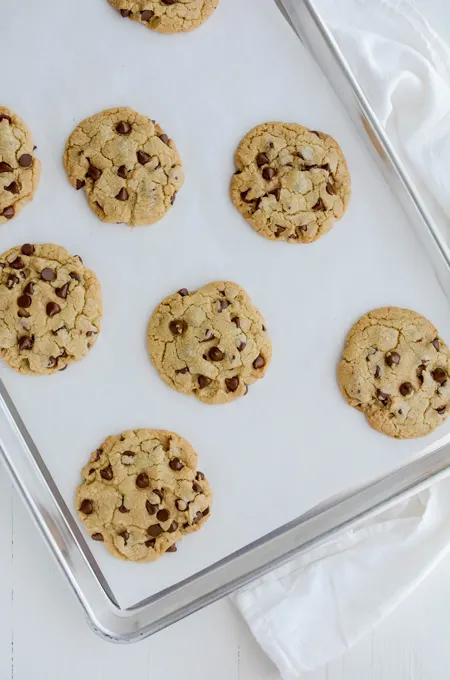 Chocolate Chips
Chocolate chips have a little less cocoa butter in them than bar chocolate. Plus, they have stabilizers and emulsifiers which helps them keep their shape while baking.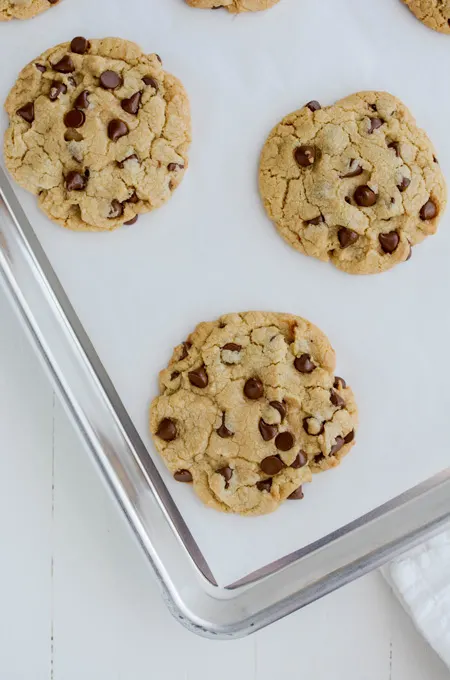 Cookie Dough Storage
The cookie dough can be refrigerated up to 24 hours. When you're ready to bake them, let the dough sit at room temperature until it's warm enough to scoop.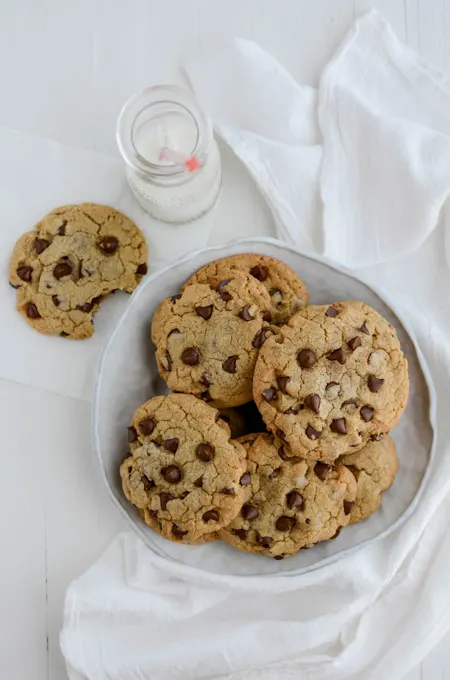 Baked Cookie Storage
Baked cookies can be stored in an airtight container at room temperature for 3 to 5 days. For that fresh out of the oven experience, heat your oven to 325 degrees and heat cookies in the oven for 3 to 5 minutes.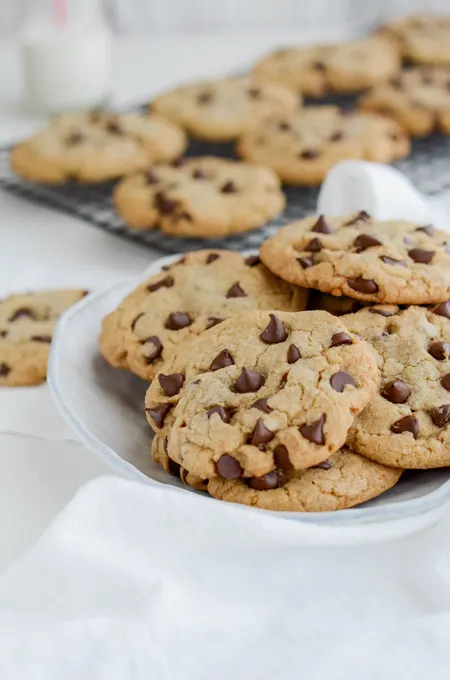 Chocolate Chip Cookie Tips
Flat cookies?
The butter was too warm. Try waiting until your butter is around 75 degrees before using.
Dough was too wet. Try adding more flour by tablespoon.
The butter and sugar was over mixed. Cream the butter and sugar for about 2 to 3 minutes on medium-high speed.
Baked with a silicone mat. Try using parchment paper instead.
Thick cookies?
The dough was too cold. If the dough was too cold the cookies won't spread evenly.
Was your baking pan too dark? Nonstick pans can keep cookies from spreading.
Was shortening used instead of butter? Butter has more water content than shortening which helps cookies spread.
Burnt cookies?
Avoiding using dark nonstick baking sheets for baking cookies.
Always use the middle rack in the oven for even baking.
Make sure your oven is the correct temperature by using an oven thermometer.
Remove the cookies from the baking sheet after two minutes. Any longer and your cookies may over bake due to carry over baking.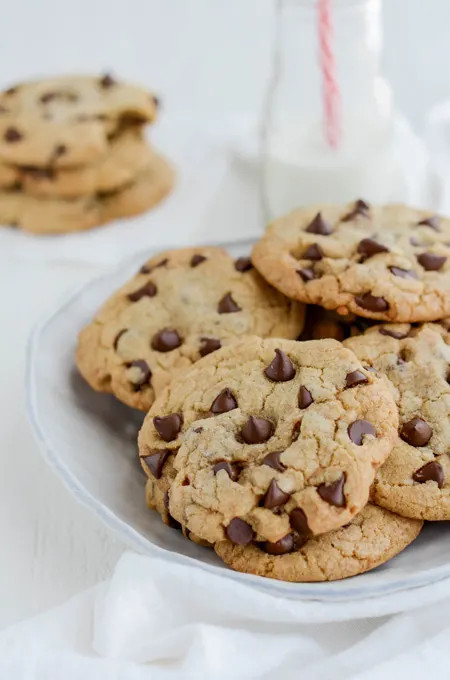 Let's Connect
The Cake Chica is on Facebook sharing sneak peeks of recipes to come, Instagram for your food porn desires and Pinterest for your board pinning needs.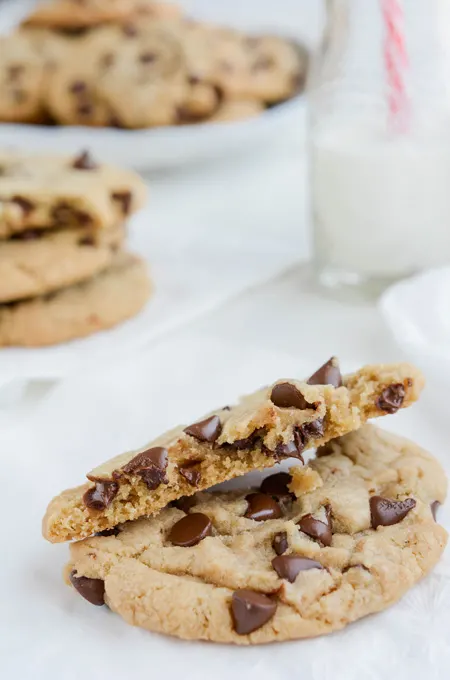 You May Also Like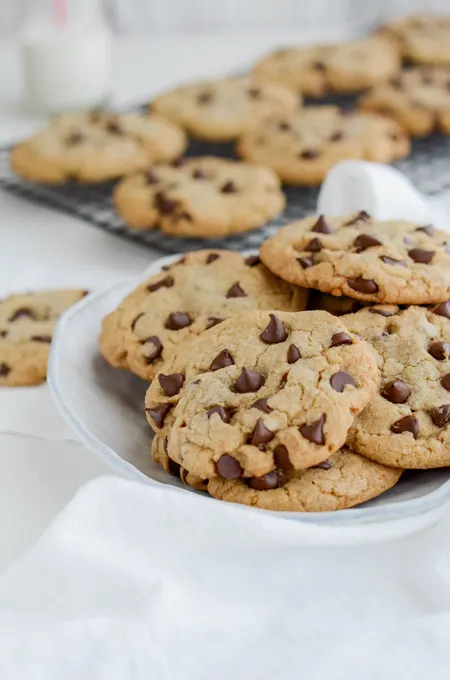 Best Big Fat Chewy Chocolate Chip Cookie
Additional Time:
20 minutes
Big and fluffy chocolate chip cookies with tender middles and crispy edges.
Ingredients
SPECIAL TOOLS
Half sized baking sheet
Parchment paper or silicone mat
COOKIES
4 cups all-purpose flour
1 teaspoon baking soda
1 teaspoon salt
1 ½ cups unsalted butter, melted and cooled to about 75 degrees
2 cups packed light brown sugar
1 cup granulated sugar
2 tablespoons vanilla extract
2 large eggs
2 large egg yolks
4 cups semi-sweet chocolate chips
Instructions
Preheat the oven to 325 degrees. Line a cookie sheet with parchment paper.
Whisk together the flour, baking soda and salt.
In a the bowl of a stand mixer fitted with the paddle attachment, cream together the melted butter, brown sugar and granulated sugar until well blended, about 3 minutes. Beat in the vanilla egg and egg yolk until light and creamy.
Mix in the dry ingredients until just blended. Stir in the chocolate chips by hand using a wooden spoon. Cover and chill the cookie dough in the refrigerator for at least 30 minutes or up to 24 hours.
Drop cookie dough ¼ cup at a time onto the prepared cookie sheet. Cookies should be about 3 inches apart. Bake for 15 to 17 minutes in the oven or until the edges are lightly toasted. Cool on baking sheets for 2 minutes before transferring cookies to wire racks to cool completely.

Notes
*Nutrition information is an estimate and will vary.*
Nutrition Information:
Yield:

30
Serving Size:

1 cookie
Amount Per Serving:
Calories:

249
Total Fat:

12g
Saturated Fat:

7g
Cholesterol:

49mg
Sodium:

130mg
Carbohydrates:

35g
Fiber:

1g
Sugar:

22g
Protein:

3g