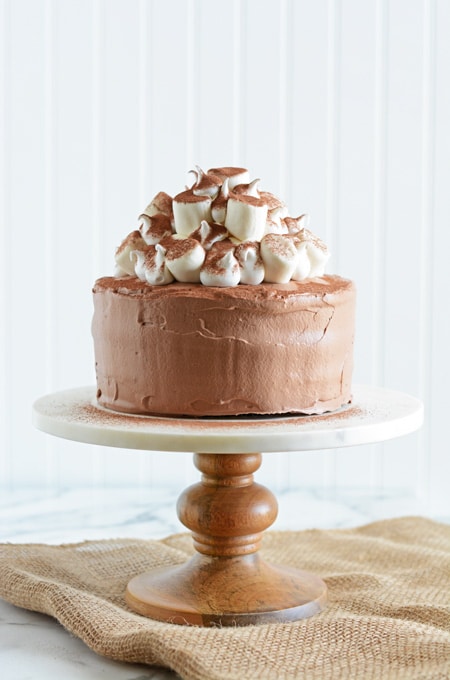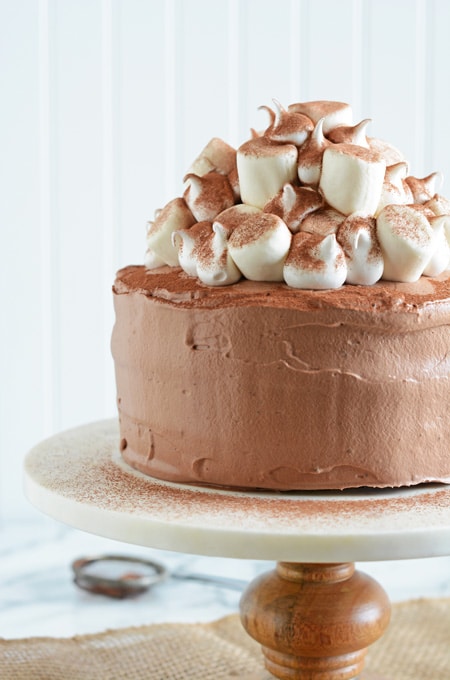 Okay this one might be my favorite cake of the year! A cake that tastes just like hot cocoa? Yes please!!! This Hot Cocoa Cake would look and taste amazing on your Christmas dessert table no doubt!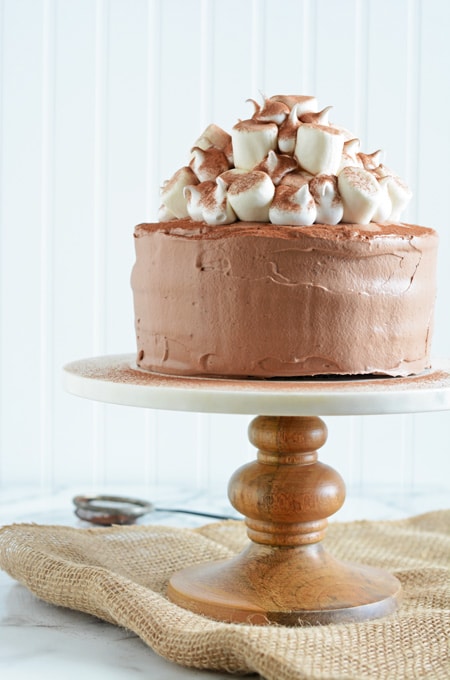 The base of this cake is a deep, dark and devilish devil's food cake, with a marshmallow filling; and finished off with a cocoa frosting! I garnished the top with marshmallows and a little bit of left over marshmallow filling. Feel free to decorate it as you wish. For the final touch I sprinkled a little cocoa powder on top.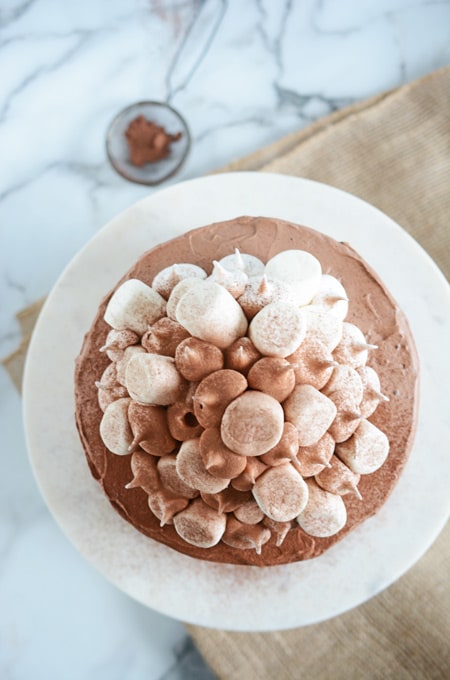 Hot Cocoa Cake Tips
Here are a few tips about this Hot Cocoa Cake I thought would be helpful to know: You can also use 9-inch round cake pans for this recipe; just know that your cake layers will be thin.

For an accurate measure of boiling water, bring a small saucepan full of water to a boil. Then, measure out the desired amount.

For the filling in the recipe, timing is everything. Be sure to have all your ingredients ready and measured and if possible, have an assistant help you.

Covering the saucepan while the sugar syrup is boiling allows the steam to prevent sugar crystals when the steam washes down the sides of the saucepan.

Try to keep the sugar syrup from touching the whisk while pouring into the egg whites. It will keep things nice and clean.

For cakes like this one with multiple parts, I like to plan in advance. I will make the cake portion on Friday night. Then, I will make the filling and frosting on Saturday to complete the cake. Plan according to your schedule. Planning really makes everything easier!

Having two stand mixer bowls is a plus for this recipe. If you don't have two you can put the frosting in another bowl and clean out the mixer bowl and use it to make the filling.

 If you are transporting this cake, wait to decorate the top with marshmallows or use toothpicks to secure the marshmallows while in transit. It's also a good idea for the cake to be chilled when transporting.

Cakes taste best at room temperature. Be sure to bring the cake down to room temperature before serving for the best flavor.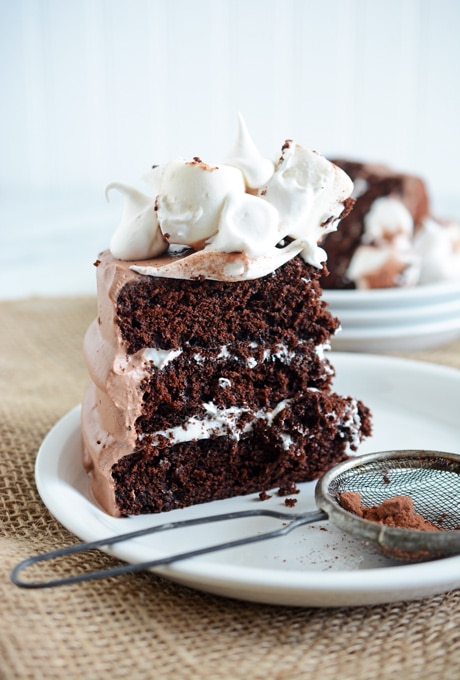 If you like this recipe for Hot Cocoa Cake you may also like these: Mississippi Mud Cupcakes, Chocolate Orange Spice Cake and Black Forest Cake. The Cake Chica is on social media: Facebook, Instagram, Twitter, Pinterest and Yummly. Be sure to go over and "Like" and share!
Talk with you next week!!!
Adapted by Mary from Cook's Country
Hot Cocoa Cake
Ingredients
3 8 Inch Round Pan
Candy Thermometer
Extra Stand Mixer Bowl(optional)
Non-stick baking spray
1 ½ cups organic all-purpose flour
1 teaspoon baking soda
½ teaspoon baking powder
¼ teaspoon salt
1 ¼ cups boiling water
4 ounces unsweetened chocolate, chopped
½ cup Dutch-processed cocoa
1 teaspoon instant espresso powder or instant coffee
10 tablespoons organic unsalted butter, softened
1 ½ cups packed light brown sugar
3 large organic eggs, at room temperature
½ cup organic sour cream, at room temperature
1 teaspoon vanilla extract
½ cups white chocolate chips
1 ½ cups heavy cream, divided
3 tablespoons Dutch-processed cocoa powder, sifted
1 cup granulated sugar
1/4 teaspoon cream of tartar
1/2 cup water
4 egg whites
Pinch fine sea salt
2 teaspoons vanilla extract
Use remaining marshmallow filling to decorate (optional)
Marshmallows (optional)
Cocoa powder (optional)
Instructions
CAKE
Adjust and oven rack to the upper middle and lower positions and heat oven to 350 degrees. Spray 3 8-inch round cake pans with nonstick baking spray.
Whisk flour, baking soda, baking powder and salt together in a large bowl. In a medium bowl, whisk together the boiling water, chocolate, ½ cup cocoa and instant espresso powder.
Using a stand mixer fitted with the paddle attachment, beat the butter and sugar together on medium speed until light and fluffy, about 3 to 6 minutes. Beat in eggs 1 at a time until combined, about 30 seconds. Add sour cream and vanilla extract and beat until combined.
Reduce the mixer speed to low and add the flour mixture in 3 additions, alternating with 2 additions of the chocolate mixture. Mix until just combined. Do not over mix. Give the batter a final stir by hand.
Divide batter evenly among the prepared cake pans and smooth tops with a spatula and tap gently on the counter to release air bubbles. Bake until a toothpick inserted in the center of the cakes comes out clean or with a few moist crumbs attached, about 15 to 20 minutes. Switching pans twice through baking.
Let cakes cool in their pans on wire racks for 10 minutes. Invert cakes on to wire racks to cool completely, about 2 hours.
FROSTING
Place white chocolate chips in a small bowl. Bring ½ cup heavy cream and cocoa to a simmer in a small saucepan over medium-high heat, whisking until smooth. Pour cream mixture over chocolate chips and whisk until melted and smooth.
Let white chocolate cool completely, about 30 minutes. Using a stand mixer fitted with the whisk attachment, whip remaining 1 cup heavy cream with white chocolate mixture on medium-high speed until soft peaks form, about 1 – 1 ½ minutes. Set frosting aside until needed, or place frosting in another bowl and clean out your mixer bowl to make the filling.
FILLING
Combine the sugar, cream of tartar and water in a small saucepan with a tight fitting lid. Heat saucepan over medium-high heat uncovered. Once the mixture comes to a boil, cover the saucepan and cook for 2 minutes. Uncover the saucepan and continue to boil until the sugar syrup reaches 242 degrees on a candy thermometer.
While the syrup is heating up, combine the egg whites with the salt in a clean bowl of a stand mixer fitted with the whisk attachment and beat beginning on low speed and gradually increase to medium-high speed. Beat until soft peaks form.
If your sugar syrup is close to reaching 242 degrees, continue to whip the egg whites to firm peaks. If your sugar syrup is not close to reaching 242 degrees, let the egg whites wait at the soft peak stage before whipping them into firm peaks as the sugar syrup comes to temperature.
Once the sugar syrup has come to 242 degrees and the egg whites are whipped to firm peaks, run the mixer on high speed and slowly pour the sugar syrup down the inside of the bowl and into the whipped egg whites. Continue whipping until the filling becomes thick and holds stiff peaks, about 5 minute. Add vanilla extract and whip to combine.
ASSEMBLE
Place 1 cake layer on a plate or cake pedestal. Spread ¾ cup to 1 cup of the marshmallow filling in an even layer over the top, leaving about ½ inch from the edge free of filling.
Top the second layer of cake and spread about ¾ cup to 1 cup of the marshmallow filling in an even layer over the top, leaving ½ inch from the edge free of filling.
Place the third cake layer on top and spread frosting over the top and the sides of the cake in an even layer.
Arrange marshmallows on top in a large mound. Place remaining marshmallow filling in a piping bag and pipe marshmallow filling around marshmallows in a decorative fashion. Dust with extra cocoa powder and serve.
Notes
Cooled cakes can be stored wrapped tightly in plastic wrap at room temperature for 2-3 day.
Cooled cakes can be stored in the freezer wrapped tightly in plastic wrap, then foil for up to 1 month. Defrosted cakes at room temperature before unwrapping and frosting.
Assembled cake can be refrigerated up to 1 day in an air tight container.