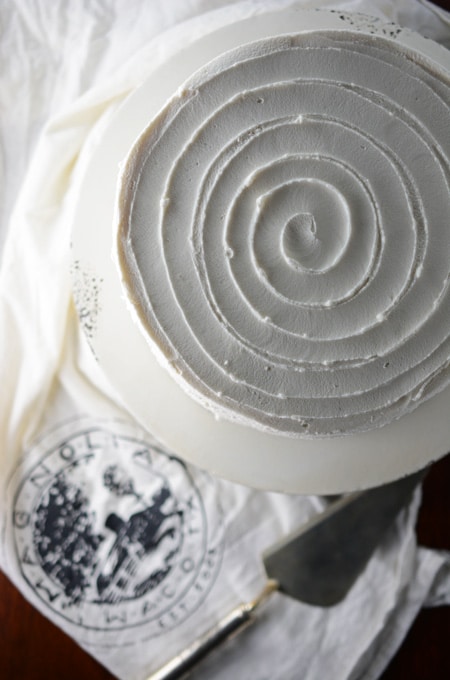 Disclosure: We are a participant in the Amazon Services LLC Associates Program, and affiliate advertising program designed to provide a means for us to earn fees by linking to Amazon.com and affiliated sites. Please note that some of the links in this post are affiliate links and I will earn a commission if you purchase through those links.
Where are my Fixer Upper fans at? Well you have 2 right here! My husband and I love watching Chip and Joanna Gaines on Fixer Upper. It's one of only two shows (the other is Flea Market Flip) I can get him to watch on HGTV with me. Well lucky for us we have family that lives close to Waco, Texas where Fixer Upper is filmed and where Magnolia Market is. And when I heard of Joanna's new bakery opening up, I just had to plan a weekend trip out to Magnolia Market.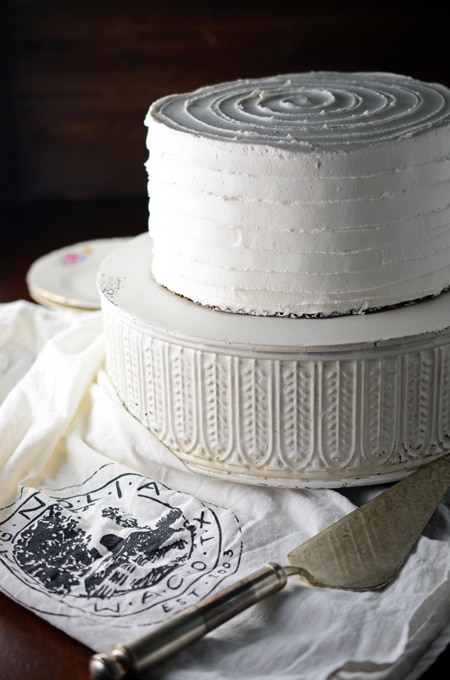 This White Almond Cake is inspired by our little weekend trip to Magnolia Market. It's a simple, no frills cake, that's light and bright. The butter cream is super smooth and easy to work with. The cake decoration is as easy and kind of reminds me of…..you guessed it…. SHIPLAP! Cake pedestal and kitchen towel are my Magnolia Market finds.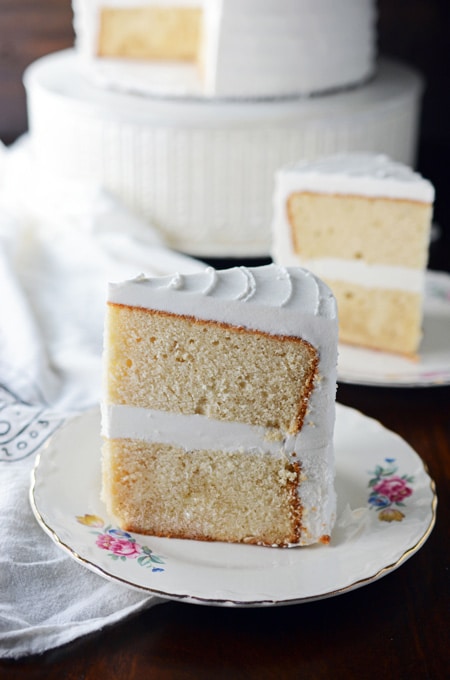 This is the first cake I have made using weight measurements and not cups. It wasn't hard at all. Scales can be found at your local grocery store for fairly cheap. So be sure you have a kitchen scale for this recipe, as well as a 5 quart Kitchenaid mixer. This butter cream recipe will fill up your mixer bowl to the top, so it is a MUST.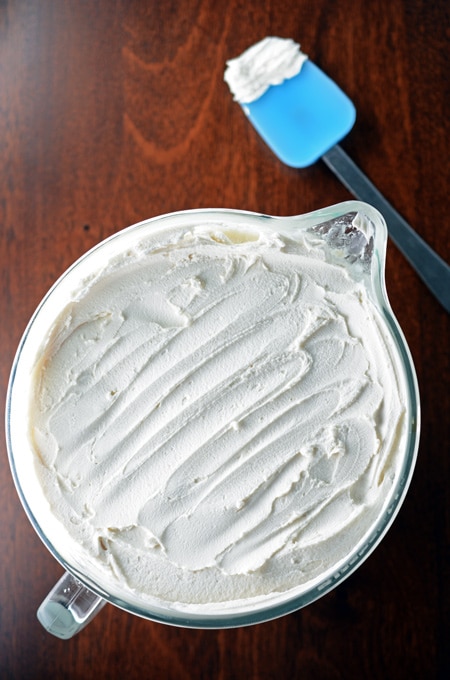 The cake batter will fill 2 8-inch or 9-inch round cake pans. I used 8 inch round cake pans and accidently over filled one of them, which caused one of my cake layers to bake unevenly. It happens; just don't do what I did.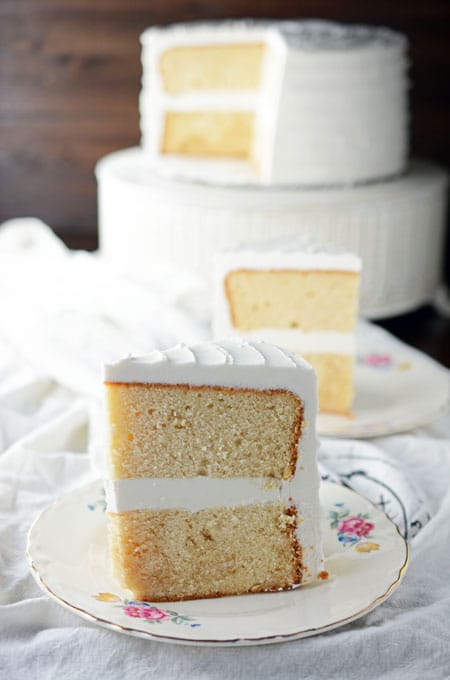 You'll probably have a little extra batter left over, it's cool just make some cupcakes. And you will definitely have some butter cream leftover, that's okay just save it for your next cake recipe. It stores wonderfully in an airtight container on your counter for a good while. There is no dairy in the frosting so it will not spoil.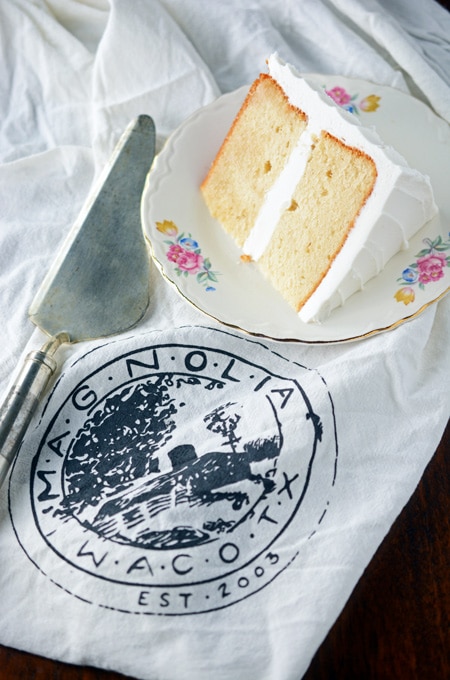 Ah, this cake reminds me of my custom cake making days. While I don't miss the backaches, long nights/mornings, stressful drive to deliver or taking time off my day job to fill an order, I do enjoy creating editable works of art in butter cream. And I absolutely love how simple and beautiful this cake was to make.  I hope this post inspires you to create your own piece of editable art. Enjoy.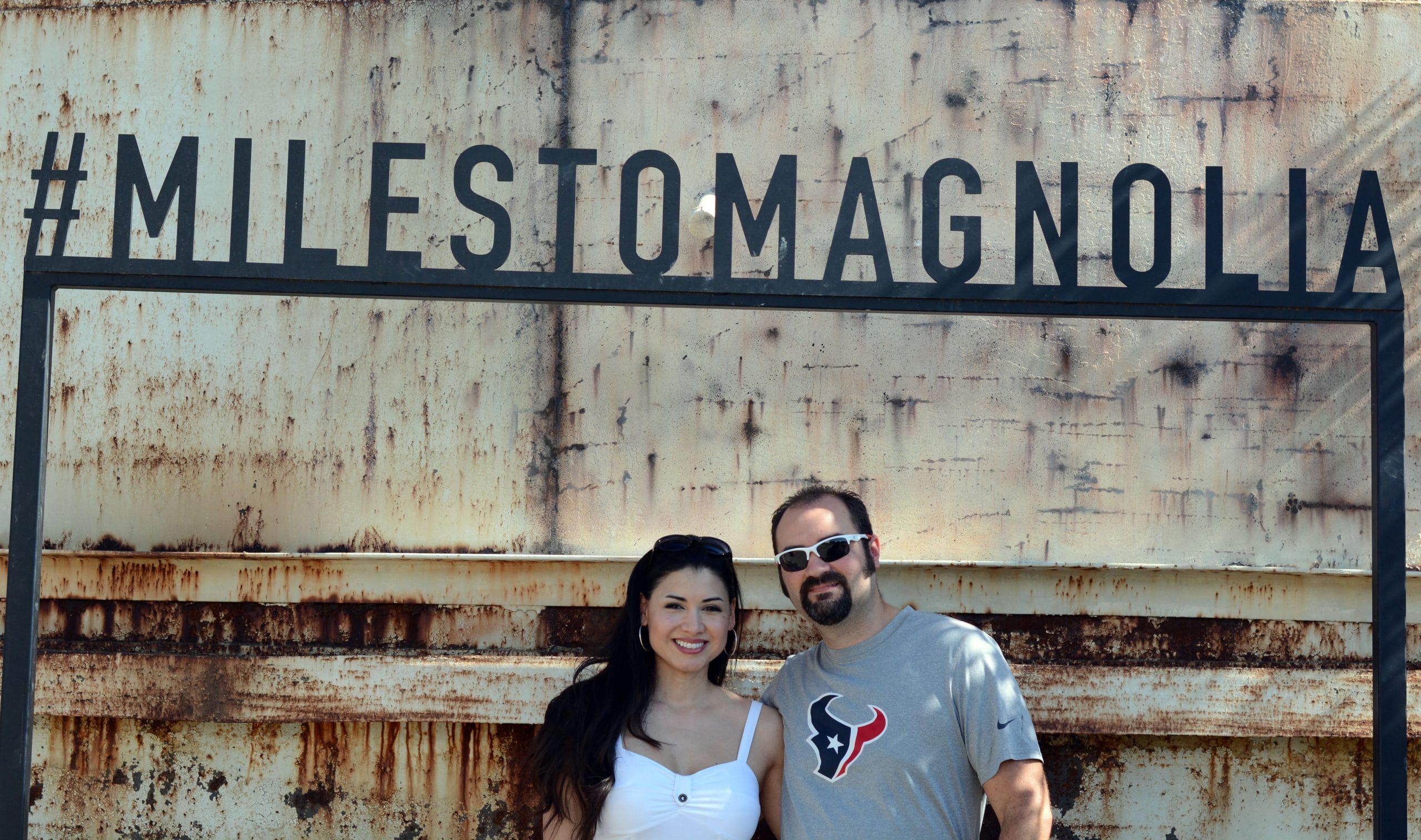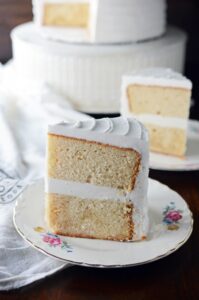 Print
White Almond Cake
Yield 20
Ingredients
CAKE
8 ounces all-purpose flour
8 ounces cake flour
2 teaspoons baking powder
1 teaspoon salt
2 sticks (8 ounces) unsalted butter at room temperature
10 ounces packed brown sugar
11 ounces granulated sugar
½ cup almond paste
2 teaspoons vanilla extract
1-2 teaspoons almond extract
1 cup egg whites, at room temperature
1 ½ cups milk, at room temperature
FROSTING
1 cup water
1 cup powdered coffee creamer
5 cups shortening with trans fat
5 pounds powdered sugar
4 tablespoons vanilla extract
Instructions
CAKE
Heat oven to 325 degrees and coat 2 8-inch or 9-inch round cake pans with baking spray. Sift together the flours, baking powder and salt.
On medium-high speed, cream together the butter, sugar and almond paste in a bowl of a stand mixer until light and airy, about 3 minutes. Scrape down the sides of the bowl and add the extracts and egg whites and continue to mix on medium speed, scraping down the sides of the bowl as necessary. Continue to mix until fluffy, about 1 minute. Add the flour mixture in 3 batches, alternating with 2 batches of the milk, mixing on low speed after each addition. Mix each addition just until combined. Do not overmix the cake or it will become dry.
Pour the batter into the prepared pans and bake for 30 to 35 minutes, or until a toothpick inserted in the center comes out clean. Let the cakes cool completely in the pans on wire racks. Wrap the cake (pan and all) with plastic wrap and refrigerate until ready to decorate.
FROSTING
Pour 1 cup water in a 2 cup glass liquid measuring cup. Microwave about 5 minutes or until just boiling. Mix 1 cup powdered coffee creamer into the hot liquid and stir until combined.
On low speed, cream the shortening, vanilla extract and 11 to 12 tablespoons hot liquid coffee creamer into a 5 quart stand mixer bowl. Cover the mixer with a kitchen towel to keep the contents from coming out of the bowl. Continue to mix on low speed until combined. Once combined, turn the mixer up to medium speed and beat until creamy. Pour the first 3 pounds of powdered sugar into the mixer bowl, with mixer running on low speed. When the frosting starts to come together, stop the mixer and scrape down the sides of the mixer bowl. Pour in the last 2 pounds of powdered sugar and mix on low speed. When combined, turn the mixer up to high speed and let it beat for 5 to 7 minutes until very smooth. Scrape down the sides of the bowl frequently while the mixer is going.
You want the icing to completely fill the mixer bowl. It should be covering the paddle attachment entirely. There should be no air gaps around the sides of the bowl. If you frosting makes a sucking sound, you will need to add a few more drops of the hot coffee creamer while scraping down the sides of the bowl. The frosting should completely cover the bowl side to side and all the way up the top of the paddle to the springs. The icing should be smooth and airless. Cool before using. Store left over coffee creamer in the refrigerator and heat up before your next use.
ASSEMBLE
Trim cake domes with a serrated knife or a cake leveler to make cake layers level. On a cake turntable, place the first layer of cake (cut side up)on a cardboard cake round. Top about 1 cup of buttercream on top and spread frosting out, leaving about ½-inch from the edge unfrosted. Make sure your frosting is level and place second layer of cake on top (cut side down) and spread a generous amount of frosting on top and around the sides of the cake. Starting from the top, slowly making your way down the cake, adding more and taking access frosting off as you go. Make sure your cake spatula is just touching the frosting and not the cake or you will pull cake crumbs into you frosting. Try to get the frosting as smooth and even as possible.
Once your cake is frosted, hold a small cake spatula horizontally to the cake and starting from the bottom, turn the turntable and create ripples with the cake spatula into the frosting, cleaning off access frosting from your spatula as you go. For the top make a swirl design starting from the outside working in to the center while turning the turn table around.
Carefully lift the cake with a large spatula and place on a cake pedestal to serve.
Cake can be left out at room temperature for about 3 days. Store left over frosting in an air tight container at room temperature for another use. Frosting will stay for a long while since there is no dairy used.
Notes
Cake can be stored covered in an air tight container for up to 3 day at room temperature.
Courses Dessert
Cuisine American
Adapted from Cakes to Dream On and Sharon Zambito