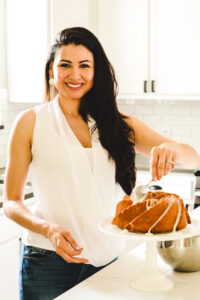 If you're here for great recipes using simple and real ingredients, then you've come to the right place. Most of my recipes use real and easy to find simple ingredients (organic when possible).
I hope my recipes give you inspiration as well as new recipes to add to your family collection. You'll also find a few post sprinkled throughout my site with some decorating and storage tips for the home.
My blog was established in 2010 starting with custom cakes and transitioned to everyday recipes. The Cake Chica has been featured on a couple of popular websites such as msn and buzzfeed.
I'm always learning so I love sharing new ways to cook and bake when I find them.
I started this blog as a way to share my favorite recipes with friends and family. During this time I found my love for photography…food photography! I'm originally from Houston, Texas and just recently moved to a small(er) town just outside of Austin, Texas where restaurants are few and far between. So you'll probably see some copy cat recipes from some of my favorite restaurants back in the Houston area. Plus, since my husband and I have moved, we also moved into a bit of a smaller fixer upper home. And now you'll find a few posts about home renovation, decorating and space saving tips!!! This is a new venture for me!!!
I hope you'll stick around for some great recipes and some home decorating, organizing and space saving tips! You can easily do that by following me on Facebook, Instagram and Pinterest!