As an Amazon Associate, I earn from qualifying purchases.
These Banana Cream Pie Cupcakes might be the best thing you'll eat this summer.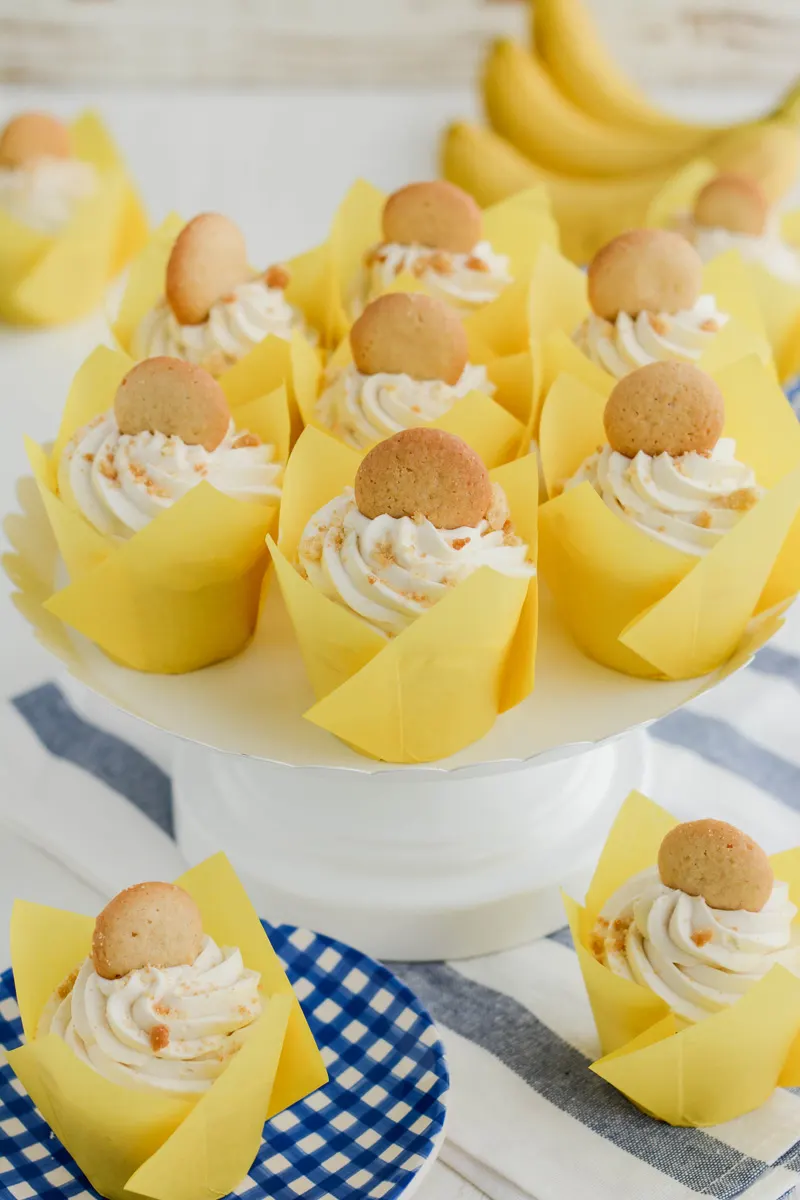 So what do Banana Cream Pie Cupcakes consist of? First I picked a light and airy white cake, then filled it with homemade banana pudding filling, and topped each cupcake with a stabilized whipped cream and a Homemade Vanilla Wafer!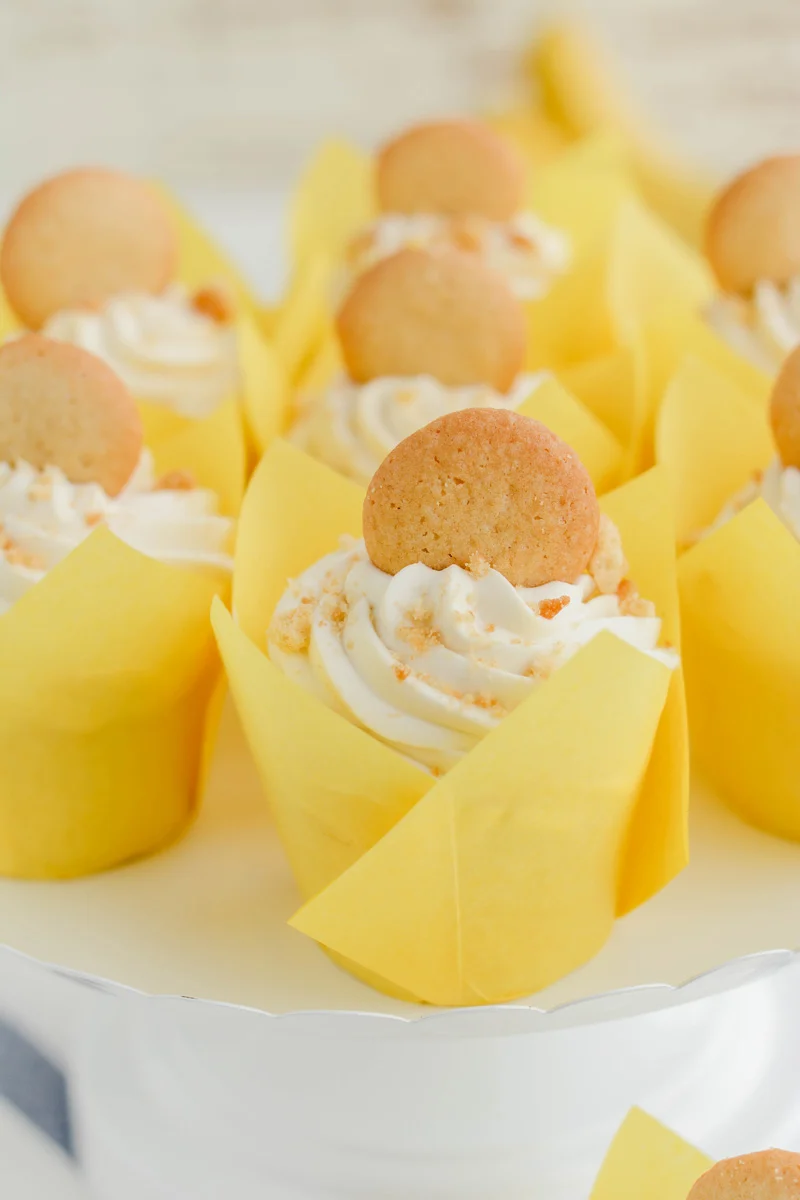 White Cupcakes
Simple and tender white cupcakes are the perfect vessel for this cupcake. It keeps the focus on the banana flavor and helps deliver these Banana Cream Pie Cupcakes in the perfect package.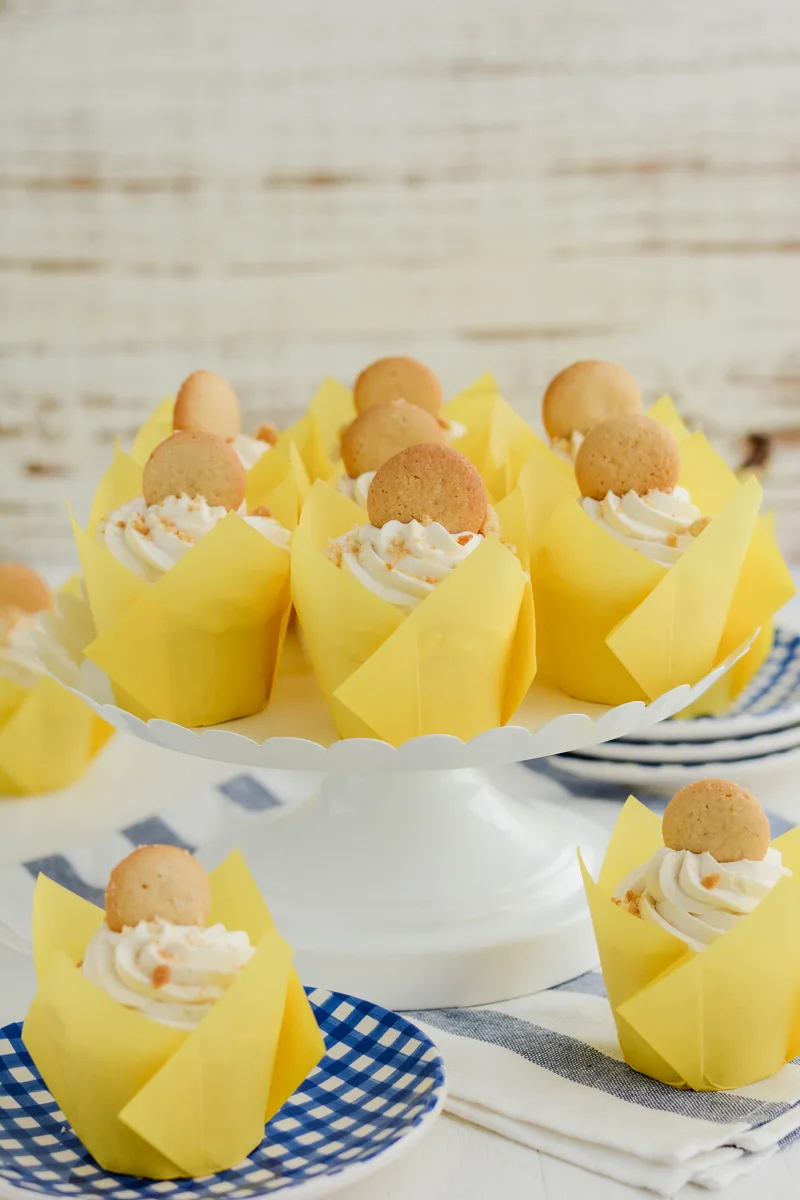 Banana Pudding Filling
This filling is the same filling I use for my Banana Cream Pie recipe. The filling is made with a banana infused cream made from fresh bananas for the best banana flavor. Added to the filling is 3 tablespoons of cornstarch, which is just enough to firm up the filling while still leaving the filling creamy.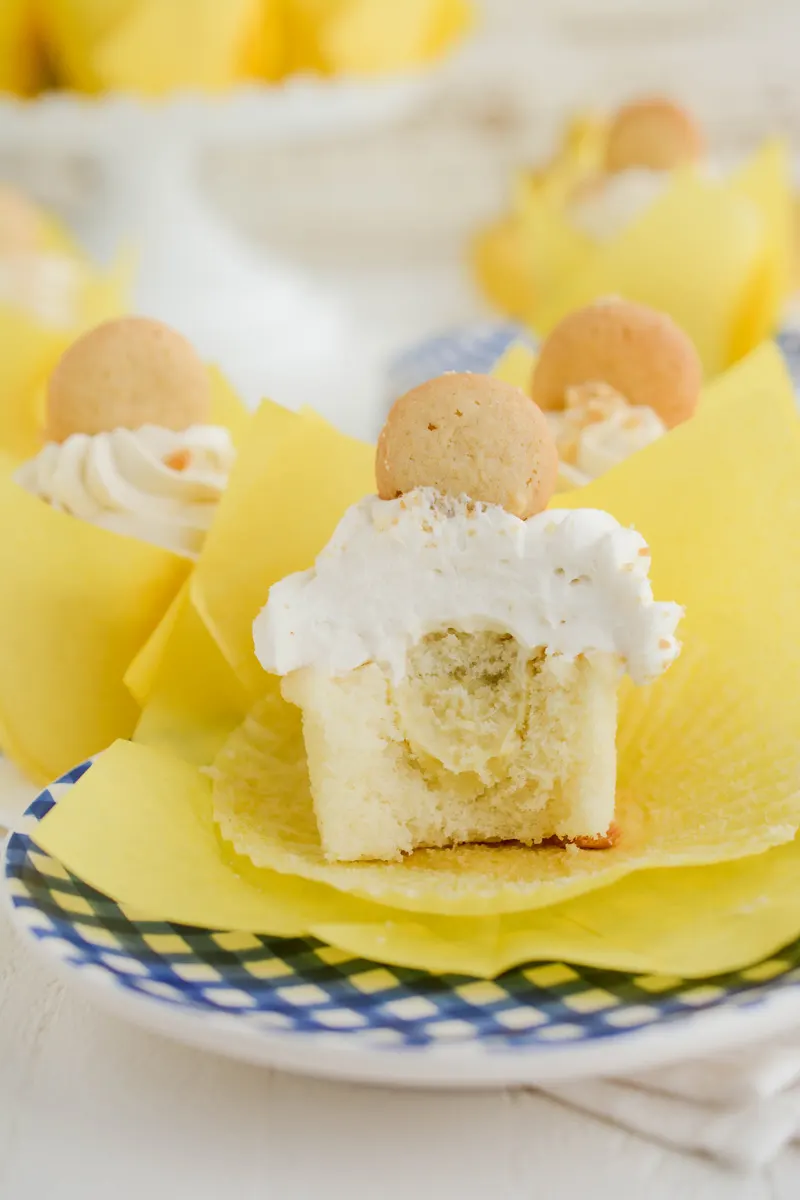 Stabilized Whipped Cream
To help the whipped cream keep its shape longer, I added more sugar than I would for a traditional whipped cream topping. The additional sugar helps the cream whip into a stable foam that will last all day at room temperature or for an extra day or two in the refrigerator.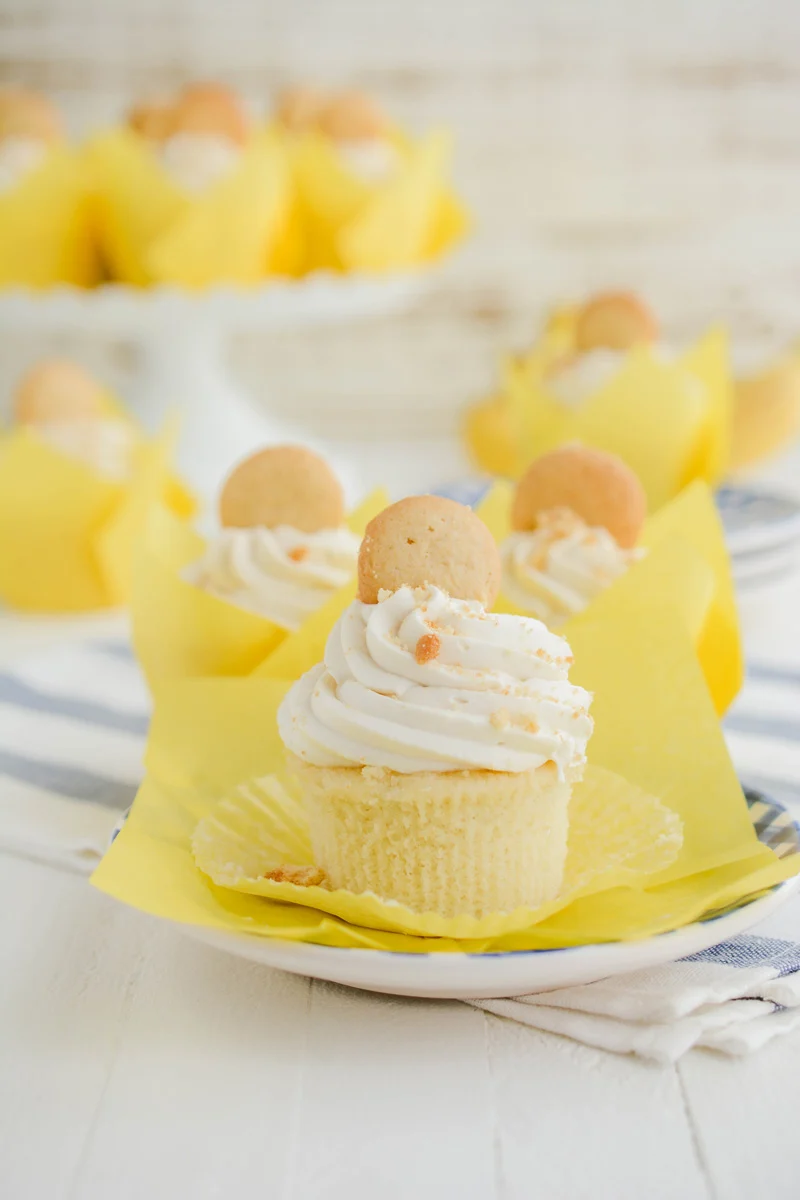 Assemble Cupcakes
Using a small paring knife, cut a cone of cake out of each cupcake. Cut off the cone section of cake and discard, but keep the circular top of cake to place back on to the cupcake after filling.
Place the filling in a piping bag and cut off the tip to start filling each cupcake with about 2 teaspoons filling. Place the circular piece of cake back on top.
Fit a piping bag with Ateco piping tip #828 and fill with whipped cream. Pipe a swirl of frosting on top of each cupcake. Sprinkle the cupcakes with Vanilla Wafer crumbs and top with a Homemade Vanilla Wafer Cookie and serve.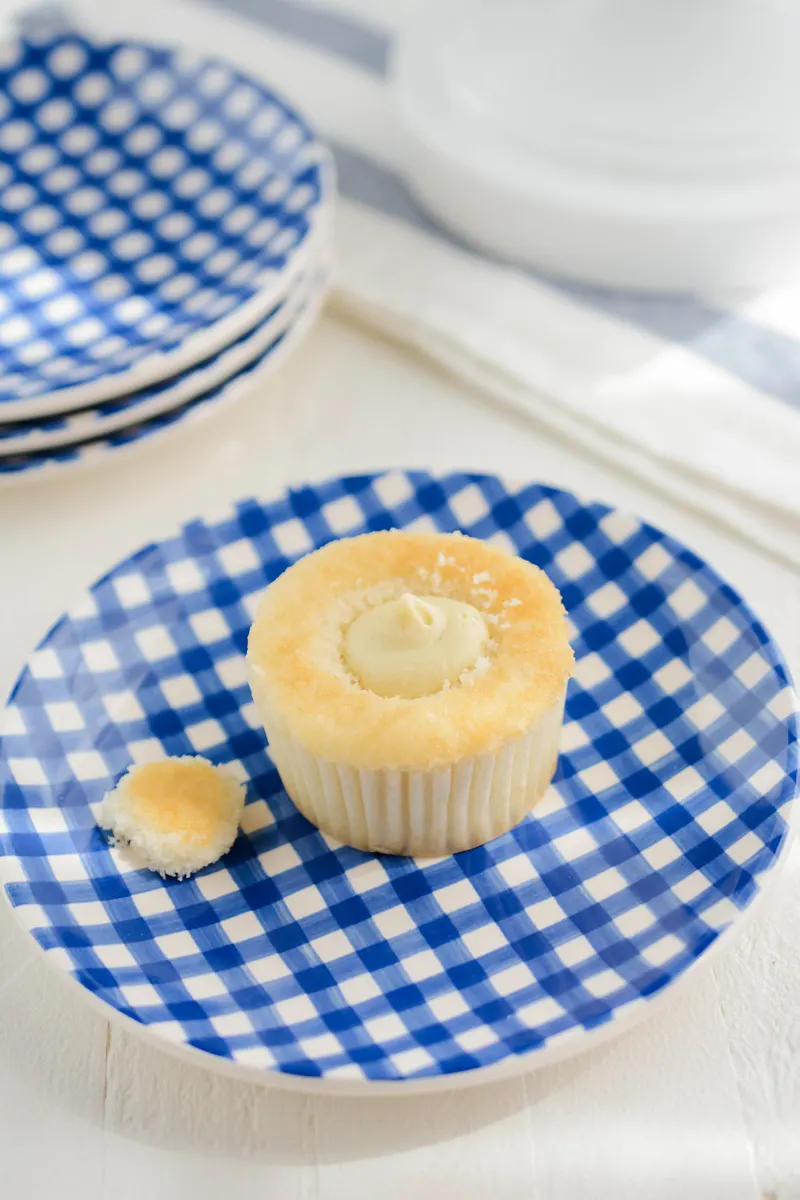 Banana Cream Pie Cupcake Tools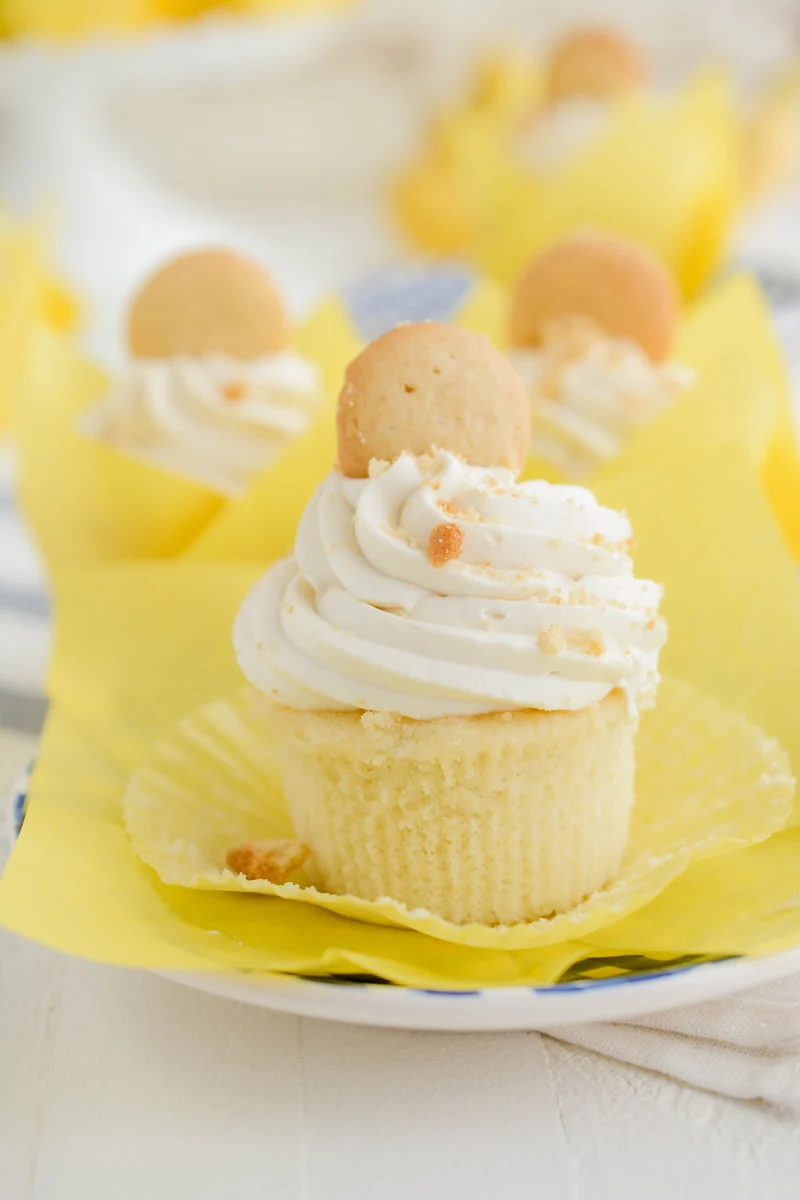 Banana Cream Pie Cupcakes Baking Schedule
Day 1: Bake Homemade Vanilla Wafers
Day 2: Prepare banana filling and bake white cupcakes.
Day 3: Make whipped cream, assemble and serve.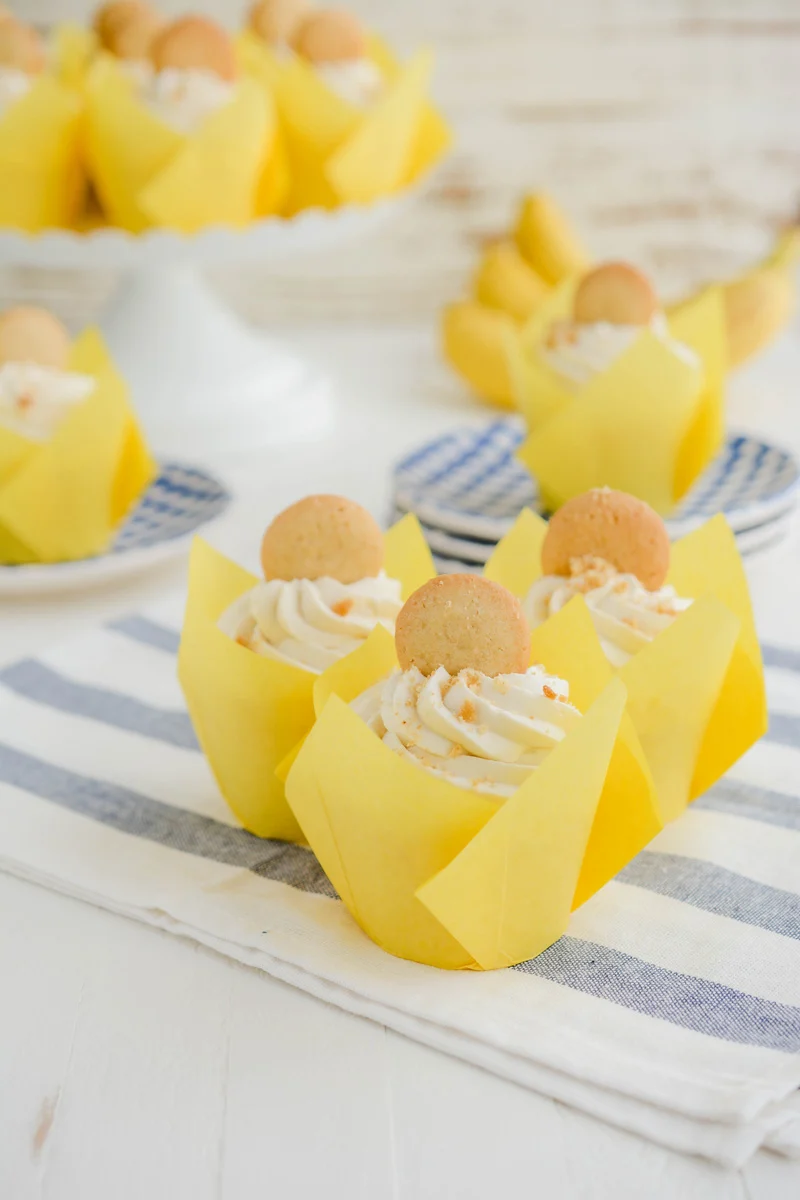 Cupcake Storage
Assembled cupcakes can be stored at room temperature for one day, or stored for up to 2 days in the refrigerator.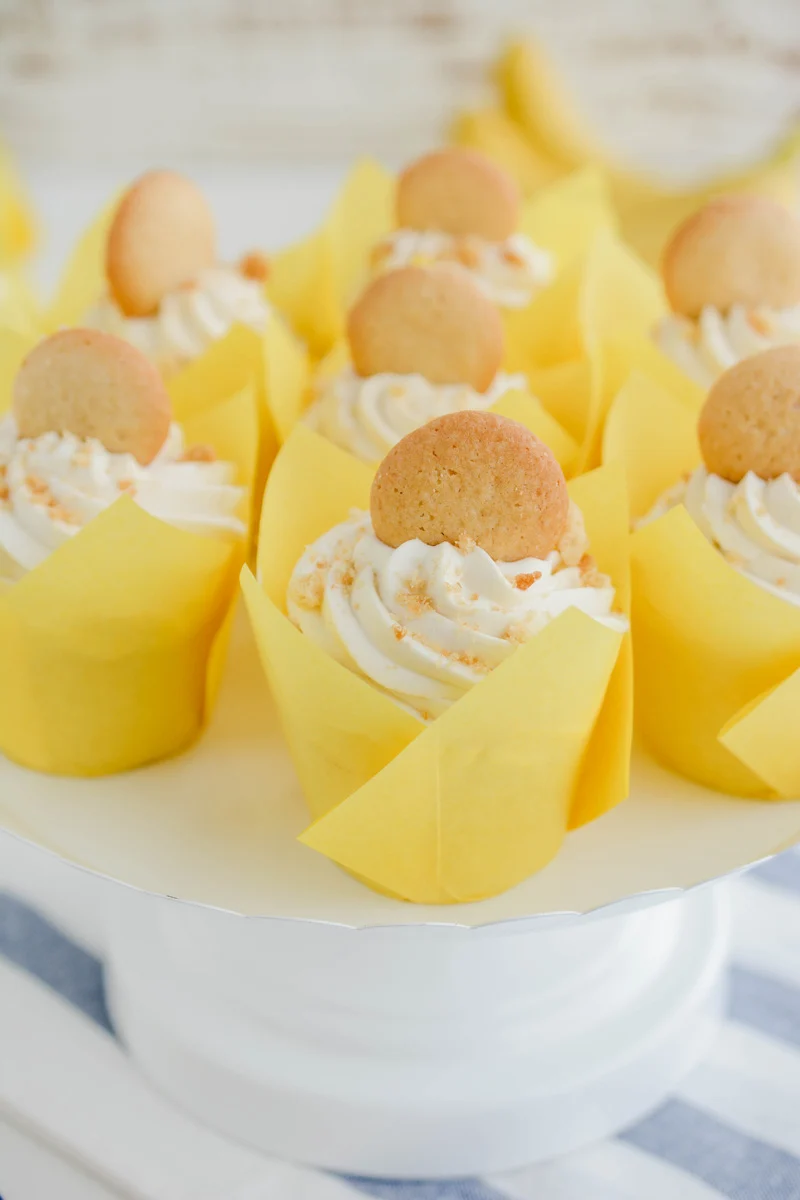 Let's Connect
The Cake Chica is on the following social media platforms below. Click subscribe, like and follow! We would love to have you over!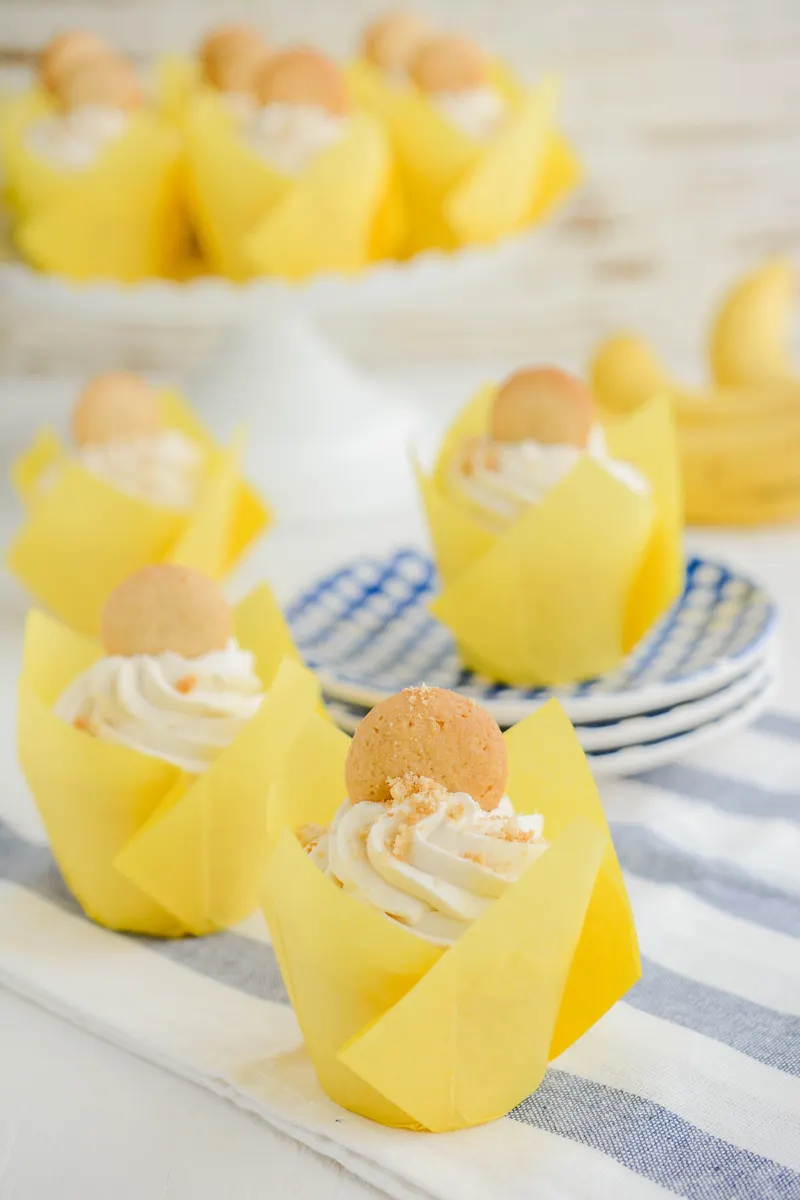 Suggested Recipes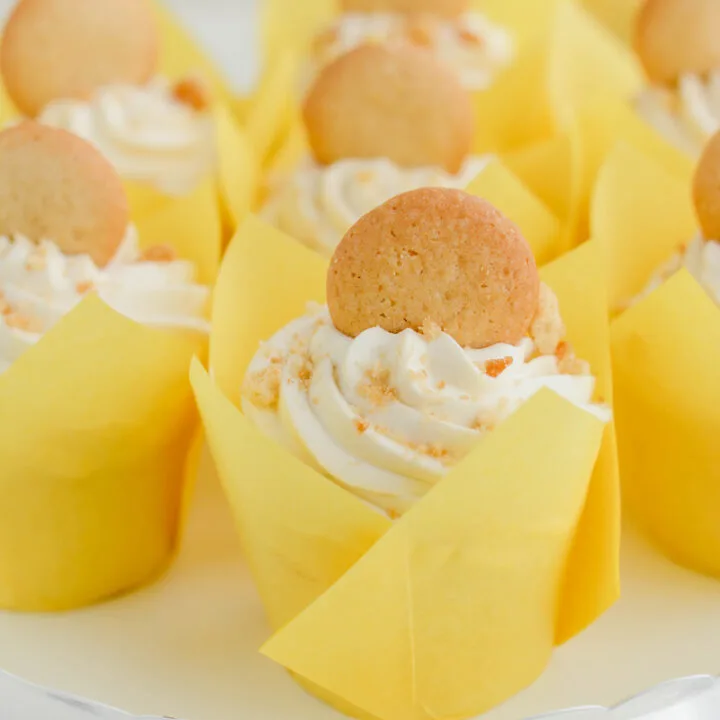 Banana Cream Pie Cupcakes
Prep Time:
1 hour
30 minutes
Made from scratch Banana Cream Pie Cupcakes made with fluffy white cake filled with banana pudding, topped with whipped cream cookie crumbs and a homemade Vanilla Wafer.
Ingredients
SPECIAL TOOLS
2 12-cup cupcake pans
Cupcakes liners
4 cup liquid measuring cup
Stand mixer
Sieve
Candy thermometer
Piping bag (2)
Coupler
Ateco piping tip #828
Cookie crumbs, garnish
Homemade Vanilla Wafers, garnish
CUPCAKES
1 cup whole milk, at room temperature
6 large egg whites, at room temperature
1 teaspoon vanilla extract
2 ¼ cups (9 ounces/304 grams) cake flour
1 ¾ cups (12.25 ounces/347 grams) granulated sugar
4 teaspoons baking powder
1 teaspoon salt
12 tablespoons unsalted butter, cut into tablespoon sized pieces, at room temperature
BANANA PUDDING FILLING
2 ripe bananas
4 tablespoons unsalted butter, divided
2 ½ cups half and half
½ cup plus 2 tablespoons (4.3 ounces/123 grams) plus 2 tablespoons granulated sugar
6 large egg yolks
¼ teaspoon table salt
3 tablespoons cornstarch
1 teaspoon vanilla extract
WHIPPED CREAM
1 cup (7 ounces/198 grams) granulated sugar
1/8 teaspoon salt
3 cups heavy cream
4 teaspoons vanilla extract
Instructions
CUPCAKES
Adjust an oven rack to the center position and heat oven to 350 degrees. Line 2 cupcake pans with cupcake liners and set aside.

In a 4 cup liquid measuring cup, whisk together milk, egg whites and vanilla extract.

In the bowl of a stand mixer, with the paddle attachment attached, mix the flour, sugar, baking powder and salt on low speed until combined. Add butter one tablespoon at a time until the mixture forms pea-sized pieces, about 1 minute.

Reserve ½ cup of the milk mixture and pour the remaining in to the flour mixture and mix on medium-high speed until light and fluffy, about 1 minute. Reduce the mixer speed to medium-low and add the reserved ½ cup milk mixture to the batter and mix until combined, about 30 seconds. Do not over mix. The batter may look curdled. Give the batter a final stir by hand with a rubber spatula.

Divide the batter evenly with a spring loaded ice cream scoop between the prepared cupcake pans and gently tap cake pans on the counter to settle the batter. Bake until a toothpick inserted in the centers comes out with a few moist crumbs attached, about 12 to 15 minutes, switching and rotating pans halfway through baking.

Let cakes cook in their pans on wire racks for 5 minutes. Invert cupcakes on wire racks to cool completely, about 2 hours.

BANANA PUDDING FILLING
Peel and slice 2 bananas about ½ inch thick. In a medium saucepan, melt 1 tablespoon butter over medium-high heat. Add sliced bananas and cook until they begin to soften, about 2 minutes. Add half and half and bring to a boil for about 30 seconds. Remove from the heat and let sit for 40 minutes.

In a large bowl, whisk together the sugar, egg yolks and salt until combined. Add in cornstarch and whisk. Pour the cooled half and half mixture through a sieve over the egg yolk mixture, being sure not to press on the bananas. Whisk to combined and toss out cooked bananas.

Transfer mixture to a medium saucepan and attach a candy thermometer to the saucepan. Cook mixture over medium heat, whisking constantly until the mixture reaches 180 degrees, about 4 to 6 minutes. Remove from the heat and whisk in vanilla and the remaining 3 tablespoons butter. Set a sieve over a bowl and pour the filling through it to remove any clumps that may have formed. Place a piece of plastic wrap directly on top of the filling and chill in the refrigerator for about 1 hour.

WHIPPED CREAM
In the bowl of a stand mixer with the whisk attachment attached, combine the sugar, salt, cram and vanilla extract and mix on medium-low speed for 1 minute. Increase the mixer speed to medium-high and whip until the cream is thick and holds firm peaks, about 3 minutes.
ASSEMBLE
Prepare a piping bag with a coupler attached and fill with filling. Cut a cone of cake out of the middle of each cupcake. Trim off the cone of cake and reserve the flat circular piece. Pipe filling into each cupcake and place the circular piece of cake back on top.

Attach Ateco piping tip #828 to a piping bag and fill with whipped cream. Pipe swirls on top of each cupcake. Garnish with cookie crumbs and a Vanilla Wafer and serve.


Nutrition Information:
Yield:

24
Serving Size:

1
Amount Per Serving:
Calories:

1199
Total Fat:

70g
Saturated Fat:

28g
Trans Fat:

4g
Unsaturated Fat:

35g
Cholesterol:

169mg
Sodium:

1072mg
Carbohydrates:

139g
Fiber:

6g
Sugar:

97g
Protein:

14g
*Nutrition information is an estimate and will vary.*