Here she is! The last recipe of 2020 and it's a great one. My Pecan Praline Cake has three tender and fluffy cake layers full of chopped candied pecans.
To add a little extra flavor, I used a soaking syrup made with pecan liqueur. Lastly, it's filled and frosted with a cream cheese icing spiked with a little more pecan liqueur.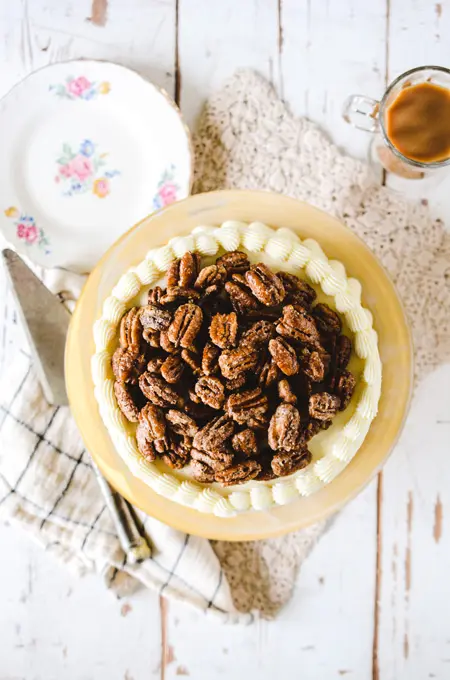 Praline Topping
The praline topping in this recipe can be made 3 days in advance. So I opted to make it first. It's easy to make and only requires 4 ingredients.
egg white
water
light brown sugar
pecan halves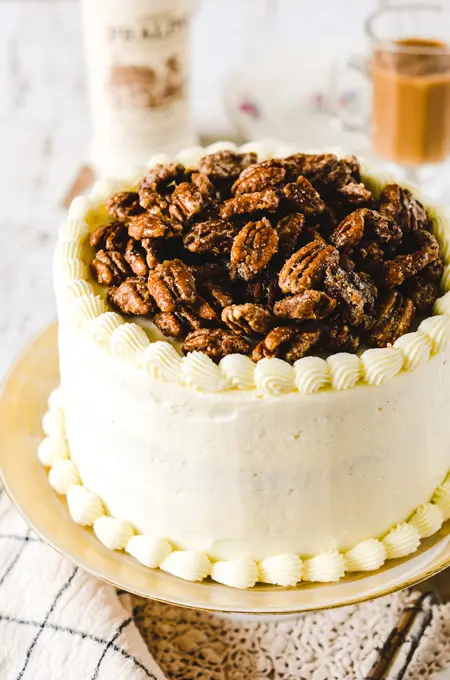 Pecan Praline Cake Layers
I opted to use candied pecans because I had some on hand from making my Candied Pecans recipe. You can also double the recipe for the Praline Topping here in this recipe and use that in place of my candied recipe.
If you don't want to take the time to make your own candied pecans, you can also purchase candied pecans. Or at the very least, use toasted pecans.
How To Toast Pecans
Heat your oven to 350 degrees. Line a rimmed baking sheet with parchment paper or a silicone mat and bake pecans on prepared baking sheet for 10 to 15 minutes or until you start to smell a nutty aroma. The nose knows! Be sure to stir halfway though baking. Let cool before using
You can also toast the pecans on the stovetop in a stainless steel pan over medium heat, stirring frequently to prevent burning. Let cool before using.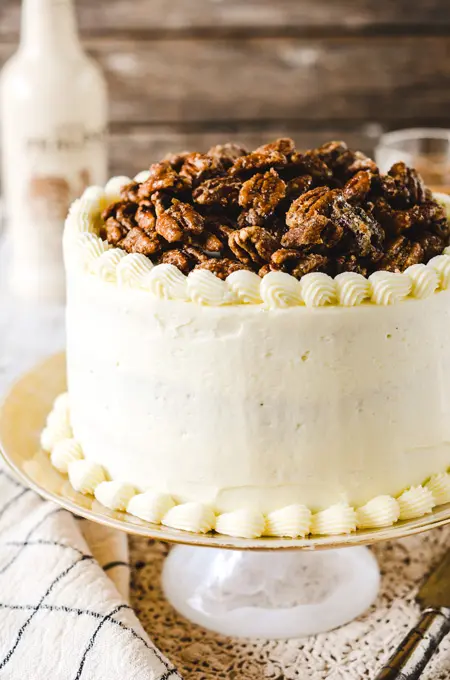 Pecan Soaking Syrup
Soaking syrups are a great way to ensure your cake is moist and they're also a great way to add extra flavor to the cake. My Pecan Praline Cake is light and fluffy on its own, but I wanted to give it something a little extra in the flavor department so I chose to use this syrup for the extra flavor it provides.
If you don't have pecan liqueur you can substitute with bourbon. You can also leave the alcohol out completely for a more family friendly version. Or skip the syrup all together.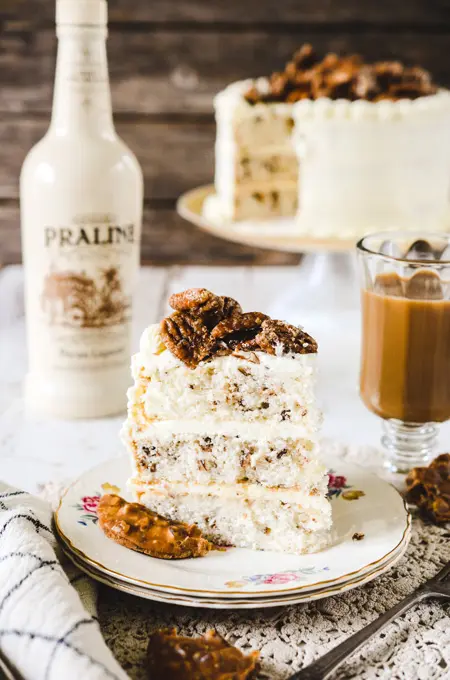 Spiked Cream Cheese Frosting
If you're looking for a rich, fluffy and creamy cream cheese frosting, then look no further! Plus I spiked it with a little pecan liqueur for a little kick of flavor! Feel free to leave it out and replace it with 2 teaspoons vanilla extract and a squeeze of fresh lemon juice.
Tips For Achieving Super Smooth Cream Cheese Frosting
Be sure your butter and cream cheese are at room temperature.
Sift your powdered sugar before using.
Add the cream cheese in last after all the other frosting ingredients have been added and mixed well.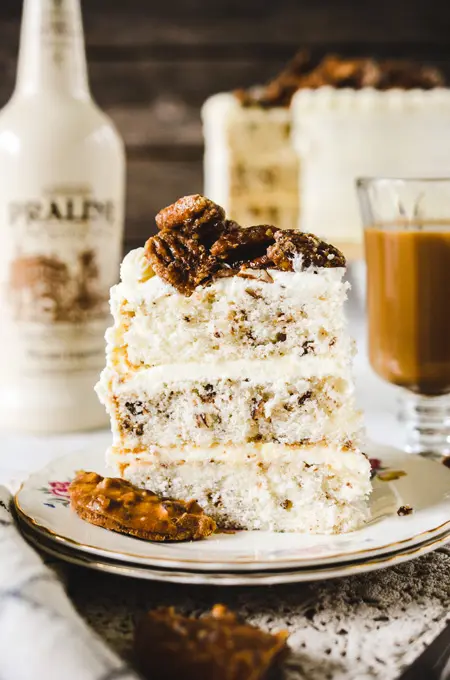 Plan It Out
Day 1:

Prepare the Pecan Praline Topping

Day 2:

Bake cake layers

Day 3:

Prepare the Cream Cheese Frosting, decorate and serve.
Cake Storage
Cake can be stored in the refrigerator in an airtight cake container for up to 3 days. Bring to room temperature before serving.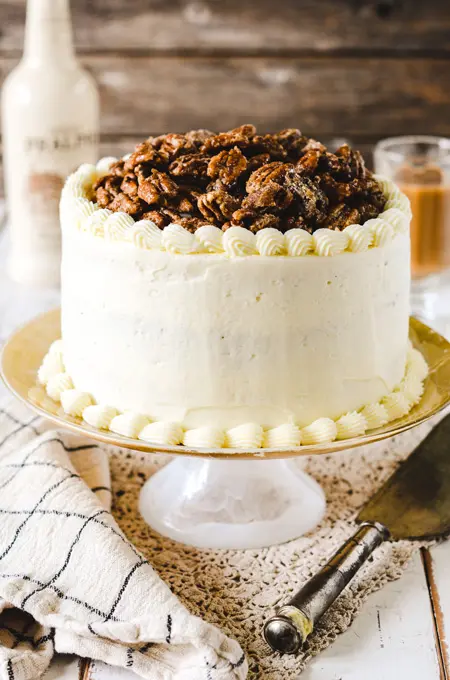 Let's Connect
The Cake Chica is on Facebook sharing sneak peeks of recipes to come, Instagram for your food porn desires and Pinterest for your board pinning needs.
You May Also Like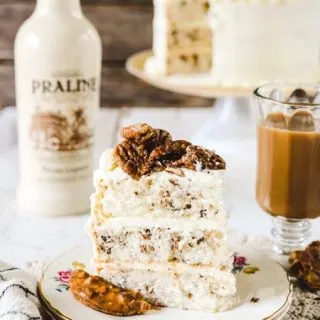 Pecan Praline Cake
Three layers of fluffy white cake baked with candied pecans, then soaked in pecan flavored syrup, topped with spiked cream cheese frosting.
Ingredients
SPECIAL TOOLS
PECAN PRALINE TOPPING
1 large egg white, at room temperature
1 tablespoon water
½ cup (3.5 ounces) light brown sugar
1 ½ cups pecan halves
CAKE
1 cup whole milk, at room temperature
6 large egg whites, at room temperature
1 teaspoon vanilla extract
2 ¼ cups (9 ounces) cake flour
1 ¾ cup (12 ¼ ounces) granulated sugar
4 teaspoons baking powder
1 teaspoon salt
12 tablespoons butter, cut into 12 pieces and softened
1 ½ cups finely chopped candied pecans
PECAN SYRUP
3 tablespoons water
3 tablespoons granulated sugar
1 tablespoon pecan liqueur or bourbon
SPIKED CREAM CHEESE FROSTING
1 cup (16 tablespoons/2 sticks) unsalted butter, at room temperature
3 cups (12 ounces) powdered sugar
1 tablespoon pecan liqueur or bourbon
1/8 teaspoon salt
2 8-ounce packages cream cheese, cut into cubes and softened
Instructions
PECAN PRALINE TOPPING
Adjust and oven rack to the center position and heat oven to 300 degrees. Line a rimmed baking sheet with parchment paper or silicone mat. Using a fork beat the egg white and water in a medium sized bowl until foamy. Add the brown sugar and stir until the sugar dissolves. Add the pecans and toss to coat. Spread the pecan mixture onto the prepared baking sheet and bake for about 25 minutes, until the nuts are brown and crisp. Stir occasionally. Remove from the oven and loosen the pecans from the baking sheet. Cool pecans on the baking sheet completely.
CAKE
Adjust an oven rack to the middle position and heat oven to 350 degrees. Spray 3 8-inch round cake pans with nonstick baking spray and set aside.
In a bowl, whisk together milk, egg whites and vanilla extract. In the bowl of a stand mixer, with the paddle attachment attached, mix the flour, sugar, baking powder and salt on low speed until combined. Add butter one tablespoon at a time until the mixture forms pea-sized pieces, about 1 minute. Reserve ½ cup of the milk mixture and pour the remaining to the flour mixture and mix on medium-high speed until light and fluffy, about 1 minute. Reduce the mixer speed to medium-low and add the reserved ½ cup milk mixture to the batter and mix until combined, about 30 seconds. Do not over mix. The batter may look curdled. Stir in the chopped pecans with a rubber spatula by hand.
Divide the batter evenly between the prepared cake pans and smooth tops with a rubber spatula. Gently tap cake pans on the counter to settle the batter and bake until a toothpick inserted in the centers comes out with a few moist crumbs attached, about 20 to 25 minutes, switching and rotating pans halfway through baking.
Let cakes cool in their pans on wire racks for 10 minutes. Invert cakes on to wire racks to cool completely, about 2 hours.
PECAN SYRUP
In a small saucepan combine the water and sugar and cook over medium heat until the sugar dissolves and mixture comes to a simmer. Remove from the heat and stir in the pecan liqueur.


SPIKED CREAM CHEESE FROSTING
In the bowl of a stand mixer fitted with the paddle attachment, beat the butter on medium speed for 5 minutes. Add the powdered sugar, pecan liqueur and salt. Reduce the speed to low and beat for 1 minute.
Increase the speed to medium and beat until fluffy, about 4 minutes. Reduce the speed to medium-low and add the cream cheese and beat until smooth, about 1 minute. Do not over beat or the frosting will become soupy.

ASSEMBLE
Place one cake layer on a cake platter and poke a few holes on top of the cake with a wooden skewer. Brush some of the syrup on top. Top cake with about 2/3 cup cream cheese frosting and spread evenly. Place a second cake layer on top and poke holes on the top of the cake with a wooden skewer. Brush the top with syrup. Add about 2/3 cup frosting on top and spread evenly over the top. Place the last cake layer on top (bottom side up) and poke holes on top with a wooden skewer. Brush syrup on top.
Add frosting on the top and sides of cake, removing excess frosting as you go. Place remaining frosting in a piping bag and decorate as you wish. Top with pecan praline topping.
Notes
Store cake in an airtight cake container in the refrigerator for up to 3 days. Bring to room temperature before serving.
Nutrition Information:
Yield:

12
Serving Size:

1
Amount Per Serving:
Calories:

740
Total Fat:

49g
Saturated Fat:

19g
Trans Fat:

1g
Unsaturated Fat:

27g
Cholesterol:

122mg
Sodium:

774mg
Carbohydrates:

59g
Fiber:

3g
Sugar:

32g
Protein:

11g
*Nutrition information is an estimate and will vary.*