Disclosure: We are a participant in the Amazon Services LLC Associates Program, and affiliate advertising program designed to provide a means for us to earn fees by linking to Amazon.com and affiliated sites. Please note that some of the links in this post are affiliate links and I will earn a commission if you purchase through those links.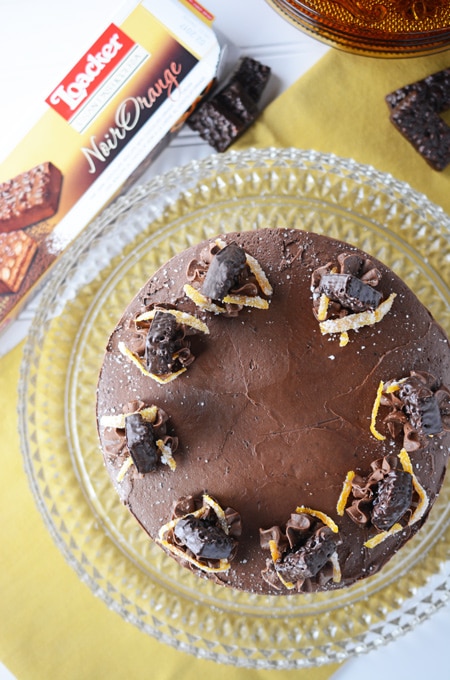 This cake has quickly become my new favorite. It's definitely on my top 3 lists of favorite cakes. My German Chocolate Cake and Black Forest Cake are included in that list and it's hard to even say which one has the top honor, they are all so good.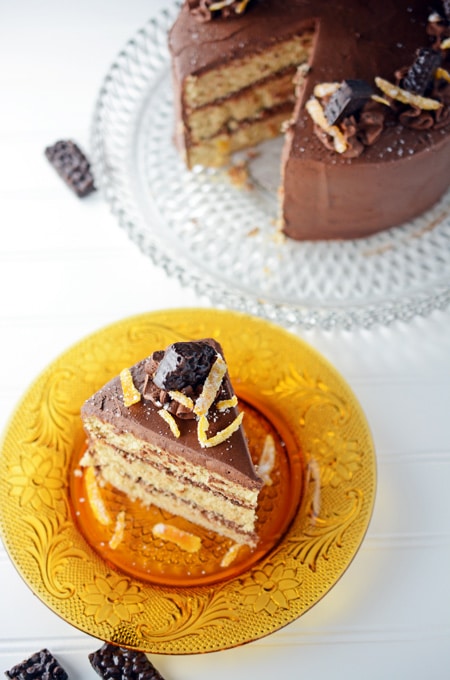 Chocolate and orange have always been a great flavor combination, but the addition of the spices and orange peel in this cake really take the flavors up to a whole new level.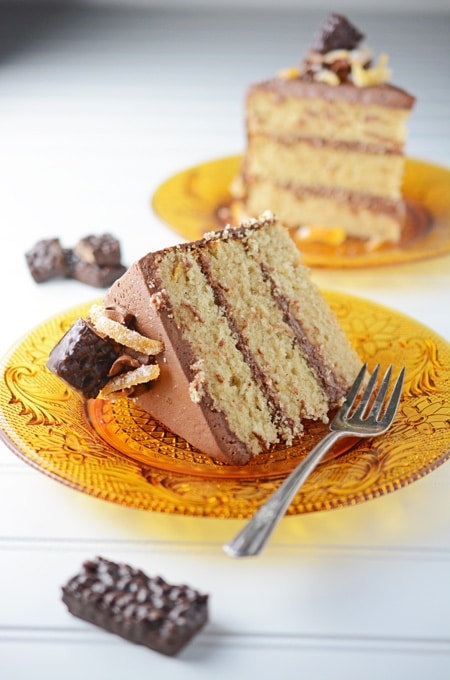 The inspiration for this cake came when I received my monthly Degustabox. This month's box had Loacker chocolate orange wafer cookies inside. I right away knew I had to do some sort of chocolate and orange flavored cake.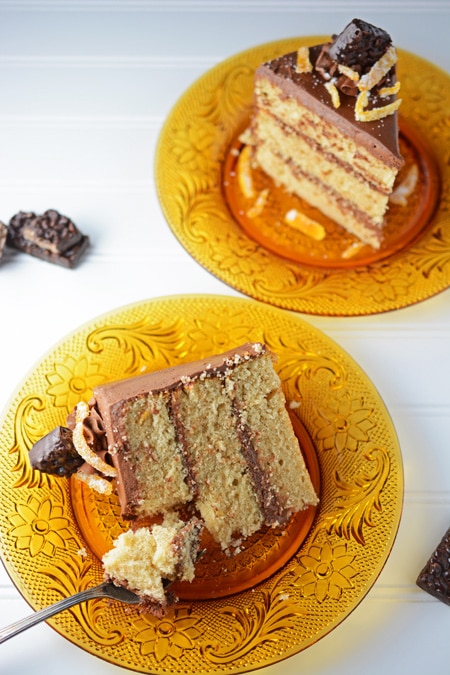 The chocolate frosting for this cake is very thick. The best way to work with it is to use a warmed offset metal cake spatula
 run under hot water, then wiped dry. The heat will make the frosting more malleable and easy to spread. Repeat this process until the whole cake has been frosted. Decorate the cake with remaining frosting anyway you'd like. I garnished mine with candied orange peel, Loacker chocolate orange wafers and a little sea salt.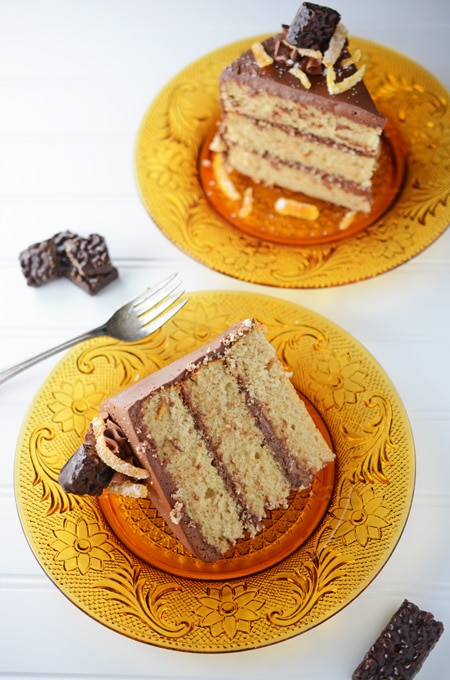 Don't forget to follow me on social media: Facebook, Instagram, Twitter, Pinterest and Yummly. Be sure to subscribe to The Weekly Recap to find out what is coming up on The Cake Chica, behind the scenes and much more.
You can also try out Degustabox for half the price now by clicking the banner below!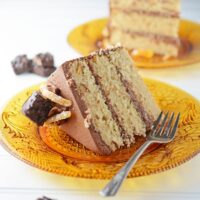 Chocolate Orange Spice Cake
Ingredients
3 oranges, scrubbed
1 cup granulated sugar
3/4 cup water
1/4 teaspoon cream of tartar
1/2 cup granulated sugar
Baking spray
2 1/2 cups all-purpose flour
1 cup almond flour
2 teaspoons baking powder
1 1/2 teaspoons ground cinnamon
1/2 teaspoons ground cloves
1/2 teaspoons baking soda
1/2 teaspoon salt
1 cup (2 sticks) unsalted butter, at room temperature
2 cups granulated sugar
2 tablespoons finely grated orange zest
1 teaspoon vanilla extract
1/2 teaspoon almond extract
4 large eggs, at room temperature
1 cup buttermilk, at room temperature
1/4 cup fresh squeezed orange juice from about 2 oranges
8 ounces bittersweet chocolate, chopped
1/2 cup (1 stick) unsalted butter, at room temperature
2 cups powdered sugar, sifted
1/4 cup unsweetened cocoa powder
1/4 teaspoon salt
1 teaspoon vanilla extract
3/4 cup sour cream
Candied Orange Zest (optional)
Chocolate covered orange wafer cookies (optional)
Flaked sea salt (optional)
Instructions
CANDIED ORANGE ZEST
Using a vegetable peeler or sharp paring knife, remove the peel of each orange in vertical strips, being careful not to include any of the bitter white pith. If you do get a little pith on the peel, place the strips on a cutting board and using a paring knife with the blade parallel to the board, carefully slice it off. Cut the zest into julienne strips.
Half fill a medium saucepan with water and bring to a boil. Add the zest strips and reduce the heat to a low and simmer for 15 minutes. Drain and rinse the zest.
In the same saucepan, combine the sugar, water and cream of tartar and bring to a boil, stirring constantly until the sugar has dissolved. Add the zest, cover the saucepan and reduce the heat to low. Let the zest simmer for another 15 minutes. Remove the pan from the heat and drain zest. Toss zest with sugar, breaking up any lumps of sugar with your hands. Spread the zest onto a baking sheet to let dry at room temperature for about 2 hours before using.
ORANGE SPICE CAKE
Heat oven to 350 degrees. Spray 3 8-inch round cake pans with non-stick baking spray and set aside.

Sift together the flours (Toss out any of the almond flour that does not sift through the sieve.), baking powder, cinnamon, cloves, baking soda and salt and set aside.

In the bowl of a stand mixer fitted with the paddle attachment, beat the butter on medium speed until smooth about 1 minute. Add the sugar and orange zest and mix on medium-high speed until the butter is light and fluffy, about 3 to 5 minutes. Scrape down the mixer bowl as needed.

Turn mixer speed to medium-low and add the vanilla extract, almond extract and eggs one at a time. Scrap down the bowl as needed.

Turn the mixer to low speed and add the flour mixture in three batches, alternating with the buttermilk, starting with the flour mixture and ending with the flour mixture. Add the orange juice and mix on low speed for no more than 30 seconds. Give the cake batter a few stirs by hand and divide evenly among the prepared cake pans. Using a small offset cake spatula, smooth the tops of the batter in the pans.

Bake for 25 to 30 minutes, or until a toothpick inserted in the center of the cake comes out clean. Let cakes cool in their pans for 15 minutes. Then invert onto a cooling rack to cool completely.
CHOCOLATE FROSTING
Melt the chocolate in the top of a double broiler and set aside to cool.

Meanwhile, in the bowl of a stand mixer fitted with the paddle attachment beat the butter on medium speed until smooth and creamy, about 1 minute. With the mixer on low speed, add the powdered sugar, cocoa powder, salt and vanilla until incorporated. Turn the mixer to medium-high speed and mix until the frosting is light and fluffy, about 3 minutes. Scrape the sides of the mixer bowl as necessary.

Once the chocolate is cooled to room temperature, stir the sour cream into the melted chocolate. With the mixer on low speed, add the chocolate mixture to the frosting. Turn the mixer to medium speed and mix until combined and frosting is creamy.
ASSEMBLE
Once the cakes have cooled, if any domes have formed, cut them off to create a level cake surface. Place one layer of cake on a cake round or cake platter. Spread about ¾ cup on top and level with a warmed offset metal cake spatula to smooth out frosting, warming the cake spatula as needed. To warm the cake spatula, run under hot water then wipe dry with a clean towel and continue to spread frosting on and around the cake. Top with the next layer of cake and continue this process finishing with the final cake layer.

Continue to frost the top and sides of the cake with a warmed cake spatula. Decorate the cake as you wish with any remaining frosting. Garnish with Candied Orange Peel, cookies and flaked sea salt. Enjoy!
Notes
This cake will keep in the refrigerator for up to 3 days. Bring to room temperature before serving.
Adapted from Layered: Baking, Building, and Styling Spectacular Cakes