This Bubble Gum Layer Cake is a lot of fun! I thought it was going to be a hit with the kids, but when I tasted it I was pleasantly surprised at how much I loved this cake. It's definitely not just for the kids! Best of all it's pretty simple to make too!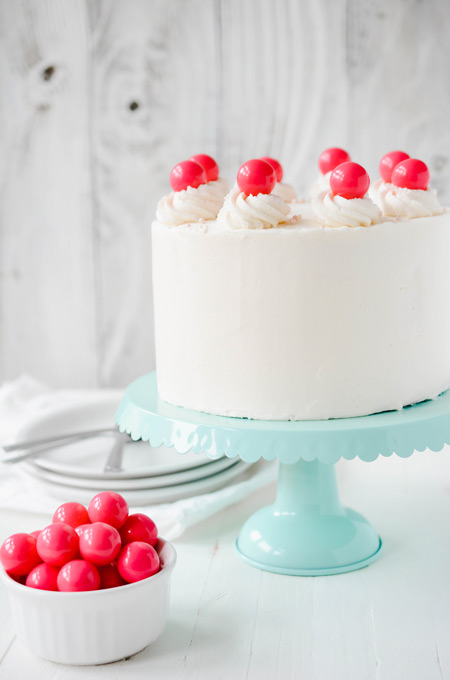 Bubble Gum Layer Cake
The base of this cake is just a basic vanilla cake flavored with bubble gum flavoring. I used LorAnn Bubble Gum Super Strength Flavor. This has a lot of flavor so a little goes a long way.
Once the cake batter was mixed up I poured half of the batter into a second bowl and used Wilton's Pink gel food coloring to color the batter. Next, divide the batter in cake pans alternating the batters. Lastly, use a skewer to swirl the batters together. Just a few swirls will do the trick. Don't over swirl.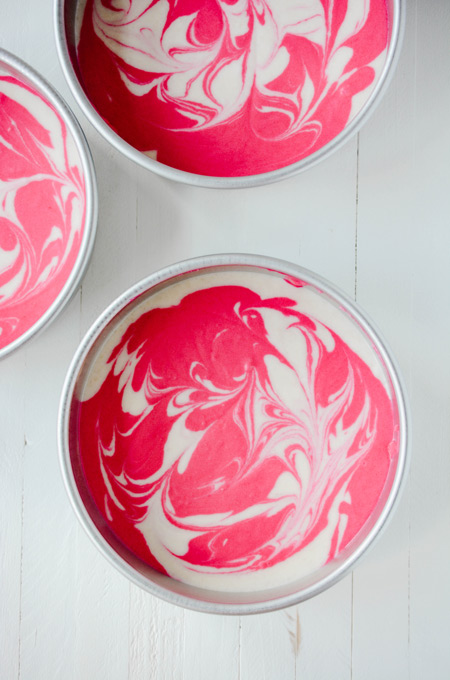 Bubble Gum Buttercream
Originally I was going to frost this cake with my favorite buttercream, Swiss meringue. But at the last minute I decided to switch it up and pair it with an American style buttercream. American buttercream is primarily made up of shortening and powdered sugar. And sometimes butter. It's sweet and fluffy and usually has a bit of a crust on top.
For this recipe I used a basic American buttercream and added LorAnn Bubble Gum Super Strength Flavoring.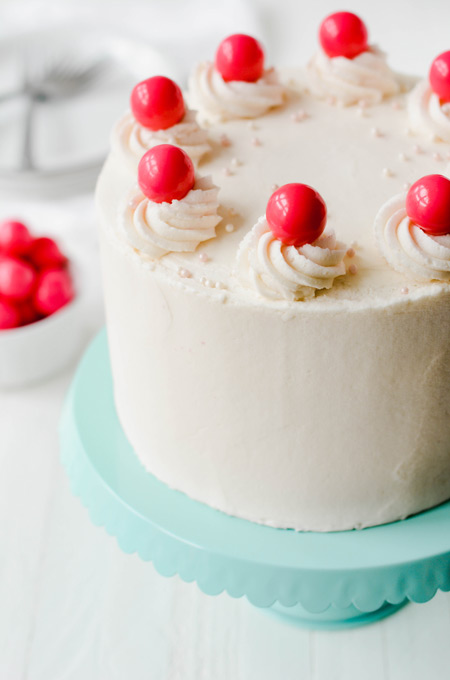 Crumb Coat and Chill
Don't forget to crumb coat and chill your cake before decorating. It helps tremendously in the frosting and decorating process. It's worth the extra few minutes to do this.
Spread a thin coat of buttercream over the top and sides of the cake. Just enough to seal the cake and catch any loose cake crumbs. Chill the cake in the refrigerator for 30 minutes or the freezer for 15 minutes before frosting the cake with the final layer of buttercream.
Bubble Gum Layer Cake Decorating
The whimsical swirls are the main decoration for this cake so I kept it simple on the outside. I added a few color coordinating sprinkles, with a few pink gum balls and that's it. The real surprise will be once the cake is sliced!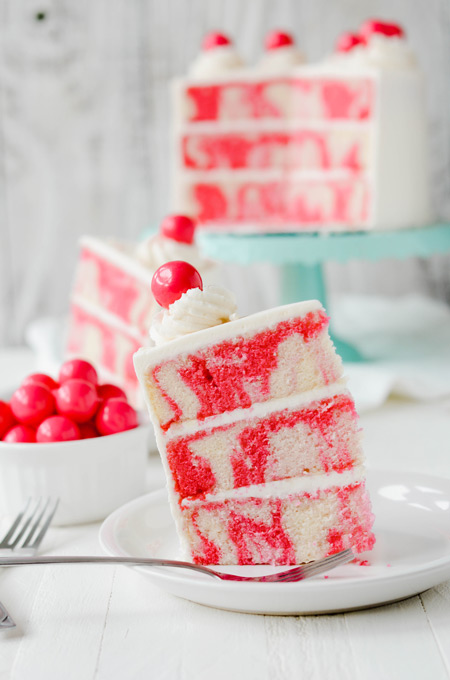 Plan It Out
This is one of my easier cake recipes, but it's still a good idea to plan it out. Here's what my schedule looked like:
Day 1: Bake the cake layers.

Day 2:

Prepare the buttercream, assemble, and serve.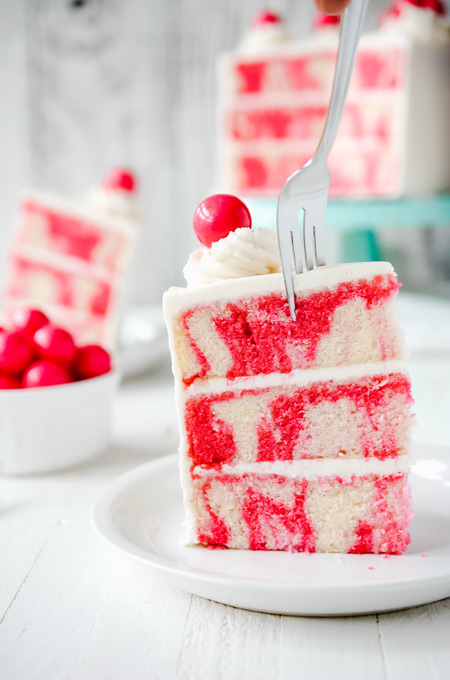 Lets Connect
The Cake Chica is on Facebook sharing sneak peeks of recipes to come, Instagram for your food porn desires and Pinterest for your board pinning needs.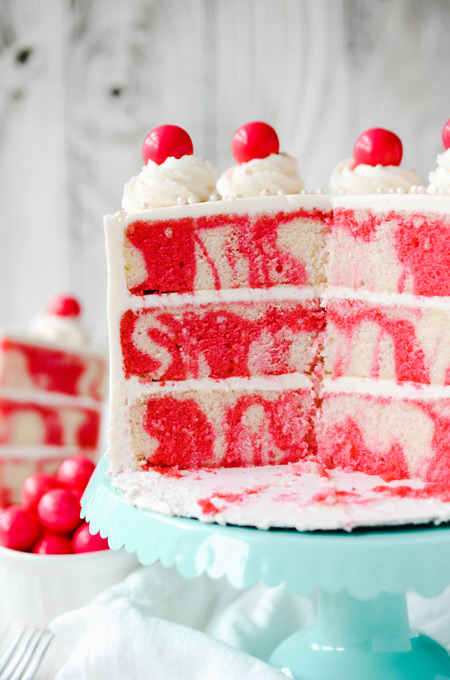 You May Also Like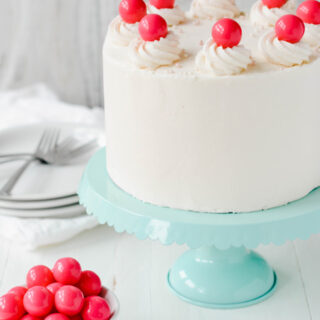 Bubble Gum Layer Cake
Total Time:
2 hours
30 minutes
Made from scratch Bubble Gum Layer Cake filled and frosted with Bubble Gum flavored American buttercream. Garnished with sprinkles and pink bubble gum balls.
Ingredients
SPECIAL TOOLS
3 8-inch round cake pans
Non stick baking spray
Stand mixer
Spring loaded ice cream scoop(s) (optional)
8-inch round cake board
Cake turntable or serving platter
Piping bag
Ateco piping tip #827
White sprinkles (garnish)
Pink sprinkles (garnish)
Pink gum balls (garnish)
BUBBLE GUM CAKE
1 3/4 cups (420g/10.6 ounces) whole milk, at room temperature
6 large egg whites
1 tablespoon vanilla extract
1 tablespoon LorAnn bubble gum flavoring
2/3 (150g/5.3 ounces)cup sour cream, at room temperature
4 1/3 cups (498g/17.3 ounces) cake flour
2 1/2 cups (500g/17.7 ounces) granulated sugar
1 1/4 teaspoon baking powder
1/2 teaspoon baking soda
1/2 teaspoon salt
1 1/4 cups (282g/10 ounces) unsalted butter, cut into tablespoon sized pieces, at room temperature, about 65 degrees
Pink gel food coloring
BUBBLE GUM BUTTERCREAM
1 cup (2 sticks) unsalted butter, at room temperature
1 cup vegetable shortening
1 1/2 teaspoons vanilla extract
1 1/2 teaspoons LorAnn Bubble Gum flavoring
3 to 4 tablespoons water or milk
2 pounds (8 cups) powdered sugar
Instructions
BUBBLE GUM CAKE
Adjust an oven rack to the center position and heat oven to 325 degrees. Spray 3 8-inch round cake pans with nonstick baking spray and set aside.
In a 4 cup liquid measuring cup, whisk together the milk, egg whites, extract, flavoring and sour cream.
In the bowl of a stand mixer, with the paddle attachment attached, mix the flour, sugar, baking powder, baking soda, and salt on low speed until combined. Add butter one tablespoon at a time until the mixture forms pea-sized pieces, about 1 minute. Reserve ½ cup of the milk mixture and pour the remaining to the flour mixture and mix on medium-high speed until light and fluffy, about 1 minute. Reduce the mixer speed to medium-low and add the reserved ½ cup milk mixture to the batter and mix until combined, about 30 seconds. Do not over mix. The batter may look curdled. Give the batter a final stir by hand with a rubber spatula. Remove half of the batter and place in a bowl. Add the pink gel food coloring in one bowl to color the batter pink. Using spoons or ice cream scoops, add in one scoop of white batter to a cake pan, then one scoop of pink batter and then alternate until the batter has been divided between all 3 cake pans. With a wooden skewer or knife, slightly swirl the cake batter in a figure 8 pattern.
Gently tap cake pans on the counter to settle the batter and bake until a toothpick inserted in the centers comes out with a few moist crumbs attached, about 30 to 35 minutes, switching and rotating pans halfway through baking.
Let cakes cool in their pans for 30 minutes on cooling racks. Then invert on cooling racks to cool completely.
BUBBLE GUM BUTTERCREAM

In the bowl of a stand mixer fitted with the paddle attachment attached, beat the butter, shortening and extract and flavoring on medium speed until smooth and creamy, about 3 minutes.
Add 2 tablespoons of water or milk and half of the powdered sugar and mix on low speed until combined.
Add the remaining powdered sugar and continue to mix on low speed for 3 minutes. Add more water or milk if needed to reach desired consistency. Use immediately of refrigerate in an airtight container.

ASSEMBLE
Place one cake layer on a cake board and place on a cake turntable. Spread about 2/3 cup buttercream over the top of the cake, spreading all the way to the edge in an even layer. Place the second cake layer on top and spread another 2/3 cup of buttercream on the top, spreading out to the edge in an even layer. Place the last cake layer on top (bottom side up) and apply a thin coat of buttercream over the top and sides of the cake, creating a crumb coat. Refrigerate the crumb coated cake for 30 minutes. Apply the final coating of buttercream over the chilled cake.
Place remaining buttercream in a piping bag fitted with Ateco piping tip #827. Pipe 8 swirls of buttercream around the top edge of the cake. Sprinkle white and pink sprinkles around the swirls. Place a pink gum ball on top of each swirl. Carefully transfer cake to a serving platter and serve.

Notes
Cake layers can be made up to 3 days in advance, stored in an airtight cake container in the refrigerator.
Buttercream can be kept in the refrigerator for up to 2 weeks or frozen for up to 4 weeks. Bring the frosting to room temperature. Rewhip on low speed before using. (This is a crusting buttercream.)

Assembled cake can be stored in an airtight container in the refrigerator for up to 3 days. Bring to room temperature before serving.
Nutrition Information:
Yield:

12
Serving Size:

1
Amount Per Serving:
Calories:

545
Total Fat:

29g
Saturated Fat:

11g
Trans Fat:

0g
Unsaturated Fat:

16g
Cholesterol:

50mg
Sodium:

340mg
Carbohydrates:

61g
Fiber:

1g
Sugar:

21g
Protein:

10g
*Nutrition information is an estimate and will vary.*