Strawberry Rose Cake is the perfect cake for spring! It's three layers of fluffy homemade Strawberry Cake with strawberry filling and strawberry rose Swiss meringue buttercream, piped with rosettes. Plus, this buttercream has a hint of rose flavoring in it, taking this buttercream to the next level!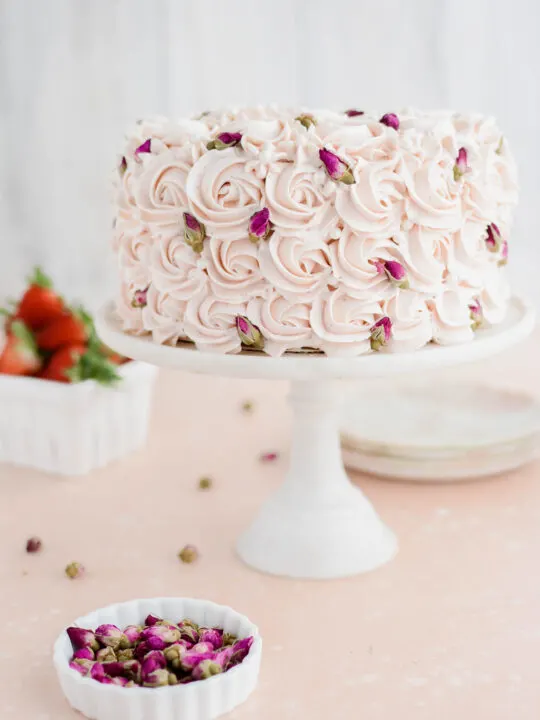 Natural Strawberry Cake Flavoring
You'll see many strawberry cake recipes using strawberry flavored gelatin but not this one. This recipe uses the real thing, strawberries!
To get the strawberry flavor for this cake you'll need:
Frozen strawberries, cooked in the microwave about 4 minutes.
Strain the strawberries through a sieve to remove the strawberry solids.
Reduce the strawberry juice down to about 1/4 cup.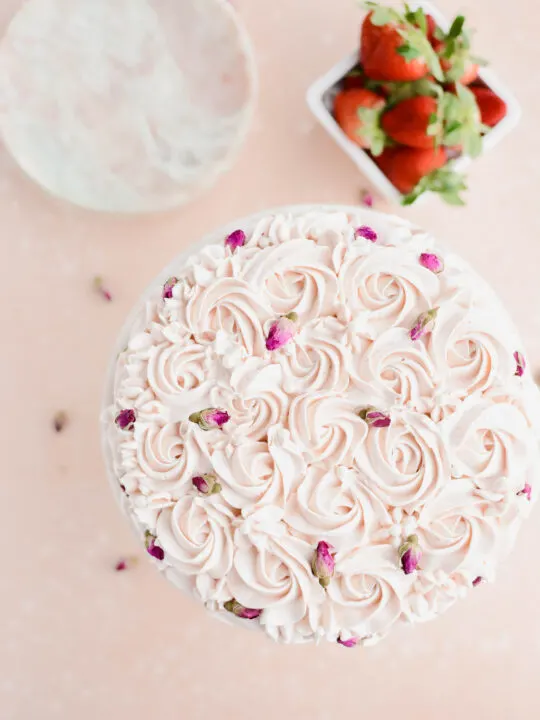 Strawberry Cake Ingredients
Frozen strawberries: This recipe only uses the juice from the strawberries. Adding the strawberry solids to this cake batter would be too much for this delicate cake. Save the strawberry solids for another use or toss.
Whole milk: The fat in whole milk helps to tenderize the cakes crumb. It also interacts with the flour to create just enough gluten to form the cakes structure.
Egg whites: helps create structure.
Vanilla extract: helps balance the flavors.
Strawberry extract or strawberry emulsion: I prefer to use strawberry emulsion. The flavor doesn't bake out like extracts can. Plus, the strawberry emulsion gives the cake batter a natural pink color.
Cake flour: has a lower protein content than all-purpose flour which helps create a delicate crumb.
Granulated sugar: Sugar not only sweetens the cake but it also helps tenderize, leavens and browns.
Baking powder: is a leavener that contains baking soda and cornstarch. Baking soda reacts twice. The first is when it comes into contact with liquid and then when it is heated. Baking soda can't be used as a substitute for baking powder.
Salt: helps bring out the sweetness in the cake.
Unsalted butter: tenderizes, moistens, leavens, browns, and flavors.
Strawberry Filling
If you're looking for a homemade fruit filling that is sweet, firm and holds its shape when sliced, then look no further, this is it! And the flavor can easily be changed by changing up the frozen fruit.
Strawberry Filling Ingredients
Frozen strawberries
Granulated sugar
Cornstarch mixed with water
Fresh lemon juice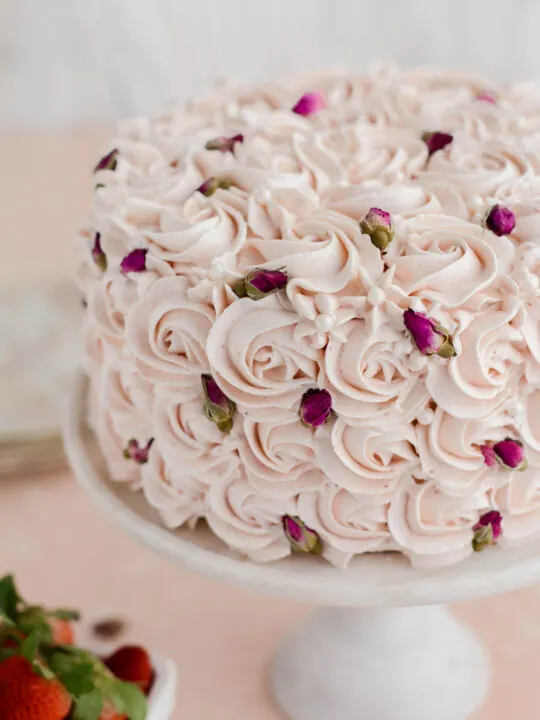 Strawberry Rose Swiss Meringue Buttercream
The last few weeks I've made some cakes with American buttercream, but this week my favorite buttercream makes a comeback! This Swiss meringue buttercream is flavored with processed strawberries and a touch of rose extract.
Rose extract is super concentrated so a little goes a long way. For this Strawberry Rose Cake I made a large batch of buttercream and used just 3/4 teaspoon of rose extract.
Rose extract and rose water are similar but different. Rose extract is more concentrated than rose water.
Strawberry Rose Swiss Meringue Buttercream Tips
Your mixer bowl should be clean and free of any traces of grease.
Whisk the sugar and egg white together well before cooking, otherwise, the eggs may start to cook on their own.
Make sure the water stays at a simmer in the double boiler.
Your butter should be at room temperature before using, about 65 degrees.
Add your butter in tablespoon pieces to the mixer bowl.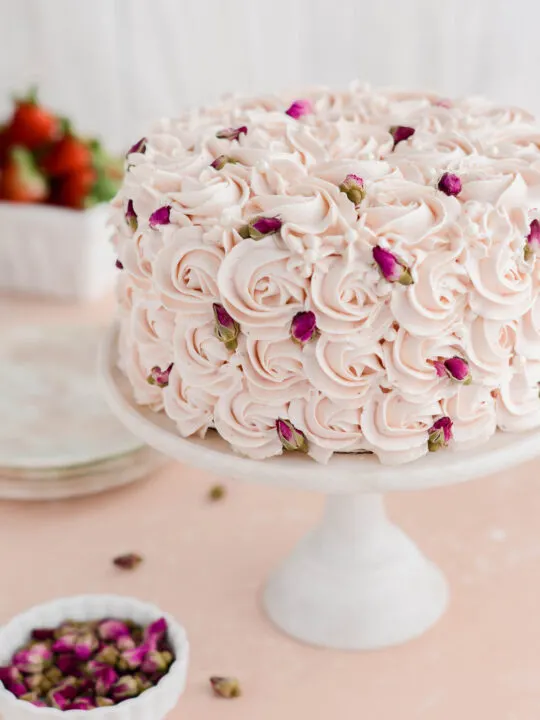 What Is A Crumb Coat?
A crumb coat is a thin layer of buttercream that helps hold in the crumbs and prevents the crumbs from getting into the final layer of buttercream. It also helps seal the cake.
Crumb Coat Tips
Be sure not to return any buttercream that contains crumbs back to your clean bowl of buttercream.
Always clean your offset cake spatula between buttercream applications.
Work with a small amount of buttercream at a time.
Use a turntable.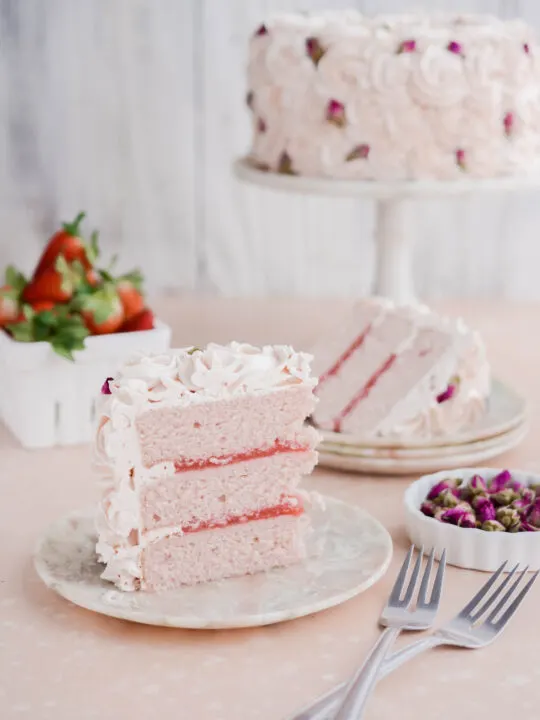 Buttercream Rosettes
You'll need a piping bag and a Wilton 1M piping tip. Fit a piping bag with your piping tip and fill the bag with buttercream. Pipe overlapping rosettes in rows, starting from the bottom, working your way up. Tip: Work as quickly as you can because the buttercream tends to melt in your piping bag the longer your hands are on it.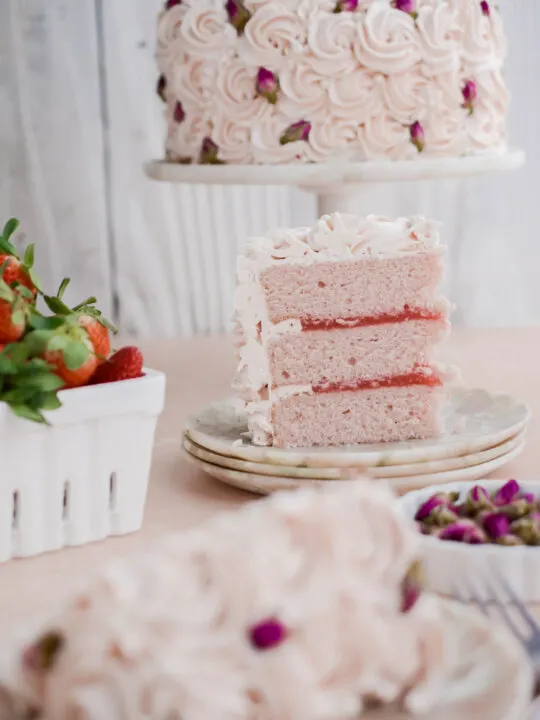 Garnishes
Use pearl dragees and edible rose buds to decorate and fill in any gaps on the cake.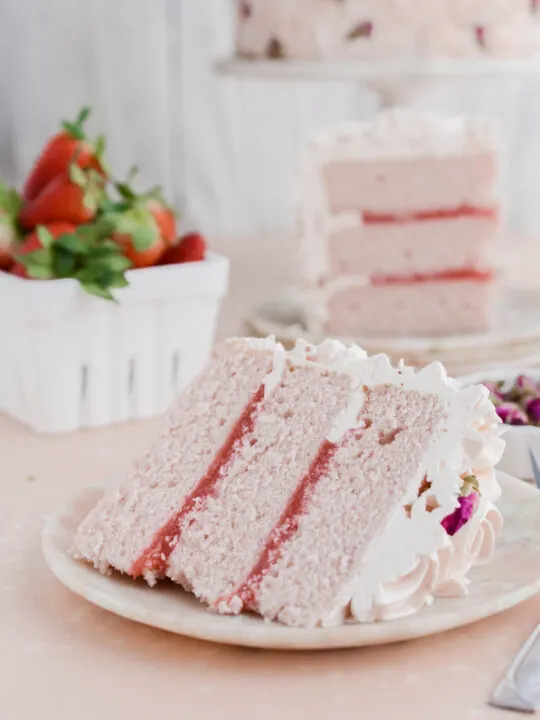 Strawberry Rose Baking Schedule
Day 1: Prepare strawberry filling and bake cake layers.
Day 2: Prepare the buttercream, assemble, decorate and serve.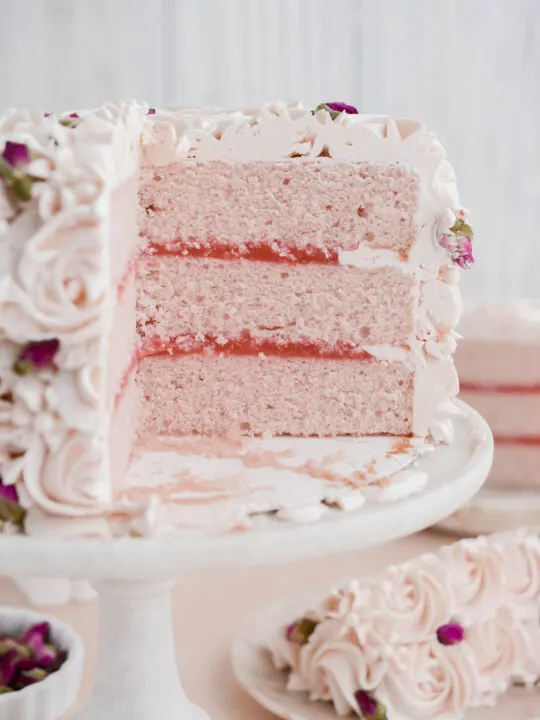 Let's Connect
The Cake Chica is on Facebook sharing sneak peeks of recipes to come, Instagram for your food porn desires and Pinterest for your board pinning needs.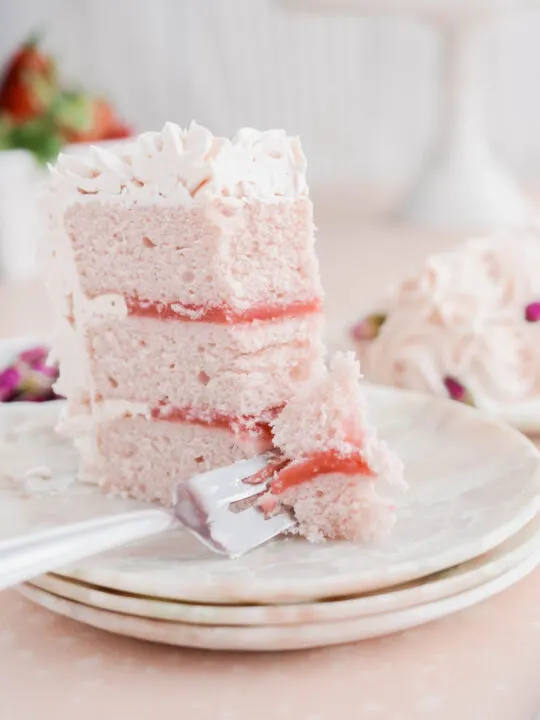 You May Also Like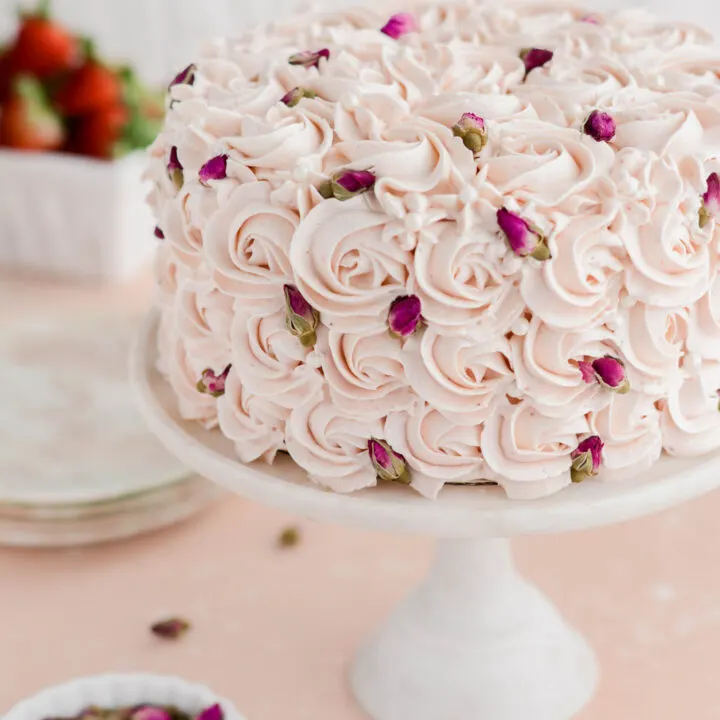 Strawberry Rose Cake
Total Time:
2 hours
50 minutes
Homemade strawberry cake filled with strawberry filling and frosted with strawberry-rose Swiss meringue buttercream, garnished with edible rose buds.
Ingredients
SPECIAL TOOLS
3 8-inch round cake pans
Nonstick baking spray
Stand mixer
Food processor
8-inch round cake board
Piping bags
Round piping tip or coupler
Wilton piping tip #1M
STRAWBERRY CAKE
10 ounces frozen whole strawberries (2 cups)
¾ cup whole milk
6 large egg whites
1 teaspoon vanilla extract
1 teaspoon strawberry extract or strawberry emulsion
2 ¼ cups (9 ounces) cake flour
1 ¾ cups (12 ¼ ounces) granulated sugar
4 teaspoons baking powder
1 teaspoon table salt
12 tablespoons unsalted butter, cut into 12 pieces and at room temperature
STRAWBERRY FILLING
12 ounces frozen strawberries, thawed
¼ (1.76 ounces) granulated sugar
3 tablespoons cornstarch, mixed with 3 tablespoons cold water
Fresh lemon juice, to taste
STRAWBERRY ROSE SWISS MERINGUE BUTTERCREAM
6 ounces frozen strawberries, thawed
3 tablespoons granulated sugar
1/4 teaspoon salt
1 cup egg whites
2 cups (14 ounces) granulated sugar
3 cups (6 sticks) unsalted butter, cut into tablespoon sized pieces, at room temperature
1 tablespoon vanilla extract
3/4 teaspoon rose extract
GARNISH
Edible rose buds
Pearl dragees
Instructions
STRAWBERRY CAKE
Adjust an oven rack to the middle position and heat oven to 350 degrees. Spray 3 8-inch round cake pans with nonstick baking spray and set aside.
Microwave strawberries in a microwavable bowl, covered, until strawberries have softened and are juicy, about 5 minutes. Place strawberries in a fine mesh strainer set over a small saucepan and press with a rubber spatula to extract as much juice from the strawberries as possible. Discard strawberry solids or save for another use. Over medium-high heat, bring the strained strawberry juice to a boil, stirring occasionally until the juice turns into a syrup and measures about ¼ cup, about 6 to 8 minutes. Remove from the heat and stir in the milk. Transfer milk mixture to a clean bowl and whisk in the egg whites vanilla extract and strawberry extract until combined.
In the bowl of a stand mixer with the paddle attachment attached, mix the flour, sugar, baking powder and salt on low speed until combined. Add butter one piece at a time and mix until pea-sized pieces remain, about 1 minute. Add half of the milk mixture and increase the speed to medium-high and beat until light and fluffy, about 1 minute. Reduce the mixer speed to low and add in the remaining milk mixture and beat until combined, about 30 seconds.
Divide the batter between the prepared cake pans and smooth the tops out with a rubber spatula. Give the pans a few light taps on the counter to settle the batter and bake until a toothpick inserted in the center comes out with a few moist crumbs attached, about 20 to 25 minutes, rotating pans halfway through baking.
Let cakes cool in their pans for 10 minutes on wire racks, and then invert on to racks to cool completely, about 2 hours.

STRAWBERRY FILLING
Place thawed strawberries in a blender or food processor and puree until smooth. Over a bowl pour strawberry puree over a sieve to remove the solids. The puree will be thick. Use a spoon to stir and press the puree through the strainer.
Place strawberry puree in a small saucepan over medium-low heat. Add sugar and cornstarch mixture and bring to a simmer, stirring constantly to keep lumps from forming. Once the puree thickens, remove from the heat. Cool for 5 minutes and then add fresh lemon juice. Chill for about 2-3 hours in the refrigerator until ready to use.
STRAWBERRY ROSE SWISS MERINGUE BUTTERCREAM
Place the strawberries, sugar and salt in the bowl of a food processor and process until pureed. Set aside until needed.
In the bowl of a stand mixer fitted with the whisk attachment, pour in the egg whites and sugar and whisk by hand until combined. Fill a medium saucepan with about 2 inches of water and bring to a simmer. Place mixer bowl on top, being sure the bottom of the bowl does not touch the water and attach a candy thermometer.
Whisking occasionally, heat the egg mixture until the temperature reaches 160 degrees. Once the mixture reaches 160 degrees, transfer to a stand mixer and beat the mixture on high speed for 10 minutes or until medium-stiff peaks form. At this point the outside of the mixer bowl should be room temperature. Switch out the whisk attachment with the paddle attachment and with the mixer on low speed, add the butter one tablespoon at a time, and then add the vanilla extract and rose extract. Once combined, turn up the mixer speed to medium-high and beat until the buttercream is smooth about 5 minutes. Gradually add the 2/3 cup strawberry puree and mix until combined.
ASSEMBLE
Center the first cake layer on a cake board and place on a cake turntable. Fit a piping bag with a coupler or a plain round piping tip. Fill the piping bag with about 1 1/2 cups frosting.
Pipe a frosting dam around the top edge of the cake layer. Spread half of the strawberry filling on top in an even layer all the way out until it meets the frosting dam. Place the second cake layer on top and pipe a frosting dam around the edge. Spread the remaining filling in the center and spread out in an even layer.
Place the third cake layer on top (bottom side up) and spread about 1 1/2 cups of frosting over the top and sides of the cake, creating a crumb coat. Be sure to keep a separate bowl on hand to wipe off your cake spatula so you don't get any crumbs in your bowl of clean frosting. Chill the cake in the refrigerator for at least 30 minutes.
Fit a piping bag with a Wilton 1M piping tip and fill the piping bag with buttercream. Make sure to space out the rosettes so all of them are about the same size. Tuck the end of the rosette behind the next rosette so the next rosette covers up the end of the next one. Do this all the way around the side of the cake, moving up to the top.
Place a few pearl dragees around the cake filling in some of the gaps in the buttercream. Strategically place a few rose buds on top and on the sides of the cake and serve.



Nutrition Information:
Yield:

12
Serving Size:

1
Amount Per Serving:
Calories:

412
Total Fat:

19g
Saturated Fat:

10g
Trans Fat:

0g
Unsaturated Fat:

8g
Cholesterol:

56mg
Sodium:

539mg
Carbohydrates:

48g
Fiber:

2g
Sugar:

20g
Protein:

8g
*Nutrition information is an estimate and will vary.*