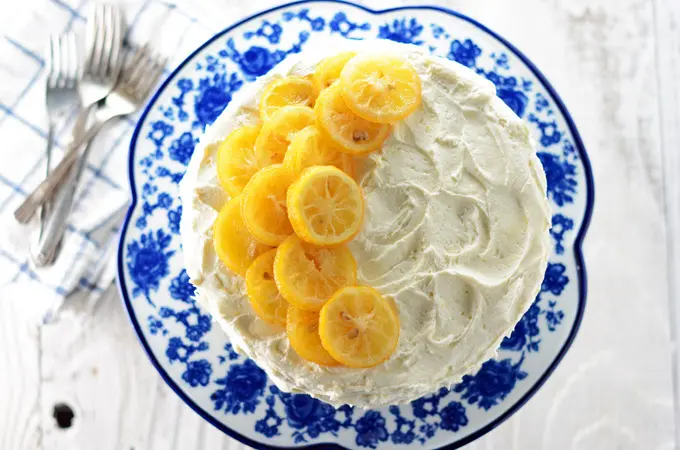 There is a time and a place for fancy cakes, but a lot of times I think the simple, classic cakes get lost these days. When I see things like pies baked inside of cakes, fried Oreos and Twinkies (which I am sure tastes awesome) I think we have gone a little too far and missed the point of a well done, simple homemade dessert.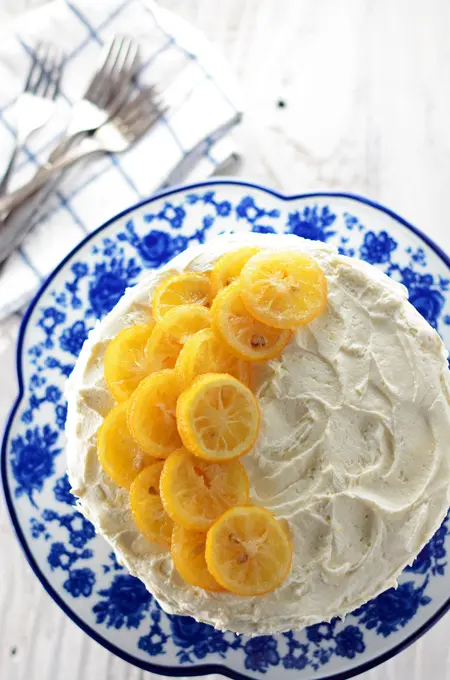 I love desserts that take me back to a time where things were simpler. When we could eat a cheeseburger and fries and finish off the meal with something sweet, like this Lemon Layer Cake, and not have to worry about calories and cholesterol. Oh the good-ol' days.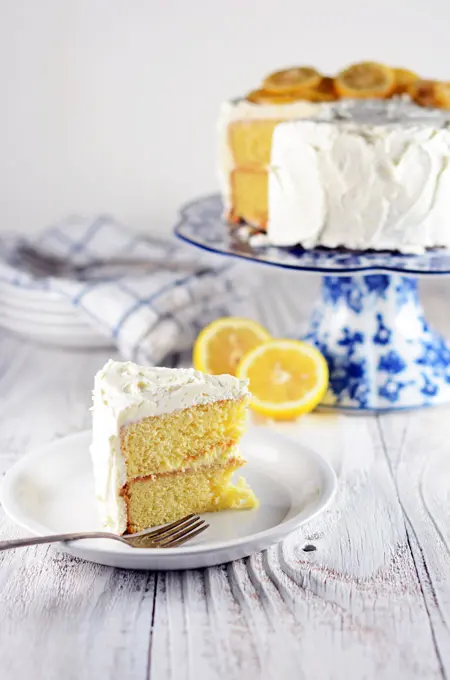 Lemon lovers won't be able to resist the moist lemon cake layers, sandwiching the lemon cream filling. And you can't forget the lemon frosting and those candied lemon slices! The fanciest thing on this cake is the candied lemon slices, and those are optional.
Sometimes frosting made with powdered sugar can be a little hard to spread on a cake so I use a metal cake spatula, heated under hot running water, then wiped dry, and gently press the frosting on and around the cake; repeating with the heated cake spatula.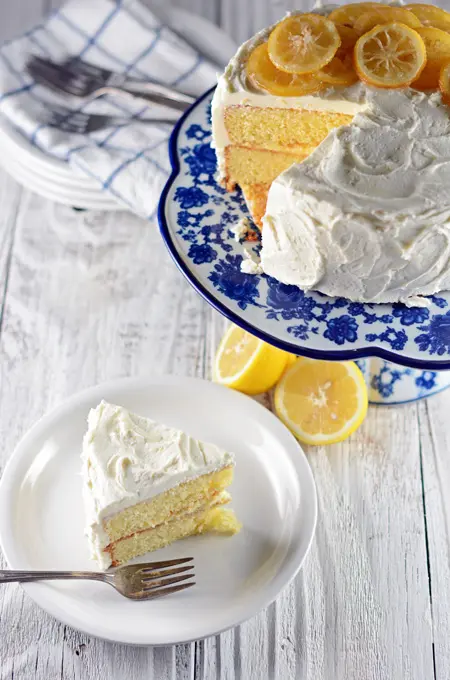 I hope you will enjoy this Lemon Layer Cake as much as I did. Feel free to take a trip back to the ol-days. Have a cheeseburger, some fries and finish the night off with a slice of Lemon Layer Cake, in moderation of course.
This cake is best served at room temperature.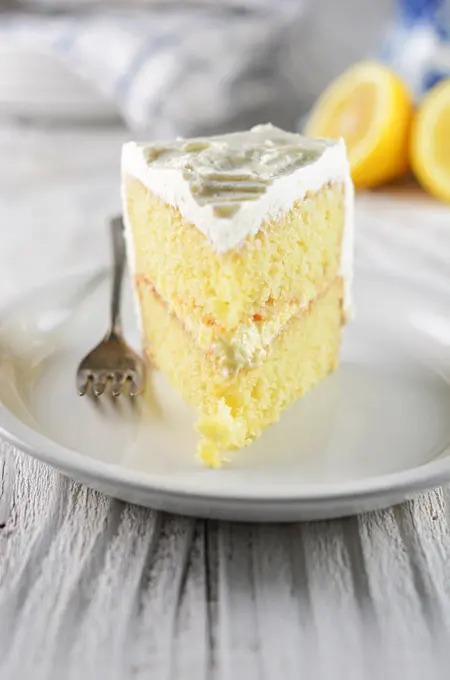 Don't forget to follow me on Facebook, Instagram, and Pinterest.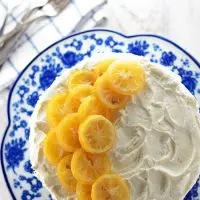 Lemon Layer Cake
Ingredients
LEMON GARNISH
3 lemons, sliced 1/8-inch thick
2 cups granulated sugar
1 ½ cups water
Extra sugar for dipping
CAKE
2 ½ cups cake flour
2 teaspoons baking powder
½ teaspoons baking soda
¼ teaspoon table salt
1 cup (2 sticks) unsalted butter, slightly softened
1 ½ cups granulated sugar
2 large whole eggs, at room temperature
3 large egg yolks, at room temperature
2 teaspoons vanilla extract
1 teaspoon lemon zest
¼ cup fresh lemon juice
½ cup whole milk
FILLING
2 large egg yolks
1/3 cup granulated sugar
¼ cup fresh lemon juice
2 tablespoons unsalted butter, slightly softened
Pinch of table salt
1 teaspoon finely grated lemon zest
½ cup heavy cream
FROSTING
¾ cup (1 ½ sticks) unsalted butter, softened
3 ½ cups powdered sugar
2 tablespoons heavy cream
2 teaspoons fresh lemon juice
¼ teaspoon vanilla extract
1 teaspoon finely grated lemon zest
Instructions
LEMON GARNISH
In a 12 inch skillet, over medium heat, whisk together sugar and water. Bring to a simmer and continue to whisk until sugar has dissolved. Once sugar has dissolved lay lemon slices into the skillet in a single layer and simmer for about 15 minutes, until rinds appear softened and slightly translucent. Carefully remove lemon slices from the skillet and lay on parchment paper and set aside to dry. Once dried dip into sugar. Set aside until ready to use. These can be stored in the refrigerator for a few days.
CAKE
Adjust an oven rack to the middle position and preheat to 350 degrees. Spray 2 8-inch round cake pans with baking spray and set aside.
In a medium bowl, sift together the flour, baking powder, baking soda and salt. Whisk together and set aside.
In an electric stand mixer, using the paddle attachment, beat the butter on medium speed for about 30 seconds or until creamy. Gradually add the sugar and increase the speed to medium-high. Continue to beat until the mixture is light and fluffy, about 3 minutes. Scrape down the sides of the bowl.
Add the whole eggs and egg yolks one at a time, beating well after each addition. Beat in the vanilla and lemon zest. Reduce the speed to low and gradually beat in the lemon juice (the batter look curdled but will smooth out after you add the dry ingredients). Beat in the dry ingredients in 3 additions alternating with the milk in 2 additions. Scrape down the sides of the bowl and beat for another 10 seconds. Pour the batter into the prepared cake pans.
Bake cakes for 25 to 30 minutes, or until a toothpick inserted into the center of each cake comes out with a few moist crumbs attached. Cool cakes in their pans on wire racks for 20 minutes. Then, invert the cakes onto the racks to cool completely.
FILLING
In a medium nonreactive saucepan, whisk together the yolks and sugar until combined. Whisk in the lemon juice, butter and salt. Cook over medium-low heat, stirring constantly with a wooden spoon, for 5 to 6 minutes or until the mixture turns opaque, thickens and coats the back of the spoon. Do not let the filling boil, or it will curdle. Pour the mixture through a fine-mesh sieve into a medium bowl. Stir in the lemon zest and allow the filling to cool.
Cover with plastic wrap, pressing directly onto the surface and refrigerate for 1 hour or until chilled.
In a clean bowl of an electric mixer, using the whisk attachment, beat heavy cream on high speed until soft peaks form. Remove the lemon filling from the refrigerator and whisk until smooth. Using a rubber spatula, gently fold the whipped cream into the filing. Cover the bowl and refrigerate the filling until ready to assemble the cake.
FROSTING
In the bowl of an electric mixer, using the paddle attachment, beat the butter on medium speed until creamy, about 30 seconds. On low speed, gradually beat in powdered sugar. Add the cream, lemon juice, vanilla and lemon zest. Increase the speed to medium-high and beat for about 3 minutes, or until the frosting is light and fluffy.
ASSEMBLE
Line the edges of a cake platter with 4 pieces of parchment paper to keep platter clean. Place one layer of cake on the platter. Pile the lemon filling into the center, using a small offset cake spatula and spread it into an even layer, leaving 1 1-inch border around the edges of cake. Top with the second cake layer. Frost the top and sides of the cake with lemon frosting. If some of the filling oozes out of the middle, just blend it with the frosting around the cake. Garnish with candied lemon slices and serve immediately.
Notes
Cake can be stored in the refrigerator for up to 3 days. Bring to room temperature before serving.
This recipe was adapted from
Diner Desserts
and
Sara Wells
over at
ourbestbites.com