If you need a reason to work on your piping skills, this cake is it! My Spring Lemon Layer Cake is a showstopper that looks difficult to make, but it's actually pretty easy thanks to the vast array of piping tips available today.
What Is Reverse Creaming?
Reverse creaming is when you combine the dry ingredients with softened butter, and then the liquid ingredients are mixed in after. In the reverse creaming method the butter coats the flour particles which minimizes gluten development, creating a fine and tender crumb. Plus, since the butter isn't beaten with sugar, less air is incorporated, which creates a sturdier cake with less rise.
Spring Lemon Layer Cake Ingredients
Whole milk: The fat in whole milk helps to tenderize the cakes crumb. It also interacts with the flour to create just enough gluten to form the cakes structure.
Egg whites: helps create structure.
Vanilla extract: helps balance the flavors.
Lemon emulsion: I prefer to use emulsions. The flavor doesn't bake out like extracts can.
Cake flour: has a lower protein content than all-purpose flour which helps create a delicate crumb.
Granulated sugar: Sugar not only sweetens the cake but it also helps tenderize, leavens and browns.
Baking powder: is a leavener that contains baking soda and cornstarch. Baking soda reacts twice. The first is when it comes into contact with liquid and then when it is heated. Baking soda can't be used as a substitute for baking powder.
Salt: helps bring out the sweetness in the cake.
Fresh lemon juice: helps with flavor.
Unsalted butter: tenderizes, moistens, leavens, browns, and flavors.
How To Make Lemon Curd
In a medium sized saucepan, whisk together the eggs, sugar, salt, lemon juice and lemon zest.
Over low heat, whisk constantly for about 15 to 20 minutes or until the mixture starts to thicken. The curd should coat the back of a wooden spoon without being translucent.
Remove the curd from the heat and stir in the butter. Strain the curd through a fine mesh sieve into a bowl to remove the solids that may have formed while cooking. Place a piece of plastic wrap on the surface of the curd and chill in the refrigerator for at least 3 hours or overnight.
Swiss Meringue Buttercream Tips
Your mixer bowl should be completely dry and clean before use. There should be no grease residue on the bowl and your egg whites should be free of egg yolks.
Whisk together the sugar and egg whites well, or the eggs may start to cook on their own.
Make sure the double boiler stays at a simmer.
Your butter should be room temperature before using.
Add your butter by tablespoon to the meringue.
The buttercream should be as smooth as possible. To help remove air bubbles, run the mixer on low speed for one minute.
Applying A Crumb Coat
A crumb coat is a thin layer of frosting that holds in the loose crumbs and seals the cake. Place a medium dollop of buttercream on top of the cake. Using a small offset spatula, start spreading the buttercream out. Continue to spread buttercream on the sides of the cake. The buttercream does not have to be perfectly smooth. Refrigerate the cake uncovered for at least 15 minutes to set before adding the final coat of buttercream.
Buttercream Colors
Gel food colors are typically more concentrated than liquid food coloring. They give more vibrant results while using less color.
Start with a small amount of gel food coloring and add to it slowly until you have achieved your desired color.
Here are the colors I used:
Piping Tips
Wilton #1M x3 Star Tips: rosettes. (Pipe the rosettes on your cake second.)
Wilton #12 Round Tip: Piped dots. (Filler tip.)
Wilton #21 x2 Small Star Tips: small stars and rosettes. (Filler tip.)
Wilton

#22

Small Star Tip: small stars and rosettes. (Filler tip.)
Wilton #32 Small French Tip: small stars and rosettes. (Filler tip).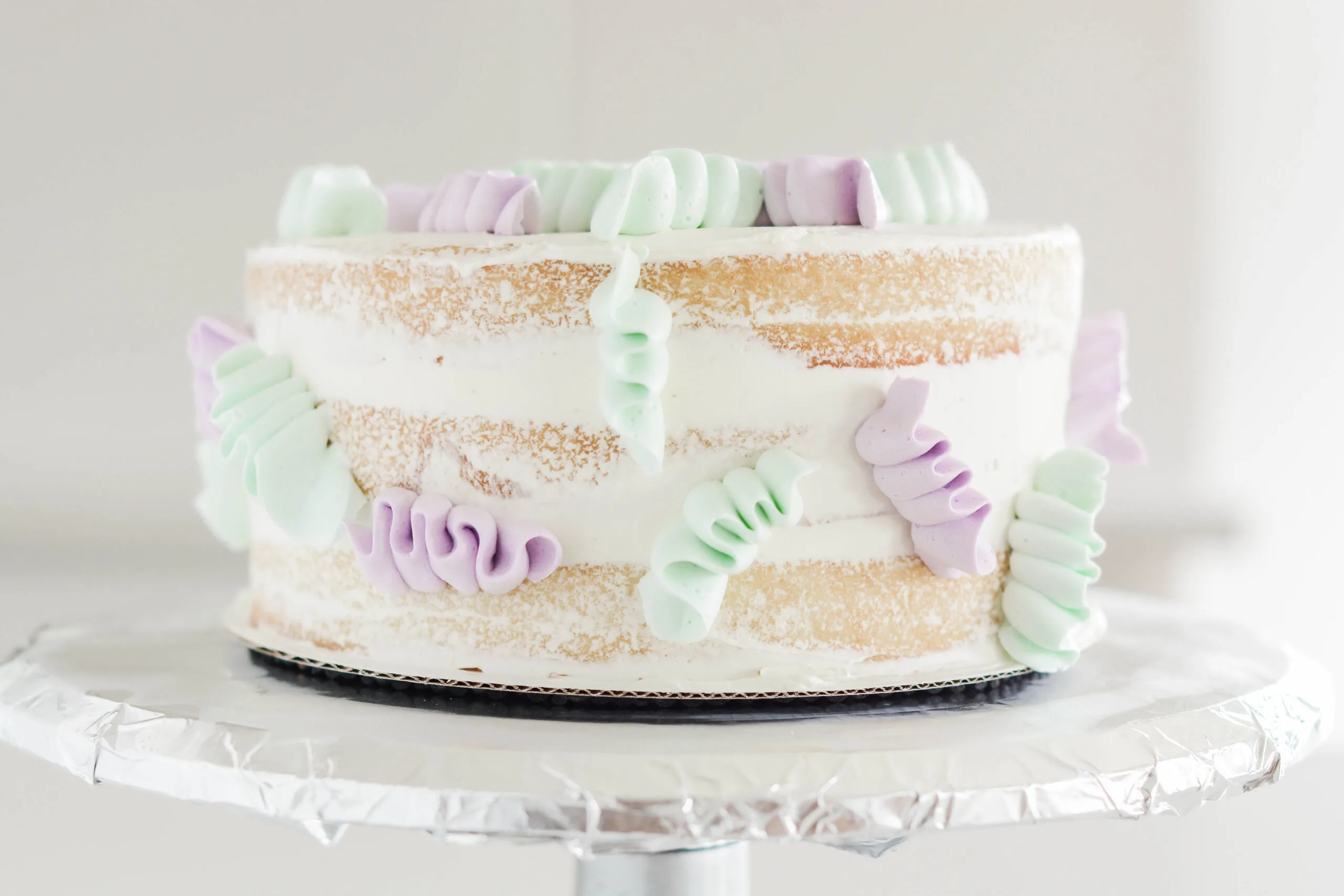 Spring Lemon Layer Cake Decorating Tips
Start with a chilled crumb coated cake.
Use your petal tips first so you have room to pipe the ruffle pattern.
Second, go in with your large star tip to pipe rosettes.
Use your space well. Pipe all the rosettes where you have space to do them.
Go in with your smaller tips and fill in any gaps where you can see the crumb coat.
Try to keep all your piping the same height so you can maintain the shape of the cake.
Spring Lemon Layer Baking Schedule
Day 1: Bake the cake layers and prepare the lemon curd.
Day 2: Prepare the buttercream, assemble, decorate and serve the cake.
Cake Storage
Cake layers can be stored wrapped in plastic wrap and stored in an airtight cake container in the refrigerator for 3 days.
Assembled cake can be stored in an airtight cake container up to 2 days. Bring to room temperature before serving.
Let's Connect
The Cake Chica is on Facebook sharing sneak peeks of recipes to come, Instagram for your food porn desires and Pinterest for your board pinning needs.
You May Also Like