If you're looking for a pie that's creamy but still sliceable, then this Banana Cream Pie with Vanilla Wafer Crust is the recipe you're looking for!
As an Amazon Associate, I earn from qualifying purchases.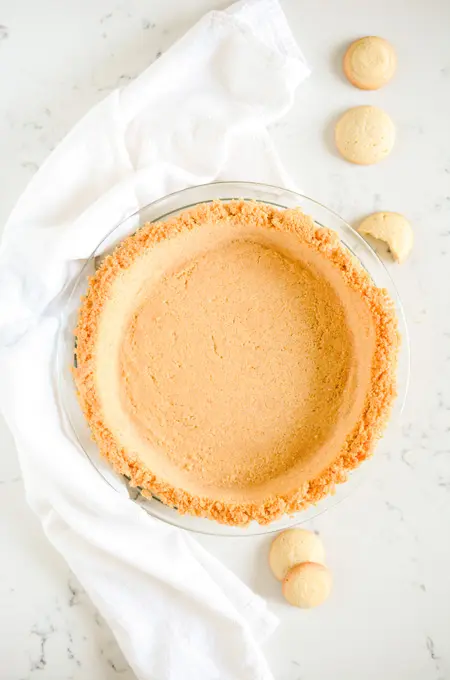 Homemade Vanilla Wafer Crust
You don't have to use my Homemade Vanilla Wafer recipe for your cookies but the flavor is far superior than the store bought cookies. I encourage you to give them a try with this recipe.
I know it's pretty simple to purchase a premade cookie crust but it's also pretty easy to make your own homemade version. It's literally cookie crumbs, a little sugar and some melted butter, then bake for about 15 minutes. That's it! Super simple.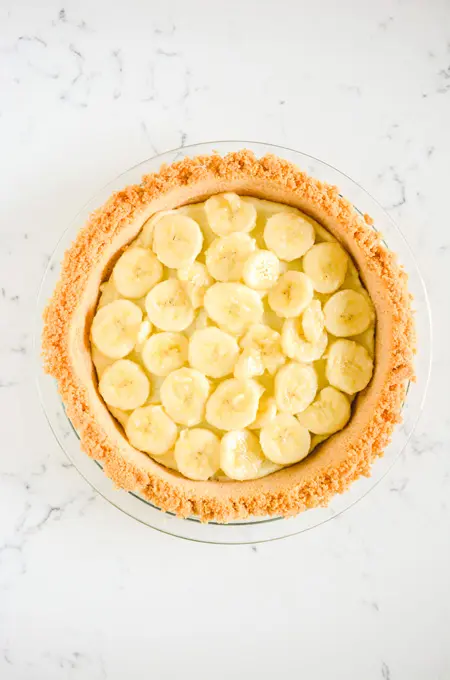 Banana Filling
The banana filling is made with a banana infused cream made from fresh bananas for the best banana flavor. Added to the filling is 2 tablespoons of cornstarch, which is just enough to firm up the filling for nice and clean pie slices but still creamy enough to not create a gelatinous filling.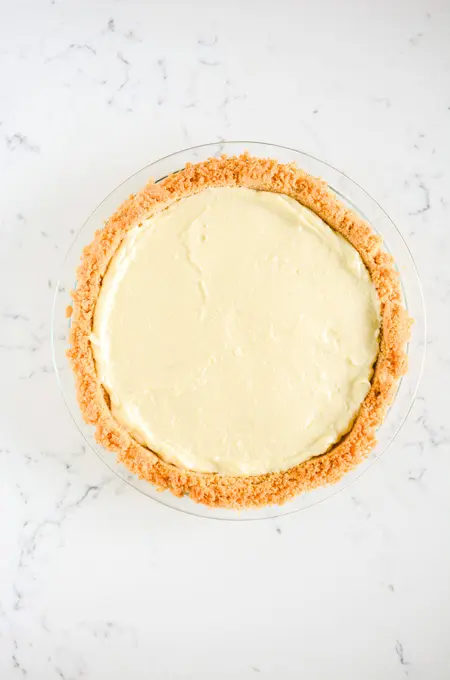 Whipped Cream
Don't be intimidated by homemade whipped cream, especially this one. Just pour sugar, pinch of salt, heavy cream and vanilla extract in a mixer bowl and whisk together until light, smooth and fluffy, about 4 minutes.
Decorating
You don't have to do anything fancy on top, but if you would like to, I used Wilton piping tips #1M and #32 and divided the whipped cream between two piping bags and piped simple rosettes and stars. To finish the look I also used white dragees in two sizes.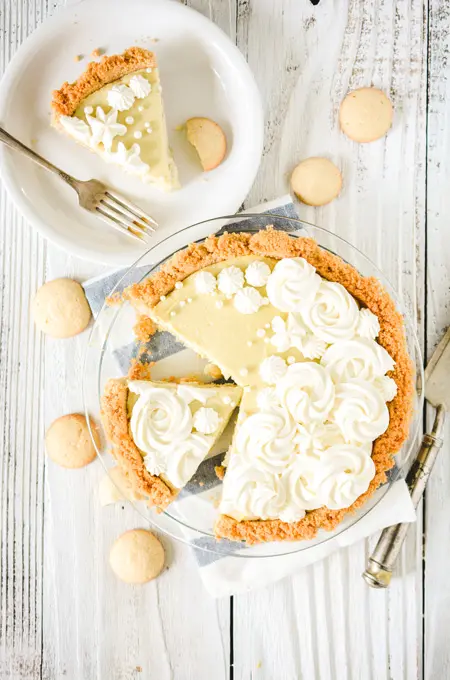 Make Ahead
Banana Cream Pie with Vanilla Wafer Crust is an easy pie to make but does need cooling and chilling time. Here is what my schedule looked like when I made this pie.
Day 1: Prepare the Homemade Vanilla Wafers
Day 2: Prepare the crust and cool. Next, prepare the filling and chill.
Day 3: Right before serving, make the whipped cream and decorate.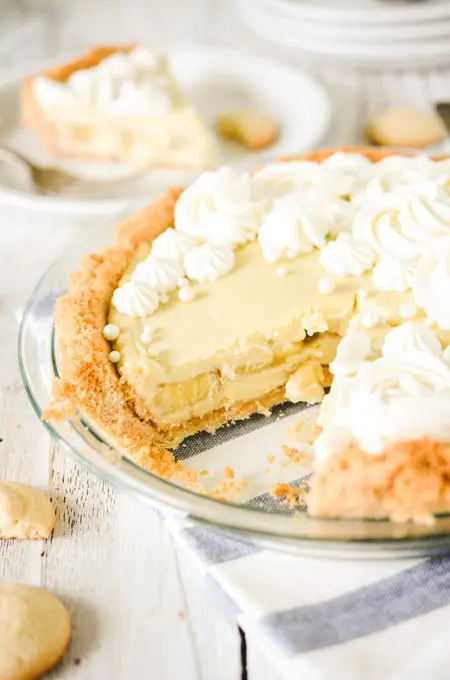 Lets Connect
The Cake Chica is on Facebook sharing sneak peeks of recipe to come, as well as Instagram for your food porn desires and Pinterest for your recipe pinning needs!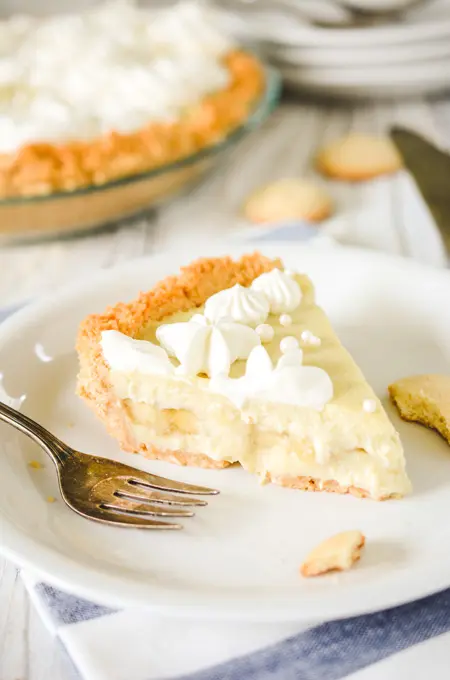 You May Also Like
---
Adapted from The Perfect Pie by America's Test Kitchen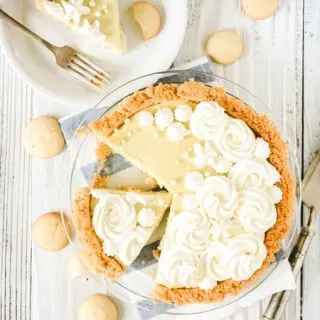 Banana Cream Pie with Vanilla Wafer Crust
Additional Time:
5 hours
40 minutes
Total Time:
6 hours
18 minutes
This Banana Cream Pie is made with a homemade vanilla wafer crust, then topped with a banana filling and topped with homemade whipped cream.
Ingredients
SPECIAL TOOLS
Piping tips #1M and #32 (optional)
VANILLA WAFER CRUST
3 tablespoons granulated sugar
5 tablespoons unsalted butter, melted and cooled
BANANA CREAM PIE
5 ripe bananas
4 tablespoons unsalted butter, divided
2 ½ cups half and half
½ cup (3.5 ounces) plus 2 tablespoons granulated sugar
6 large egg yolks
¼ teaspoon table salt
3 tablespoons cornstarch
1 teaspoon vanilla extract
2 tablespoons orange juice
WHIPPED CREAM
½ cup (4 ounces) granulated sugar
Pinch of salt
1 ½ cups (12 ounces) heavy cream
2 teaspoons vanilla extract
Instructions
VANILLA WAFER CRUST
Adjust an oven rack to the center position and heat oven to 325 degrees. In a food processor, process vanilla wafers and sugar for about 30 seconds until they have formed fine crumbs. Sprinkled melted butter over top and pulse about 5 times to combine.
Pour out mixture on to a pie plate and using the bottom of a measuring cup, press the crumbs into an even layer on the bottom and sides of the pie plate. Bake for about 18 minutes or until the crumbs start to brown. Let pie crust cool on a wire rack.
BANANA CREAM PIE
Peel and slice 2 bananas about ½ inch thick. In a medium saucepan, melt 1 tablespoon butter over medium-high heat. Add sliced bananas and cook until they begin to soften, about 2 minutes. Add half and half and bring to a boil for about 30 seconds. Remove from the heat and let sit for 40 minutes.
In a large bowl, whisk together the sugar, egg yolks and salt until combined. Add in cornstarch and whisk. Pour the cooled half and half mixture through a fine mesh sieve over the egg yolk mixture, being sure not to press on the bananas. Whisk to combined and toss out cooked bananas.
Transfer mixture to a medium saucepan and attach a candy thermometer to the saucepan. Cook mixture over medium heat, whisking constantly until the mixture reaches 180 degrees, about 4 to 6 minutes. Remove from the heat and whisk in vanilla and the remaining 3 tablespoons butter. Transfer filling to a bowl and place a piece of plastic wrap directly on top of the filling and chill in the refrigerator for about 1 hour.
Peel and slice the remaining 3 bananas about ¼ inch thick and toss with orange juice. Give the filling a quick whisk then spread half of the filling on top of the cooled vanilla wafer crust. Arrange the sliced bananas on top of the filling and spread the remaining filling on top of the bananas. Refrigerate until the pie has set, about 5 hours and up to 24 hours.
WHIPPED CREAM
Right before serving, prepare the whipped cream. In the bowl of a stand mixer, with the whisk attachment attached combine the sugar, salt, cream and vanilla extract. Beat on medium speed for 1 minute, then increase speed to medium-high and whip until the cream is thick enough to hold firm peaks, about 3 minutes. Dollop or pipe whipped cream on top of the pie in a decorative fashion and serve.
Notes
Storage: This pie is best served the day it is made but can be stored up to 2 days in the refrigerator in an air tight container. Note, the bananas will start to brown, but the pie will still taste great!
Nutrition Information:
Yield:

8
Serving Size:

1
Amount Per Serving:
Calories:

515
Total Fat:

32g
Saturated Fat:

18g
Trans Fat:

0g
Unsaturated Fat:

13g
Cholesterol:

230mg
Sodium:

283mg
Carbohydrates:

50g
Fiber:

2g
Sugar:

29g
Protein:

10g
*Nutrition information is an estimate and will vary.*