In our household I make dinner during the week. I admit I am blessed with a great job located just about 5 miles away from work and I am able to leave early enough to beat the Houston traffic so dinner is my job duty at home, and I love it!!! I love being able to go home, workout for an hour, then start prepping for dinner. My husband on the other hand has to deal with the Houston traffic and it takes about an hour to 1 1/2 hours for him to get home from work. But once he is home, I start prepping for dinner while he gets in a quick workout. So the weekends are his time to cook for me! And one of our favorites is these waffles. My husband and I absolutely love them! We've tried several other recipes and none have come close to these. I've paired them with a Fresh Strawberry Compote. Give them a try for your next Saturday morning breakfast.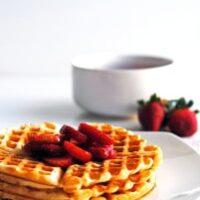 Waffles of Insane Greatness with Fresh Strawberry Compote
Ingredients
COMPOTE
3 cups fresh strawberries, hulled and sliced 1/4 inch thick
1/4 cup granulated sugar
1/8 teaspoon table salt
1/2 cup strawberry jam
1 tablespoon fresh lemon juice
WAFFLES
3/4 cup all-purpose flour
1/4 cup cornstarch
1/2 teaspoon baking powder
1/4 teaspoon baking soda
1/2 teaspoon table salt
1 cup buttermilk
1/3 cup vegetable oil
1 large egg
1 1/2 teaspoons granulated sugar
1 teaspoon vanilla extract
Instructions
COMPOTE
Toss strawberries , sugar and salt in a medium bowl and let sit until the strawberries have released their juice and the sugar has dissolved, about 30 minutes. Toss occasionally to combine.
Process jam in a food processor or blender until smooth about 10 seconds, then transfer to a small saucepan. Bring jam to a simmer over medium-high heat, stirring frequently until dark, about 3 minutes. Stir in lemon juice, then pour the warm liquid over the strawberries and stir to combine. Set aside until ready to use.
WAFFLES
In a medium bowl, combine the flour, cornstarch, baking powder, baking soda and salt and mix well. Add the buttermilk, vegetable oil, egg, sugar and vanilla extract and mix until combined. Let the batter sit for 30 minutes.
Preheat a waffle iron. If your waffle iron is prone to sticking, use non-stick spray. However, there is enough oil in the batter that you should not need to use a spray with most waffle irons. Follow the instructions for your waffle iron to cook the waffles. Serve with Fresh Strawberry Compote or real maple syrup.
Nutrition Information:
Serving Size:

2
Amount Per Serving:
Calories:

595
Total Fat:

27g
Saturated Fat:

3g
Cholesterol:

67mg
Sodium:

671mg
Carbohydrates:

83g
Fiber:

26g
Sugar:

31g
Protein:

8g
*Nutrition information is an estimate and will vary.*
Adapted from FoodNetwork.com and Cook's Illustrated All-Time Best Recipes