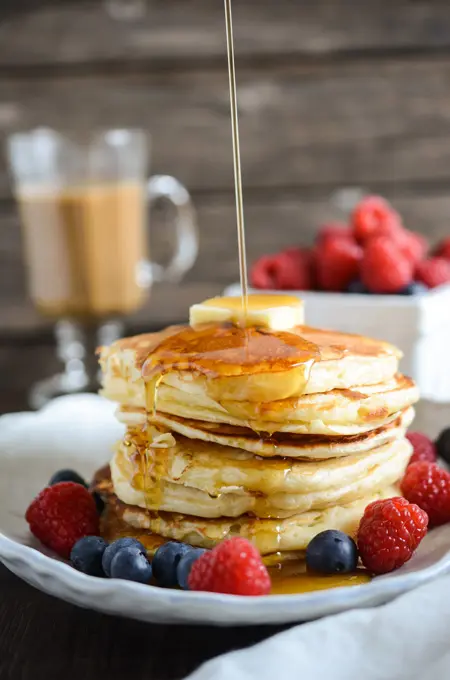 These classic Buttermilk Pancakes are anything but boring. They have a slightly crispy crust, with a fluffy and tender center that's ready for a dousing of real maple syrup.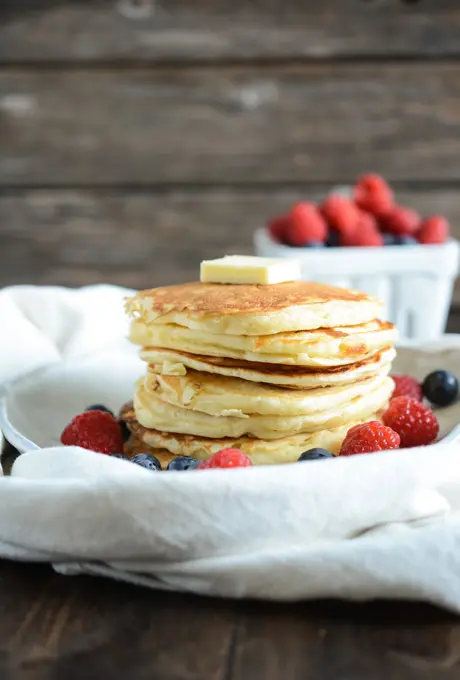 To be sure your pancakes aren't tough, gently mix the batter. Mixing encourages gluten to form which creates a tough pancake. Stir the batter briefly and don't smooth out the lumps. Letting the batter rest on the counter for about 10 minutes helps the gluten relax, creating more tender pancakes!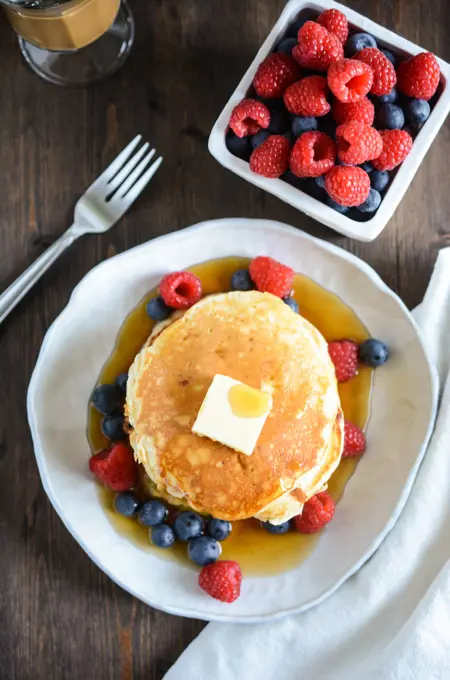 Here is a tip to be sure your pan is ready. Drop a tablespoon of batter in the center of your pan or griddle. After one minute If the pancake is golden brown your pan is ready. If it is blonde or burnt, adjust your heat according.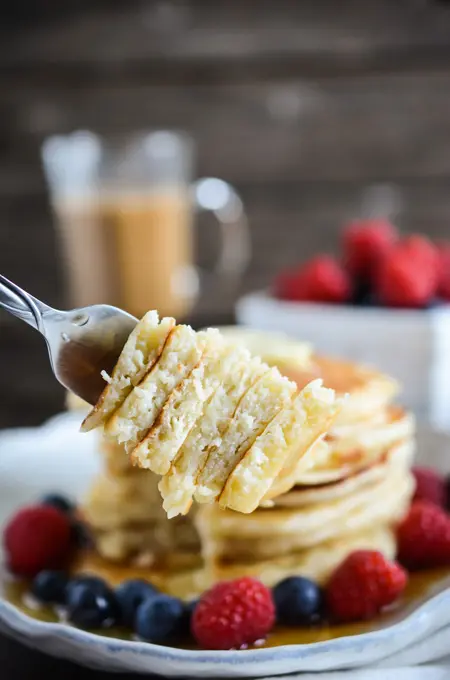 If you are using a low protein flour such as Gold Medal or Pillsbury, you can use this recipe as written. Or, if you use an organic all-purpose flour (which is what I use) you'll most likely need to add an additional tablespoon or two of buttermilk, to help thin out the batter a little.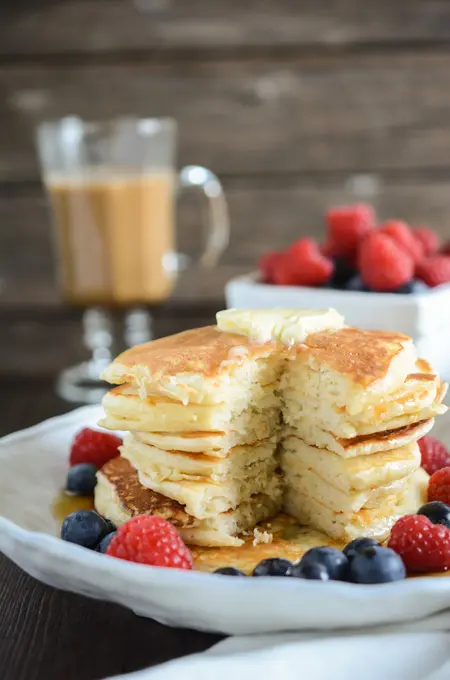 Follow The Cake Chica on these social media platforms: Facebook, Pinterest, Instagram and Twitter.
Adapted from Cook's Illustrated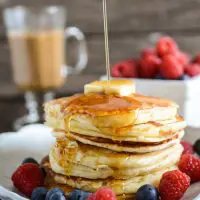 Buttermilk Pancakes
Ingredients
2 cups all-purpose flour
2 tablespoons granulated sugar
1 teaspoon baking powder
1/2 teaspoon baking soda
1/2 teaspoon table salt
2 cups buttermilk
1/4 cup sour cream
2 large eggs
3 tablespoons unsalted butter, melted and cooled
1-2 teaspoons vegetable oil
Instructions
Adjust an oven rack to the middle position and heat oven to 200 degrees. Set a wire rack in a rimmed baking sheet and place in the oven. Whisk the flour, sugar, baking powder, baking soda and salt together in a large bowl. In a medium-sized bowl, whisk together the buttermilk, sour cream, eggs and melted butter. Make a well in the center of the dry ingredients and pour in the wet ingredients; gently stir until just combined (batter should remain lumpy with a few streaks of flour). Do not over mix. Let batter sit for 10 minutes before using.
Heat 1 teaspoon of oil in a 12 inch non-stick skillet over medium heat until shimmering. Using a paper towel, wipe out the oil and just leave a thin film on the bottom and sides of the pan. Using 1/4 cup, portion the batter into the pan in 4 places. Cook until the edges are set and the first side is golden brown, and bubbles on the surface are just beginning to break, 2 to 3 minutes. Using a thin wide spatula, flip the pancakes and continue to cook until the second side is golden brown, 1 to 2 minutes longer. Serve pancakes immediately, or transfer to a wire rack in your preheated oven. Repeat with remaining batter, using remaining oil as needed.
Nutrition Information:
Serving Size:

1
Amount Per Serving:
Calories:

359
Total Fat:

14g
Saturated Fat:

7g
Cholesterol:

104mg
Sodium:

369mg
Carbohydrates:

159g
Fiber:

2g
Sugar:

9g
Protein:

11g
You May Also Like: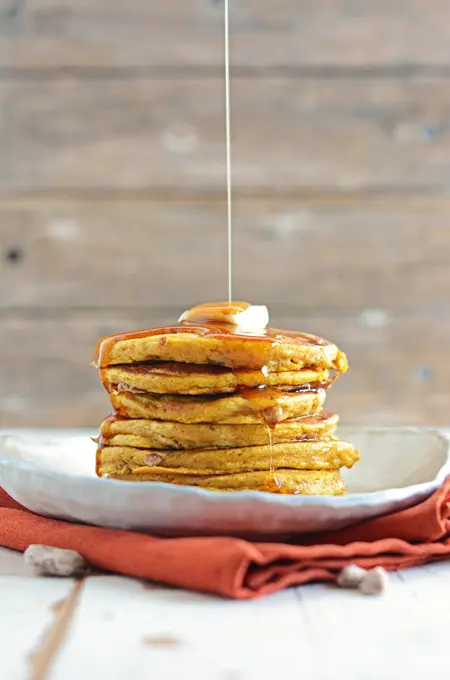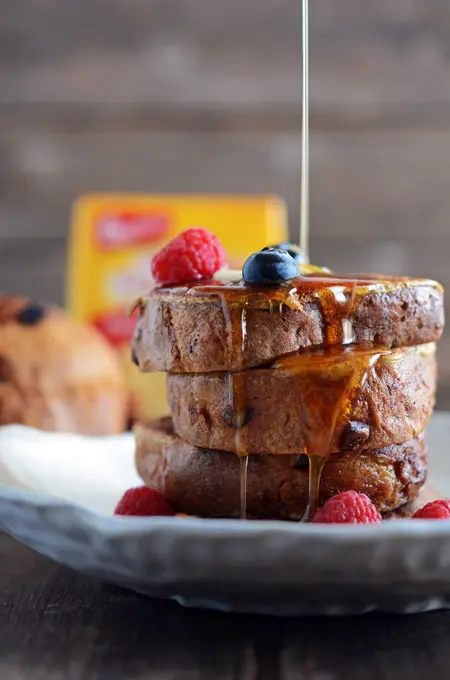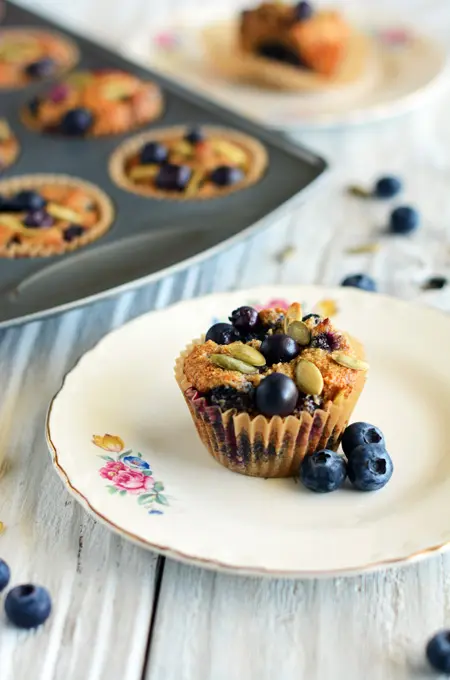 Adapted from Cooks Illustrated