If there is one pancake recipe to have in your arsenal it's this one! These pancakes are slightly crisp, with a golden crust, surrounding a fluffy, tender center that has a perfect structure to with-stand a good shot of real maple syrup.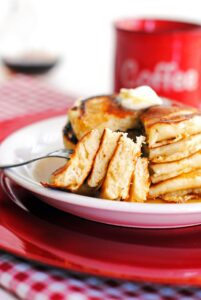 Print
Buttermilk Pancakes
Yield 5
Ingredients
2 cups all-purpose flour
2 tablespoons granulated sugar
1 teaspoon baking powder
1/2 teaspoon baking soda
1/2 teaspoon table salt
2 cups buttermilk
1/4 cup sour cream
2 large eggs
3 tablespoons unsalted butter, melted and cooled
1-2 teaspoons vegetable oil
Instructions
Adjust an oven rack to the middle position and heat oven to 200 degrees. Set a wire rack in a rimmed baking sheet and place in the oven. Whisk the flour, sugar, baking powder, baking soda and salt together in a large bowl. In a medium-sized bowl, whisk together the buttermilk, sour cream, eggs and melted butter. Make a well in the center of the dry ingredients and pour in the wet ingredients; gently stir until just combined (batter should remain lumpy with a few streaks of flour). Do not over mix. Let batter sit for 10 minutes before using.
Heat 1 teaspoon of oil in a 12 inch non-stick skillet over medium heat until shimmering. Using a paper towel, wipe out the oil and just leave a thin film on the bottom and sides of the pan. Using 1/4 cup, portion the batter into the pan in 4 places. Cook until the edges are set and the first side is golden brown, and bubbles on the surface are just beginning to break, 2 to 3 minutes. Using a thin wide spatula, flip the pancakes and continue to cook until the second side is golden brown, 1 to 2 minutes longer. Serve pancakes immediately, or transfer to a wire rack in your preheated oven. Repeat with remaining batter, using remaining oil as needed.
Courses Main
Cuisine American
Nutrition Facts
Serving Size 1
Amount Per Serving

Calories 359

% Daily Value

Total Fat 14 g

22%

Saturated Fat 7 g

35%

Cholesterol 104 mg

35%

Sodium 369 mg

15%

Total Carbohydrates 159 g

53%

Dietary Fiber 2 g

8%

Sugars 9 g

Protein 11 g

22%
* Percent Daily Values are based on a 2,000 calorie diet. Your daily values may be higher or lower depending on your calorie needs.
Adapted from Cooks Illustrated