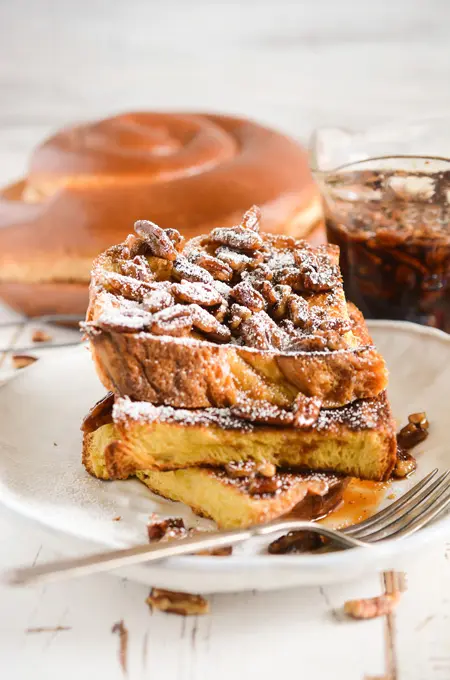 This Overnight French Toast with Maple-Pecan Syrup is soaked in an egg custard, lightly sweetened with maple syrup and left to chill over night in the fridge.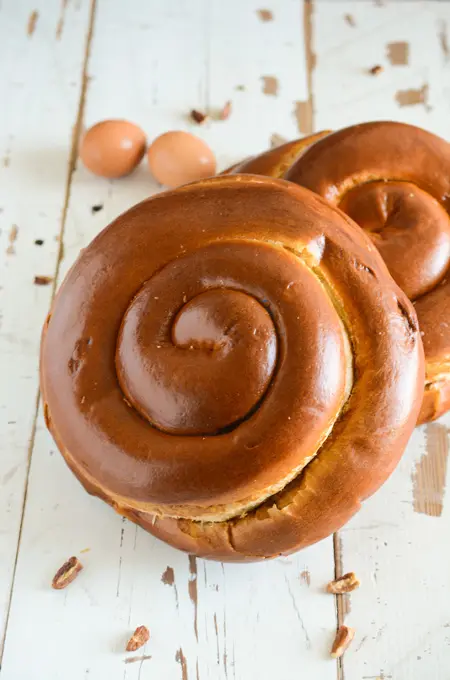 I like to use either Brioche or Challah bread for French toast. Both are dense enough to soak in the custard, creating that creamy interior we know and love from French toast. Challah is what I used this time around.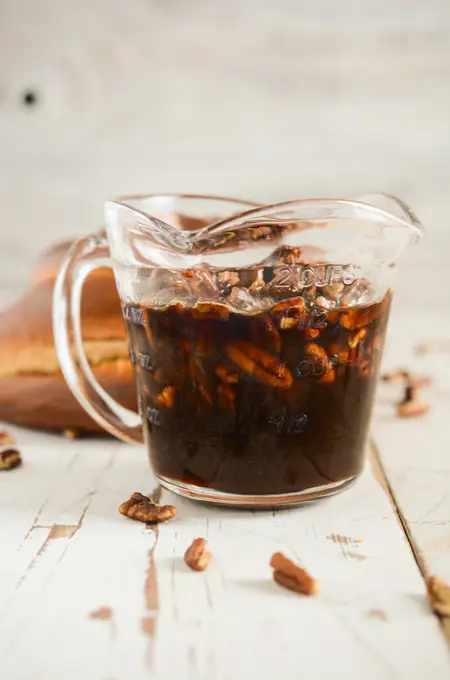 Here is the kicker that sets this recipe apart from the others, this glorious Maple-Pecan Syrup! So good it really deserves it's own recipe! And you're in luck, because it's incredibly simple. Just real maple syrup and pecans, simmered in a saucepan while you make the French toast.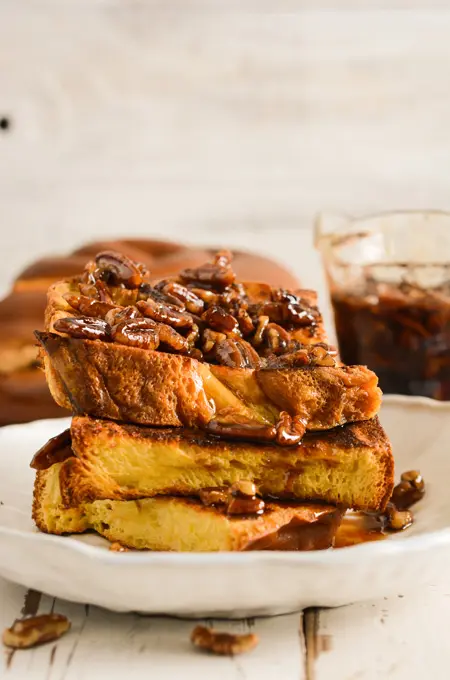 This recipe reminds me a lot of New Orleans, where French toast is commonly known as Pain Perdu. Plus, the Maple-Pecan Syrup is the perfect accompaniment to any French toast. You can't go wrong. But don't forget to toast the pecans beforehand. It brings out their best flavors.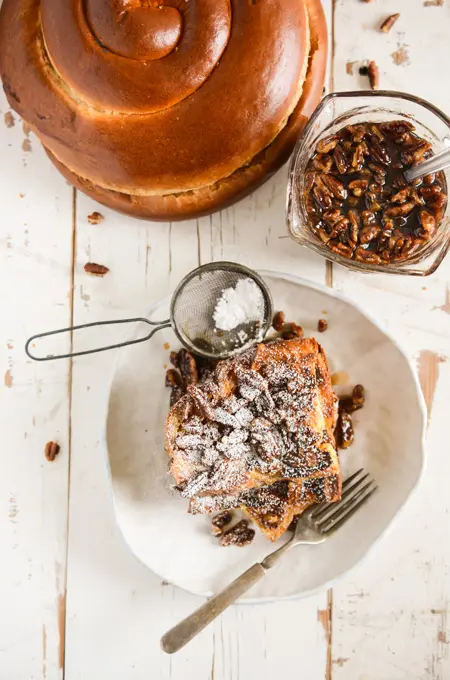 Did you make this recipe? I would love to hear about it in the comments or on Instagram at #thecakechica1 @thecakechica1.
You can connect with The Cake Chica on these social media platforms: Facebook, Instagram, and Pinterest.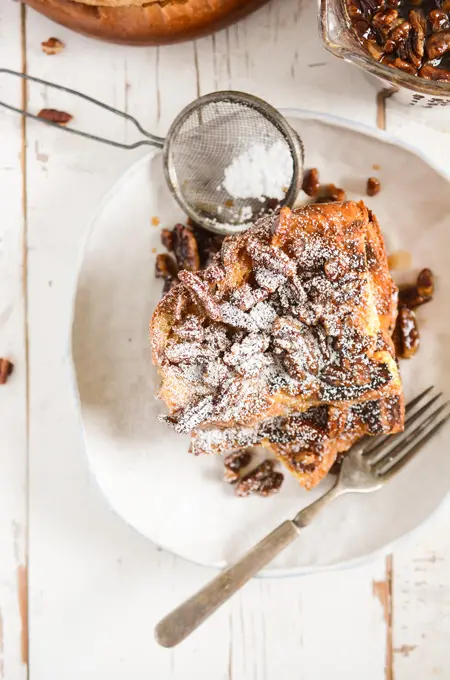 You May Also Like: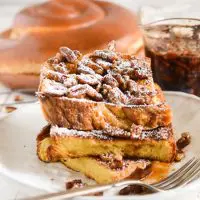 Overnight French Toast with Maple-Pecan Syrup
Total Time:
8 hours
40 minutes
Brioche or Challah bread, soaked in an egg custard lightly sweetened with real maple syrup. Served with Maple-Pecan Syrup and powdered sugar.
Ingredients
SPECIAL TOOLS
2 13 x 9 inch baking pans
1 Full sized baking sheet or 2 half sized baking sheets
Large non-stick skillet
FRENCH TOAST
12 (3/4-inch thick) slices Brioche or Challah bread
8 eggs
2 cups whole milk
¼ cup granulated sugar
2 tablespoons real maple syrup
1 teaspoon vanilla extract
½ teaspoon salt
2 tablespoons unsalted butter, softened
½ cup powdered sugar
MAPLE-PECAN SYRUP
2 cups real maple syrup
1 cup toasted pecans pieces
Instructions
FRENCH TOAST
Divide sliced bread between 2 13x9-inch baking pans or one large baking pan.
In a large bowl, whisk together the eggs, milk, sugar, maple syrup, vanilla and salt. Pour over the bread. Flip the bread over to cover both sides in the egg mixture. Cover with plastic wrap and store in the refrigerator overnight.
Adjust an oven rack to the center position and heat oven to 400 degrees.
Spread softened butter on the bottom of a full sized baking sheet or 2 half sized baking sheets and set aside.
In a large non-stick skillet, over medium heat, lightly brown the slices in 1 tablespoon of vegetable oil spread around the pan. Brown slices 2 minutes per side. No need to brown any more than 2 minutes. Most of the browning will take place in the oven as the French toast bakes. Repeat with remaining bread slices, adding more oil if necessary and set bread slides on the prepared baking sheet(s).
Bake French toast in the oven for 10 minutes. Turn bread slices over and bake for another 5 minutes or until puffy and golden brown.
MAPLE-PECAN SYRUP
Meanwhile, in a small saucepan, combine the maple syrup and pecan pieces. Bring to a simmer and continue to cook until the French toast is done baking.
Notes
*Nutrition information is an estimate and will vary.*
Nutrition Information:
Yield:

6
Serving Size:

2 slices
Amount Per Serving:
Calories:

876
Total Fat:

42g
Saturated Fat:

15g
Trans Fat:

0g
Unsaturated Fat:

0g
Cholesterol:

368mg
Sodium:

522mg
Carbohydrates:

112g
Fiber:

2g
Sugar:

76g
Protein:

18g