So I am halfway through Jamie Eason's Livefit Trainer program, and there are a couple of her recipes that have quickly become my favorites, like this protein bread! Of course I have to put my twist on it, by substituting the sweeteners out with organic ones, but the white glaze didn't come to me until the bread was baking in the oven. The aroma reminded me of cinnamon rolls I sometimes make during Christmas time. So I thought a little white glaze drizzled on top would be the perfect finishing touch. Yeah my version may not be as "healthy" as hers but it's a version I feel good about eating at the right time of day (breakfast) and it's a far better option than grabbing a cinnamon roll. But if you so choose to have a cinnamon roll, don't let me stop you!
This can also be made in an 8×8 inch baking dish with about a 25 minute baking time.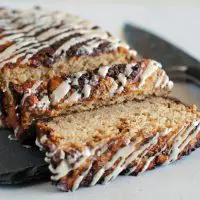 Cinnamon Swirl Protein Bread
Ingredients
CINNAMON SUGAR
1/3 cup organic coconut sugar
1 tablespoon ground cinnamon
BREAD
1 ½ cups oat flour
2 scoops vanilla whey protein, I like Jamie Eason's brand
1 tablespoon baking powder
½ teaspoon salt
½ cup organic cane sugar
2 egg whites
1 cup unsweetened almond milk
1/3 cup organic, unsweetened applesauce
¼ cup vanilla yogurt
GLAZE
1 cup organic powdered sugar
¼ cup organic heavy cream
½ teaspoon vanilla extract
Instructions
CINNAMON SUGAR
In a small bowl combine coconut sugar and cinnamon and set aside until needed.
BREAD
Heat your oven to 350 degrees. Spray a 9x5 inch loaf pan with baking spray.
In a large bowl, whisk together oat flour, protein powder, baking powder, salt and sugar.
In a medium bowl, whisk together egg whites, almond milk, applesauce, and yogurt.
Pour the wet ingredients into the dry ingredients. Whisk until combined.
Pour a shallow layer of batter into the loaf pan. Sprinkle about ¾ of the cinnamon sugar mixture on top. Carefully pour the remaining batter on top and sprinkle with the remaining cinnamon sugar. Use a knife or skewer to marble the top.
Bake for about 40 minutes, or until a tooth pick inserted in the middle comes out clean or with a few moist crumbs. Let cool in loaf pan for 10 minutes. Then invert onto a serving platter to cool completely.
GLAZE
In a small bowl, combine all ingredients and stir vigorously with a rubber spatula until completely smooth. Add a little more cream if needed.
Pour the glaze into a piping bag or a zip top bag and snip a tiny hole at the corner. Drizzle the glaze onto the cake and let set for 10 minutes before serving. Use glaze right away as the glaze will harden as it sits.
Notes
Store in the refrigerator for up to 1 week.Nutritional information does not include glaze.
Nutrition Information:
Serving Size:

1
Amount Per Serving:
Calories:

337
Total Fat:

5g
Cholesterol:

5mg
Sodium:

391mg
Carbohydrates:

55g
Fiber:

7g
Sugar:

17g
Protein:

18g