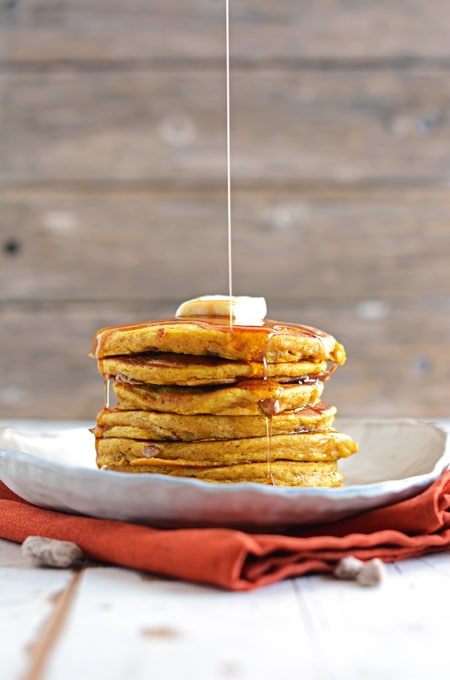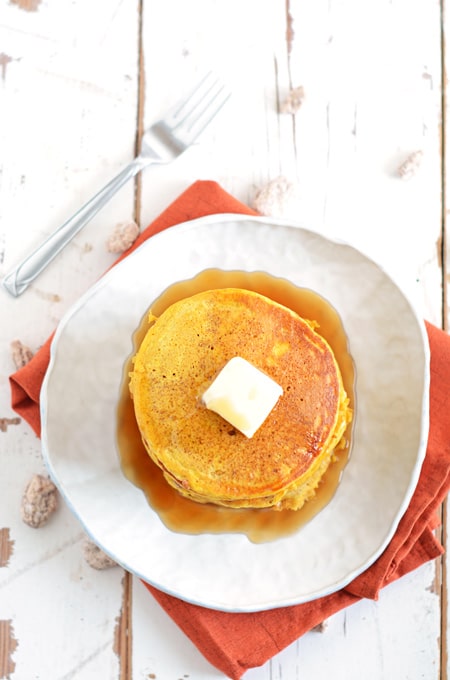 Some people might be surprised that I like to eat at Denny's. I typically get the Whole Grain Pecan Pancakes. At least until fall arrives. When fall arrives, they bring in their pumpkin pancakes. A few years ago they had Pumpkin-Pecan Pancakes on the menu. I haven't seen them back since, but I always ask them to put the candied pecans inside the pumpkin pancakes. So I thought it was about time to make my own Spiced Pumpkin-Pecan Pancakes!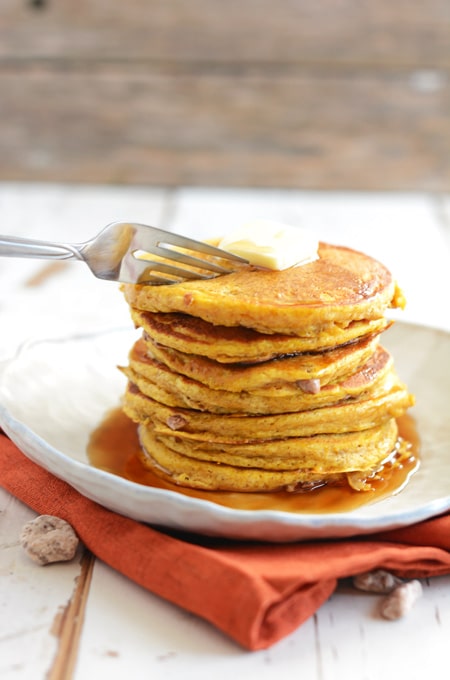 To make perfectly light and fluffy pancakes I've listed a few tips to follow:
Using the well method allows you to combine the wet and dry ingredients together without over mixing.
Mix the ingredients together just until combined, don't try to mix out all the lumps. Over mixing causes too much gluten to form in the pancake batter giving you a tough pancake.
Let the batter rest for 10 minutes on the counter before cooking. This gives the gluten time to relax, giving you a tender pancake.
Heat your oil until it starts to shimmer. If your oil is too hot you'll end up with burnt pancakes or if your oil is not hot enough you'll end up with blonde pancakes.
Carefully wipe the hot oil with paper towels to create a thin film of oil on your pan. This allows the pancakes to release without being too greasy.
Use a measuring cup to make sure your pancakes are all uniform. This way they will cook evenly.
Cook each pancake until the edges are set and browned and the bubbles on the surface are just beginning to break. Browning increases the flavor and the bubbles tell you that the baking powder has been activated.
Set a greased cooling rack inside a rimmed baking sheet to set your pancakes on to keep warm in a preheated oven while you finish up with the remaining batter.
You can serve these with pure maple syrup, or not. My husband said they didn't even need syrup, they were so good! And no offense to Denny's but these are the best Spiced Pumpkin-Pancakes I've had by far! I hope you will give these a try this season. If you do I'd love to hear what you thought about them in the comments below.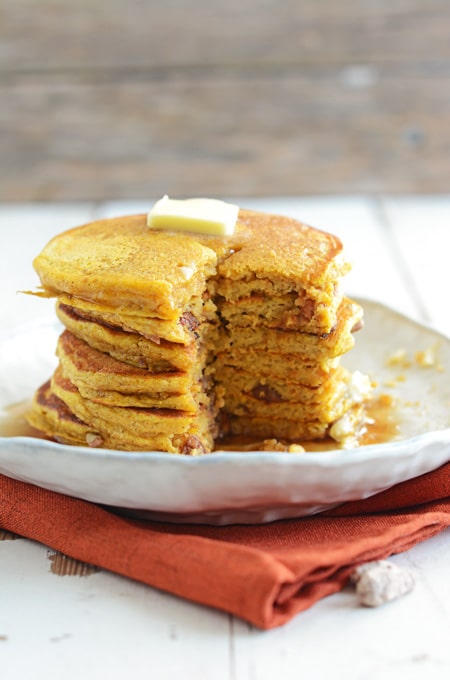 Follow The Cake Chica on social media: Facebook, Instagram, Twitter, Pinterest and Yummly.
Adapted from The Bon Appetit Cookbook: Fast Easy Fresh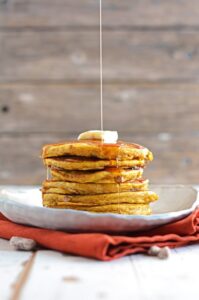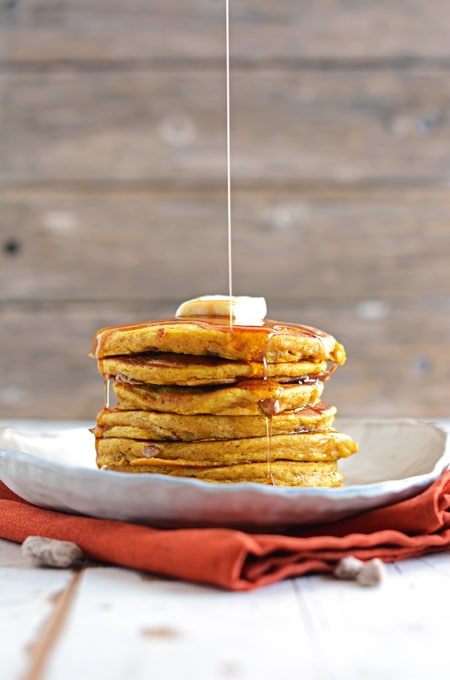 Print
Spiced Pumpkin-Pecan Pancakes
Yield 12 pancakes
Ingredients
Vegetable oil for brushing skillet
1 ¼ cups all-purpose flour
3 tablespoons granulated sugar
2 teaspoons baking powder
1 ¼ teaspoons pumpkin pie spice
¾ teaspoon table salt
1 1/3 cups organic whole milk
¾ cup organic canned pumpkin
4 large organic eggs, separated
¼ cup (1/2 stick) organic unsalted butter, melted
1 teaspoon vanilla extract
1 cup homemade or store-bought candied pecans, coarsely chopped
Pure maple syrup
Instructions
Adjust an oven rack to the middle position and heat oven to 200 degrees. Spray a wire rack with nonstick cooking spray and place in a rimmed baking sheet and place in the oven.
In a large bowl, whisk together flour, sugar, baking powder, pumpkin pie spice and salt. In a separate medium bowl, whisk milk, pumpkin, egg yolks, melted butter, and vanilla to combine. Make a well in the center of the dry ingredients and add the pumpkin mixture and whisk until just combined. Batter will be thick and lumpy with a few streaks of flour remaining. Using an electric hand mixer beat egg whites in a medium sized bowl until stiff peaks form. Fold whites into the batter in 2 additions. Let the batter rest for 10 minutes on the counter.
Brush a large nonstick skillet with oil and heat over medium heat until shimmering. Wipe the oil evenly around the pan with paper towels. Working in batches, pour batter by 1/3 cupfuls into the skillet. Sprinkle about 1 tablespoon of candied pecans on top of each pancake. Cook until the edges are set, the first side is golden brown and bubbles on the surface are just beginning to break, about 1 ½ minutes per side. Repeat with the remaining batter brushing the skillet with oil between batches. Place pancakes in a single layer on the prepared baking sheet and place in the oven to keep warm.
Notes
Nutritional information is an estimate.
Courses Breakfast
Cuisine American
Nutrition Facts
Serving Size 1 pancake
Amount Per Serving

Calories 174

% Daily Value

Total Fat 11 g

17%

Saturated Fat 4 g

20%

Cholesterol 72 mg

24%

Sodium 50 mg

2%

Total Carbohydrates 15 g

5%

Dietary Fiber 2 g

8%

Sugars 14 g

Protein 4 g

8%
* Percent Daily Values are based on a 2,000 calorie diet. Your daily values may be higher or lower depending on your calorie needs.