What's better than Buttermilk Pancakes? Maybe Strawberry Buttermilk Pancakes with Cream Cheese Icing that's what! These pancakes are tangy, fluffy and easy to make. And are made with freshly diced strawberries and topped with cream cheese icing. Pancake heaven that's what this recipe is for!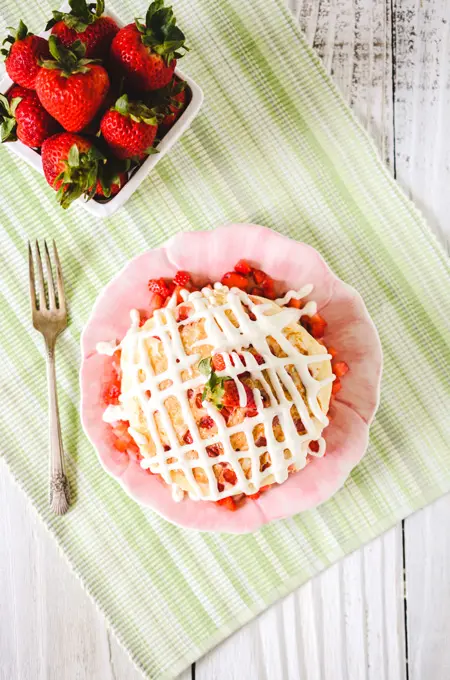 Perfect Pancakes Tips
Don't over mix the pancake batter. Too much mixing activates the flours gluten, which can lead to tough pancakes.
Let the pancake batter rest on the counter for about 10 minutes to let the gluten rest and to keep the pancakes tender.
It helps to use an ice cream scoop that measures 1/4 cup for uniform pancakes.
If you're keeping the pancakes warm in the oven, be sure to place them in a single layer. Stacking can steam which will create a rubbery pancake.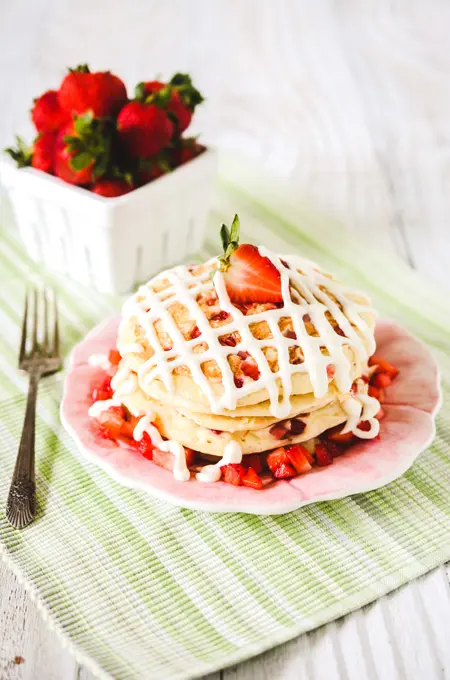 Buttermilk and Sour Cream
Buttermilk and sour cream give these Strawberry Buttermilk Pancakes that little bit of tang. If you don't have buttermilk, you can use 2 cups whole milk mixed with 2 tablespoons of white vinegar or lemon juice. Let the mixture sit on the counter for about 10 minutes before using.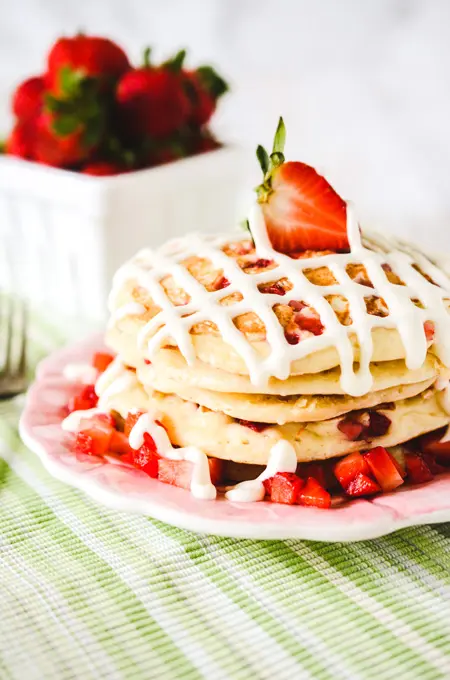 The Pan Test
Here's a little trick to check if your pan is ready to cook the pancakes. Take about 1 tablespoon of the pancake batter and drop it on the pan. If after 1 minute the pancake is blonde in color, the pan is NOT ready. But if the color of the pancake is golden brown, you're good to go! Oh and if you're tempted to speed up the process of heating your pan, don't! The result will be a dark unevenly cooked pancake 🙁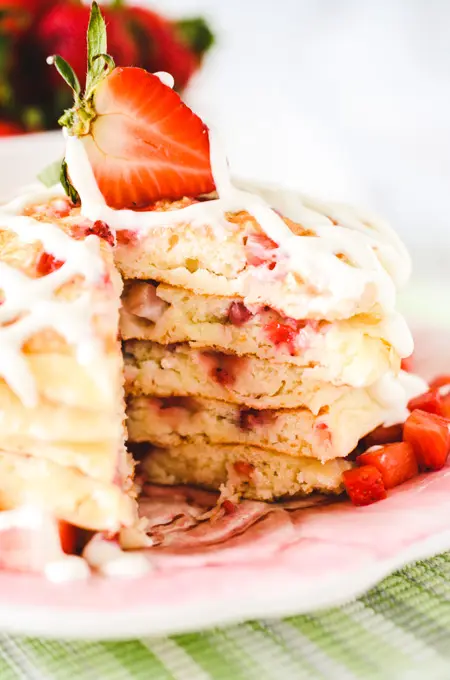 Lets Connect
The Cake Chica is on Facebook sharing sneak peeks of recipes coming up, also on Instagram for your food porn desires, and on Pinterest for your pinning board needs!
You May Also Like
---
Recipe adapted from Cook's Country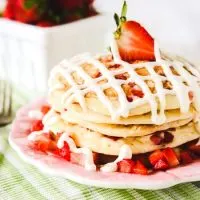 Strawberry Buttermilk Pancakes with Cream Cheese Icing
Additional Time:
10 minutes
Fluffy Strawberry Buttermilk Pancakes made with fresh strawberries and topped with cream cheese icing.
Ingredients
STRAWBERRIES
10 ounces strawberries, hulled and finely chopped
1 tablespoon granulated sugar
½ teaspoon vanilla extract
CREAM CHEESE ICING
4 ounces cream cheese, at room temperature
4 tablespoons unsalted butter, at room temperature
1 teaspoon vanilla extract
1 cup powdered sugar
2 – 4 tablespoons heavy cream or whole milk, more or less depending on desired consistency
PANCAKES
2 cups (10 ounces) all-purpose flour
2 tablespoons granulated sugar
1 teaspoon baking powder
½ teaspoon baking soda
½ teaspoon salt
2 cups buttermilk
2 large eggs
¼ cup sour cream
3 tablespoons unsalted butter, melted and slightly cooled
2 teaspoon vegetable oil
Instructions
STRAWBERRIES
In a bowl combined chopped strawberries, sugar and vanilla extract. Set aside until needed.
CREAM CHEESE DRIZZLE
In a medium bowl, beat together the cream cheese, butter, vanilla extract, powdered sugar, and heavy cream. Add as much or as little cream as needed for your desired consistency.
PANCAKES
Adjust an oven rack to the center position and heat oven to 200 degrees. Set a wire rack inside of a baking sheet and spray with nonstick spray and place in the oven.
In a large bowl whisk together the flour sugar, baking powder, baking soda and salt. In a medium sized bowl, whisk together the buttermilk, eggs, sour cream and melted butter. Make a well in the center of the flour mixture, and pour in the buttermilk mixture and gently stir until just combined. Do not over mix. The batter should be lumpy and have a few streaks of flour remaining. Let the batter sit for 10 minutes to let the gluten rest.
In a 12-inch nonstick pan heat 1 teaspoon of vegetable oil over medium heat until the oil starts to shimmer. Using a paper towel, fully wipe the pan with the oil, leaving a thin film of oil over the bottom and sides of the pan. Using a ¼ cup measuring cup or an ice cream scoop that measures ¼ cup, and scoop out pancake batter and portion 3 to 4 pancakes on your pan. Cook until the edges are set and bubbles start to break , and the bottom of the pancakes are golden brown, about 2 to 3 minutes. Sprinkle about 1 tablespoon of chopped strawberries over the top and using a wide spatula, flip the pancakes over. Continue to cook the second side until the bottoms are golden brown, about 1 to 2 minutes longer. Serve pancakes immediately or store on the prepared baking rack in the oven. (If you're storing pancakes in the oven to keep warm, be sure to store in a single layer and do not stack the pancakes. Stacking pancakes can create steam and the pancakes can lose their crisp, buttery exterior.) Repeat this process with the remaining batter, adding 1 teaspoon of oil as needed to your pan. Top with cream cheese drizzle and serve.
Nutrition Information:
Yield:

14
Serving Size:

1
Amount Per Serving:
Calories:

256
Total Fat:

13g
Saturated Fat:

7g
Trans Fat:

0g
Unsaturated Fat:

5g
Cholesterol:

60mg
Sodium:

269mg
Carbohydrates:

29g
Fiber:

1g
Sugar:

15g
Protein:

5g
*Nutrition information is an estimate and will vary.*