These Multigrain Banana Pecan Pancakes are my version of one of my favorite cafe's Whole Wheat Banana Pecan Pancakes. Since I don't live anywhere next to a Le Peep location, I've made my own version in these Multigrain Banana Pecan Pancakes. So, I can have them whenever I want!

Tips for Light and Fluffy Pancakes
Using the well method allows you to combine the wet and dry ingredients together without over mixing.
Mix the ingredients together just until combined, don't try to mix out all the lumps. Over mixing causes too much gluten to form in the pancake batter giving you a tough pancake.
Let the batter rest for 10 minutes on the counter before cooking. This gives the gluten time to relax, giving you a tender pancake.
Heat your oil until it starts to shimmer. If your oil is too hot you'll end up with burnt pancakes or if your oil is not hot enough you'll end up with blonde pancakes.
Carefully wipe the hot oil with paper towels to create a thin film of oil on your pan. This allows the pancakes to release without being too greasy.
Use a measuring cup to make sure your pancakes are all uniform. This way they will cook evenly.
Cook each pancake until the edges are set and browned and the bubbles on the surface are just beginning to break. Browning increases the flavor and the bubbles tell you that the baking powder has been activated.
Set a greased cooling rack inside a rimmed baking sheet to set your pancakes on to keep warm in a preheated oven while you finish up with the remaining batter.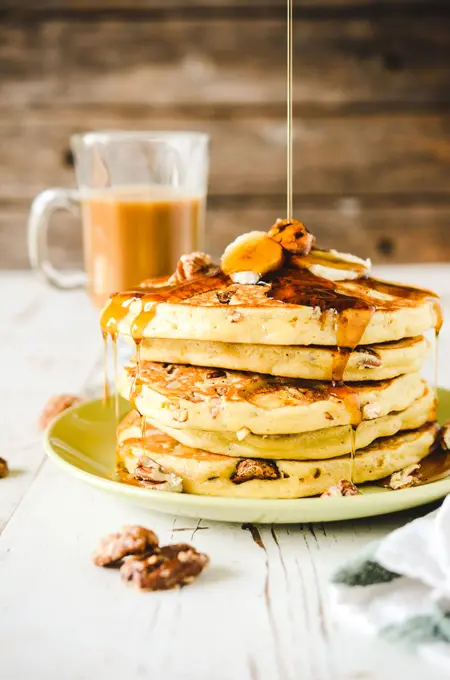 Candied Pecans
You can purchase candied pecans from the grocery store, but I prefer to make them homemade. They're super easy to make and I think taste better than store bought. My recipe for Candied Pecans goes great with these pancakes!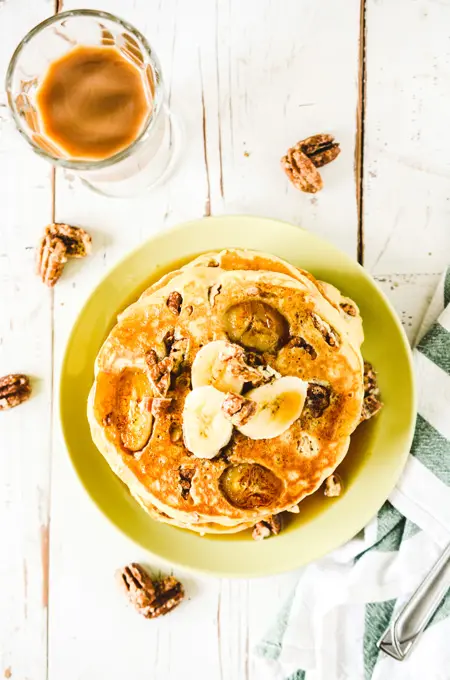 Lets Connect
The Cake Chica is on Facebook sharing sneak peeks of recipes coming up, Instagram for your food porn desires, and on Pinterest for your board pinning needs!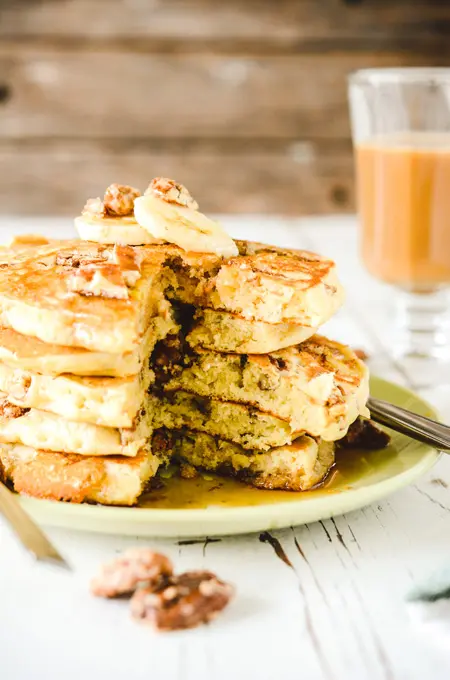 You May Also Like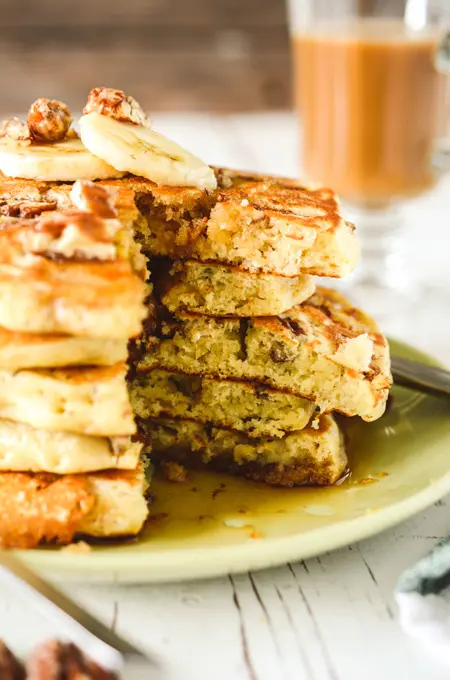 ---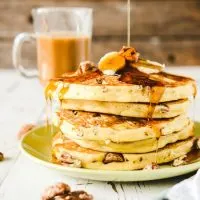 Multigrain Banana Pecan Pancakes
Additional Time:
10 minutes
Light and fluffy Multigrain Banana Pecan Pancakes made with a mix of flour, rolled oats, cornmeal, flax seeds, sesame seeds and candied pecans.
Ingredients
2 cups all-purpose flour
½ cup granulated sugar
1 teaspoon baking soda
2 tablespoons baking powder
¼ cup rolled oats
1 ½ teaspoons cornmeal
1 ½ teaspoons flax seeds
1 teaspoon sesame seeds
½ teaspoon table salt
3 eggs, whipped
½ cup half and half
½ cup evaporated milk
¼ cup water
½ cup unsalted butter, melted and cooled to room temperature
2 bananas, sliced ¼-inch thick
Instructions
Heat the oven to 200 degrees. Line a rimmed baking sheet with parchment paper and set aside. Lightly oil your griddle pan by pouring about 1 to 2 tablespoons oil on the pan and wiping the pan down leaving a light coating of oil on the griddle pan. Heat the griddle over medium heat or 375 degrees.
In a large bowl, whisk together the flour, sugar, baking soda, baking powder, oats, cornmeal, flax seeds and sesame seeds until combined.
In a medium bowl, whisk together the eggs, half and half, evaporated milk and water until combined.
Make a well in the center of the dry ingredients and slowly pour the wet ingredients into the dry ingredients and stir to combine. Mixture will be thick. Add the cooled melted butter and stir until just incorporated. Do not over mix. Some bits of flour may remain. Let the batter sit on the counter for about 10 minutes.
Pour about ¼ cup batter on to a heated griddle and sprinkle a few sliced bananas and chopped candied pecans over the top of each pancake. Cook for about 1 to 1 ½ minutes per side or until done. Remove the pancakes from the griddle and place in a single layer on the prepared baking sheet and keep warm in the heated oven while you continue to cook the remaining pancakes.
Nutrition Information:
Yield:

10
Serving Size:

1
Amount Per Serving:
Calories:

322
Total Fat:

15g
Saturated Fat:

8g
Trans Fat:

0g
Unsaturated Fat:

7g
Cholesterol:

88mg
Sodium:

582mg
Carbohydrates:

41g
Fiber:

2g
Sugar:

16g
Protein:

7g
*Nutrition information is an estimate and will vary.*