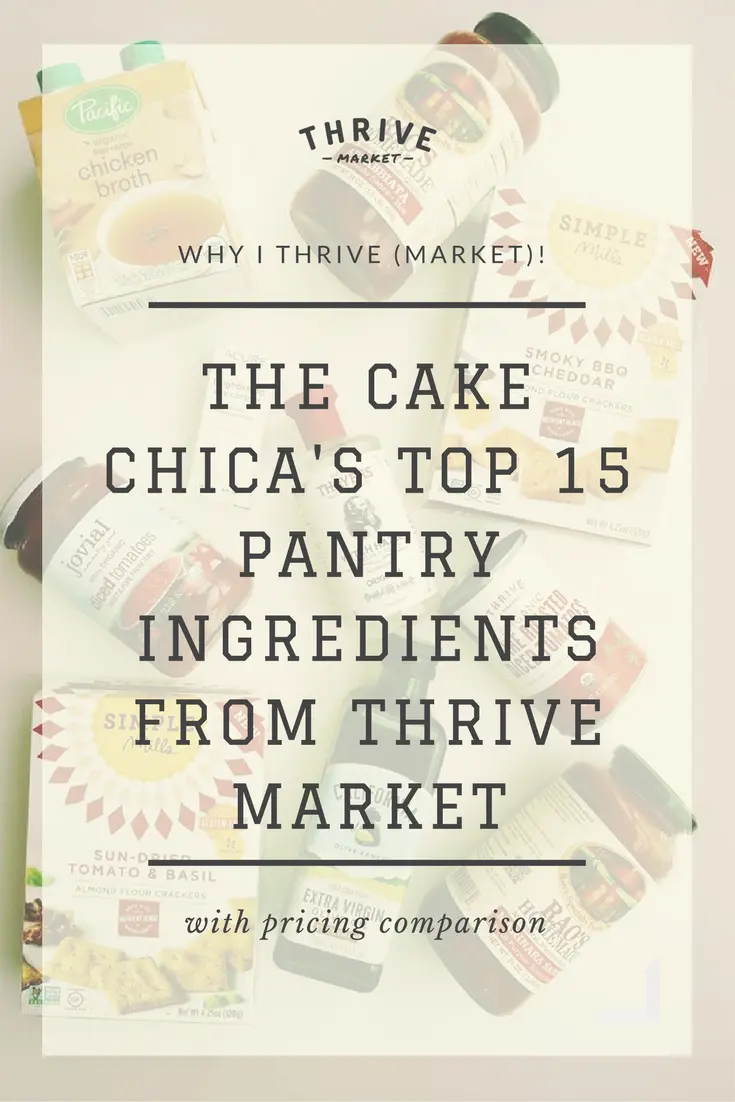 Why I Thrive Market (Vol. 1)
Disclosure: Please note that the links in this post are affiliate links and I will earn a commission if you purchase through those links.
Some of you may know I am an active member and affiliate at Thrive Market. Think of Thrive Market as the Costco of Organic, Gluten-Free, Kosher, Vegan, Fair-Trade and Non-GMO foods, but without buying in bulk. Shopping for these items at most local grocery stores can get a little pricey so I was looking for ways to cut cost when shopping for my favorite organic pantry ingredients. I saw an advertisement for Thrive Market and it seemed to be exactly what I was looking for. Almost two years later I am still loving Thrive Market and still saving money on organic pantry goods.
Below I have listed my top 15 products that I purchase almost every month to refill my pantry. Plus, pricing at Thrive Market and pricing at the top grocery stores I shop at locally.
Homemade is best, but when you use chicken broth as much as I do you need a little help. Here are a few of my quick fix meals you can make on a weeknight with ready made chicken broth: Fideo, Easy Mexican Red Rice and Southern Shrimp and Grits.
1. Pacific Foods Organic Free Range Chicken Broth 4 8-ounce containers
Thrive Market: $3.95
Sprouts: $4.79
Kroger: $4.49
Whole Foods: $3.99
2. Coomb's Organic Maple Syrup 12 ounce
Maple syrup is my go to sweetener for my oatmeal. I top my (almost) daily bowl of oatmeal with pure maple syrup, fresh berries and toasted pecans. Yum! You can also use it for this sweet recipe for Maple-Bacon Cinnamon Cupcakes.
I wasn't able to find Coomb's Organic Maple Syrup at Sprouts, which also got me noticing that Sprouts seems to be pushing a lot of their store brand products. So you may not be able to find your favorite brands there right now.
Kroger had Coomb's Organic Maple Syrup but only in a 7 ounce bottle which was $7.49.
Thrive Market: $9.99
Sprouts: N/A
Kroger: N/A
Whole Foods: $11.99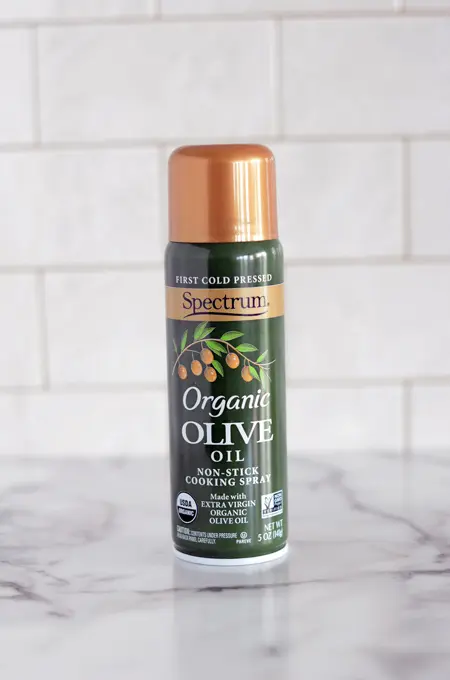 3. Spectrum Cooking Olive Oil Spray 5 ounce.
Non-stick olive oil spray is a necessity in my kitchen. I prep my saute pan for almost all Italian-inspired meals with this one.
Thrive Market: $6.95
Sprouts: N/A
Kroger: N/A
Whole Foods: $7.99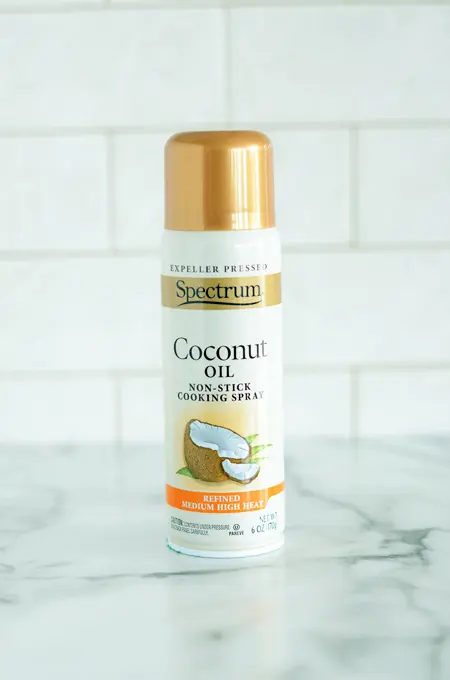 4. Spectrum Cooking Coconut Oil Spray 6 ounces
For times where I want something with a high smoke point, I use my coconut oil nonstick cooking spray.
Thrive Market: $4.95
Sprouts: $5.99
Kroger: $8.99
Whole Foods: $5.99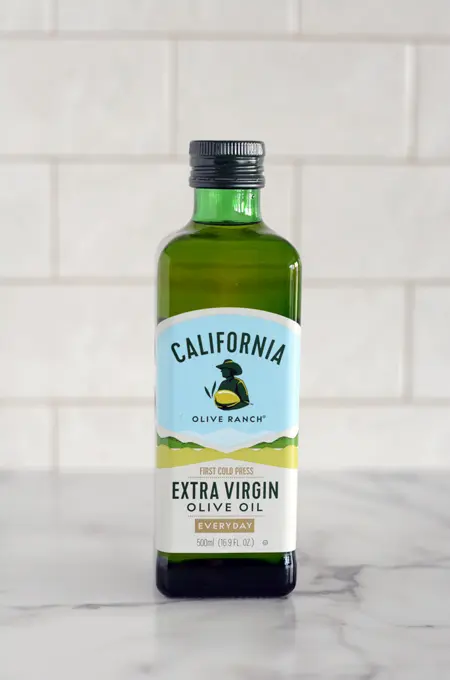 5. California Extra Virgin Olive Oil 16.9 ounces
This is my go to for olive oil. And it's real olive oil (beware of fake olive oil). Use this in everyday cooking and things like salad dressings.
Thrive Market: $8.99
Sprouts: $11.99
Kroger: $8.99
Whole Foods: $11.99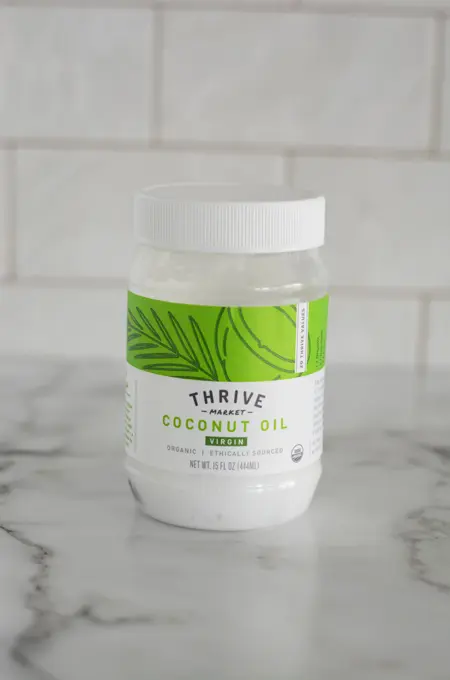 I use coconut oil if I need a high smoke point for cooking and want to keep a meal on the healthier side instead of using vegetable oil, or if the flavor will go well with the meal I'm preparing. But I also use it for Magic Shell!!! Yes check out that crazy easy recipe using just chocolate and coconut oil. I normally purchase Nutiva brand coconut oil but Thrive Market had a special awhile back and I received a FREE Thrive Market brand coconut oil. Pricing below is for Nutiva Coconut Oil.
6. Nutiva Coconut Oil 15 ounces
Thrive Market: $8.45
Sprouts: $11.99
Kroger: N/A
Whole Foods: $11.99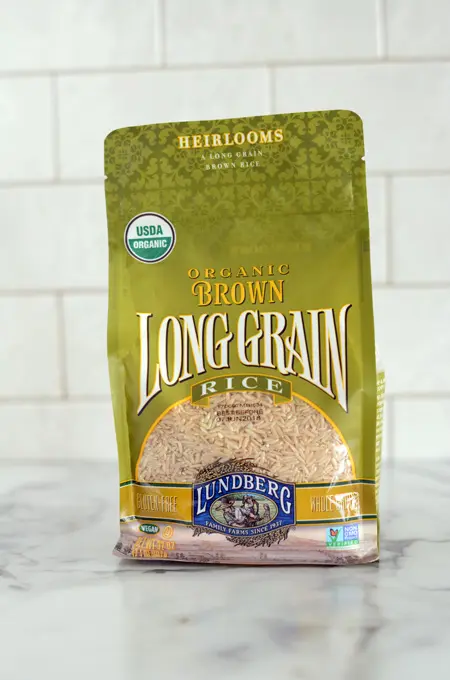 7. Lundberg Farms Brown Rice 32 ounces
Just my absolute favorite brand of rice ever! Be sure to try out my recipe for Easy Baked Brown Rice. I think it's the best! 🙂
Thrive Market: $3.95
Sprouts: $6.49
Kroger: $4.99
Whole Foods: $5.99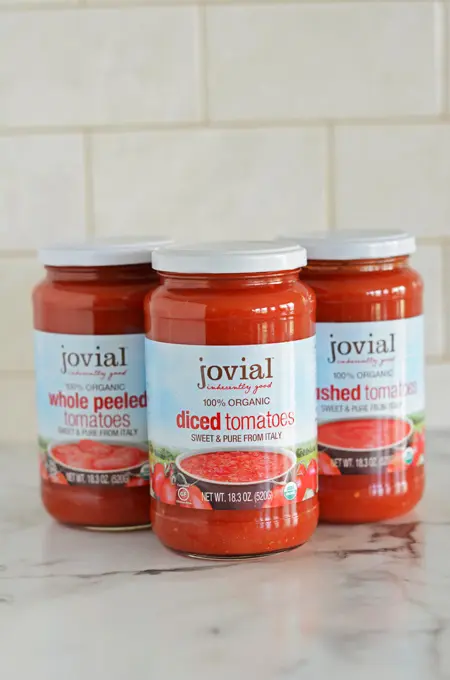 8. Jovial Jarred Organic Diced Tomatoes 18.3 ounces
I haven't been able to find this brand of tomatoes at any of my local grocery stores I visit and was tempted to price match the next best brand, however there really is no comparison. And I am just going to go ahead and say it. You're not going to find a better canned tomato than these. The size isn't the normal size you will see at the stores and in recipes but I use these 18.3 ounce jars just as I would the 15 ounce canned tomatoes. I love tomatoes and a little extra tomato flavor doesn't bother me. Price for these jarred diced, whole and crushed tomatoes is $3.69 each.
Thrive Market: $3.69
Sprouts: N/A
Kroger: N/A
Whole Foods: N/A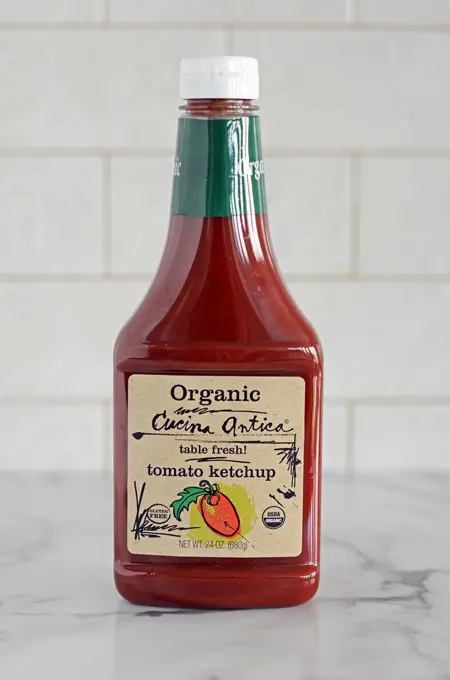 9. Cucina Antica Organic Ketchup 24 ounces
I usually have at least 2 bottles of ketchup on hand because they can be used to make homemade sauces. But also because I am a French fry lover and I just gotta have something to dip em' in. Try my Homemade-Bacon-Ranch Tator Tots with your next bottle of organic ketchup.
Thrive Market: $3.19
Sprouts: $4.29
Kroger: N/A
Whole Foods: $3.99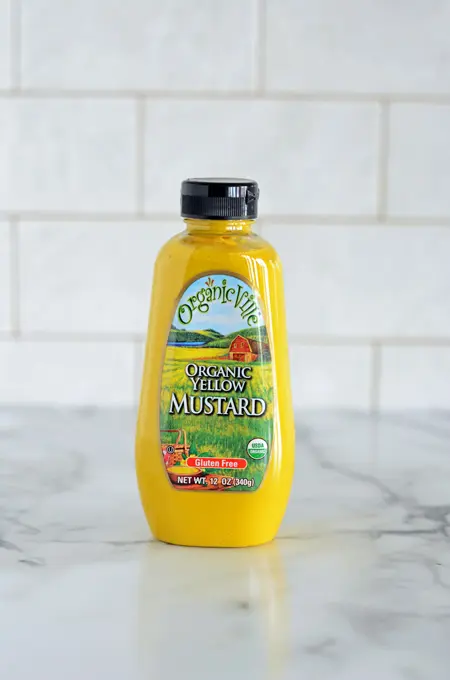 You just gotta have some mustard in your pantry. Another great condiment to whip up some sauces with.
10. Organicville Organic Yellow Mustard 12 ounces.
Thrive Market: $3.29
Sprouts: N/A
Kroger: N/A
Whole Foods: $3.99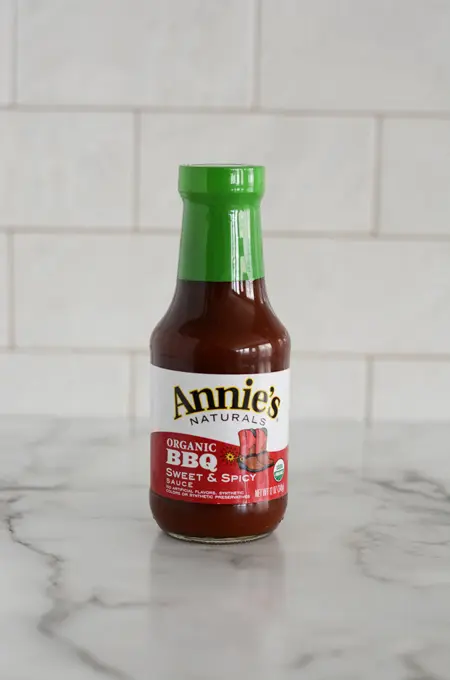 Not only do I dip my French fries in ketchup, sometimes I feel a little wild and crazy and opt for some good old BBQ sauce and Annie's Organic BBQ Sauce is one of my faves. Be sure you get the Sweet and Spicy kind. It's the best!
11. Annie's Organic BBQ Sauce Sweet & Spicy 12 ounces
Thrive Market: $3.29
Sprouts: $3.99
Kroger: N/A
Whole Foods: N/A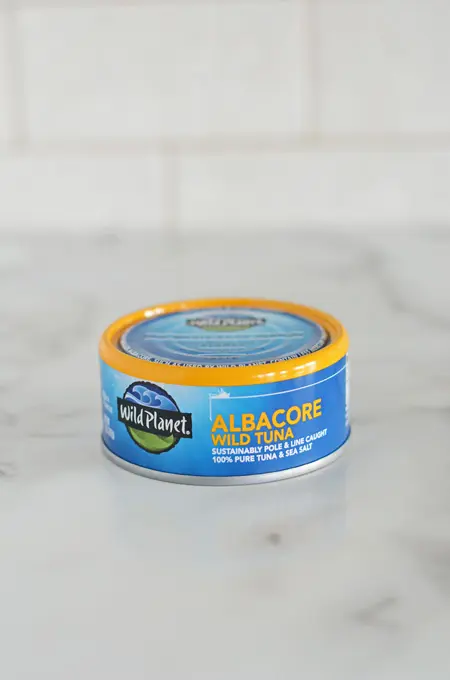 12. Wild Plant Albacore Tuna 5 ounces
Making a note that Kroger's sells this for a smidge cheaper! I use this for tuna sandwiches or if I am needing a low-carb high protein snack, then I will just eat a can of tuna, for real.
Thrive Market: $3.99
Sprouts: $4.49
Kroger: $3.89
Whole Foods: $4.49
13. Acure Brightening Eye Contour .5 ounce
Thrive Market doesn't just sell food, they sell skin care as well. So here is a tiny look into my skin care routine 🙂 I love this eye contour by Acure. I am one of those who has always switched products after I don't see any changes. When I use this stuff it feels like my eyes tighten up a bit. I am on my 3rd bottle and I'll keep purchasing this brightening eye contour in the future. And check out the prices below. Thank you Thrive Market for offering this product for much less!
Thrive Market: $14.99
Sprouts: $19.99
Kroger: N/A
Whole Foods: $19.99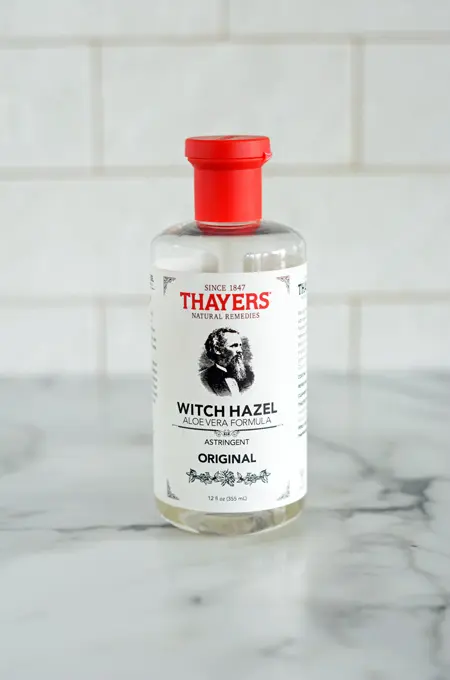 14. Thayer's Witch Hazel Astringent Original 12 ounces
I just recently started using Witch Hazel and all I can say is man I've been missing out! I use it to clean my face when some times the soap and water or makeup remover just doesn't seem to get it all. Witch Hazel is known to treat acne, shrink pores and much more! Definitely get some.
Thrive Market: $7.99
Sprouts: $8.99
Kroger: N/A
Whole Foods: $10.99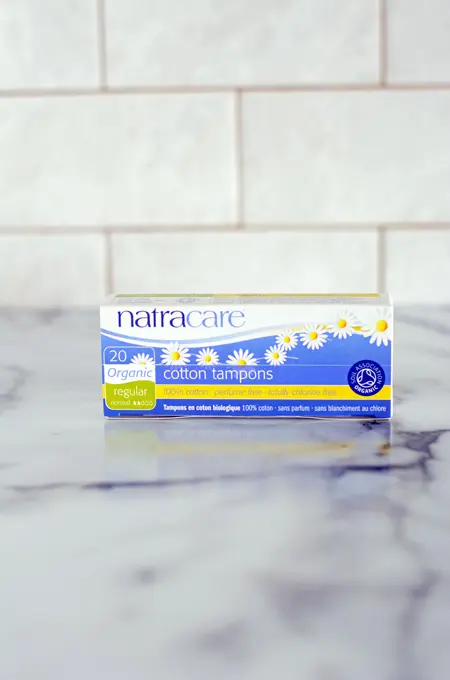 15. Natracare Organic Cotton Tampons Regular without applicator 20 count box.
Yes, they make organic tampons! Whole Foods did not have this brand available but they had Seventh Generation brand.
Thrive Market: $3.95
Sprouts: $6.79
Kroger: $4.99
Whole Foods: (Seventh Generation Brand) $8.99
Thrive Market is the first socially conscious online marketplace offering the world's best selling natural and organic products at wholesale prices. Think Costco meets Whole Foods online.
For less than $5.00 a month ($59.95 annually), members can shop 2,500 of the highest quality food, supplements, home, personal care and beauty products from more than 400 of the best selling brands on the market, all delivered straight to their doors at 25-50% below retail prices.
This innovative marketplace offers healthy brands like Weleda, Dr. Bronner's, Spectrum Naturals, Garden of Eatin', Bob Red Mill, Nature's Path, Eden Foods, Annie's Homegrown, Earth's Best, Seventh Generation, Garden of Life, Jason Naturals and many more of the highest quality premium brands and products to everyone at 25-50% below retail prices.
So are you ready to Thrive? If so click my affiliate banner below to get started!!!
***This is current pricing at the time of this blog post. Pricing is reported from the Houston, Texas and surrounding areas. Pricing may vary from location and are subject to change***