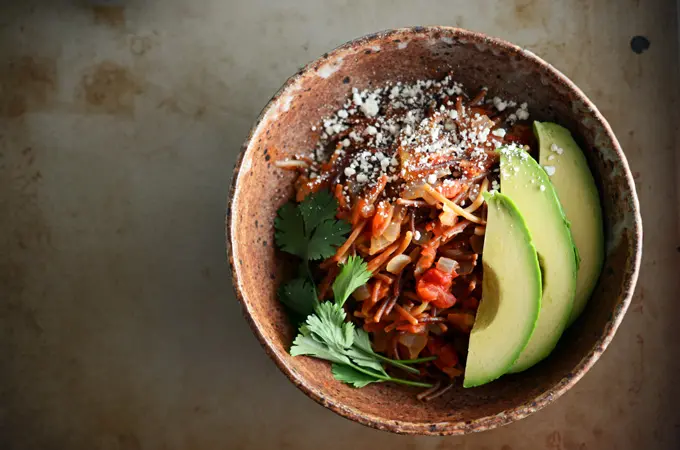 This recipe is straight from my Grandma Mary's kitchen. If you haven't heard of Fideo before, it's what I would call "Mexican spaghetti". This is the stuff I grew up on. It's my Mexican comfort food. And here in Houston, Texas we have some of the best Mexican and Tex-Mex restaurants in the country, unfortunately Fideo isn't always available at these restaurants. But on the rare occasion I come across it on a restaurant menu I have to get it. It's always good, but nothing comes close to my Grandma Mary's Fideo. It's in a class of it's own. This recipe will always warm my soul and make me think of My Grandma Mary and my Great Grandma Butcha, who I hear was a master in the kitchen. I only wish I was old enough to have gotten the chance to cook with my Great Grandma Butcha when she was alive.
Most comfort foods usually take a lot of time and ingredients but not this one. You can make this on a weeknight after work, and is very easy to prepare.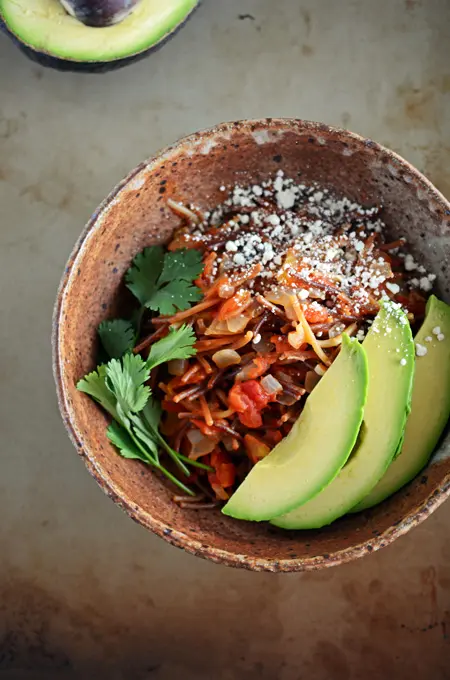 Don't have Fideo noodles on hand? No problem, my Grandmother would sometimes make this with the little star pasta.You can leave as much liquid in this dish as you like. I don't care for much liquid in mine, but if you prefer to have more of a sauce with yours, simply simmer for less time.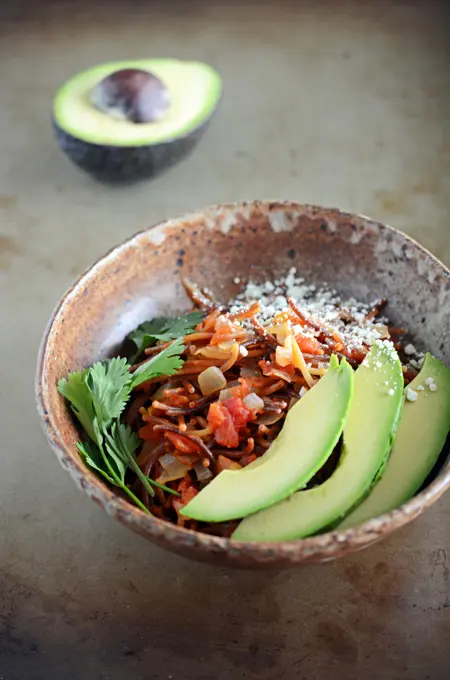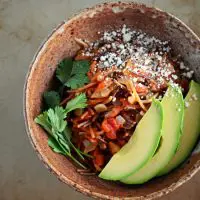 Fideo
Ingredients
2 tablespoons canola oil
½ pound fideo or broken spaghetti noodles
1 onion, chopped
2 garlic cloves, chopped
1 15-ounce canned organic diced tomatoes, drained
2 cups reduced sodium organic chicken broth
Salt and pepper to taste
Avocado for garnish (optional)
Chopped cilantro (optional)
Cotija Mexican cheese (optional)
Instructions
Heat canola oil in a skillet over medium heat. Brown the fideo in the skillet about 5-8 minutes. Remove fideo, leaving as much of the oil in the pan as possible, and set aside.
Saute onion and garlic in the left over oil in the pan, about 5 minutes. Add tomatoes and stir to combine.
Return the fideo to the skillet, and pour in the broth, stir well. Cover the skillet and reduce the heat to low. Cook for about 30 minutes, stirring occasionally. Season with salt and pepper and serve.
Notes
Nutritional information will vary according to the ingredient brands used.
Nutrition Information:
Serving Size:

1
Amount Per Serving:
Calories:

306
Total Fat:

9g
Saturated Fat:

1g
Sodium:

84mg
Carbohydrates:

49g
Fiber:

3g
Sugar:

2g
Protein:

10g