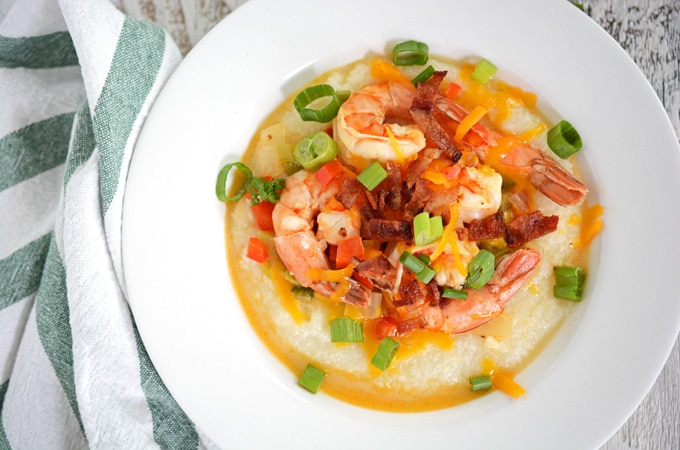 This is an update to an old favorite, Southern Shrimp and Grits. What I like about this dish is that its quick and easy to make, mouthwatering-delicious and its a bit of a lightened up version of shrimp and grits.
I found the original recipe in
Cooking Light
. And while the original recipe makes 6 servings, Craig and I usually get 4 servings out of it, but, we usually eat a little more than most people probably would. So just know there is a little wiggle room in your portion size, and you could get this amazing Southern Shrimp and Grits for right around 500 calories if you divide it up between 5 or 6 servings.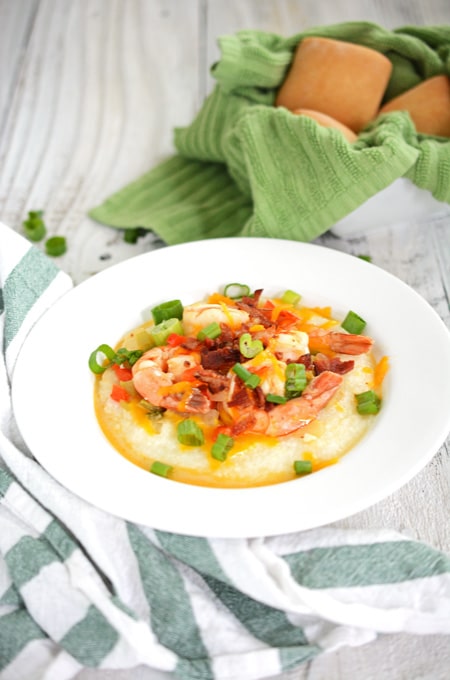 Not watching your calorie intake and looking for a little indulgence? If so, then head over to my
Shrimp and Grits
recipe.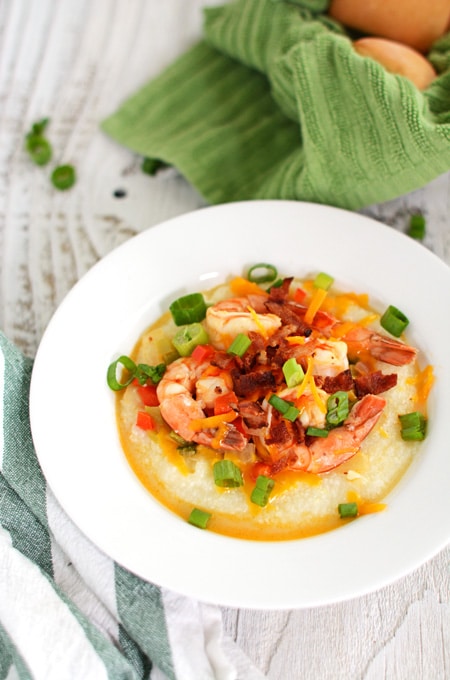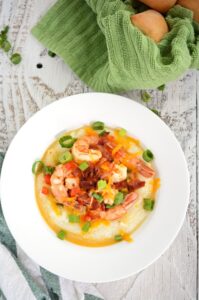 Print
Southern Shrimp and Grits
Yield 4
Ingredients
3 tablespoons fresh lemon juice
½ teaspoon hotsauce
2 pounds large shrimp, deveined and peeled
3 slices cooked bacon, chopped
1 cup onion, chopped
1 green bell pepper, chopped
1 red bell pepper, chopped
2 cloves garlic, chopped
1 cup reduced sodium chicken broth
½ cup green onions, chopped and divided
5 cups water
1 ½ cups uncooked quick-cooking grits
1 tablespoon unsalted butter
1 teaspoon kosher salt
¾ cup shredded Cheddar cheese
Instructions
Combine first 3 ingredients, set aside.
Cook bacon in a large nonstick skillet over medium heat until crisp. Add onion, bell peppers, and garlic to drippings the pan; cook 5 minutes or until tender, stirring occasionally. Stir in shrimp mixture, broth, and ¼ cup green onions; cook for 5 minutes or until shrimp are done, stirring frequently.
Bring water to a boil in a medium saucepan; gradually add grits; stirring constantly. Reduce heat to low; simmer uncovered for about 5 minutes or until thick, stirring constantly. Simmer; covered for 5 minutes or until thick, stirring occasionally. Stir in butter and salt. Serve shrimp over grits, sprinkle with cheese and green onions.
Courses Main
Cuisine American
Nutrition Facts
Serving Size 1
Amount Per Serving

Calories 574

% Daily Value

Total Fat 16 g

25%

Saturated Fat 7 g

35%

Cholesterol 296 mg

99%

Sodium 994 mg

41%

Total Carbohydrates 53 g

18%

Dietary Fiber 5 g

20%

Sugars 4 g

Protein 57 g

114%
* Percent Daily Values are based on a 2,000 calorie diet. Your daily values may be higher or lower depending on your calorie needs.