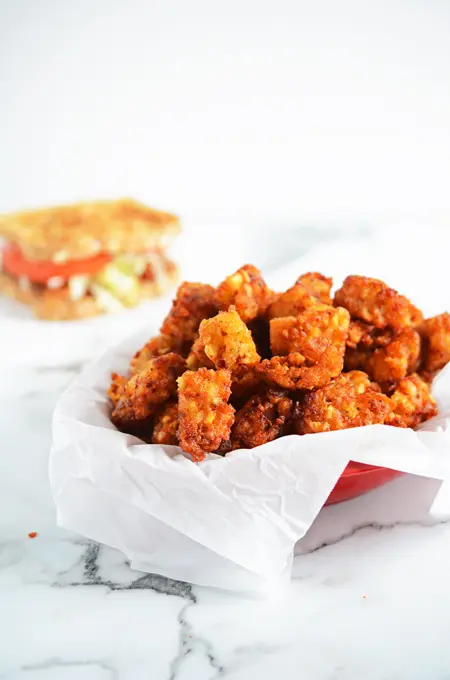 No store bought frozen tator tots can compare to these Homemade Bacon-Ranch Tator Tots!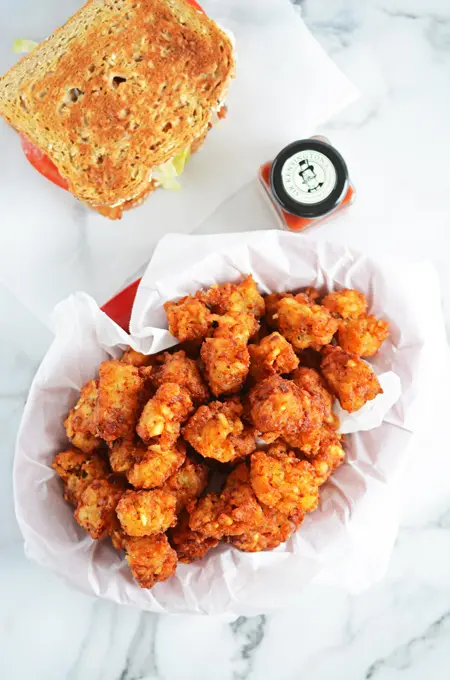 Sure there is a little work involved but it's worth it! They're flavorful and super crispy! You won't get that from the frozen kind.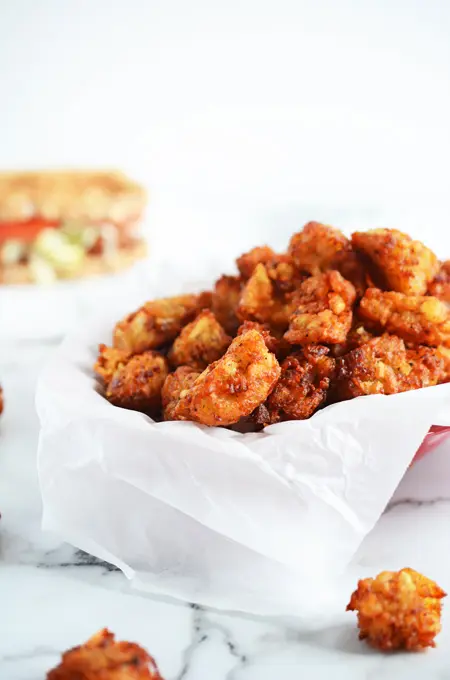 These Homemade Bacon-Ranch Tator Tots are perfect for a special dinner. You can make them ahead of time which is always a plus. Once the tator tots are done, let them cool, then place in a freezer bag and freeze for up to 1 month. To reheat, place an oven rack in the middle position and heat your oven to 400 degrees. Place the tator tots on a rimmed baking sheet and bake until heated through, about 12 to 15 minutes.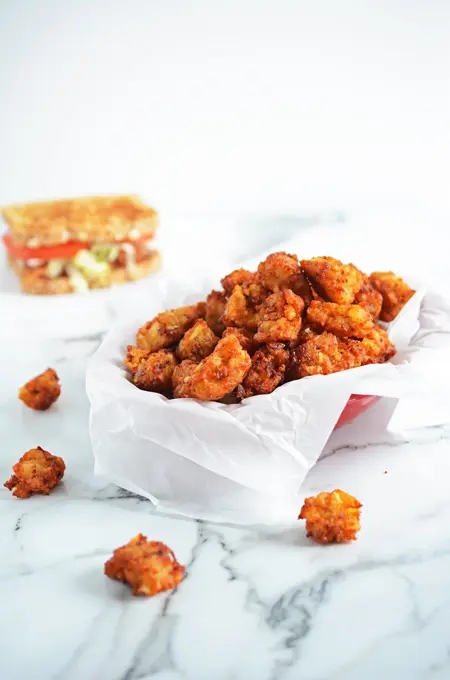 Here are a few tips when making this recipe:
If you have a few large pieces of potato that remain after processing, chop them coarsely by hand.

To make handling the uncooked tots easier, use a wet knife blade and wet hands. This will help you shape the tots.

When you drop the tots into the hot oil they may stick together. Be sure not to stir them until they have browned and set.

You may end up with a few tots that have fried together. Once they are cool enough to handle, gently pull them apart.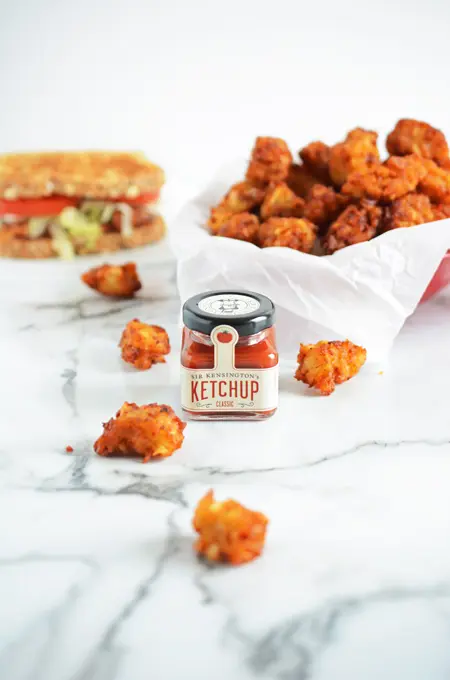 Now you've gone through all the work of making homemade tator tots from scratch, and let me tell you these probably don't really need any sort of condiments; but if you simply must have something like ketchup to dip these little nuggets of fried crispy-ness in, then be sure you choose a high quality ketchup like Sir Kensington's ketchup.
Don't forget to like and follow The Cake Chica on social media: Facebook, Instagram, and Pinterest.
You May Also Like:
Adapted by Mary from Cook's Country
Homemade Bacon-Ranch Tator Tots
Additional Time:
40 minutes
Total Time:
1 hour
22 minutes
Homemade tator tots with bacon and spices.
Ingredients
SPECIAL TOOLS
Dutch oven
Candy or fry thermometer
Wire skimmer
TATOR TOTS
1 cup water
2 ¼ teaspoons salt
2 ½ pounds russet potatoes, peeled and cut into 1 ½-inch pieces
1 tablespoon cider vinegar
1 ½ tablespoons all-purpose flour
½ teaspoon pepper
4 slices finely chopped cooked bacon
1 teaspoon onion powder
½ teaspoon garlic powder
½ teaspoon dried dill
1 quart peanut or vegetable oil
Instructions
In a medium bowl, whisk together salt and 1 cup water until salt dissolves. In a food processor, pulse the potatoes and salt water together until coarsely ground, about 12 pulses, stirring occasionally. Drain the mixture through a fine mesh sieve, pressing potatoes with a rubber spatula until dry and discard the liquid. (You should press out about 1 ½ cups of liquid from the potatoes.) Transfer potatoes to a microwaveable bowl and microwave uncovered for about 8 to 10 minutes, stirring halfway through. The potatoes should be dry and sticky. Add the cider vinegar and stir to combine.

Add the flour, pepper, cooked bacon, onion powder, garlic powder and dried dill into the potatoes and stir. Spread potatoes out on a thin layer of aluminum foil and let cool for 10 minutes. Move potatoes to the center of the foil and place the foil in an 8-inch square baking dish, pushing the foil into the corners and up the sides of the baking dish, leaving excess foil on the edge to create handles. Press the potatoes tightly and evenly into the pan and freeze uncovered until firm, about 30 minutes.
While the potatoes are in the freezer, adjust an oven rack to the middle position and heat to 200 degrees. Set a wire rack over a rimmed baking sheet. Add oil to a Dutch oven until it measures about 3/4-inch deep. (I use a ruler that I only use for food to check to make sure I have the right amount of oil. Just dip the ruler in and check where the oil line meets on your ruler.) Heat oil over high heat until your thermometer reads 375 degrees. Using the foil handles, lift potatoes from the pan and cut into 48 pieces, 5 cuts in 1 direction and 7 in the other direction. Fry half of the potato tots until golden brown and crisp, about 5 to 7 minutes, stirring only after they are browned and set. With a wire skimmer, transfer potato tots to the prepared baking sheet and place in the oven to keep warm. Return the oil to 375 degrees and repeat this process with the remaining potatoes and serve.

Notes
Nutrition Information:
Yield:

4
Serving Size:

12 tots
Amount Per Serving:
Calories:

1288
Total Fat:

82g
Saturated Fat:

13g
Trans Fat:

0g
Unsaturated Fat:

60g
Cholesterol:

3mg
Sodium:

1942mg
Carbohydrates:

109g
Fiber:

20g
Sugar:

11g
Protein:

45g
*Nutrition information is an estimate and will vary.*