Here is one for those that like to meal prep. This Easy Baked Brown Rice may not be as quick as the 5 minute versions, but it's definitely worth the baking time.

I won't make brown rice any other way from now on. Easy Baked Brown Rice always comes out light and fluffy everytime!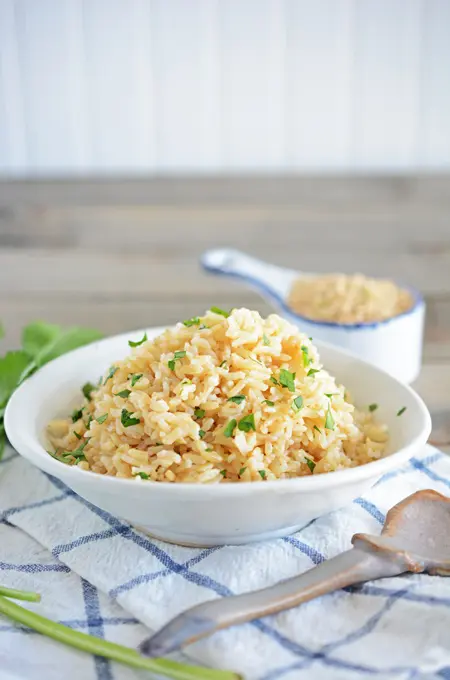 I usually make this on a Sunday and use it throughout the week for my egg white breakfast bowls.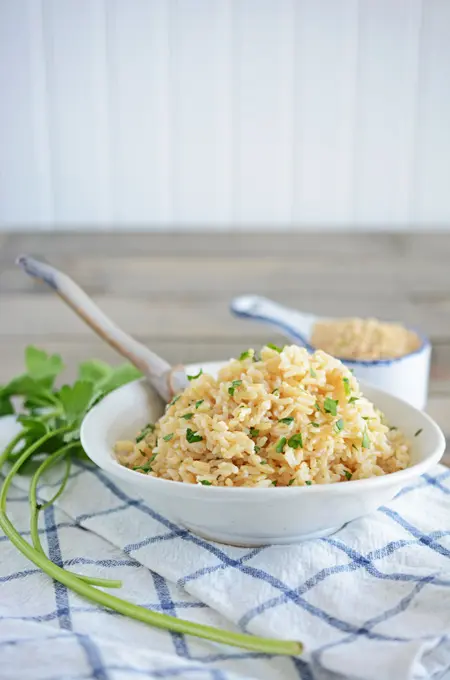 Perfect Brown Rice
Brown rice should have nutty flavor with more texture that's slightly sticky and a bit more chewy than white rice. Here are some benefits to baking your rice:
Baking allows the rice to cook more gently and evenly, reducing the risk of burning your rice. Cooking rice on the stove top can sometimes lead to burned rice on the bottom of your pan.
Baking your rice also allows you to use less water. Most stove top methods have you add more water to prevent scorching your rice but this just makes your rice soggy and over cooked.
Adding boiling water to your rice helps to keep the cooking time to 1 hour, versus using cold tap water. Plus using a tight seal on top of the baking dish is super important.
Be sure to flavor your rice before it goes into the oven. A little bit of fat and salt will help keep the rice nice and fluffy! And lastly, once the rice comes out of the oven, be sure to fluff to separate the grains and then cover it with a clean dish towel to absorb the moisture. This keeps the moisture from going back into your rice.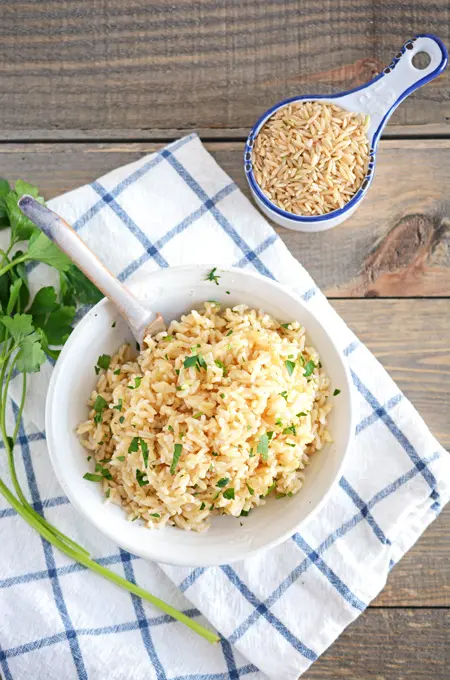 You can also follow me on social media: Facebook, Instagram,and Pinterest. Talk with you next week!
Adapted from Cook's Illustrated Cookbook
.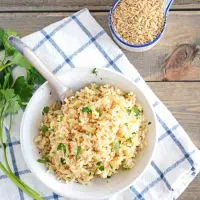 Easy Baked Brown Rice
Additional Time:
10 minutes
Total Time:
1 hour
20 minutes
This fluffy baked brown rice has a earthy and nutty flavor and is easy to make.
Ingredients
1 ½ cups brown rice
2 1/3 cups water
2 teaspoons unsalted butter or vegetable oil
½ teaspoon salt
Instructions
Adjust and oven rack to the center of the oven and heat oven to 375 degrees. Pour rice in an 8-inch square baking dish.
Bring water and butter to a boil in a small covered saucepan. Once the water boils immediately stit in the sale and pour water into the baking dish. Cover tightly with a double layer of foil and bake for 1 hour, until the rice is tender.
Notes
*Nutrition information is an estimate and will vary.*
Nutrition Information:
Yield:

4
Serving Size:

1
Amount Per Serving:
Calories:

129
Total Fat:

6g
Saturated Fat:

2g
Trans Fat:

0g
Unsaturated Fat:

4g
Cholesterol:

5mg
Sodium:

271mg
Carbohydrates:

17g
Fiber:

1g
Sugar:

0g
Protein:

2g
*Nutrition information is an estimate and will vary.*
You May Also Like: