Craig has been begging me to make Chicken Fried Steak for years. His mom and Granny used to make it for him when he was a kid. Not having a real connection with CFS it took me awhile to put this one on the meal plan, but I finally caved in. So as I searched my cookbook library for the best one it came down to 2 recipes. The first one was a fancied up version, my choice of course, but somehow I knew Craig wouldn't go for it. Nope he wanted the second choice, the good old fashioned southern-style chicken fried steak with cream gravy. Now I am a brown gravy type of girl, the white cream gravy has just never done it for me, but Craig was okay with letting my pick the gravy for this one so I chose an onion gravy, which wouldn't you know came out brown! Score!!! This Chicken Fried Steak definitely hit the spot for both me and Craig. Just like his mom and Granny used to make for him!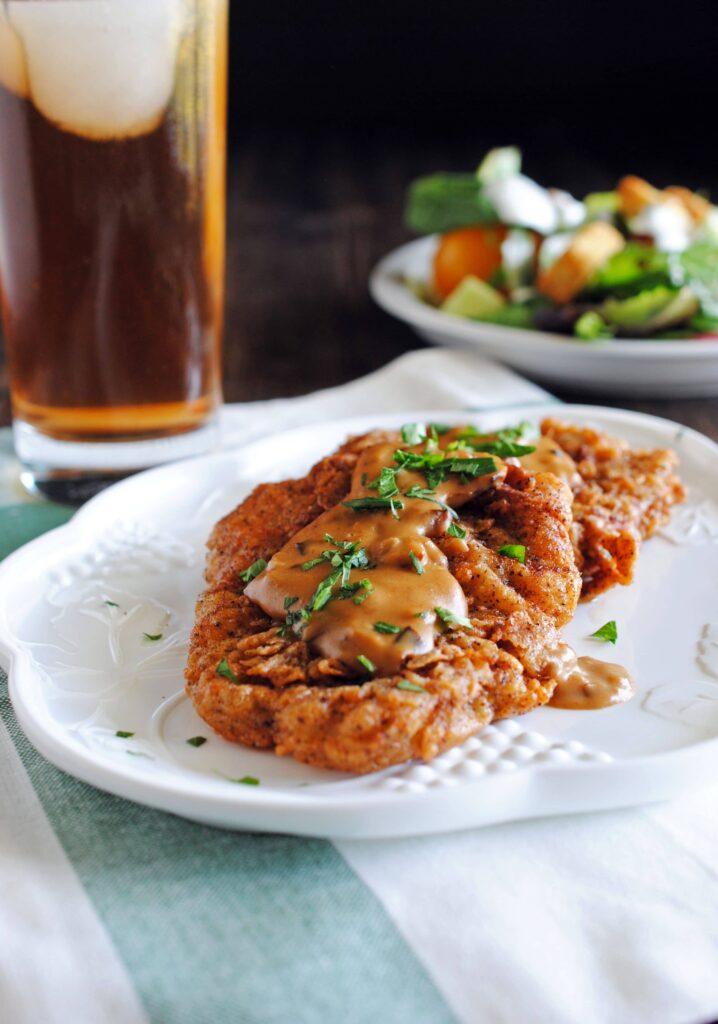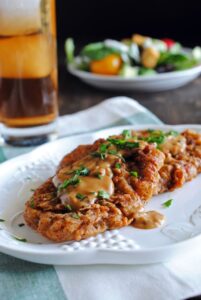 Print
Southern Style Chicken Fried Steak
Yield 6
Ingredients
SEASONED FLOUR
2 1/2 cups all-purpose flour
2 tablespoons chili powder
1 tablespoon kosher salt
1 tablespoon black pepper
1 tablespoon onion powder
1 tablespoon garlic powder
CHICKEN FRIED STEAK
1 quart peanut oil, for frying
2 cups Seasoned Flour
1 cup buttermilk
1 egg, lightly beaten
12 tenderized eye-of-round steaks, about 3 pounds total
ONION GRAVY
1/4 cup unsalted butter
1 large yellow onion, chopped
5 tablespoons Seasoned Flour
2 1/2 cups whole milk
2 teaspoons kosher salt
1 tablespoon Worcestershire sauce
Instructions
SEASONED FLOUR
Stir together all the ingredients in a large bowl. You will have more than enough flour then you need for this recipe. Set about 1 cup of flour aside and use for the Onion Gravy and save the remaining flour for another time.
CHICKEN FRIED STEAK
Preheat an oven to 200 degrees. Pour enough oil in a cast iron skillet to come up about 1 inch and heat oil to 370 degrees. While the oil is heating, put the flour in a pie dish or shallow bowl. In a separate pie dish or shallow bowl, whisk together the buttermilk and egg. Dredge each steak in the flour, shaking off the excess; dip it into the buttermilk mixture, allowing excess to drip off and then dredge again in the flour, evenly coating the batter so it is dry on the outside.
Slide 2 or 3 steaks into the hot oil, but be sure not to crowd them. The temperature will fall as soon as the steaks are added to the oil so adjust your heat accordingly. As the steaks cook try to keep the temperature around 350 degrees. If the oil gets too hot the steaks will burn before they are cooked, if the oil is not hot enough the batter will be soggy. Cook the steaks for 3 to 5 minutes, until the batter is crisp and brown and meat is cooked. Using a wire skimmer, transfer the steaks to paper towels to drain and keep warm in a preheated oven until all the batches are done.
ONION GRAVY
Meanwhile, in a heavy saucepan, melt butter over medium heat. Add the onion, cover and cook for about 15 minutes or until the onion is soft. Remove the lid and continue to cook the onion for about 15 minutes more, until most of the liquid has evaporated and the onion has caramelized.
Whisk the flour into the onion and continue to cook, whisking constantly, for about 3 minutes until the mixture is smooth and light brown in color. Slowly add the milk while whisking constantly, then continue to whisk until free of lumps. Add the salt and Worcestershire sauce and simmer, stirring often for about 10 minutes, until the gravy has thickened and reduced. Serve the steaks with gravy and enjoy.
Courses Main
Cuisine American
Adapted from Texas Eats