I'm here anxiously waiting for our first cold (or cool) front to arrive. And while I'm waiting, I've been stocking up on some soup and stew recipes the last few weeks, so that you and I will be ready for when it does get cold here in south Texas!
Plus, you'll love that this Easy Seafood and Chorizo Stew can be made on a weeknight!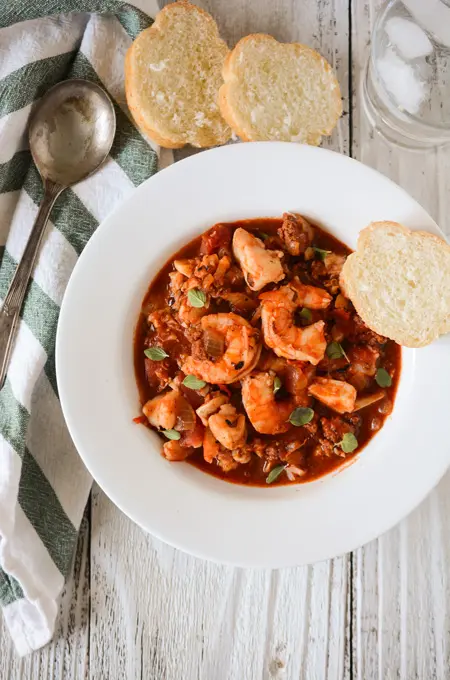 Mexican or Spanish Chorizo?
Mexican and Spanish chorizo are not the same. The original recipe from Cook's Country used Spanish chorizo.
Maybe it's because I live in Texas, but I've had a hard time finding Spanish chorizo. So I used Mexican chorizo, because it's easy to find in my area. But, you usually can't substitute Mexican chorizo for the Spanish version.
Mexican chorizo is a ground meat sausage, usually made with pork but can also be made with beef. Mexican chorizo is seasoned and must be cooked, and is sold either loose or in a casing.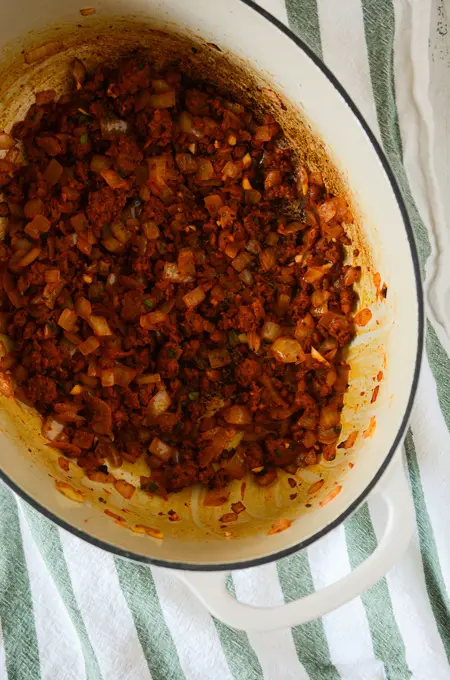 Spanish chorizo is dried and cured sausage, and is usually sold with the ready-to-eat cured meats. Spanish chorizo is usually made with pork and is seasoned and sold as either spicy or sweet. Spanish chorizo can be eaten as is, casing and all.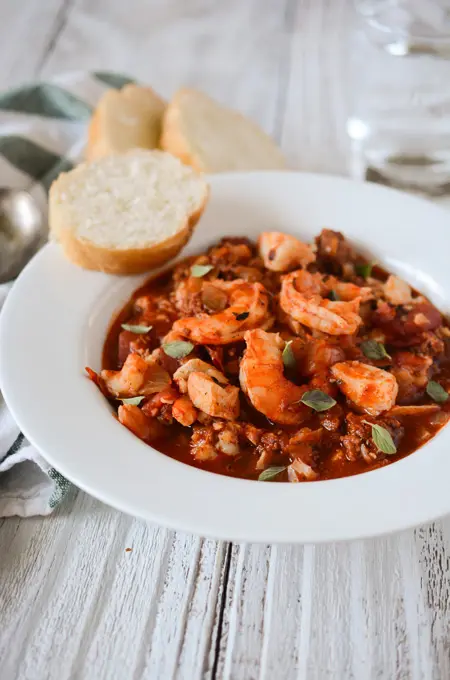 Substitutions
I've made this soup with both Mexican chorizo and Andouille sausage. And I prefer Mexican chorizo for the texture the ground meat gives this stew, but also for the flavor.
You can also substitute Spanish chorizo with salami if that's more your thing.
Follow The Cake Chica on Facebook, Instagram and Pinterest.
You May Also Like: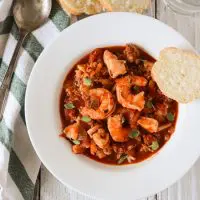 Easy Seafood and Chorizo Stew
A simple weeknight meal made with cod, shrimp and chorizo. Serve with bread for a full and hearty meal.
Ingredients
SPECIAL TOOLS
STEW
1 tablespoon olive oil
6 ounces Mexican chorizo, removed from casing
1 organic onion, chopped
4 organic garlic cloves, chopped
1 tablespoon fresh organic oregano
2 14.5-ounce canned organic diced tomatoes
1 8-ounce bottle clam juice
Salt and pepper
1 pound extra large wild shrimp, peeled, deveined and tails removed
12 ounces skinless wild cod fillets, cut into 1 inch chunks
Instructions
In a Dutch oven, heat oil over medium-high heat until shimmering. Add chorizo and onion and cook until lightly browned, breaking up with a wooden spoon, about 10 minutes. Stir in garlic and 1 teaspoon oregano and cook until fragrant about 1 minute. Add tomatoes with their juice and clam juice, and scrape up any browned bits that have formed on the bottom and sides of the Dutch oven, and bring to a simmer. Cook until slightly thickened,
about 10 minutes.
Pat shrimp and cod dry with paper towels and season with salt and pepper. Stir in the seafood and cook until cooked through, about 5 minutes. Add in remaining oregano and season with salt and pepper to taste. Serve with crusty bread.
Nutrition Information:
Yield:

4
Serving Size:

1
Amount Per Serving:
Calories:

485
Total Fat:

23g
Saturated Fat:

7g
Trans Fat:

0g
Unsaturated Fat:

14g
Cholesterol:

325mg
Sodium:

1997mg
Carbohydrates:

11g
Fiber:

3g
Sugar:

4g
Protein:

57g
*Nutrition information is an estimate and will vary.*