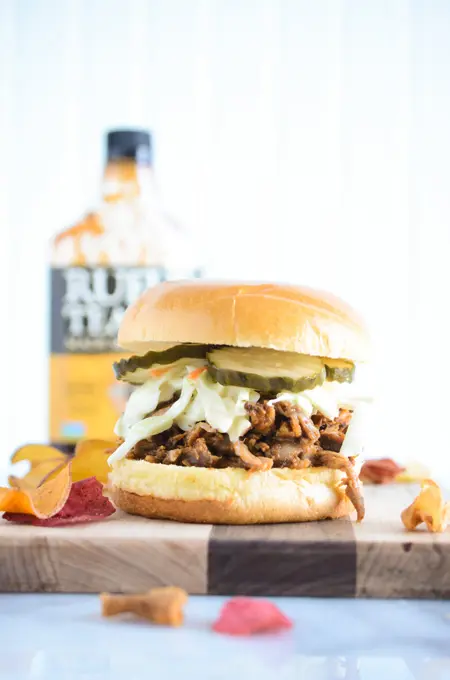 Ever since I got a new slow cooker a few weeks ago I've been having so much fun finding new recipes to make in it.
Sunday's in my house are lazy days. And perfect for Slow Cooker Pulled Pork Sandwiches. All you need is about 5 pounds pork shoulder, spices and a little barbecue sauce and dinner is ready! There is some prep work involved but nothing you can't handle.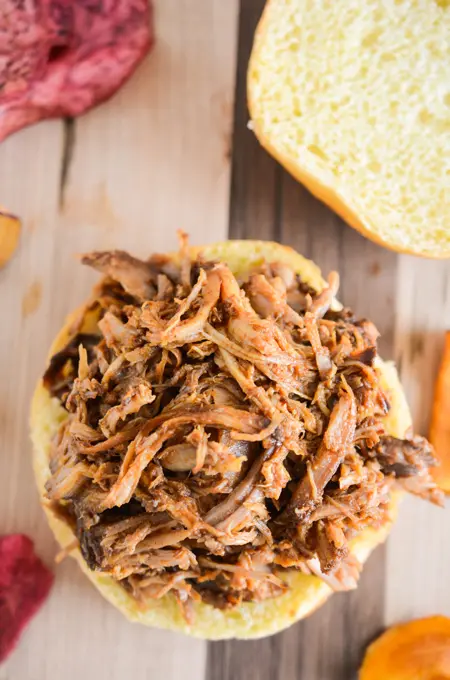 You'll notice in this recipe you will need to cut the meat up in quarters. Doing this will expose more of the surface area which creates a more flavorful dish. Rub the spice mixture all over the meat the day before cooking and let sit in the refrigerator wrapped in plastic wrap overnight. The next day, unwrap the meat and place in a slow cooker with about 1 cup barbecue sauce and let it cook. That's it!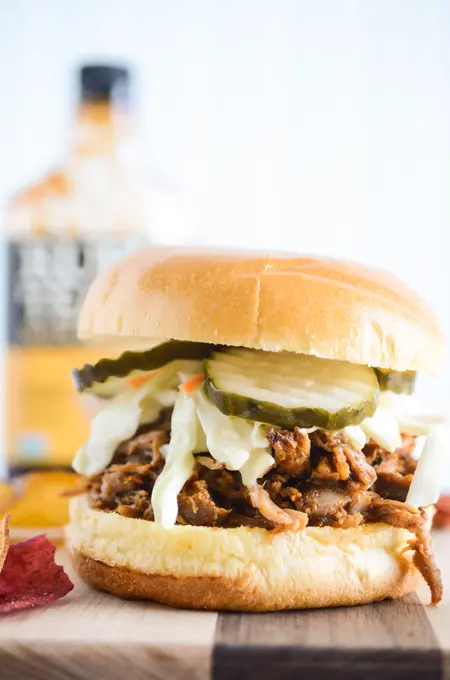 No excuses now. This recipe for Slow Cooker Pulled Pork Sandwiches is easy, flavorful and feeds a crowd. Top with pickles, some slaw and maybe a little extra barbecue sauce and you're all set for dinner!
Be sure to follow The Cake Chica for more recipes: Facebook, Instagram, and Pinterest.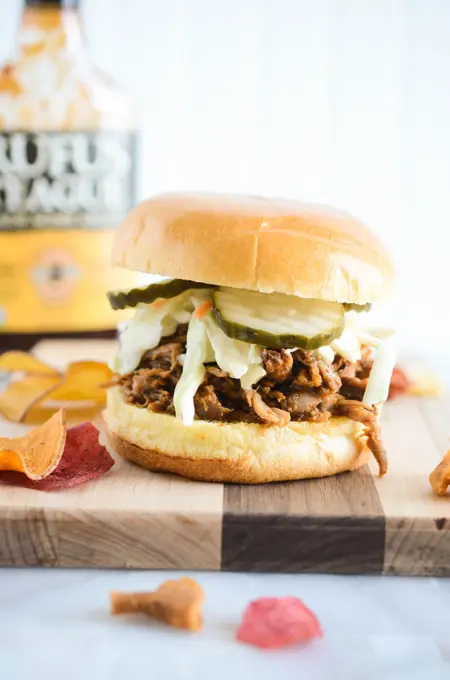 You May Also Like:
Adapted by Mary Hatton from Slow Cooker Revolution by America's Test Kitchen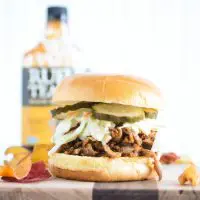 Slow Cooker Pulled Pork Sandwiches
Total Time:
9 hours
15 minutes
Pork shoulder, cooked in a slow cooker with barbecue sauce and spices. Perfect for Slow Cooker Pulled Pork Sandwiches.
Ingredients
Special Tools
Pulled Pork
½ teaspoon salt
1 5-pound boneless pork shoulder roast, quartered and trimmed
Salt and pepper
1 cup barbecue sauce, plus extra for serving
Cider vinegar
TOPPINGS
8 Brioche buns
Pickles (optional)
Slaw (optional)
Instructions
Combine sugar, paprika, garlic powder, onion powder, cumin, cayenne and ½ teaspoon salt in a small bowl. Using a fork, prick the pork all over. Rub the sugar mixture all over the pork and wrap tightly in plastic wrap and refrigerate for 8 to 24 hours.
Unwrap the pork and place in a large slow cooker. Spread barbecue sauce all over pork. Cover and cook until pork is tender, about 9 to 11 hours on low or 5 to 7 hours on high.
Transfer pork to a large bowl and let cool for about 5 minutes. Shred into bite size pieces discarding excess fat. Cover with foil to keep warm. Let the braising liquid in the slow cooker settle for about 5 minutes, then remove the fat from the surface using a large spoon. Season liquid with salt, pepper, sugar and vinegar to taste.
Toss shredded pork with 1 cup braising liquid, adding more liquid as needed to keep moist. Serve on a brioche hamburger bun with pickle chips, slaw and more barbecue sauce if desired.
Notes
*Nutrition information is an estimate and will vary.*
Nutrition Information:
Yield:

8
Serving Size:

1 Sandwich
Amount Per Serving:
Calories:

1217
Total Fat:

76g
Saturated Fat:

30g
Cholesterol:

370mg
Sodium:

914mg
Carbohydrates:

57g
Fiber:

3g
Sugar:

24g
Protein:

74g