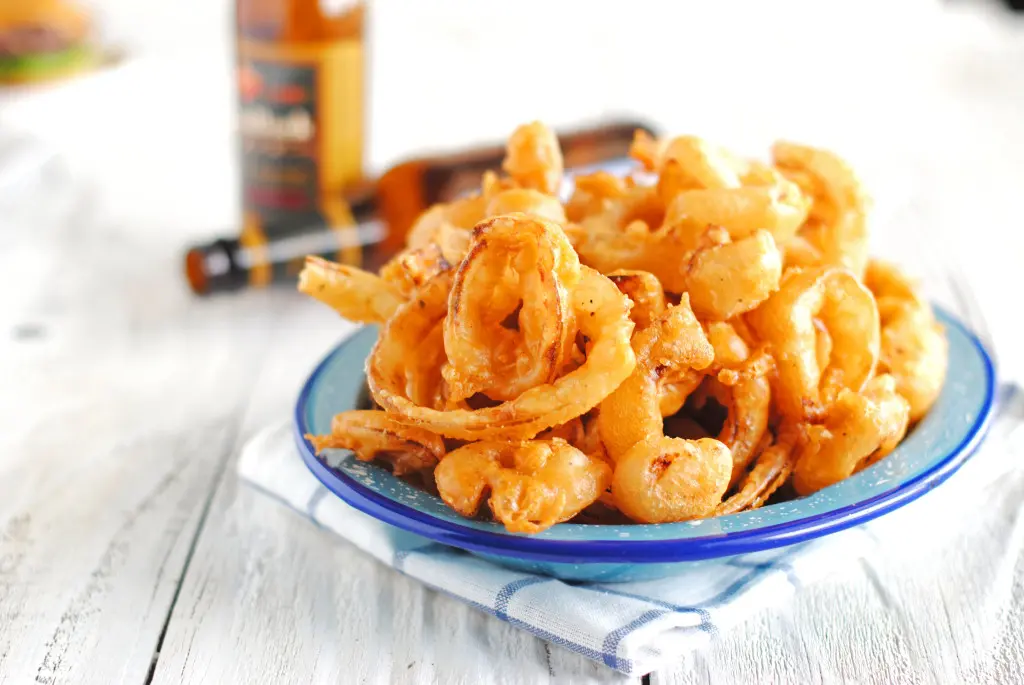 Used with permission by Cook's County
This is a real treat, and not something to eat every day. But are these Beer Battered Onion Rings worth the calories?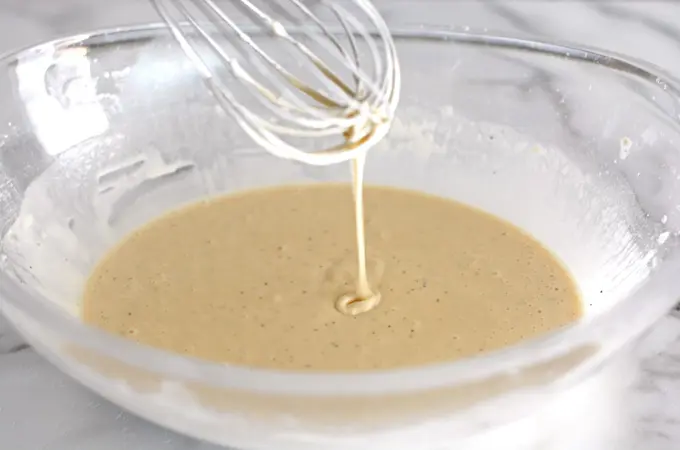 I remember back in the day my sister would always get onion rings at whatever fast food restaurant offered them. I tried them once and blah! I made sure I never got onion rings with my burgers from that day forward. I am more of a French fry girl anyway. Fast forward to now. I've had my nibbles of onion rings from Craig's meals at different restaurants, but none have ever had me replacing my beloved French fries. But there had to be better onion rings out there. So I went searching for them and found the clear winner in these Beer Battered Onion Rings from Cook's Country. These Beer Battered Onion rings had me thinking about creating a new category called The Best Thing I Ever Ate. But don't take my word for it; get frying in your own kitchen to taste the glory.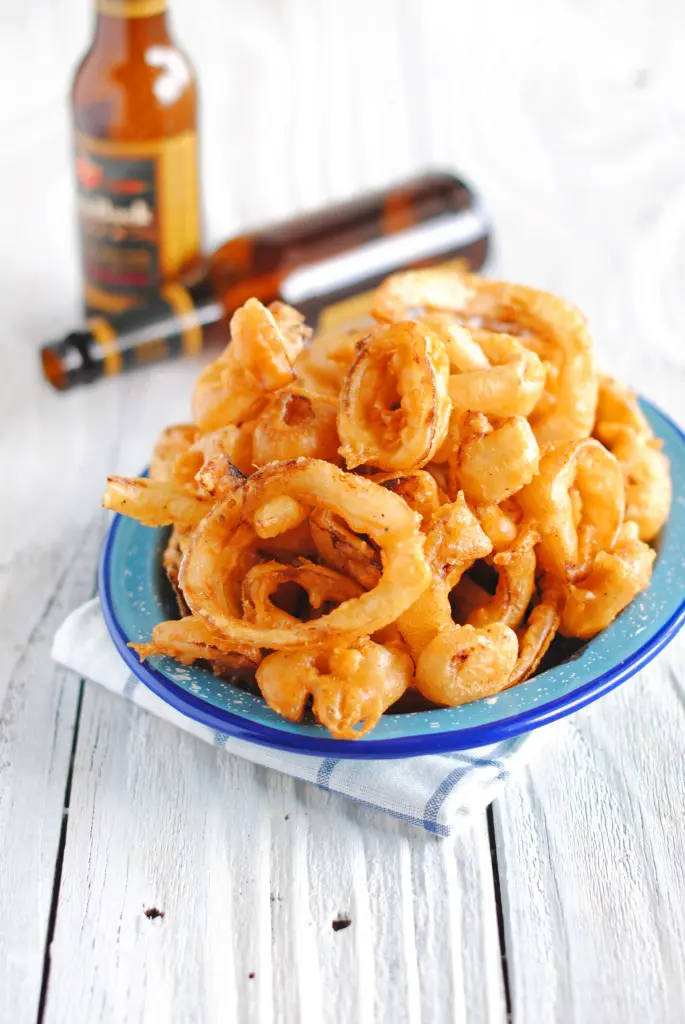 Get ready for some serious crunch on these babies. And the crust sticks to the onion with every bite. It's pure perfection right here! And the answer is YES!!! Yes, these Beer Battered Onion Rings are most definitely worth the calories.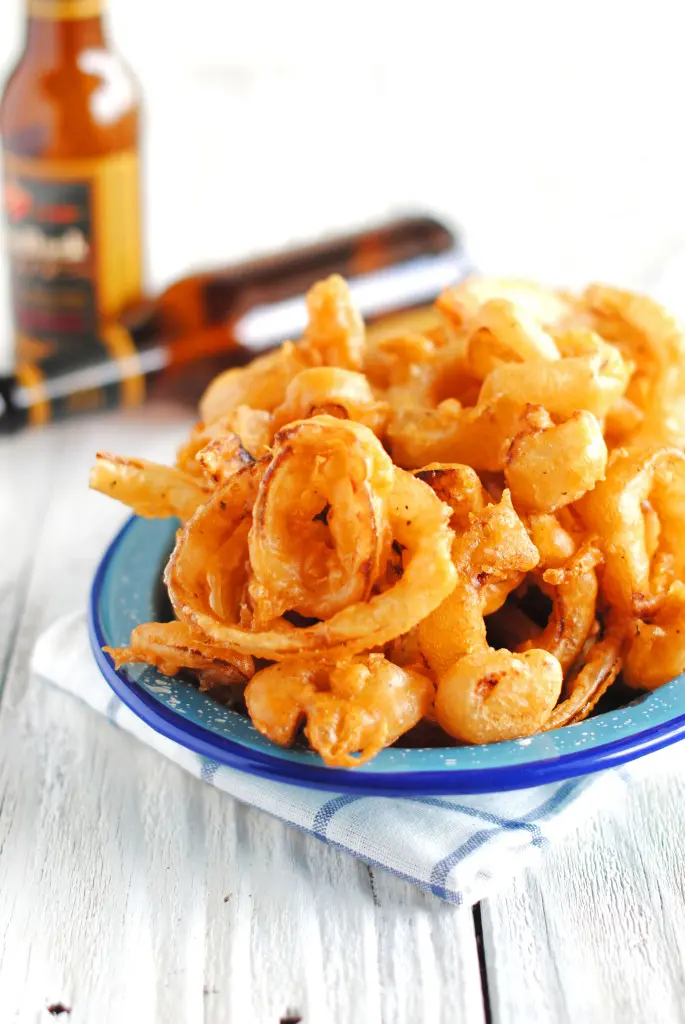 On a side note, these also freeze well. Just reheat in a 350 degree oven for about 15 to 20 minutes and you are set. And they are still just as crunchy as the first day you made them.
Follow The Cake Chica on social media: Facebook, Instagram, and Pinterest.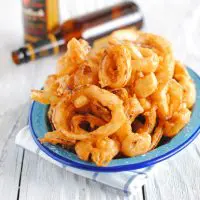 Beer Battered Onion Rings
Ingredients
2 sweet onions, peeled and sliced into ½-inch thick rounds
3 cups beer
2 teaspoons malt vinegar
Salt and pepper
2 quarts peanut or vegetable oil
¾ cup all-purpose flour
¾ cornstarch
1 teaspoon baking powder
Instructions
Place onion rounds, 2 cups beer, vinegar, ½ teaspoon salt and ½ teaspoon pepper in 1-gallon zip lock bag; refrigerate for 30 minutes or up to 2 hours.
Line rimmed baking sheet with triple layer of paper towels. Add oil to large Dutch oven until it measures about 1 1/2-inchs deep and heat over medium-high heat to 350 degrees. While oil is heating, combine flour, cornstarch, baking powder, ½ teaspoon salt and ¼ teaspoon pepper in a large bowl. Slowly whisk in ¾ cup beer until just combined (some lumps will remain). Whisk in remaining beer as needed, 1 tablespoon at a time, until batter falls from whisk in steady stream and leaves faint trail across surface of batter.
Adjust oven rack to middle position and heat oven to 200 degrees. Remove onions from the refrigerator and pour off liquid. Pat onion rounds dry with paper towels and separate into rings. Transfer one-third of the rings to batter. One at a time, carefully transfer battered rings to oil. Fry until rings are golden brown and crisp, about 5 minutes, flipping halfway through frying. Drain rings on prepared baking sheet, season with salt and pepper to taste, and transfer to oven. Return oil to 350 degrees and repeat 2 more times with remaining onion rings and batter. Serve.