This is what I call a healthy indulgence. No need to feel bad about eating this healthier version of chocolate pudding.
I was close to doing a sugar free boxed version, but I just couldn't bring myself to do that. Those "sugar free" foods usually have so many additives in them, it takes the whole purpose out of eating healthy in my opinion. So this is what I came up with. Chocolate pudding made with real cocoa powder, honey, low fat milk and some chocolate protein powder (you could leave this out of you'd like).
Also, I created my own version of whipped cream by using Ideal (also known as Xylitol). Feel free to use my version of whipped cream on top of your chocolate pudding or opt to leave it off. It's up to you! Enjoy!!!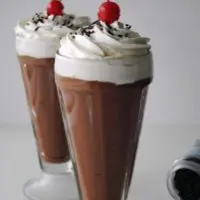 Protein Packed Chocolate Mocha Pudding
Ingredients
PUDDING
1/2 cup unsweetened cocoa powder
2 scoops chocolate protein powder
3 tablespoons cornstarch
2 cups low fat milk
1/4 cup honey
2 tablespoons strong brewed coffee
1 teaspoon vanilla extract
WHIPPED CREAM
1/2 cup heavy cream
1 tablespoon Ideal confectionery low calorie sugar substitute
1/4 teaspoon vanilla extract
Instructions
PUDDING
In a medium saucepan, whisk together the unsweetened cocoa powder, protein powder and cornstarch. Stir in the milk and honey. Bring to a boil over medium heat whisking constantly for about 8 minutes until mixture thickens.
Remove pan from the heat and stir in coffee and vanilla. Chill in the fridge for several hours until firm.
WHIPPED CREAM
In a chilled bowl of an electric mixer, using the whisk attachment, whip the cream at high speed just until it begins to thicken. Add the Ideal confectionery sugar and vanilla and beat until soft peaks form. Use for pudding topping, or cover and refrigerate.
Nutrition Information:
Serving Size:

1
Amount Per Serving:
Calories:

517
Total Fat:

12g
Saturated Fat:

6g
Cholesterol:

100mg
Sodium:

315mg
Carbohydrates:

77g
Fiber:

5g
Sugar:

34g
Protein:

35g