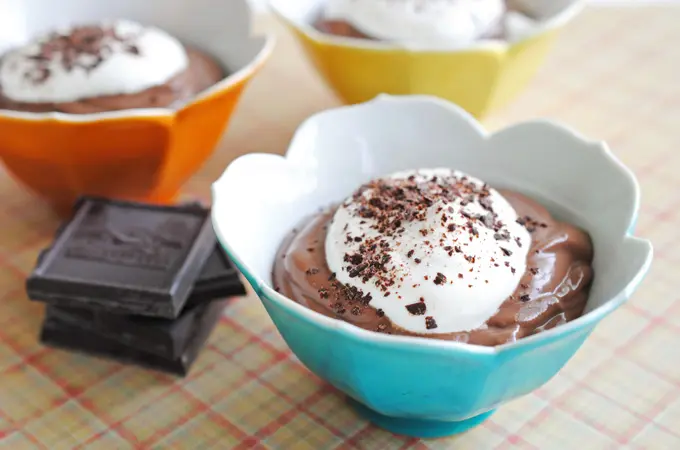 I remember pudding as one of the easiest desserts to make as a kid. And it seemed we always had a box of chocolate pudding on hand. (I think it was mainly there for my mom's chocolate fix.) Sure the box mixes are super easy to make, but so is homemade! And in my opinion, homemade chocolate pudding far exceeds those that come in powdered form.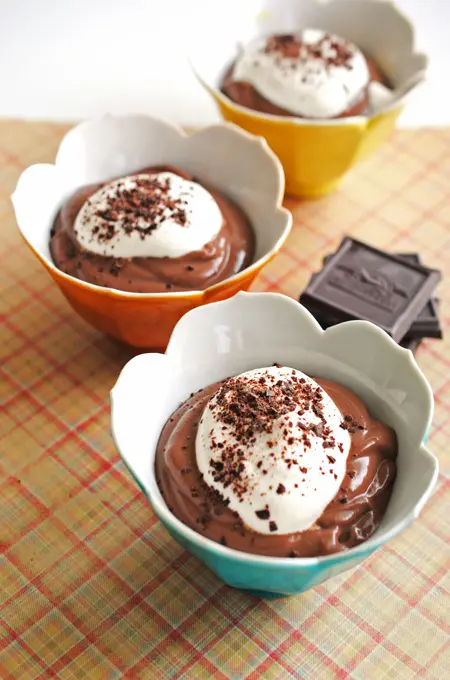 This chocolate pudding is super smooth with a deep chocolate flavor and you most likely have all the ingredients on hand to make it. Top it with a little homemade whipped cream and chocolate shavings and this chocolate pudding is ready to be devoured.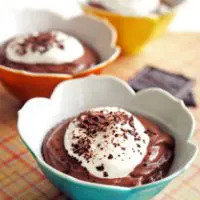 Creamy Chocolate Pudding
Ingredients
PUDDING
2 teaspoons vanilla extract
1/2 teaspoon instant coffee granules
1/2 cup granulated sugar
3 tablespoons Dutch-processed cocoa powder
2 tablespoons cornstarch
1/4 teaspoon table salt
3 large egg yolks
1/2 cup heavy cream
2 1/2 cups whole milk
5 tablespoons unsalted butter, cut into 8 pieces
4 ounces bittersweet chocolate, chopped fine
WHIPPED CREAM
1 cup heavy cream
2 tablespoons powdered sugar, sifted
1 teaspoon vanilla extract
Instructions
PUDDING
In a small bowl, whisk together the vanilla extract and instant coffee granules and set aside. Whisk sugar, cocoa, cornstarch and salt in a large saucepan. Add the egg yolks and heavy cream and whisk until combined. Then add the milk and whisk to combine.
Place the saucepan over medium heat and cook whisking constantly, until the mixture has thickened about 5 to 8 minutes. Cook for 30 more seconds, then remove from the heat and add the butter and chocolate and whisk until melted and combined. Whisk in the vanilla mixture.
Pour the pudding through a fine-mesh strainer over a large bowl. Press a lightly greased piece of plastic wrap against the surface of the pudding and place in the refrigerator to cool, about 4 hours.
WHIPPED CREAM
In a chilled bowl of an electric stand mixer, using the whisk attachment, whip the cream at high speed until it begins to thicken. Add sugar and vanilla and continue to beat until soft peaks form. Set aside.
Whisk pudding and divide into serving dishes. Add a dollop of whipped cream and garnish with a few chocolate shavings. Enjoy.
Adapted from Cooks Illustrated and The Cake Book