You'll find all your favorite fall flavors in this Pumpkin Pie with Gingersnap Crust.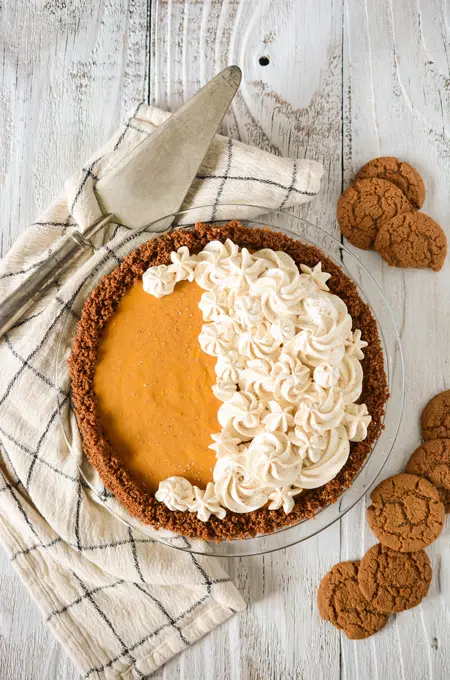 Crust
Essentially, this is a no bake pumpkin pie. However, the crust does have to bake in the oven for about 15 minutes. You could also use a prebaked crumb crust, but trust me, homemade is best here!
If gingersnaps aren't your favorite, try using graham crackers, vanilla or chocolate wafer crumbs in place of gingersnaps.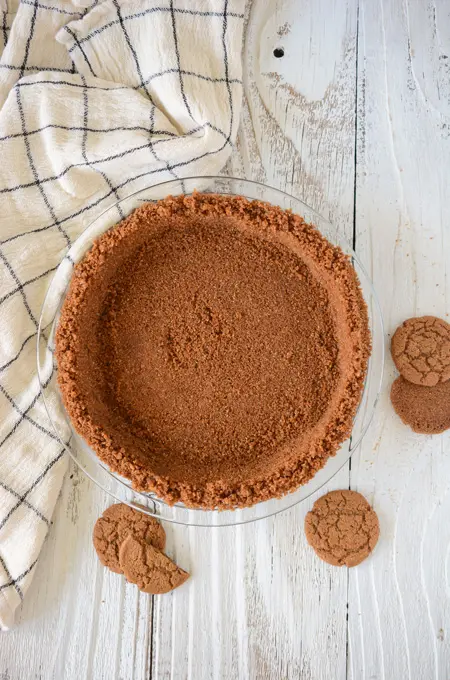 Filling
This no-bake pumpkin pie filling is silky and light, and is flavored with ground cinnamon, ginger, nutmeg and cloves. Be sure to use canned pumpkin and not pumpkin pie filling for this recipe.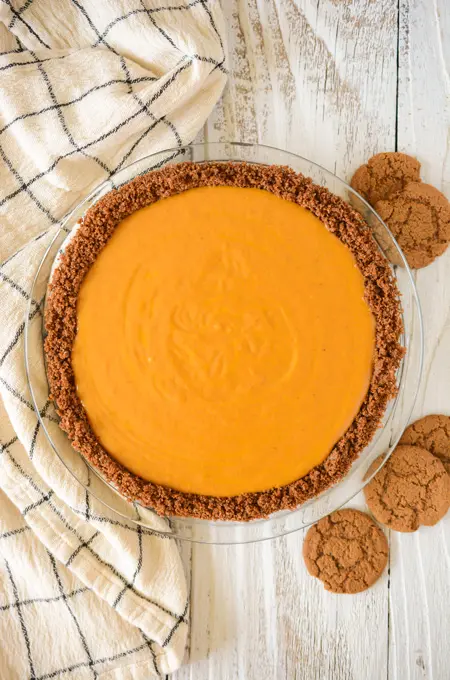 Pumpkin Pie Toppings
Feel free to have fun here. Decorate with whipped cream, freshly grated nutmeg, pumpkin candies, pumpkin pie spice, cinnamon, gingersnap crumbs or whatever you'd like. For my decorations, I used whipped cream made with brown sugar, piped with piping tips (Wilton) 1M and 108.
Plan It Out
Let's face it, holiday baking can get crazy, so planning a baking schedule always helps me stay focused and on time. Here is a baking schedule that might work for you.
Day 1: Bake the gingersnap crust.
Day 2: Prepare the no-bake filling and chill in the refrigerator.
Day 3: Prepare the whipped cream, decorate and serve. Only prepare the whipped cream the day you plan to serve this Pumpkin Pie with Gingersnap Crust.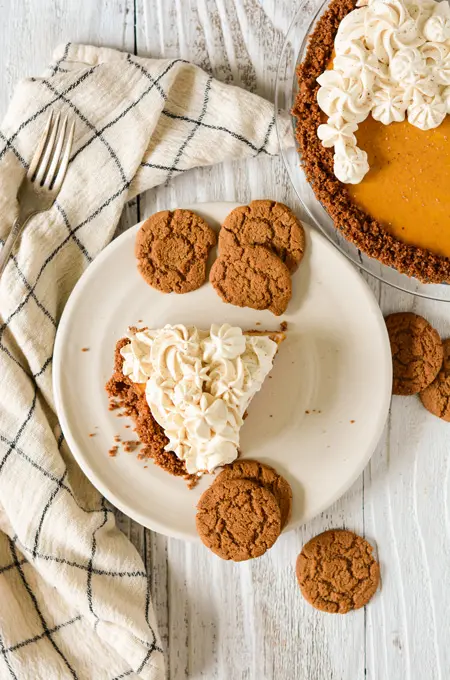 Connect
You can find The Cake Chica on Facebook, Instagram and Pinterest.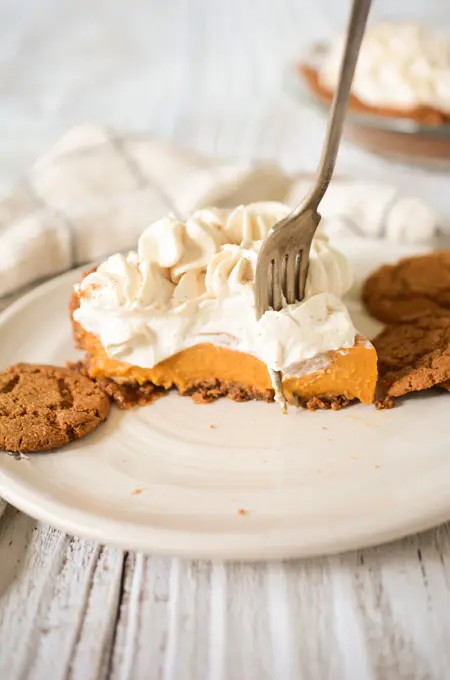 You May Also Like:
Adapted from Cook's Illustrated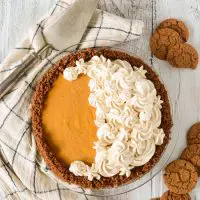 Pumpkin Pie with Gingersnap Crust
Total Time:
6 hours
53 minutes
No bake pumpkin pie filling on top of gingersnap crust, garnished with brown sugar whipped cream and freshly grated nutmeg.
Ingredients
SPECIAL TOOLS
GINGERSNAP CRUST
1 ½ cups gingersnap crumbs (about 3 cups)
5 tablespoons unsalted butter, melted
3 tablespoons sugar
PUMPKIN FILLING
3 tablespoons orange juice, chilled
2 teaspoons vanilla extract
2 teaspoons unflavored gelatin
1 cup heavy cream (divided)
2/3 cup granulated sugar (divided)
1 teaspoon ground cinnamon
¾ teaspoon table salt
½ teaspoon ground ginger
¼ teaspoon ground nutmeg
1/8 teaspoon ground cloves
3 large egg yolks
1 15-ounce can unsweetened pumpkin
BROWN SUGAR WHIPPED CREAM
½ cup light brown sugar
Pinch table salt
1 ½ cups heavy cream
2 teaspoons vanilla extract
Instructions
GINGERSNAP COOKIE CRUST
Adjust and oven rack to the center position and heat oven to 325 degrees. In a food processor, process the gingersnaps to fine and even crumbs, about 30 seconds. Sprinkle melted butter and sugar over the top of the crumbs and pulse to combine, about 5 pulses.
Pour cookie crumbs into a 9-inch pie plate and press crumbs into an even layer on the bottom and sides of the plate using the bottom of a measuring cup. Bake crust for 13 to 18 minutes, or until the crust is fragrant. Set crust aside on a wire rack to cool completely.

PUMPKIN FILLING
In a large bowl, stir orange juice and vanilla extract together. Sprinkle gelatin over the orange juice mixture and let sit until the gelatin is softened, about 5 minutes.
In a small saucepan, combine ½ cup heavy cream, 1/3 cup sugar, cinnamon, salt, ginger, nutmeg and cloves and cook over medium-low heat until bubbles start to form at the edges, and remove from the heat. In a medium bowl, whisk together the remaining 1/3 cup sugar and egg yolks until pale and thickened. Slowly, pour the hot cream into the yolk mixture, whisking constantly to temper. Return the mixture to the empty saucepan and cook over medium-low heat, stirring constantly until the mixture has thicken, about 2 minutes. Immediately pour custard over the gelatin mixture and stir until smooth and the gelatin has completely dissolved.
In a food processor, puree pumpkin until smooth, about 15 seconds. With the processor running and using the pour spout, add the remaining ½ cup heavy cream. Scrape down the sides of the bowl and process for 15 more seconds. Add the pumpkin mixture to the custard mixture and stir until completely smooth and combined.Pour the filling into the cooled prebaked pie crust and refrigerate uncovered until the filling is set, about 3 hours. Cover the pie with plastic wrap and continue to chill until fully set, at least 6 hours and up to 24 hours.

WHIPPED CREAM
In the bowl of a stand mixer, fitted with the whisk attachment, combine all of the whipped cream ingredients and beat on medium-low speed until the sugar is dissolved, about 1 minute. Increase the mixer speed to medium-high speed and beat until cream has thickened and holds firm peaks.
ASSEMBLE
Fit 2 piping bags with Wilton piping tips 1M and 108. Divide whipped cream between piping bags and decorate with rosettes.
Notes
Store: Assembled pie can be stored in an airtight container in the refrigerator for 24 hours.
Prepare whipped cream the day the pie will be served.
Nutrition Information:
Yield:

8
Serving Size:

1
Amount Per Serving:
Calories:

724
Total Fat:

42g
Saturated Fat:

24g
Trans Fat:

1g
Unsaturated Fat:

16g
Cholesterol:

196mg
Sodium:

515mg
Carbohydrates:

79g
Fiber:

3g
Sugar:

49g
Protein:

9g
*Nutrition information is an estimate and will vary.*