Well I hope everyone had a happy New Year. I wanted to start the New Year off with something on the lighter side, like these Protein Coconut Cupcakes. I know this is the time of year everyone starts their new diets and workout programs and that's great! I myself am on Jamie Eason's Live Fit Trainer and have just 3 more weeks to go on it! I started to see the most progress in phase 3 so I am glad I didn't give up early on, just stick with it and do your best! While on this program I also have used a few of Jamie Eason's recipes like this Cinnamon Swirl Protein Bread, and in my opinion is a healthier alternative to a cinnamon roll. And it's also where I got the inspiration for these cupcakes! I used organic brown sugar to sweeten the cupcakes and used a reduced fat cream cheese frosting. For the finishing touch I toasted unsweetened coconut flakes and sprinkled them on top of the cupcakes for the finishing touch!
Whatever your goals and resolutions may be, I wish you the best of success in the New Year.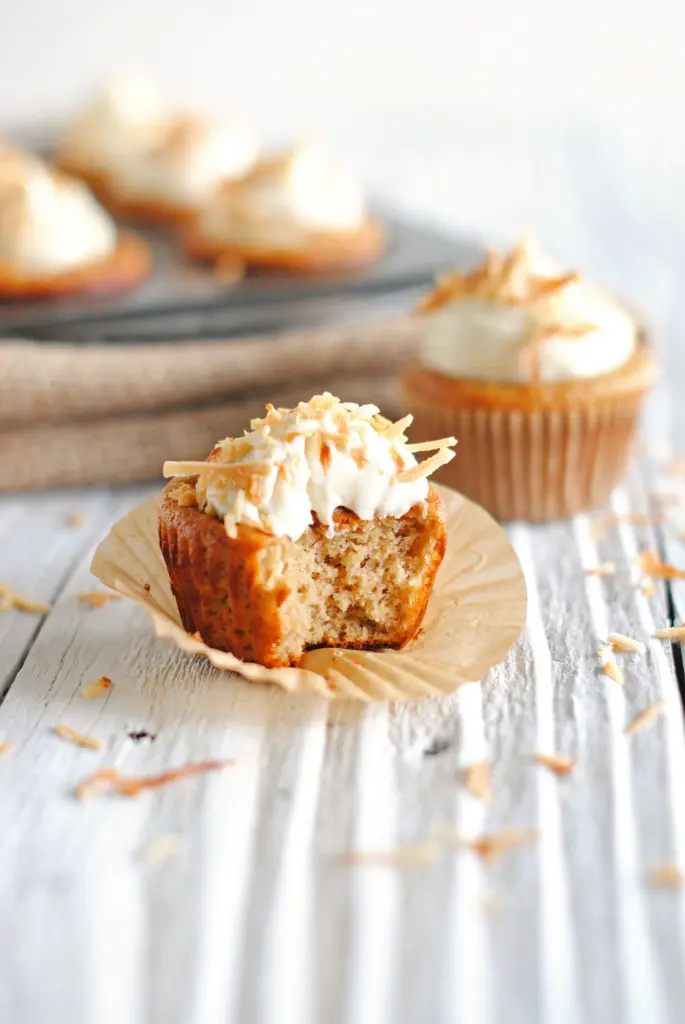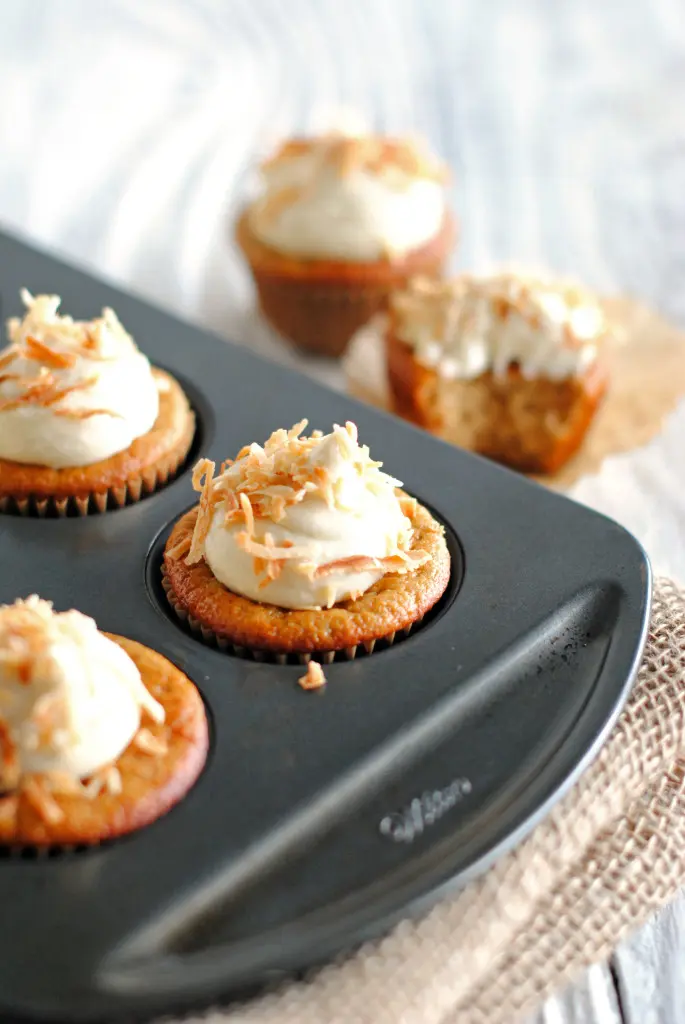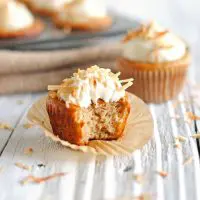 Protein Coconut Cupcakes
Ingredients
COCONUT
1/2 cup organic unsweetened coconut flakes
CAKE
1 1/2 cups oat flour
2 scoops vanilla whey protein
1 teaspoon baking soda
½ teaspoon table salt
1 cup organic brown sugar
1/2 cup organic unsweetened applesauce
1/2 cup plain Greek yogurt
2 egg whites
1 cup unsweetened coconut milk
2 teaspoons coconut extract
FROSTING
12 ounces reduced fat cream cheese, softened
1 teaspoon vanilla extract
1 ½ cups powdered sugar, sifted
Instructions
COCONUT
Adjust an oven rack to the middle position. Heat your oven to 350 degrees. Spread coconut evenly on a baking sheet and bake until golden brown about 10 minutes, stirring half way through. Remove coconut from oven and set aside to cool.
CAKE
Adjust your oven's temperature to 375 degrees. Line muffins tins with cupcake liners or spray with nonstick spray. In a large bowl whisk together oat flour, protein powder, baking soda and salt. In a medium-sized bowl whisk together brown sugar, applesauce, yogurt, egg whites, coconut milk and coconut extract. Add the wet ingredients to the dry ingredients and whisk to combine. Using an ice cream scoop or ¼ cup, measure out cake batter into prepared cupcake pan. Bake cupcakes on middle rack for 20 minutes. Cool cupcakes in pan for 10 minutes then invert on a rack to cool completely.
FROSTING
In a large bowl, gently mix the cream cheese and vanilla together by hand with a rubber spatula. Do not use an electric mixer this will turn your frosting into soup. Add powdered sugar and combine until smooth. I it will look like it won't want to combine but it will, just keep mixing! Cover the bowl with plastic wrap and let frosting chill in the refrigerator for 1 hour until spreadable.
Once cupcakes have cooled and the frosting is ready, pipe or spread frosting on top of cupcakes and garnish with toasted coconut. Cupcakes are best eaten the day they are frosted; store covered at room temperature until ready to serve.
Nutrition Information:
Serving Size:

1
Amount Per Serving:
Calories:

272
Total Fat:

6g
Saturated Fat:

3g
Cholesterol:

15mg
Sodium:

210mg
Carbohydrates:

45g
Fiber:

3g
Sugar:

29g
Protein:

10g