I usually do a cake or something heavy like chocolate for dessert. But this time I wanted to do something different, something light or lighter I should say. I saw this recipe in Bon Appetit magazine the April 2009 issue and thought that it looked light and sexy!!! Perfect for Valentine's day dessert.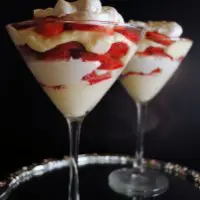 Lemon and White Chocolate Mousse Parfaits with Strawberries
Ingredients
5 large egg yolks
½ cup sugar
½ cup fresh lemon juice
4 teaspoons finely grated lemon peel
Pinch of salt
¼ cup plus 2 2/3 cups chilled heavy whipping cream
1 3.5-ounce bar high quality white chocolate (such as Lindt or Perugina), finely chopped
5 cups sliced strawberries, about 2 pounds
Instructions
Whisk egg yolks, sugar, lemon juice, lemon peel and salt in a medium metal bowl to blend. Set the bowl over a saucepan of simmering water. Whisk until mixture is very thick and thermometer inserted into center registers 160 F to 170 F, about 6 minutes. Remove the bowl from over the water. Cool lemon mousse base to room temperature.
Combine ¼ cup cream and white chocolate in another metal bowl. Set the bowl over a saucepan of barely simmering water. Stir constantly until chocolate is soft and almost melted. Remove bowl from over water and stir until chocolate is melted and smooth. Cool the white chocolate mousse base to room temperature.
Beat remaining 2 2/3 cups cream in a large bowl until firm peaks form. Divide whipped cream between both mousse bases, folding in 1 cup at a time (about 3 cups for each).
Layer scant ¼ cup lemon mousse in each of 8 parfait glasses or wineglasses (or even martini glasses), top with 2 tablespoons strawberries. Layer scant ¼ cup white chocolate mousse over strawberries. Repeat layering 1 more time.
Notes
DO AHEAD: Can be made 1 day ahead. Cover with plastic wrap and chill.