Warm Cocoa Pudding with Candied Pecans
Have you ever made pudding but hated that you had to wait until it was fully chilled to enjoy it? Well if so, this recipe is for you! You can enjoy this pudding while warm!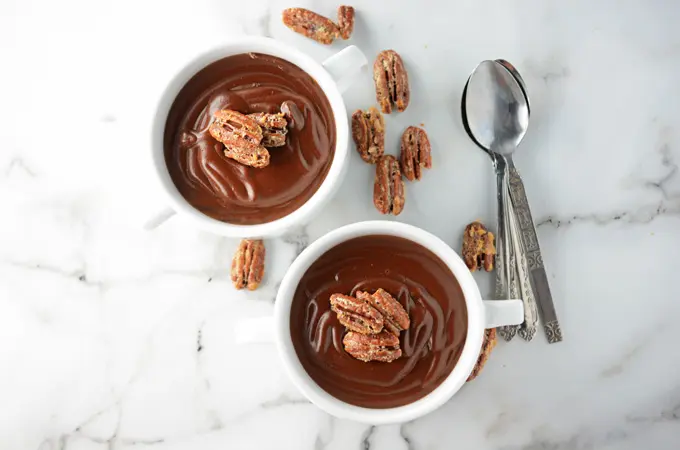 I'm so happy I found this recipe in the latest issue of Bon Appetit magazine. Warm Cocoa Pudding with Candied Pecans is a dessert served at Willa Jean in New Orleans. I have yet to visit Willa Jean but after having this, it's now on my "to try" list next time I am in New Orleans.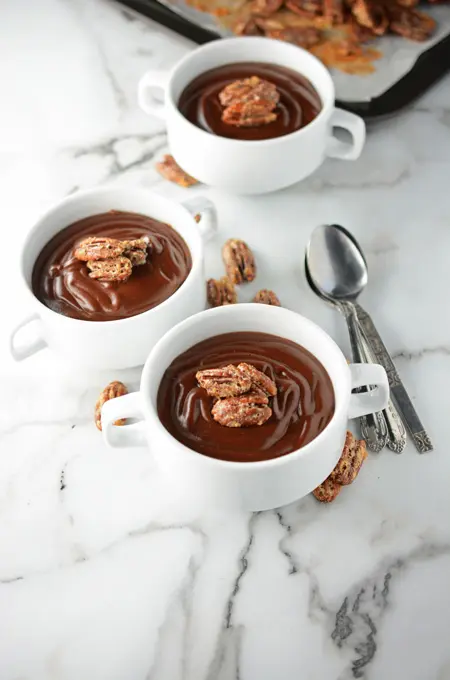 This pudding is like eating homemade hot cocoa. It's rich and decadent with a deep chocolate flavor. I've never thought of pairing chocolate pudding with candied pecans but I am glad someone did because they go together perfectly!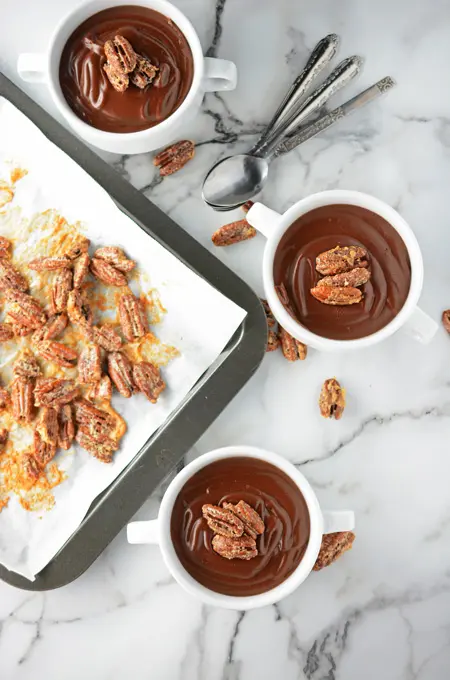 And my favorite part about this recipe is that you don't have to wait to enjoy it. That's right, as the name suggests you eat this pudding warm. The Warm Cocoa Pudding with Candied Pecans is perfect for the cooler months coming up very soon. Enjoy guys!
Don't forget to follow and like The Cake Chica on social media: Facebook, Instagram, Twitter, Pinterest and Yummly.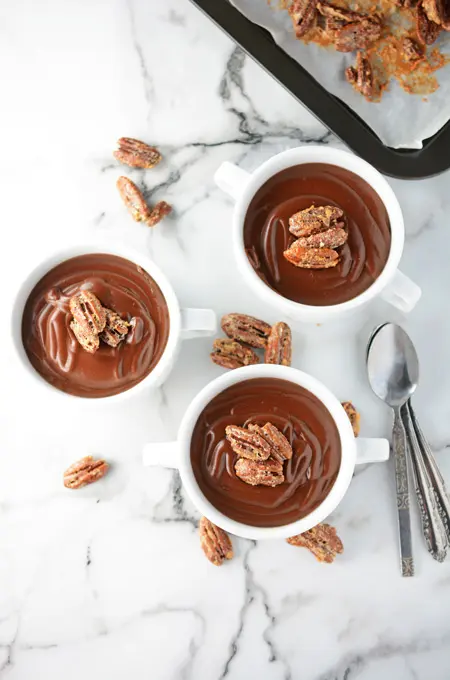 You May Also Like: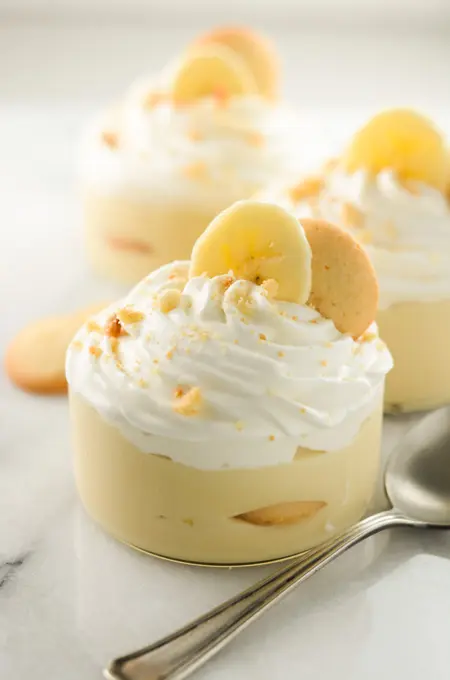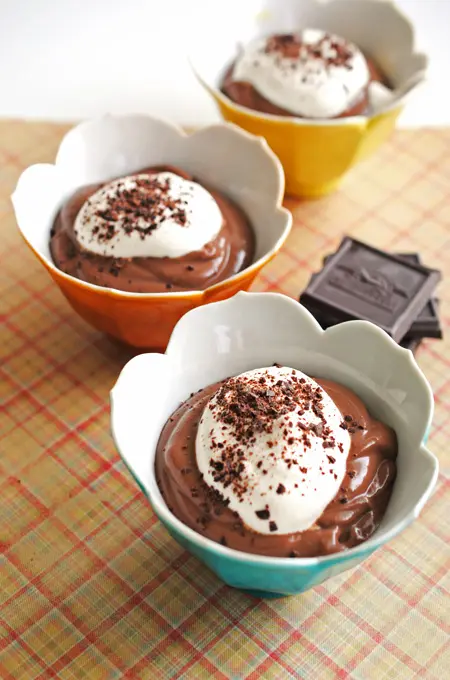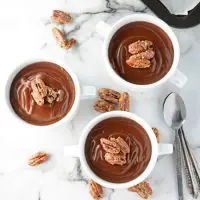 Warm Cocoa Pudding with Candied Pecans
Homemade rich chocolate pudding, topped with candied pecans and served warm.
Ingredients
CANDIED PECANS
1 large egg white
2 tablespoons sugar
1 cup pecans
PUDDING
1 ½ cups heavy cream
1 ½ cups whole milk
4 tablespoons unsalted butter
1 teaspoon vanilla extract
2 large eggs
½ cup sugar
2 tablespoons, plus 1 teaspoon cornstarch
2 tablespoons unsweetened cocoa powder
1 ½ teaspoons kosher salt
4 ounces chopped chocolate (at least 70% cacao)
Instructions
PECANS
Heat oven to 325 degrees. Whisk the egg white in a medium bowl until frothy. Once frothy whisk in the sugar. Add pecans and toss until evenly coated. Spread out on a parchment or silicon mat lined baking sheet and bake for 25 to 30 minutes, tossing every 10 minutes. Let cool.
PUDDING
Combine the cream, milk, butter and vanilla together in a medium saucepan over medium heat. Meanwhile, whisk eggs, sugar, cornstarch, cocoa powder and salt in a medium heatproof bowl to combine.
Once the cream mixture reaches a simmer, remove from the heat and whisking constantly, very gradually add 1/3 of the cream mixture to the egg mixture. Whisk tempered egg mixture into cream mixture in the saucepan. Cook over medium heat, whisking constantly until the mixture thickens and is bubbling, about 2 minutes. Remove from the heat and add the chopped chocolate and whisk until melted and pudding is smooth. Divide into 4 bowls and top with candied pecans.
Notes
DO AHEAD:Pecans can be stored in an airtight container for 1 week at room temperaturePudding can be made 2 days ahead. Press plastic wrap directly onto the surface of the pudding and chill. Reheat gently in a heatproof bowl set over a pan of simmering water before serving.
Nutrition Information:
Yield:

4
Serving Size:

1
Amount Per Serving:
Calories:

983
Total Fat:

78g
Saturated Fat:

37g
Trans Fat:

1g
Unsaturated Fat:

35g
Cholesterol:

287mg
Sodium:

934mg
Carbohydrates:

61g
Fiber:

4g
Sugar:

54g
Protein:

15g
*Nutrition information is an estimate and will vary.*
Did you make this recipe? I'd love to see it! Tag The Cake Chica on Instagram @thecakechica1 #thecakechica1