Breakfast or dessert whatever you choose, these tender Mixed Berry Scones with Sugar Drizzle are the perfect accompaniment with your morning coffee or for late night snacking.
Kneading The Dough
Before kneading the dough, flour your work surface liberally and turn the dough out on to the prepared work surface. With well floured hands, knead the dough briefly just until the ingredients are incorporated.
If you knead it too much the dough will develop more gluten, creating tough scones.

Shape The Scones
Once the dough is kneaded and shaped into an 8-inch round, cut out 8 wedges using a knife or a bench scraper.
Tip: Coat your bench scraper or knife with a bit of flour to be sure it does not stick to the dough while cutting.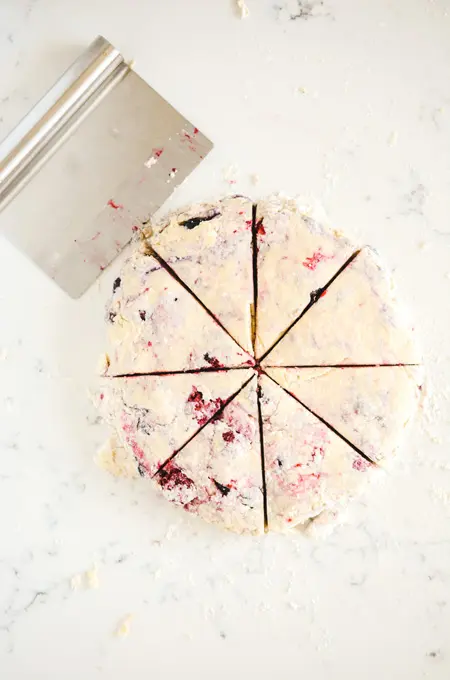 Bake
Bake the scones in a 425 degree oven for 15 minutes, rotating pan halfway through baking. Top with glaze and continue to bake for 5 more minutes.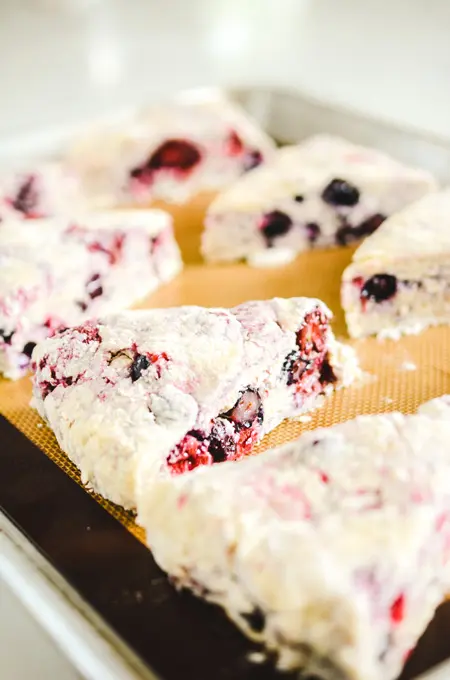 Glaze
This simple glaze of melted butter and honey adds a little bit of extra sweetness as well as a beautiful golden hue to your Mixed Berry Scones.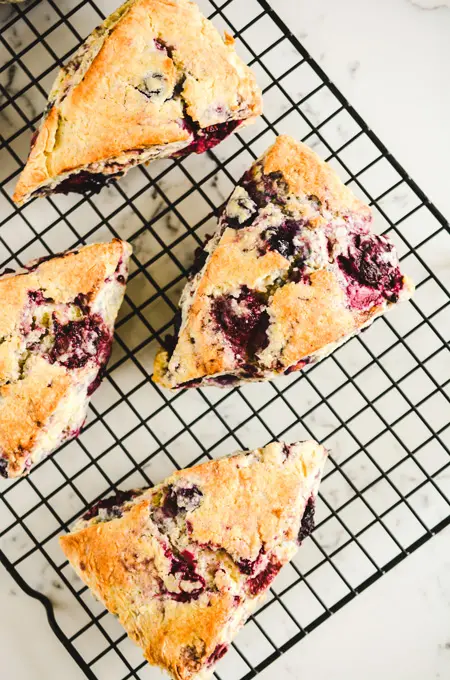 Sugar Drizzle
This sugar drizzle is totally optional but I just can't have a scone without some sweet icing. Best of all, this icing is the easiest to make. Just some powdered sugar and milk in the appropriate proportions and you've got a sweet and attractive glaze!
I used milk in this glaze but you can also use:
water
heavy cream
alcohol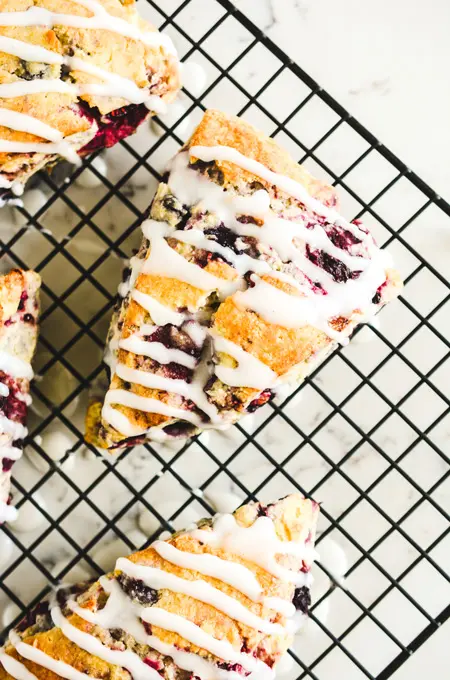 Mixed Berries
I love berries so much I can hardly choose my favorite. Thankfully they make frozen packs of mixed berries making my frozen berries choice as easy as possible. But you can also substitute an equal amount of frozen blueberries, raspberries, cherries and blackberries. You can also substitute strawberries but they may need to be cut in half or chopped.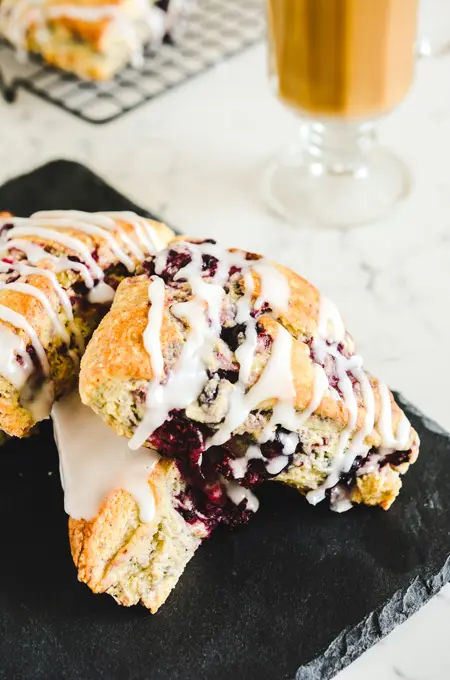 Freezing Option
These scones can be frozen for up to 2 months. After cutting them into triangles, transfer the scones to a baking sheet lined with parchment paper or silicone mat and freeze. Once the scones are frozen, transfer scones to a freezer zip top bag and freeze.
Bake frozen scones in a 375 degree oven for about 25 minutes. Brush glaze on and bake for about 8 minutes more. Continue with the recipe as instructed.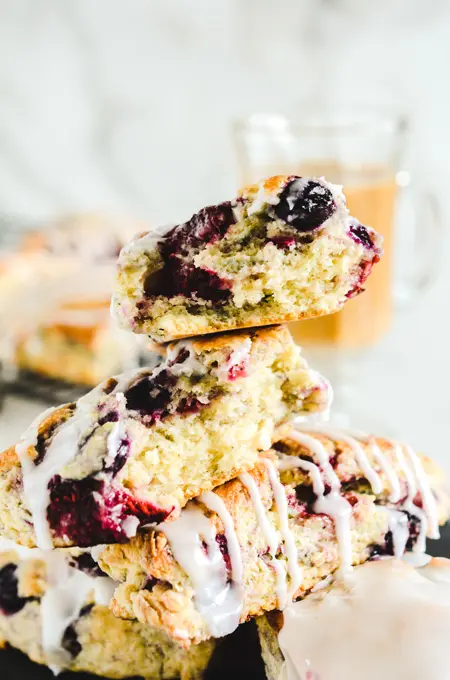 Lets Connect
The Cake Chica is on Facebook sharing sneak peeks of recipes to come. Instagram for your food porn desires and Pinterest for your board pinning needs.
You May Also Like
---
Adapted from Cook's Country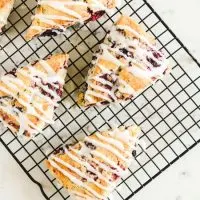 Mixed Berry Scones with Sugar Drizzle
Additional Time:
10 minutes
Light and tender scones made with frozen berries and drizzled with a sweet and simple icing.
Ingredients
SPECIAL TOOLS
SCONES
8 ¾ ounces (1 ¾ cups) frozen mixed berries
3 tablespoons powdered sugar
3 cups (15 ounces) all-purpose flour
12 tablespoons unsalted butter, cut into ½-inch pieces and chilled, divided
1/3 cup (2 1/3 ounces) granulated sugar
1 tablespoon baking powder
1 ¼ teaspoon table salt
¾ cup plus 2 tablespoons whole milk
1 large egg plus 1 large egg yolk
GLAZE
2 tablespoons unsalted butter, melted
1 tablespoon honey
SUGAR DRIZZLE
2 ½ cups (11 ounces) powdered sugar, sifted
6 tablespoons whole milk
Instructions
SCONES
Adjust an oven rack to the upper middle position and heat oven to 425 degrees. Line a rimmed baking sheet with parchment paper or silicone mat and set aside. In a medium sized bowl, toss frozen berries with powdered sugar and freeze until
needed.
In a food processor, process the flour, 6 tablespoons of butter, granulated sugar, baking powder and salt. Process until the butter is fully incorporated, about 15 seconds. Add the remaining 6 tablespoons of butter and pulse until the butter has formed pea sized pieces, about 12 pulses. Transfer the flour mixture to a large bowl and add in the sugared frozen berries and stir to combine.
In a small bowl, beat together the milk, egg and egg yolk together. Make a well in the center of the flour mixture and pour in the milk mixture. With a rubber spatula, gently fold the mixture by scraping the sides of the bowl and folding inward until the dough forms. Do not over mix. Some bits of dry flour will remain.
On a floured surface, turn out dough and knead briefly with well floured hands, just until the dough comes together, about 5 turns. Shape dough into an 8 inch disc and with a bench scraper or knife, cut into 8 wedges. Place scones about 1 ½ inches apart on the prepared pan. Bake until the scones are light and gold in color, about 15 minutes, rotating the pan halfway through baking. While the scones bake, prepare the glaze.

GLAZE
In a small bowl, combine the melted butter and honey. Remove the scones from the oven and brush the tops of the scones with the glaze. Return baking sheet back into the oven and continue to bake for another 5 minutes until the scones are golden brown. Transfer scones to a cooling rack to cool for at least 10 minutes.
SUGAR DRIZZLE
In a medium bowl, whisk together the powdered sugar and milk until smooth. Once the scones have cooled, drizzle sugar glaze on top of each scone with a spoon or set up a piping bag with the glaze for a more controlled drizzle. The sugar drizzle will firm up quickly and will by dry to the touch.
Notes
MAKE AHEAD:
Unbaked scones can be frozen for several weeks. After cutting scones into triangles, freeze them on a baking sheet. Transfer frozen scones to a zipper-lock freezer bag. When ready to bake, heat oven to 375 degrees and extend cooking time to 23 to 26 minutes. Glaze time in will remain at 5 minutes.
Nutrition Information:
Yield:

8
Serving Size:

1
Amount Per Serving:
Calories:

479
Total Fat:

24g
Saturated Fat:

14g
Trans Fat:

0g
Unsaturated Fat:

8g
Cholesterol:

124mg
Sodium:

544mg
Carbohydrates:

60g
Fiber:

7g
Sugar:

17g
Protein:

9g
*Nutrition information is an estimate and will vary.*