Apple Cinnamon Turnovers are flaky little pockets of pastry full of apple cinnamon compote. The apple compote is slightly sweet with a hint of cinnamon for warmth.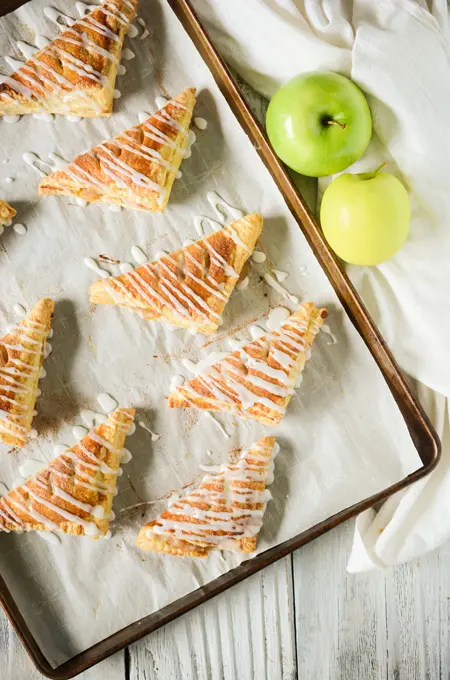 Apples
For baking I liked to use a mix of apples. My favorites are Granny Smith and Golden Delicious apples.
Granny Smith apples are great for baking because they are tart and they keep their shape well after baking. Golden Delicious apples are great because they add sweetness and they break down when cooked, creating a nice compote. So you get the best of both worlds. I also use this apple blend for my apple pie filling.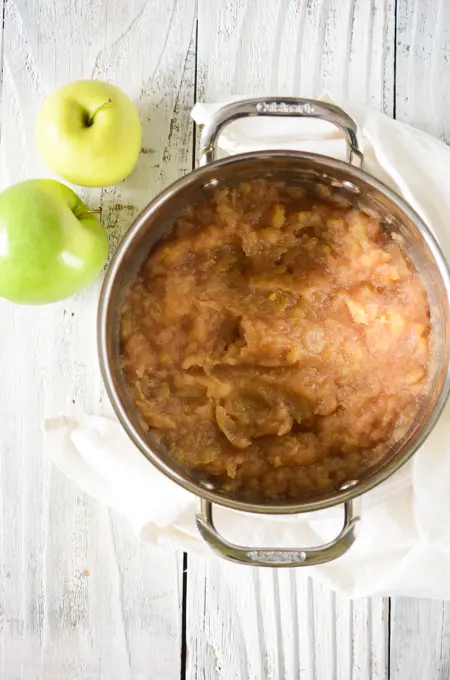 Apple Substitutions
Granny Smith apple: Jonagold, Jonathan, Braeburn and Rome
Golden Delicious apple: Honey Crisp, Gala, Stayman and Rome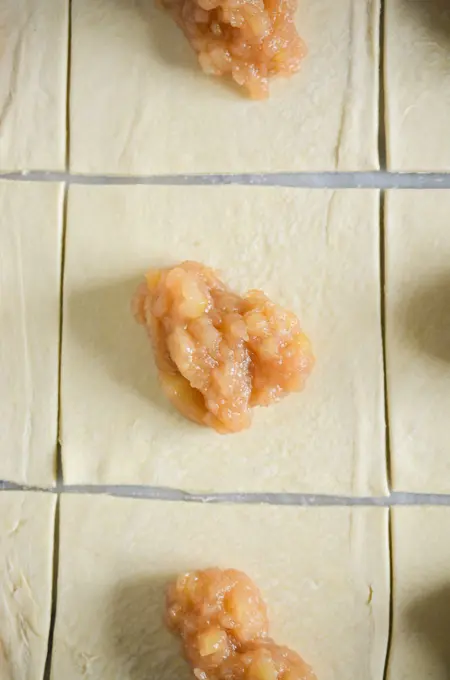 Filling
This filling is somewhere between a chunky filling and a smooth filling. For a more chunky filling, don't mash the apples after cooking. Or, for a more smooth filling, like an apples sauce filling, mash the apples with a potato masher until smooth.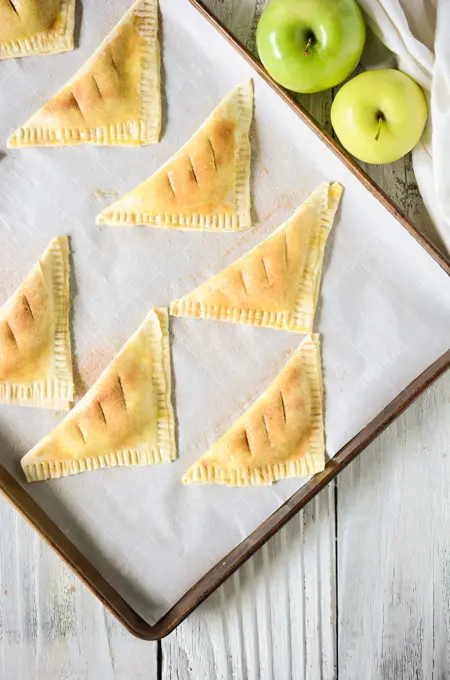 Make Ahead
If you plan on making these for the holiday season I've got good news for you. This apple filling can be made up to 2 days in advance. Store in an air tight container in the refrigerator until you're ready to bake the Apple Cinnamon Turnovers.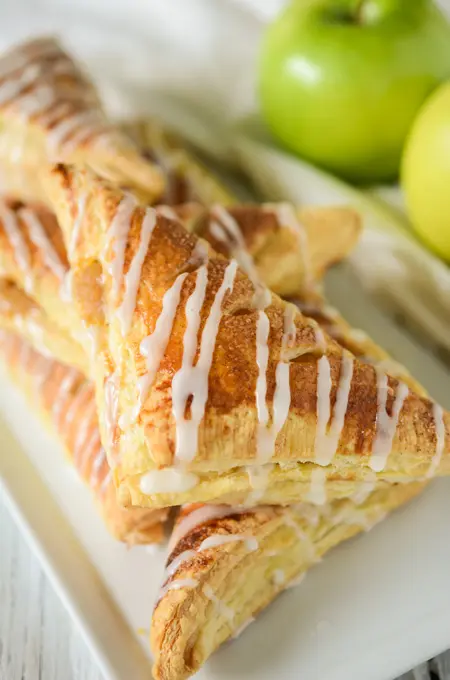 Icing Drizzle
Personally, I love a good icing drizzle. And it's so easy to make. I start with about 1 cup powdered sugar and add about 1 tablespoon water. Depending on the consistency you want, you may need to add more or less. So I typically start with 1 tablespoon water and go from there.
Decorate
To make things look as perfect as possible, I pour the icing in a piping bag fitted with a piping tip, such as Wilton's #7 and drizzle the icing over the top of the Apple Cinnamon Turnovers. But, a spoon would also work, the drizzle just may not look as consistent.
You May Also Like: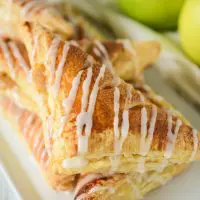 Apple Cinnamon Turnovers
Additional Time:
15 minutes
Total Time:
1 hour
20 minutes
Little pockets of flaky pastry filled with apple compote.
Ingredients
CINNAMON-SUGAR
2 tablespoon granulated sugar
1 teaspoon ground cinnamon
FILLING
¾ pound Granny Smith apples, peeled, cored and cut into 1-inch pieces
¾ pound Golden Delicious apples, peeled, cored and cut into 1-inch pieces
1/4 cup water
3 tablespoons granulated sugar
¼ teaspoon ground cinnamon
3/4 teaspoon fresh lemon juice
PASTRY
17.3 ounce puff pastry, thawed
1 large egg, beaten
ICING DRIZZLE
1 cup powdered sugar
1-2 tablespoons water (more or less depending on desired consistency)
Instructions
CINNAMON-SUGAR
In a small bowl combine the sugar and cinnamon and set aside.
FILLING
Place apples in a medium saucepan, and add water, sugar, cinnamon and lemon juice. Bring to a boil on high heat, stirring occasionally until the sugar dissolves. Cover and reduce the heat to medium-low and simmer until the apples are tender, stirring often, about 12 minutes. Remove from the heat and gently mash the apples with a potato masher or fork until soft but still chunky. Cool apples completely.

Adjust and oven rack to the center position and heat oven to 400 degrees. Line one full sized or two half sized baking sheets with parchment paper and set aside.
PASTRY
On a lightly floured surface, roll out each pastry sheet into a 15-inch square, and place on top of each other. Cut pastry into 9 5-inch squares. Place a heaping tablespoon in the center of the 9 squares and lightly brush the edges with beaten egg. Fold the pastry square over the filling to create a triangle. Press the pastry edges with fingers or the tines of a fork to tightly seal. Lightly brush the pastry with beaten egg and sprinkle cinnamon-sugar on top. You don't have to use all of the cinnamon-sugar. Save the remaining for another use. Repeat this process with the remaining squares. With a thin sharp knife, make 3 small slits on the top of each pastry to allow the steam to escape. Place pastries on prepared baking sheet and refrigerate for about 15 minutes until firm.
Bake the turnovers in the oven for about 15 minutes until they start to brown. Rotate baking sheet and reduce the oven temperature to 350 degrees and continue to bake until the turnovers are firm and browned, about 15 minutes. Remove from the oven and set aside to cool.
While the turnovers are cooling, prepare the icing. Once turnovers have cooled, drizzle or spread the icing on top and serve.
Notes
Apple filling can be made 2 days in advance. Store in an airtight container in the refridgerator.
Nutrition Information:
Yield:

9
Serving Size:

1
Amount Per Serving:
Calories:

431
Total Fat:

22g
Saturated Fat:

3g
Trans Fat:

0g
Unsaturated Fat:

17g
Cholesterol:

21mg
Sodium:

148mg
Carbohydrates:

55g
Fiber:

3g
Sugar:

27g
Protein:

5g
*Nutrition information is an estimate and will vary.*