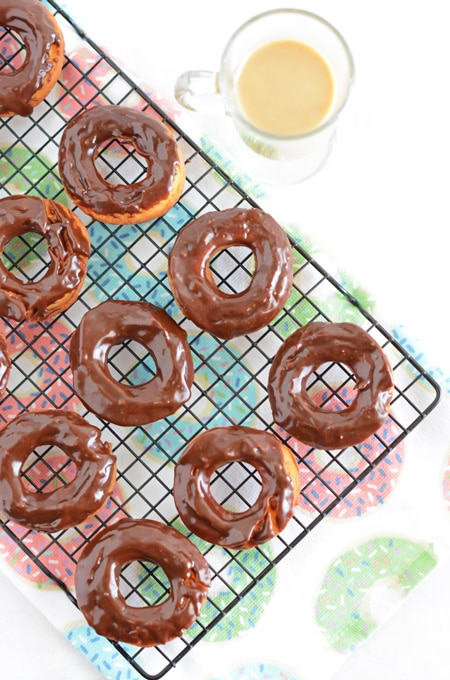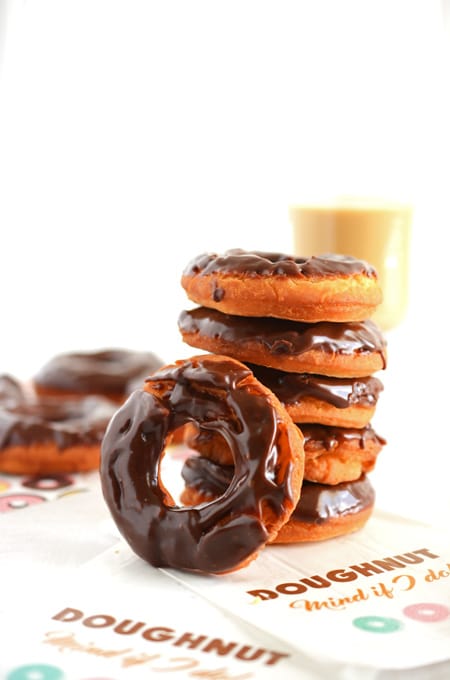 If I didn't have a lot of cake experience, then I might have had a doughnut focused blog! Doughnuts are my jam. I love them even more than cake!!! But not just any old doughnut, it's gotta be the Old-Fashioned kind, with chocolate glaze! Oh man no matter what kind of day I've had or whatever is going on in life when I have an Old-Fashioned Sour Cream Chocolate Doughnut with Chocolate Glaze I am in food heaven, at least temporarily. Oh you can't forget the coffee. Dipping that doughnut in that coffee is the best way to eat these doughnuts.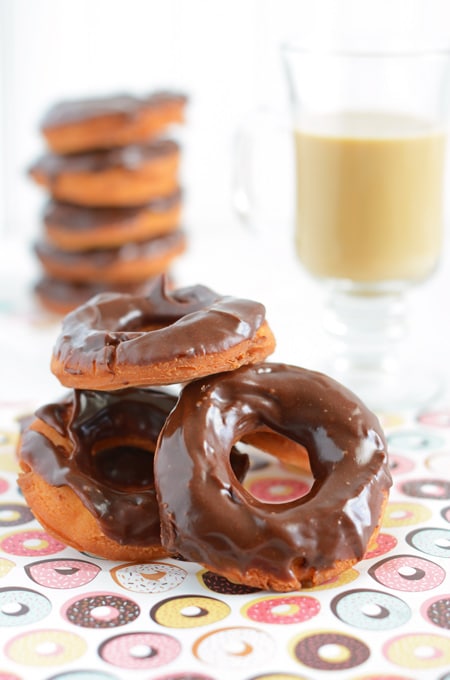 It took me a little while to get this recipe down. I strive for perfection, especially in something I love so much such as Old-Fashioned Doughnuts. I had to do it justice and wanted to make it worth while making at home then going to the doughnut shop to buy. Old-fashioned doughnuts should have a golden brown color and a crispy texture on the exterior. The interior should be light in color and fluffy. Luckily these doughnuts keep well for about 1 or 2 days. So you can make them the night before and have breakfast ready to go when you wake up the next morning!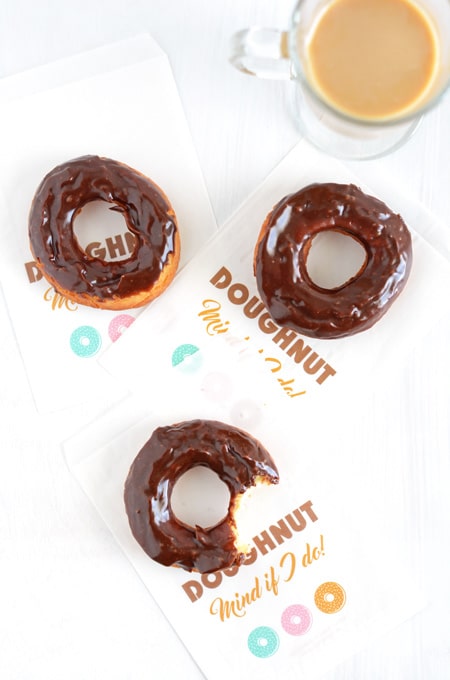 Sure you can easily get your doughnuts at the doughnut shop but the satisfaction you'll feel knowing you can make your own at home is an amazing feeling! These doughnuts require a little more attention, they're made with sour cream and extra leavening and turned twice during frying. But those beautiful ridges that form during frying are perfect for the glaze to sink into. I did roll mine out a little on the thin side. Next time I'll be sure to use my ruler to measure to exactly 1/2-inch thickness to make them even more fluffed up.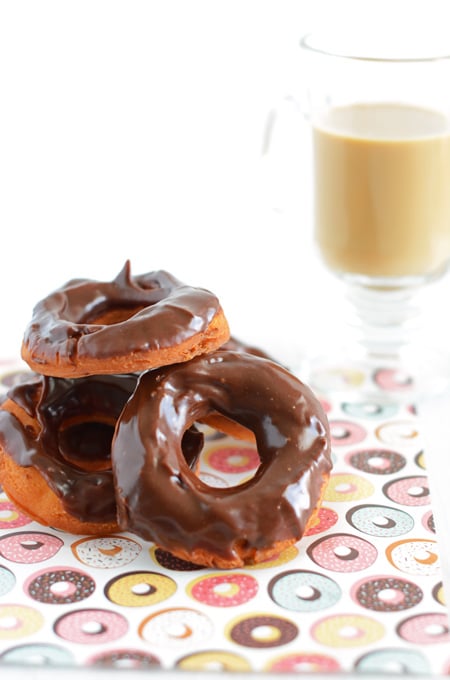 Don't forget to follow The Cake Chica on social media: Facebook, Instagram, Pinterest and Twitter. You can also subscribe to my newsletter called The Weekly Recap, where I will send out one email per week with the latest recipe link as well as what's coming up. Talk with you next week!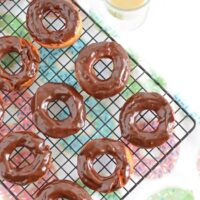 Old-Fashioned Sour Cream Doughnuts with Chocolate Glaze
Ingredients
Candy Thermometer
Doughnut Cutter
Dutch Oven
Stand Mixer
2 ¼ cup cake flour, plus more for rolling and cutting
1 ½ teaspoon baking powder
1 teaspoon table salt
¾ ground nutmeg
½ cup granulated sugar
2 tablespoons shortening, preferably trans-fat free
2 large egg yolks, at room temperature
2/3 cup sour cream, at room temperature
Canola oil for frying
4 ounces semi sweet or bittersweet chocolate, chopped
¼ cup (1/2 stick) unsalted butter
¼ cup water
1 1/3 cup powdered sugar, sifted
Instructions
DOUGHNUTS
Sift the flour, baking powder, salt and nutmeg together in a medium bowl and set aside. 
In a stand mixer fitted with the paddle attachment. On low speed, mix the sugar and shortening until sandy, about 1 minute. On medium speed, add the egg yolks and mix for 1 more minute, scraping down the sides of the bowl as necessary until the mixture is light in color and thick. 
On low speed, add the dry ingredients to the wet ingredients, alternating in three separate additions with the sour cream, mixing until just combined. Scrap the sides of the bowl as needed. The dough will be sticky like biscuit dough. 
Transfer the dough to a clean bowl and refrigerate, covered with plastic wrap for 45 minutes, or up to 24 hours.
On a well-floured counter or cutting board, roll out chilled dough to about ½ inch thickness, flouring top of the dough and rolling pin as necessary to prevent sticking. Cut out as many doughnuts and holes as possible, dipping the cutter in flour before each cut. Fold and gently reroll the dough to make extra holes (working with floured hands makes the dough less sticky), and cut again. Be sure not to work the dough too much. This creates a tough doughnut. Let doughnuts sit at room temperature for at least 20 minutes before frying. This step helps to create a thin crust on top and helps keep the doughnuts from absorbing too my oil during frying.
Pour oil in a deep fryer, Dutch-oven or large pot and fill with oil measuring about 2 inches up the sides. With a candy thermometer, heat oil to 325 degrees.
Shake any excess flour off the doughnuts before carefully adding them to the hot oil. Fry just a few doughnuts at a time to prevent overcrowding. Once the doughnuts float, fry for 15 seconds, then gently flip them over with a wire skimmer. Fry for 75 to 90 seconds, until golden brown and cracked, then flip and fry the first side again for 60 to 75 seconds until golden. Transfer to a cooling rack, set over paper towels to drain. Be sure your oil temperature is at 325 degrees before frying the next batch, 2 or 3 doughnuts at a time.
GLAZE
Melt chocolate, butter, and water in a double boiler over low heat, stirring constantly.  
Remove from the heat and whisk in the powdered sugar. Dip one side of each doughnut into the glaze, then place on a cooling rack, (glazed side up) on top of paper towels to drain. Let stand until the glaze is set. About 1 hour.

Adapted from Top Pot Hand-Forged Doughnuts
 and Joy of Cooking