If you're looking for a simple dinner that's full of flavor then look no further. My Mexican Chicken and Rice Bowls are made with jasmine rice, seasoned with turmeric and chicken broth. The chicken breast is seasoned with taco seasoning and topped with a simple to make salsa that's full of flavor and garnished with a dollop of sour cream that has a hint of lime flavor.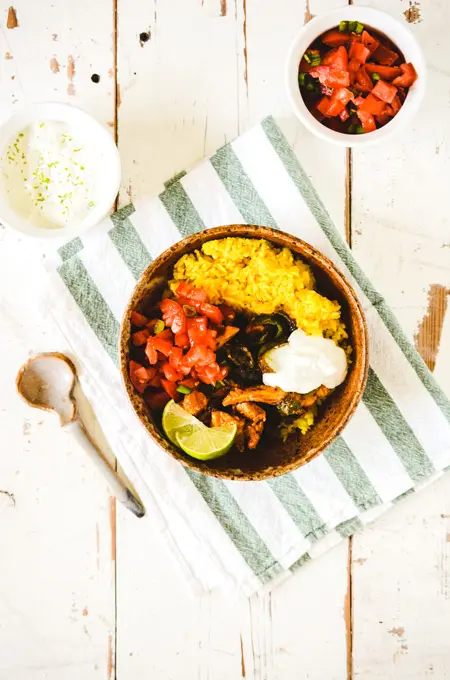 Why Rinse Your Rice?
Rinsing white rice washes away the starches on the surface which helps them cook up lighter and more fluffy. But this is not the case with brown rice. Brown rice still has the bran intact so rinsing is not needed.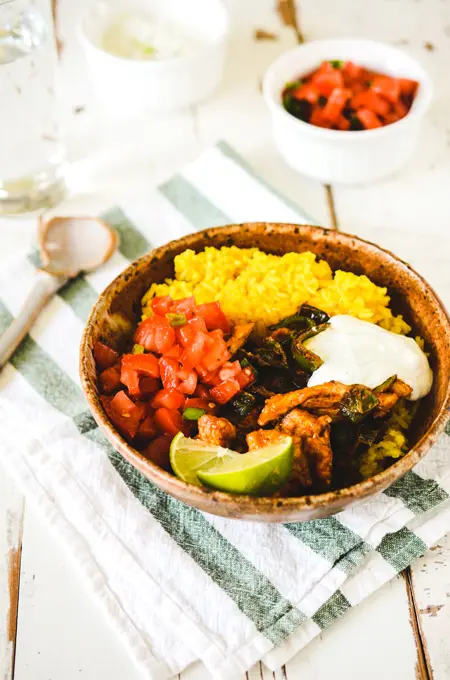 Prep It!
If you've been following The Cake Chica for awhile you might have noticed I usually have a section in my posts titled "Plan It Out". Which is mostly for my baking recipes, but I find you can also "Plan Out" your dinners too! By prepping your ingredients beforehand it helps the cooking process run more smoothly. This also means reading the recipe ahead of time so you're ready to go once you're in the kitchen and you can make the most of your time.
rinse the rice
chop the peppers
pat dry the chicken with paper towels, cut into strips and season with salt and pepper
chop the tomatoes
slice the scallions
Lets Connect
The Cake Chica is on Facebook sharing sneak peeks of recipes to come, Instagram for all your food desires and Pinterest for your board pinning needs.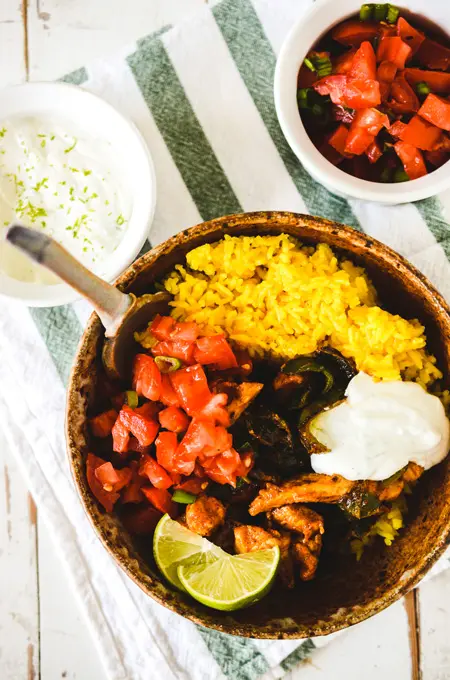 You May Also Like
Adapted from Hello Fresh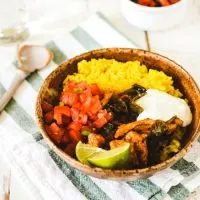 Mexican Chicken and Rice Bowls
Taco seasoned chicken breast strips on top of jasmine rice flavored with turmeric and topped with fresh salsa and sour cream with a hint of lime.
Ingredients
RICE
3 cups chicken stock
½ teaspoon turmeric
2 cups jasmine rice, rinsed
1/8 teaspoon kosher salt
2 tablespoons unsalted butter
CHICKEN
2 tablespoons olive oil
2 poblano peppers, halved, cored and thinly sliced
24 ounces organic chicken breast, cut into 2-3-inch strips
½ teaspoon kosher salt
¼ teaspoon black pepper
1 pack (1.1 ounces) taco seasoning
2 tablespoons unsalted butter
SALSA AND CREAM
4 Roma tomatoes, chopped
4 scallions, thinly sliced
2 limes, (plus more for serving) zested and juiced
½ cup sour cream
Salt and pepper to taste
Instructions
RICE
In a medium sized saucepan, combined chicken stock and turmeric. Bring to a boil. Stir in the rice and 1/8 teaspoon salt. Cover and reduce the heat to a low and simmer for 15 to 18 minutes. Remove from the heat and stir in 2 tablespoons unsalted butter. Cover to keep warm until serving.

CHICKEN
Coat a stainless steel pan with olive oil. Heat on medium-high and add poblano peppers. Cook until softened, about 3 minutes. Pat chicken dry with paper towels and season with salt and pepper. Coat chicken with taco seasoning. Add chicken to the pan and cook until the chicken is cooked through, about 5 minutes. Stir in 2 tablespoons unsalted butter and remove from the heat.
SALSA AND CREAM
While the chicken cooks, make the salsa. In a bowl, combined the tomatoes, scallions and lime juice, more or less to suite your taste. In a small bowl combine the sour cream, lime zest and salt and pepper to taste.
SERVE
Divide rice among 4 bowls, top with chicken and peppers and garnish with salsa and cream. Enjoy.
Notes
This makes 4 large servings or 6 sensible servings.
Nutrition Information:
Yield:

4
Serving Size:

1
Amount Per Serving:
Calories:

691
Total Fat:

32g
Saturated Fat:

13g
Trans Fat:

0g
Unsaturated Fat:

16g
Cholesterol:

197mg
Sodium:

898mg
Carbohydrates:

35g
Fiber:

2g
Sugar:

7g
Protein:

61g
*Nutrition information is an estimate and will vary.*