Well it looks like I've saved the best for last (my Pumpkin Pie with Gingersnap Crust being a close second). My last recipe for 2019 are Gingerbread Cupcakes. They're dark and super moist with a flavor that will make your eyes roll to the back of your head and your mouth say "oh yeah"! And with a spice blend of ground ginger, white pepper, cayenne pepper and FRESH ginger…yes fresh ginger it should come as no surprise.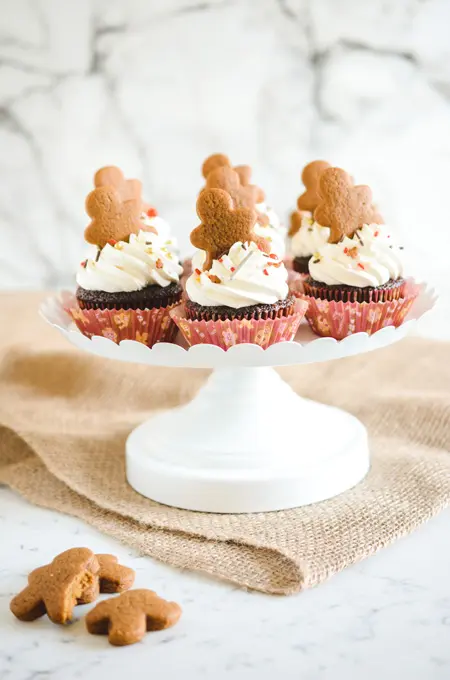 Swiss Meringue Buttercream Tips:
A classic Swiss Meringue Buttercream is what I chose to frost these Gingerbread Cupcakes. But I bet royal icing would be pretty good as well, and it's a little easier to make if I'm being honest. If you choose to do the Swiss Meringue Buttercream like I did, then here are a few tips that will make it a breeze to prepare.
Make sure your mixer bowl, whisk and paddle attachment are super clean and free of grease. Use a damp paper towel with lemon juice and wipe down your equipment.
Be sure you whisk the egg whites and sugar together thoroughly so the egg whites don't start to cook on their own.
Butter should be at room temperature or just slightly warmer. Too cold or too warm butter can ruin your buttercream. I typically leave my butter out for about 8 hours or overnight. Depending on the time of year it is or the temperature of your home, the butter may need more or less time out on the counter.
Where Can I Get Those Fancy Sprinkles?
I love bespoke sprinkle mixes like the ones Sprinkle Pop makes. They can be a bit pricey but a little goes a long way when decorating these cupcakes. You can also mix in cheaper sprinkles that you can find at your local grocery store to give you a little more sprinkles to play with, without spending an arm and leg. And that's exactly what I did for my Champagne Cake with Strawberry Buttercream.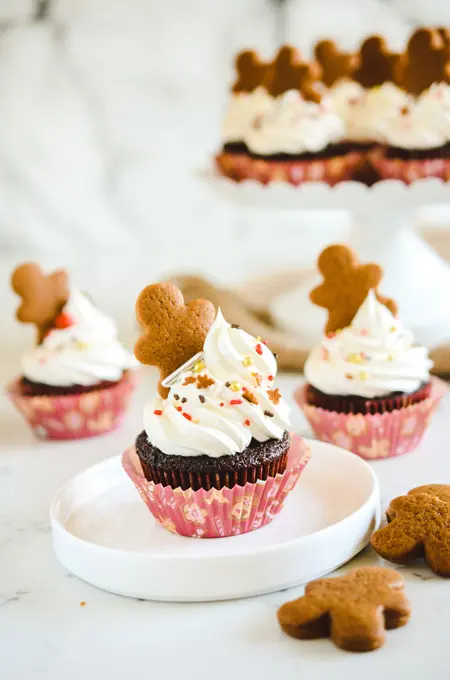 Gingerbread Man Topper
I used some leftover gingerbread dough I had hanging out in my freezer from this years Gingerbread Cottage, so I used that remaining dough and made the little gingerbread men for my cupcake toppers. It really was the finishing touch for these light as air Gingerbread Cupcakes.
You may not have gingerbread dough just hanging out in your freezer, like I do, but I bet a good gingersnap cookie would do the trick in a pinch!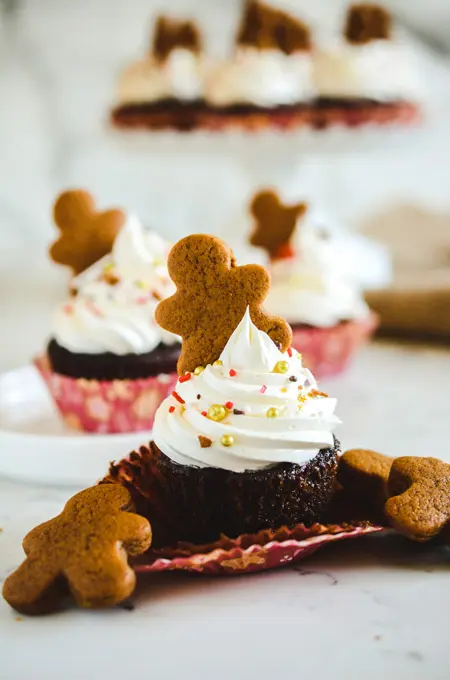 Plan It Out
These Gingerbread Cupcakes are pretty easy to make and come together quickly, but if you do plan on baking your own gingerbread men it's a good idea to plan out your process.
Day 1: Prepare gingerbread dough for gingerbread men cake topper and bake.
Day 2: Prepare cupcakes and bake. Bake gingerbread men if you have not done that yet. (Don't forget to take your butter out for the buttercream you'll be preparing tomorrow!)
Day 3: Prepare buttercream and decorate cupcakes.
Lets Connect
The Cake Chica is on Facebook, Instagram, and Pinterest!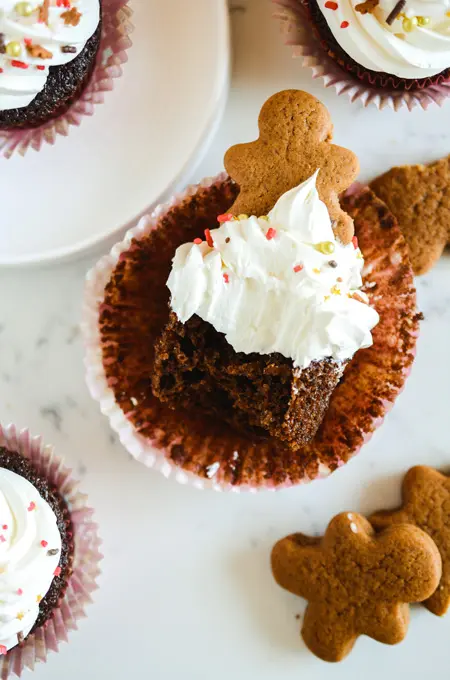 You May Also Like:
Adapted from The Perfect Cake by Cook's Illustrated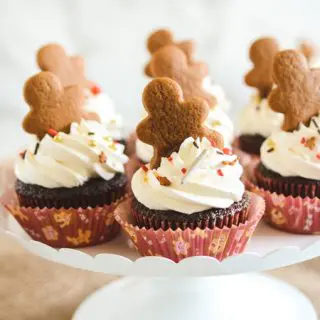 Gingerbread Cupcakes
Light, airy and moist Gingerbread Cupcakes baked with ground ginger, cinnamon, white pepper, cayenne pepper and fresh ginger, topped with buttercream, garnished with gingerbread sprinkles and a gingerbread man.
Ingredients
SPECIAL TOOLS
CUPCAKES
1 ¾ cups (8 ¾ ounces) all-purpose flour
¼ cup (3/4 ounce) unsweetened cocoa powder
2 tablespoons ground ginger
1 ½ teaspoons baking powder
1 teaspoon ground cinnamon
¾ teaspoon salt
½ teaspoon ground white pepper
1/8 teaspoon cayenne pepper
1 cup brewed coffee
¾ cup molasses
½ teaspoon baking soda
1 ½ cups (10 ½ ounces) granulated sugar
¾ cup vegetable oil
3 large eggs, lightly beaten
2 tablespoons finely grated fresh ginger
BUTTERCREAM
1 cup egg whites (240ml) (about 8 large eggs)
2 cups (400g) granulated sugar
3 cups (6 sticks) (675g) unsalted butter, cut into tablespoon sized pieces, at room temperature
1 tablespoon vanilla extract
GARNISH
Festive sprinkles (optional)
Gingerbread cookies (optional)
Instructions
CAKE
Adjust an oven rack to the center position and heat oven to 350 degrees. Line cupcake pan with cupcake liners and set aside. In a large bowl add the flour, cocoa, ground ginger, baking powder, cinnamon, salt, pepper, and cayenne pepper and whisk to combine. In another large bowl, add the coffee, molasses and baking soda and whisk to combine. Add the sugar, oil, eggs and fresh ginger to the coffee mixture and whisk until incorporated and mixture is smooth.
Whisk the coffee mixture into the flour mixture until smooth. Batter will be thin. Divide batter among the prepared cupcake pans and bake until a toothpick inserted in the centers comes out with a few moist crumbs attached, about 12 to 15 minutes, rotating pans halfway through baking. Let cupcakes cool in their pans on wire racks for 5 minutes, then invert on to wire racks to cool completely.
BUTTERCREAM
Pour egg whites and sugar in the bowl of a stand mixer, and whisk them together by hand to combine. Create a double boiler by filling a saucepan with a few inches of water and placing the bowl on top. The bottom of the bowl should not touch the water. Heat saucepan over medium heat.
Attach a candy thermometer to the bowl and heat the egg white mixture to 160 degrees, whisking often. Once the mixture reaches 160 degrees, about 10 to 12 minutes. Carefully transfer the bowl to the stand mixer.
With the whisk attachment attached, beat the egg white mixture on high speed for about 8 to 10 minutes until egg whites hold medium-stiff peaks. The mixer bowl should be room temperature with no residual heat coming from the top of the bowl.
Remove the whisk attachment from the mixer and replace it with the paddle attachment. With the mixer on low speed, add the butter a tablespoon at a time, then add the vanilla. Once the butter is combined increase the mixer speed to medium-high and beat until the buttercream is smooth and silky, about 5 minutes.
ASSEMBLE
Fit a piping bag with an Ateco 827 piping tip and fill bag with buttercream. Pipe a swirl of buttercream on top of each cupcake. Then garnish with sprinkles and a gingerbread man cookie.
Notes
Cupcakes can be stored in an air tight cake container at room temperature for up to 3 days.
Assembled cupcakes can be stored at room temperature in an air tight container for up to 1 day or stored in the refrigerator for up to 3 days. Bring to room temperature before serving.
Nutrition Information:
Yield:

24
Serving Size:

1
Amount Per Serving:
Calories:

1059
Total Fat:

55g
Saturated Fat:

15g
Trans Fat:

3g
Unsaturated Fat:

34g
Cholesterol:

78mg
Sodium:

969mg
Carbohydrates:

139g
Fiber:

5g
Sugar:

101g
Protein:

11g
*Nutrition information is an estimate and will vary.*