If you're looking for a decorative piece for your New Year's Eve party table that looks festive but also tastes amazing, then look no further. This Champagne Cake with Strawberry Filling and 4 layers of champagne cake filled with strawberry and champagne buttercream will fill that need!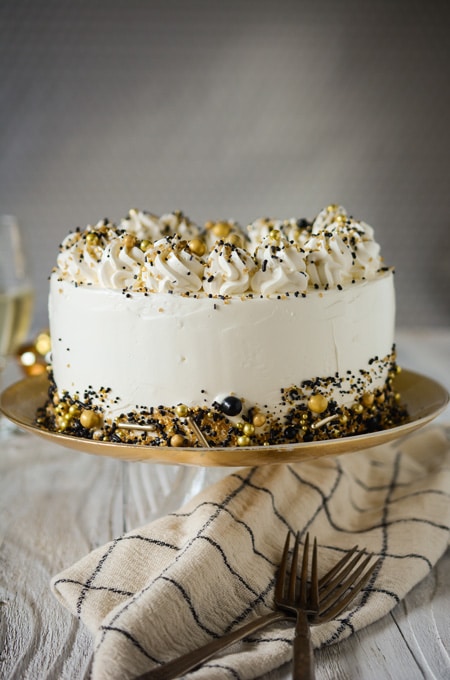 And good news, you don't have to break the budget getting fancy champagne for this cake. The cheap stuff works great here. You can also use sparkling wine like I did in place of champagne.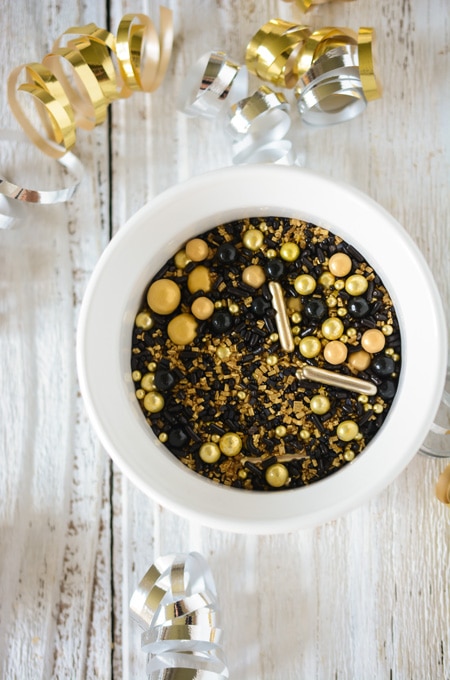 Where Did You Get Those Fancy Sprinkles?
Keeping with the New Years theme, I went for black and gold for my sprinkles. I used a mix of sprinkles from Sprinkle Pop but thought there was a bit too much black in my mix, so I added some Gold Sugar Sprinkles to the mix for the perfect combination.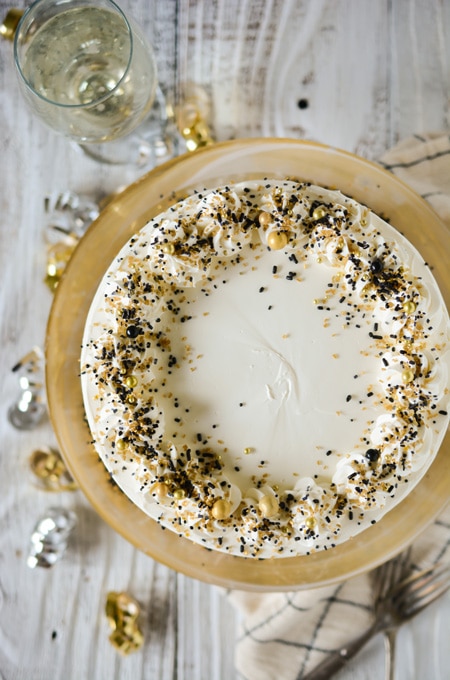 Strawberry Filling
The strawberry filling needs to chill for a couple of hours to set up so be sure to plan accordingly. This filling can easily be adapted using your favorite frozen fruit. I chose strawberry because strawberries and champagne just seem to fit nicely. But this is your cake so have fun with it!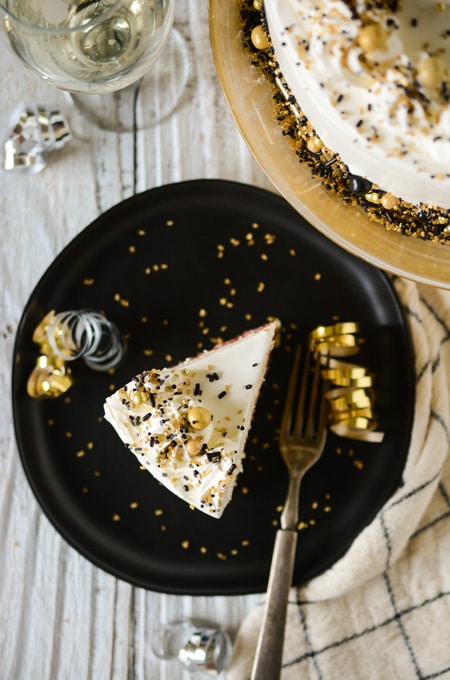 Champagne Swiss Meringue Buttercream Tips
Make sure your butter is soft and room temperature, or I would even say a little warmer than room temperature. I always take my butter out the night before I plan to make Swiss Meringue Buttercream.
Be sure the mixer bowl is clean and free of any trace of grease.
Also, the egg whites should be free of egg yolk.
Whisk the egg whites and sugar together before cooking or the eggs may start to cook on their own.
Swiss Meringue Buttercream should be super smooth and creamy. I usually turn the mixer speed down to low for the last minute to get out any air bubbles before I frost my cake.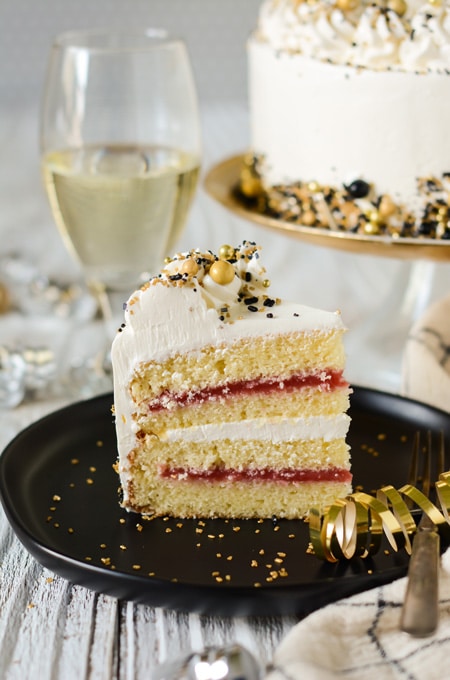 Plan It Out
It's always a good idea to plan out cakes with multiple parts like this one. Don't rush the process. Here is what my schedule looked like for this cake.
Day 1: Bake the cake layers and prepare the strawberry filling. Wrap the cake layers in plastic wrap and store cake layers in an air tight cake container on the counter. Store the strawberry filling in an air tight container in the refrigerator. Give the filling a few stirs by hand before filling the cake.
Day 2: Make the buttercream. Prepare cake for frosting with a crumb coat and set up piping bags and sprinkles ready for decorating.
You May Also Like:
Adapted from Vintage Cakes by Julie Richardson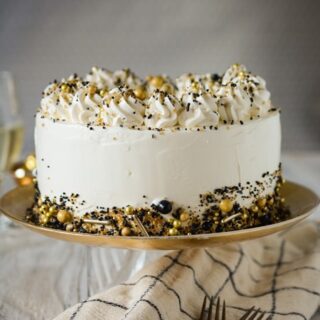 Champagne Cake with Strawberry Filling
Total Time:
1 hour
20 minutes
Four layers of made-from-scratch champagne cake filled with strawberry filling and frosted with champagne buttercream, decorated with black and gold sprinkles.
Ingredients
SPECIAL TOOLS
CAKE
3 cups cake flour
2 ½ teaspoons baking powder
½ teaspoon table salt
4 large eggs, at room temperature
1 ¾ cups granulated sugar
2 teaspoons vanilla extract
1 cup canola oil
1 cup dry sparkling white wine or champagne
STRAWBERRY FILLING
12 ounces frozen strawberries, thawed
¼ granulated sugar
3 tablespoons cornstarch, mixed with 3 tablespoons cold water
Fresh lemon juice, to taste
3 tablespoons Chambord, optional
BUTTERCREAM
½ cup, plus 2 tablespoons egg whites
1 ¼ cup granulated sugar
2 cups (4 sticks) unsalted butter, cubed, slightly under room temperature
2 teaspoons vanilla extract
½ cup sparkling white wine or champagne
Instructions
CAKE
Spray 2 8-inch round cake pans and set aside.
Adjust an oven rack to the center position and heat oven to 350 degrees. In a large bowl, sift the flour, baking powder and salt. Then whisk to combine.
In the bowl of a stand mixer fitted with the paddle attachment, beat the eggs, sugar and vanilla together on medium speed for 1 minute. Reduce the mixer speed to low speed and slowly pour the oil into the mixture until combined. On low speed, add the flour mixture in 3 parts, alternating with the wine in 2 parts, beginning and ending with the flour mixture, mixing until just barely blended. Scrape the sides of the bowl as necessary. The batter will be thin. Use a rubber spatula to finish mixing the batter together to be sure you don't over mix.
Divide the cake batter between the prepared cake pans and bake for 30 to 35 minutes, or until a toothpick inserted in the center comes out with a few moist crumbs attached; rotating pans halfway through baking. The cakes will form a dome on top and be golden in color in the center. Remove the cakes from the oven and let cool in their pans on wire racks for 10 to 15 minutes. Invert the cakes onto wire racks and let cool completely.
STRAWBERRY FILLING
Place thawed strawberries in a blender or food processor and puree until smooth. Over a bowl pour strawberry puree over a sieve to remove the solids. The puree will be thick. Use a spoon to stir and press the puree through the sieve.
Place strawberry puree in a small saucepan over medium-low heat. Add sugar and cornstarch mixture and bring to a simmer, stirring constantly to keep lumps from forming. Once the puree thickens, remove from the heat. Cool for 5 minutes and then add fresh lemon juice and Chambord. Chill for about 2-3 hours in the refrigerator until ready to use.

BUTTERCREAM
In the bowl of a stand mixer fitted with the whisk attachment, pour in the egg whites and sugar and whisk by hand until combined. Fill a medium saucepan with about 2 inches of water and bring to a simmer. Place mixer bowl on top, being sure the bottom of the bowl does not touch the water and attach a candy thermometer.
Whisking occasionally, heat the egg mixture until the temperature reaches 160 degrees. Once the mixture reaches 160 degrees, transfer to a stand mixer and beat the mixture on high speed for 10 minutes or until medium-stiff peaks form. At this point the outside of the mixer bowl should be room temperature. Switch out the whisk attachment with the paddle attachment and with the mixer on low speed, add the butter one tablespoon at a time, and then add the vanilla extract and wine. Once combined, turn up the mixer speed to medium-high and beat until the buttercream is smooth about 5 minutes.
ASSSEMBLE
Trim cake domes off each cake layer creating 2 even layers of cake. Cut each cake layer in half horizontally, creating 4 thin cake layers. Place one cake layer on a cake board and spread 2/3 cup strawberry filling on top and spread around the cake layer, leaving about ½-inch from the edge free of filling. Place second cake layer on top and gently press cake layer to adhere to the strawberry filling. Spread about 2/3 cup buttercream on top of the second cake layer, leaving about ½-inch from the edge free of buttercream. Place third cake layer on top of buttercream and press gently to adhere to the buttercream. Spread about 2/3 cup strawberry filling on top, leaving ½-inch from the edge free of filling. Place the last cake layer (bottom side up) on top gently pressing to adhere to the strawberry filling.
Set aside about 1 cup buttercream for crumb coating. Fit a piping bag with Ateco piping tip #827 and fill piping bag with about 1 to 2 cups buttercream for decorating.
Spread reserved buttercream for crumb coat on top and the sides of the cake. This should be just a thin layer of frosting to catch any loose crumbs. Set cake in the refrigerator for about 15-30 minutes to set the crumb coat.
With remaining buttercream, spread the buttercream over the tops and sides of the chilled cake. Using your piping bag, pipe swirls on the top edges of the cake.
Lightly sprinkle festive sprinkles over the buttercream swirls.
Set a large rimmed baking sheet on your work surface. Use the cake board underneath the cake to help lift up the cake. With the cake in one hand, use your other hand to spread sprinkles on the bottom edges of the cake over the rimmed baking sheet. The rimmed baking sheet is to help catch the sprinkles that do not attach so you can reuse them. Set cake on a cake platter and serve.
Notes
MAKE AHEAD
Cake layers can be made up to 3 days in advance, wrapped in plastic wrap in an air tight container and stored on the counter at room temperature.
Strawberry filling can be made up to 5 days in advance, stored in an airtight container in the refrigerator.
Assembled cake can be stored at room temperature in an air tight cake container for 1 day. Or stored in the refrigerator for up to 3 days. Bring to room temperature before serving.
Nutrition Information:
Yield:

8
Serving Size:

1
Amount Per Serving:
Calories:

991
Total Fat:

36g
Saturated Fat:

5g
Trans Fat:

0g
Unsaturated Fat:

30g
Cholesterol:

113mg
Sodium:

403mg
Carbohydrates:

144g
Fiber:

2g
Sugar:

93g
Protein:

9g
*Nutrition information is an estimate and will vary.*