I've been needing a go-to sugar cookie recipe for some time now. And with the holiday baking season in full effect I thought it was the perfect time to try these Christmas Confetti Sugar Cookies.
This is my festive take from The Sweetapolita Bakebook by Rosie Alyea, and my go-to recipe for sugar cookies from now on! Keep reading to find out why!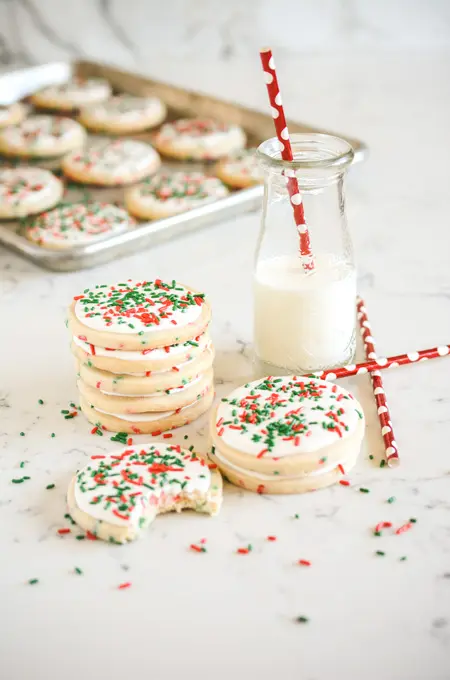 Okay confession time, secretly I kinda like those store bought sugar cookies in the bakery section. You know the ones that are thick with crispy edges and chewy middles and are usually paired with some sort of vibrant colored frosting. Yeah you know the ones.
So why go through the trouble of making them homemade? Because I know that even though store bought is good and easy, there is something about homemade that always one ups store bought.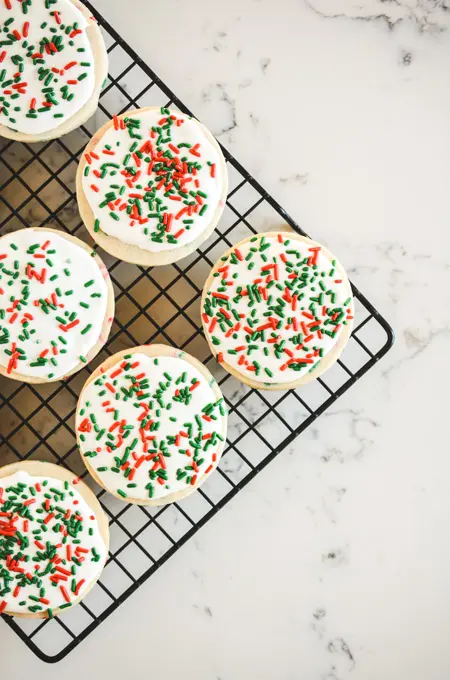 These Christmas Confetti Sugar Cookies have the same crisp edges and chewy middles, but the flavor of the homemade version can't compare to those store bought ones. They're sweet without being overly sweet. And the use of the Princess Bakery Emulsion gives these cookies a little something extra you don't get from the premade sugar cookies.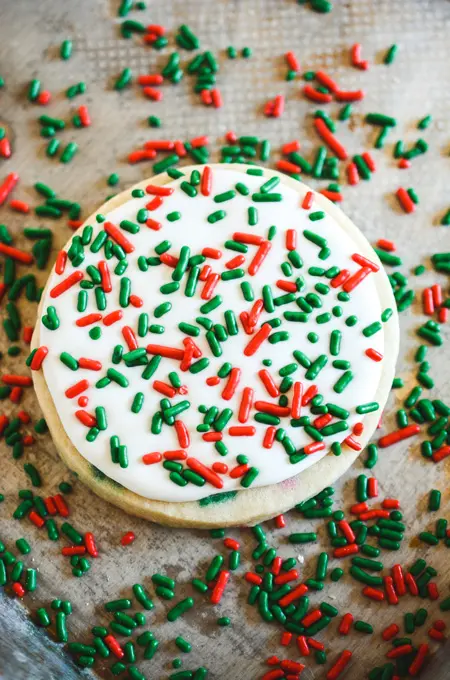 Why You Shouldn't Overbeat the Butter and Sugar
By not over beating the butter and sugar you can get away with adding baking powder to the dough, which adds a nice airiness to the cookies. Just beat the butter and sugar until it's the consistency of paste, you don't want light and fluffy here.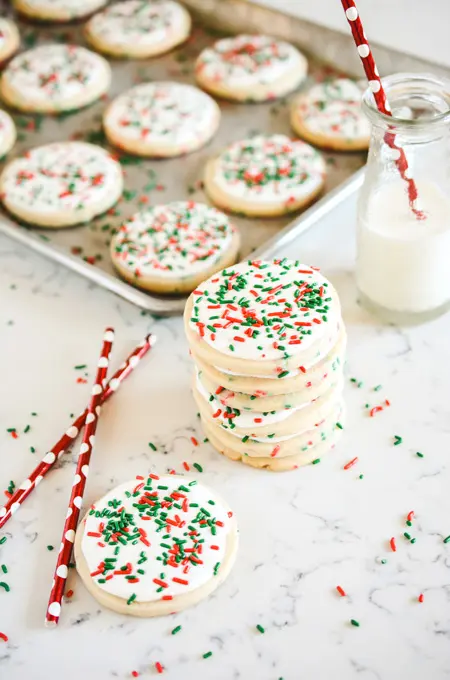 Cut Out Cookie Tips
Rolling out the cookie dough between 2 sheets of parchment paper helps to eliminate the need for more flour while rolling. If your dough sticks try flipping the dough around every few rolls.
For perfectly sized and uniform cookies, invest in some dowels. For thick cookies use 1/4-inch dowels and for thin use 1/8-inch dowels when rolling.
Cut out as many circles or shapes as you can after the first rolling. The more you reroll the cookies, the tougher they get. Don't roll more than twice for light and tender cookies.
The best way to ensure your cookies keep their shape while baking is using the "triple chill" method. (I've used this method with some of my pies as well.) Chill the dough before and after rolling and chill the cookie cutouts before baking.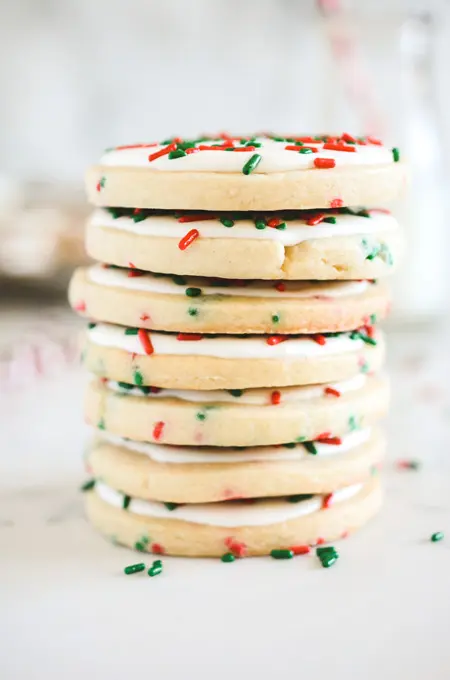 Royal Icing Tips
Make sure your mixer bowl and paddle attachment are super clean before using. I use a dampened paper towel with lemon juice and whip down my equipment before using.
Meringue powder helps eliminate the concern of serving uncooked egg whites, plus it creates a "dry" royal icing which helps keep your icing from bleeding if it's colored.
If you're looking for a bright white icing you can add a tablespoon or 2 of Americolor Bright White gel.
I learned the perfect consistency for outlining and filling in the cookies is by using the "10 second" consistency. When you drag a knife through the icing it should leave a line that flows back together and disappears in 10 seconds. No more and no less! Add a 1/2 teaspoon of water at a time until you get this consistency.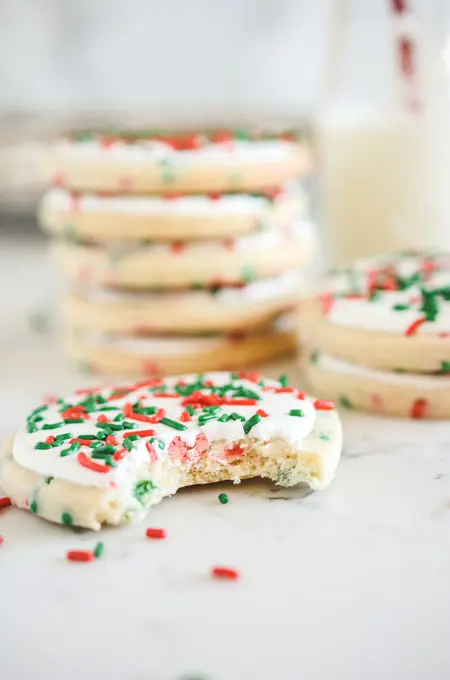 Lets Connect
The Cake Chica is on Facebook, Instagram and Pinterest! Be sure to connect for all the yummy recipes and food porn every week!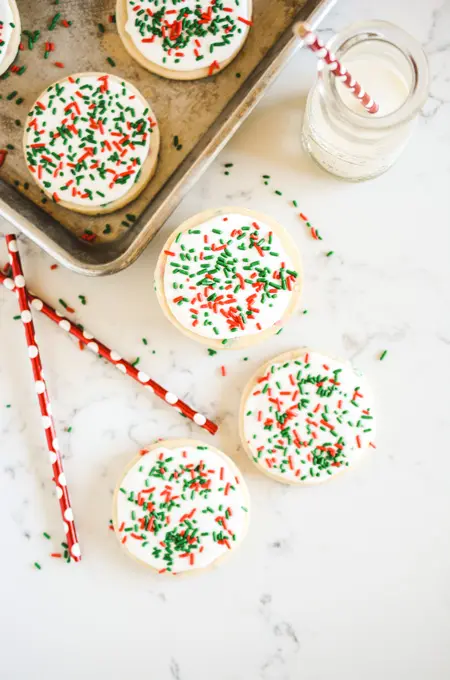 You May Also Like: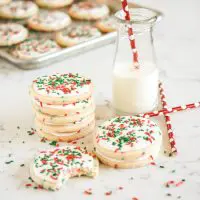 Christmas Confetti Sugar Cookies
Additional Time:
1 hour
30 minutes
Total Time:
2 hours
12 minutes
Homemade sugar cookies that are light and airy with crispy edges and slightly chewy middles. Iced with royal icing decorated with holiday sprinkles.
Ingredients
SPECIAL TOOLS
COOKIES
3 ½ cups all-purpose flour
½ teaspoon baking powder
½ teaspoon table salt
1 cup unsalted butter, at room temperature
1 ¼ cups superfine sugar
1 large egg, lightly beaten
3 tablespoons milk
ICING
8 cups powdered sugar
2/3 cup water plus more for thinning
2 teaspoons lemon juice, plus more for bowl
1 teaspoon almond extract
Instructions
COOKIES
In a large bowl, whisk together the flour, baking powder and salt.
In the bowl of a stand mixer, with the paddle attachment attached, beat the butter and sugar together on medium speed until it becomes pale in color and is the consistency of paste, about 2 minutes. You don't want the butter to be fluffy or the cookies will spread during baking. Add Emulsion or vanilla extract and mix to combine. Add the egg and milk and mix until incorporated, about 1 minute. With the mixer speed on the lowest speed, gradually add the flour mixture, beating until just combined. Add in the Christmas sprinkles and mix in by hand until combined. Wrap the ball of dough in plastic wrap and press out into a disc and refrigerate for 1 hour.
Place a large piece of parchment paper on your work surface and unwrap the cookie dough. Place another large sheet of parchment paper on top and with a rolling pin; roll out dough to about ¼ inch thickness. Remove the top layer of parchment paper and slide the bottom parchment paper with dough onto a large baking sheet or board and freeze the dough for 15 minutes.
Adjust anoven rack to the center position and heat oven to 350 degrees. Line 2 bakingsheets or a full sized baking sheet with parchment paper or silicone mat. Remove the dough from the freezer and using a 3-inch round pastry cutter, cut out dough rounds. Place the rounds on the prepared baking sheets about 1 ½ inches apart from each other. Freeze for 15 minutes.
Bake the cookies one sheet at a time until the edges are light gold in color and the cookies have crisp edges, about 12 to 15 minutes. Let cookies cool on the baking sheet(s) on wire racks for 10 minutes. Then carefully transfer the cookies to wire racks to cool completely.
ICING
Wipe down your mixer bowl and paddle attachment with a paper towel, dampened with lemon juice. Add the powdered sugar, meringue powder, 2/3 cup water, 2 teaspoons lemon juice and almond extract in the bowl and mix on low speed until combined. Add water to the icing a few drops at a time. Take the tip of a knife and run it through the icing. The icing should flow back together and disappear in 10 seconds, no more and not less. This is the perfect consistency to both outline your cookies and fill your cookies.
DECORATE
Fit a piping bag with a piping tip, such as Wilton #2 or #3 and fill the bag with icing for outlining. Pipe a line of icing around the edges of each cookie. Keep a few toothpicks on hand to adjust the icing if needed.
It's up to you if you would like to outline the cookies and let the outlines dry before filling them. If you go with this option your outlines will have a more pronounced outline, if that's not what you want, fill the cookies right away for a more seamless look.
Fill the cookies by piping icing back and forth in lines until the cookie is covered. The icing will begin to spread on its own. You can use a toothpick to help guide the icing and pop any air bubbles that appear. Sprinkle Christmas sprinkles on top before the icing sets. Repeat this process with all cookies. Let cookies dry before stacking.
Notes
Store cookies in an air tight container at room temperature for up to 1 week, or in the freezer for up to 2 months.
Royal icing can be stored covered with plastic wrap in the refrigerator for up to 3 days. Stir before using.
Nutrition Information:
Yield:

24
Serving Size:

1
Amount Per Serving:
Calories:

358
Total Fat:

9g
Saturated Fat:

5g
Trans Fat:

0g
Unsaturated Fat:

3g
Cholesterol:

30mg
Sodium:

75mg
Carbohydrates:

67g
Fiber:

1g
Sugar:

51g
Protein:

3g
*Nutrition information is an estimate and will vary.*