Christmas Confetti Cupcakes
White cake with Christmas sprinkles and Swiss meringue buttercream make up this fun and festive recipe for Christmas Confetti Cupcakes. I used my favorite white cake recipe that creates an ultra tender crumb by using the reverse creaming method. And topped the cupcakes with my favorite Swiss meringue buttercream! Finally, I topped the frosted cupcakes with more sprinkles and a cherry on top!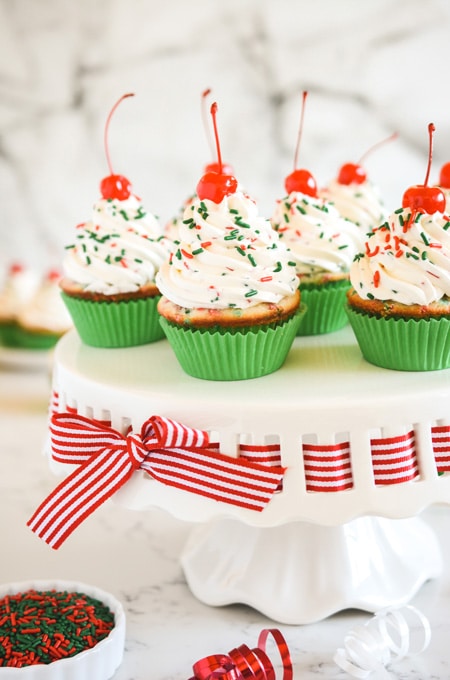 Why Process the Sprinkles Before Adding to the Batter?
You'll notice I opted to process my sprinkles before adding them to the batter. Leaving them whole would damage this cake's beautiful tender crumb.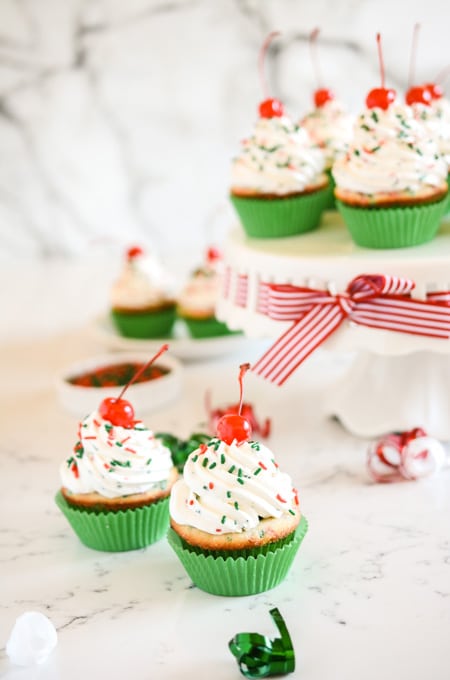 Swiss Meringue Buttercream Tips
Be sure your mixer bowl and whisk are both clean. There should be no trace of grease and egg whites should be free of egg yolk.
Whisk the egg whites and sugar together well or the egg whites may start cooking on their own.
Make sure your butter is at room temperature or slightly warmer, but not too warm. I leave my butter out the night before I plan to prepare the Swiss meringue buttercream.
Buttercream should be as smooth as possible before using. I like to turn the mixer down to low speed for the last minute to get out as many air bubbles as possible.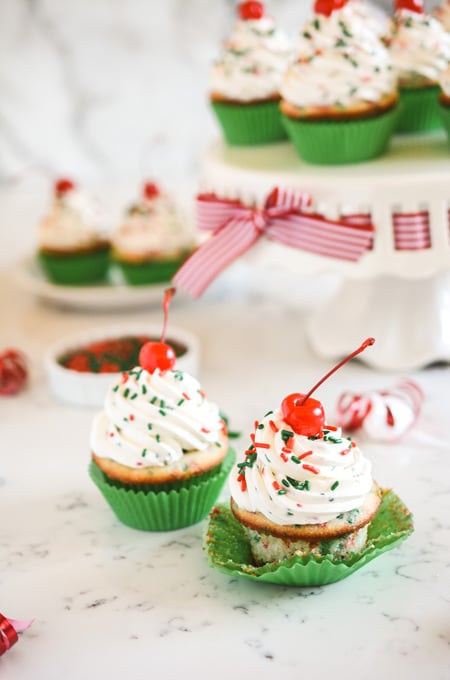 Cupcake Toppings
I kept my toppings pretty simple here. Just a quick sprinkling of holiday sprinkles and a maraschino cherry on top. Plus the green cupcake liner kept things in the Christmas theme.
If you choose to top your cupcakes with maraschino cherries I recommend washing them and drying them thoroughly with paper towels before putting on top of the cupcakes. This helps keep the maraschino juice from running into your buttercream.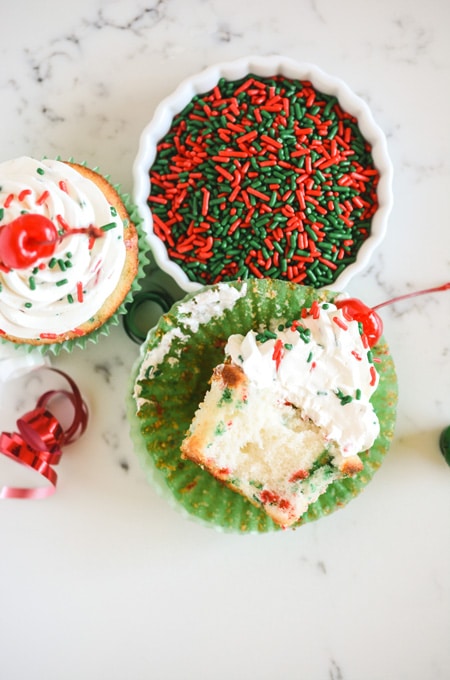 Plan It Out
These Christmas Confetti Cupcakes are already simple to make but I still like to "Plan It Out".
Day 1: Prepare the cupcakes.
Day 2: Make the Swiss meringue buttercream, decorate and serve!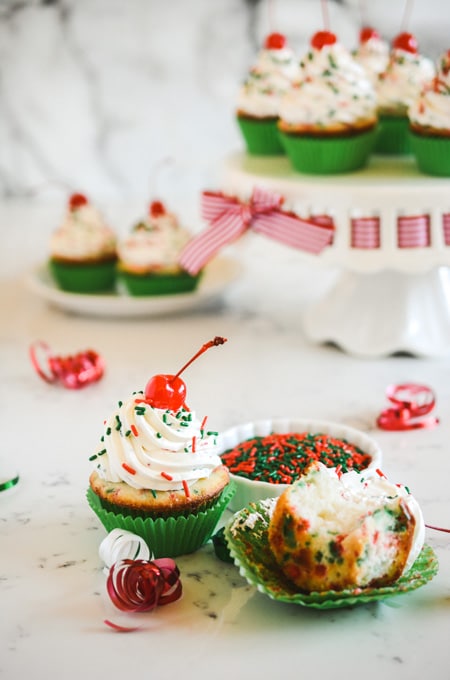 Cupcake Storage
Unfrosted cupcakes can be stored in an air tight cake container for up to 3 days at room temperature.
Assembled cupcakes can be stored in an air tight container at room temperature for up to 1 day or stored in the refrigerator for up to 3 days. Bring to room temperature before serving.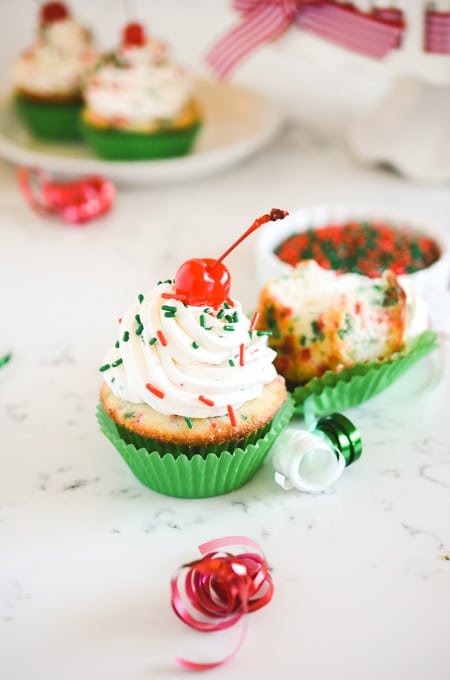 Lets Connect
I'd love to connect with you! I'm on Facebook, Instagram and Pinterest!
You May Also Like: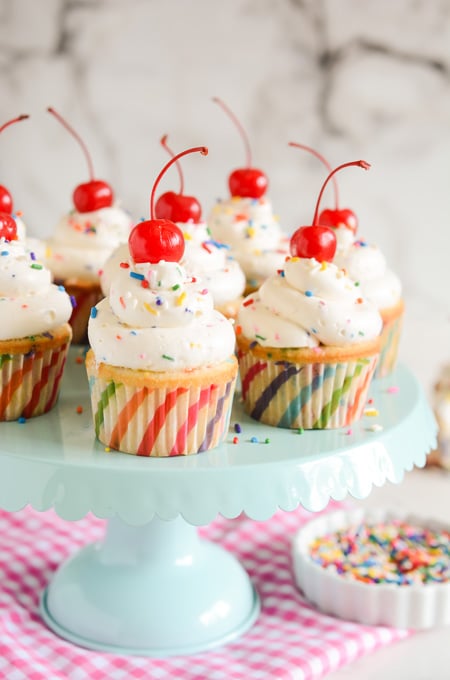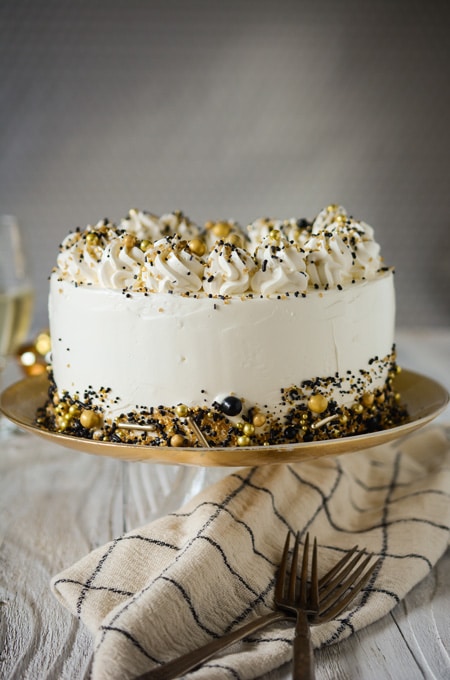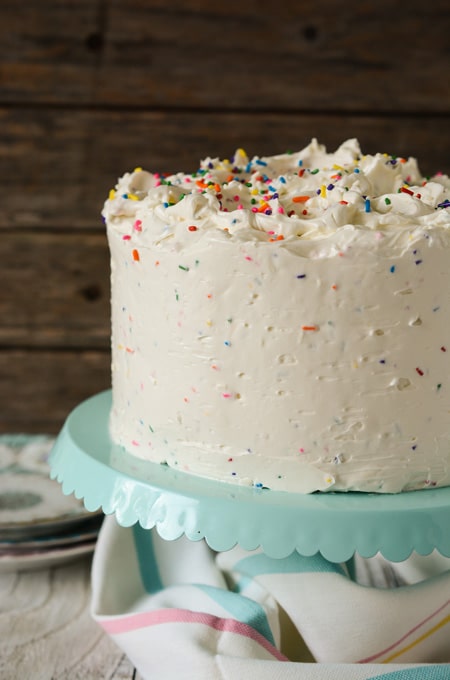 Adapted from The Perfect Cake by Cook's Illustrated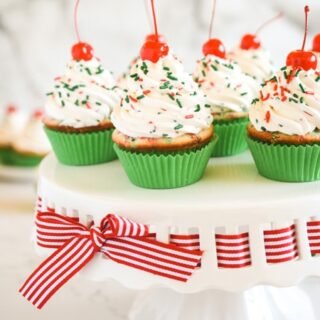 Christmas Confetti Cupcakes
An ultra tender white cake baked with Christmas themed sprinkles and topped with Christmas confetti Swiss meringue buttercream.
Ingredients
SPECIAL TOOLS
CUPCAKES
1/2 cup Christmas sprinkles
1 cup whole milk
6 large egg whites, at room temperature
1 teaspoon pure vanilla extract
2 ¼ cup cake flour
1 3/4 cups granulated sugar
4 teaspoons baking powder
1 teaspoon salt
12 tablespoons unsalted butter, cut into 12 pieces, at room temperature
BUTTERCREAM
1 cup egg whites (about 8 large eggs)
2 cups granulated sugar
3 cups (6 sticks) unsalted butter, cut into tablespoon sized pieces, at room temperature
1 tablespoon vanilla extract
1 tablespoon cake flavored vodka (optional)
¾ cup Christmas sprinkles, plus extra for garnish
30 maraschino cherries with stems
Instructions
CUPCAKE
Adjust and oven racks to the upper third and lower third of the oven and heat the oven to 350 degrees. Line cupcake pans with cupcake liners and set aside. In a food processor, pulse sprinkles until coarsely ground, about 8 pulses and set aside.
In a 4 cup liquid measuring cup, whisk together the milk, egg whites and vanilla.
With a stand mixer fitted with the paddle attachment, mix flour, sugar, baking powder and salt on low speed until combined. Add butter one piece at a time and mix until the mixture forms pea sized pieces, about 1 minute. Reserve ½ cup of the milk mixture. Pour remaining milk mixture into the batter and increase the speed to medium-high and beat until light and fluffy, about 1 minute. Reduce the speed to medium-low and add reserved ½ cup milk mixture and beat until combined, about 30 seconds. Give the batter a final stir by hand and stir in ground sprinkles.
Divide batter among prepared cupcake pans filling each cup about two-thirds full. Bake until a cake tester inserted on the top comes out with a few moist crumbs attached, about 15 to 20 minutes, switching and rotating pans twice during baking. Let cupcakes cool in their pan on a wire rack for 10 minutes then
invert on a wire rack to cool completely, about 2 hours.
BUTTERCREAM
Pour egg whites and sugar in the bowl of a stand mixer, and whisk them together by hand to combine. Create a double boiler by filling a saucepan with a few inches of water and placing the bowl on top. The bottom of the bowl should not touch the water. Heat saucepan over medium heat.
Attach a candy thermometer to the bowl and heat the egg white mixture to 160 degrees, whisking often. Once the mixture reaches 160 degrees, about 10 to 12 minutes. Carefully transfer the bowl to the stand mixer. With the whisk attachment attached, beat the egg white mixture on high speed for about 8 to 10 minutes until egg whites hold medium-stiff peaks. The mixer bowl should be room temperature with no residual heat coming from the top of the bowl.
Remove the whisk attachment from the mixer and replace it with the paddle attachment. With the mixer on low speed, add the butter a tablespoon at a time, then add the vanilla extract and vodka if using. Once the butter is combined increase the mixer speed to medium-high and beat until the buttercream is smooth and silky, about 5 minutes. Add in Christmas sprinkles and gently stir by hand.
Notes
Store cupcakes in an air tight cake container for up to 3 days.
Assembled cupcakes can be stored in an air tight cake container for up to 1 day at room temperature or stored in the refrigerator for up to 3 days. Bring to room temperature before serving.
Nutrition Information:
Yield:

30
Serving Size:

1
Amount Per Serving:
Calories:

1144
Total Fat:

54g
Saturated Fat:

17g
Trans Fat:

3g
Unsaturated Fat:

31g
Cholesterol:

67mg
Sodium:

973mg
Carbohydrates:

163g
Fiber:

5g
Sugar:

123g
Protein:

11g
*Nutrition information is an estimate and will vary.*