This is one of those meals that takes me back to my childhood. My mom would always make sloppy joes because they were easy and affordable. For mine, I use organic ground beef or grass-fed beef and use organic ketchup as well as organic veggies just to keep out any unnecessary additives. I usually try to make my recipes with as little processed ingredients possible, but I have a special place in my heart for Coca-Cola! Growing up this was my soda of choice, and now that I am all grown up I seldom drink it, but I do collect all things Coca-Cola!!! From the tin signs, the Christmas polar bear, Coca-Cola dishes (pictured here), Coca-Cola town square to my Coca-Cola Christmas tree that I put up every year. And any time I do use or drink Coca-Cola I go for the Mexican coke from Mexico. It's made with real sugar and not high fructose corn syrup and in my opinion tastes exceptionally better. Mexican coke can usually be found in the international foods isle in your grocery store if you want to give it a try.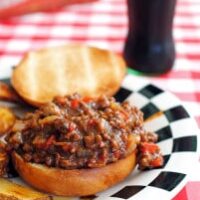 Coca-Cola Sloppy Joes
Ingredients
1 pound organic ground beef
1 onion, finely chopped
3/4 cup green bell pepper, finely chopped
2 tablespoons all-purpose flour
1 cup Mexican Coca-Cola
1/2 cup organic ketchup
2 tablespoons white vinegar
1 tablespoon Worcestershire sauce
2 teaspoons dry mustard
1/2 teaspoon freshly ground black pepper
1/2 teaspoon kosher salt
Hamburger buns, toasted
Instructions
In a large heavy-bottomed skillet, brown ground beef over medium-high heat until cooked through. Remove cooked beef and drain excess fat. Add onion and bell pepper to skillet and cook until onions are translucent. Add cooked beef back into skillet.
Add remaining ingredients, (except buns) and stir until combined. Cover and simmer for 30 minutes, stirring occasionally.
Serve meat mixture on hamburger buns.
Nutrition Information:
Serving Size:

1
Amount Per Serving:
Calories:

723
Total Fat:

36g
Saturated Fat:

16g
Cholesterol:

65mg
Sodium:

1123mg
Carbohydrates:

77g
Fiber:

2g
Sugar:

31g
Protein:

26g
Adapted from Coca-Cola Refreshing Recipes Cookbook